If you're an online B2B company, you know that content is the fuel that engages your audience, fills your pipeline, and ultimately drives bottom-line results.
In other words, quality content is critical across your whole customer journey, especially as B2B buyers increasingly prefer to do their own research rather than speak to sales.
The problem is that by the time you're reading this article, there will be more than 1,9 billion websites on the internet! The amount of content produced each minute is mind-boggling.
Remaining relevant — merely getting noticed — in an ever-growing digital content landscape requires innovation and an ability to keep ahead of trends.
When it comes to your "extra-website" content — like buyer enablement collateral or ABM assets — interactive content experiences provide a fresh and innovative way to stand out from the crowd.
But, what exactly are "content experiences," how do they stand apart from websites, and how do they fit into your content mix?
In this article, you will find answers to all of these questions and learn why creating engaging content experiences has become a marketing imperative for every company trying to attract B2B customers.
Content experiences and websites
Websites remain important for every company. However, not all content belongs there. Buyer enablement brochures, lead-generating white papers, ABM assets, customer support manuals — all of these require more than a mere page on your website.
Standalone "extra-website" content assets like these often end up in file formats like PDF — which is unfortunate because PDFs cannot be tracked, measured, or made interactive. They don't even display properly on mobile devices.
Sending out a PDF proposal, or allowing leads to download a PDF from your website, essentially introduces a "black hole" into your content journey from which you can gather no performance or engagement insights.
And this is precisely where content experiences come in handy.
What are Content Experiences?
Content experiences are independent pieces of online interactive content with their own URLs. They're engaging, snackable, highly visual, and personalized for today's digital consumers through interactivity and cross-device operability.
And because they're powered with web technology, they can provide you the rich audience insights you need to make your followups more timely, and more human.
So instead of stuffing your best extra-web content into PDFs or emails, you can give them a stage of their own. Using content experiences alongside your website opens up new, more intelligent ways of guiding buyers through your customer journey.
In a nutshell, content experiences are:
Interactive content assets with their own URLs
Powered by web technology, but set apart from your site
Fully responsive; perfect for reading on any device
Integrated with your martech stack
Your third big channel for expanding the reach and impact of your marketing
6 examples of content experiences
There are dozens — if not hundreds — of ways to use content experiences. In fact, we like to think of "content experience" as referring to more than just individual assets. It's more about an organization's repertoire of interactive material designed to draw buyers through the customer journey.
That being said, here we've gathered six of the most popular ways B2B companies are using content experiences to engage their audiences right now.
1. Interactive white papers
White papers are long-form, technical pieces of content often used to position you as a thought leader on a specific subject. They're useful assets for lead generation, often in the consideration stage of the buyer's journey.
According to the 2019 Content Preferences Survey from Demand Gen, buyers consider white papers to be one of the most valuable content formats for the latter stage of the buying process.
The Dutch company, Tentoo, created an interactive white paper and reportedly generated leads 5x faster.
2. Digital magazines
Digital magazines are highly versatile and can be used in every stage of the sales funnel. We've seen companies use them for sales collateral, internal staff magazines, and even event magazines.
Not only are digital magazines mobile-friendly, but they can be measured and optimized — something that's not possible with print magazines. With digital magazines, you can monitor average reading time, the percentage of people who get to the last page, social media engagement, and much more.
VisitBrabant, a tourism agency created a digital magazine and reportedly achieved a 100% growth in monthly subscribers, also generating more than 200K page views.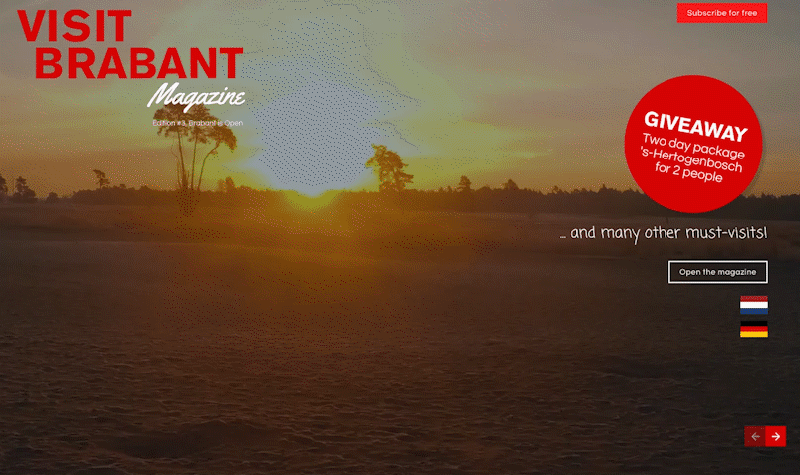 Discover: Creative Ideas to Turn Your Magazine into Page-Turning Content.

3. Digital reports
Digital reports are for sharing data and statistics. They can range from industry reports to a company's own annual or integrated report. Creating interactive reports typically takes a large amount of work. To reap the full benefits of your efforts, they must be presented in a way that makes the data both understandable and visually appealing.
Most companies still put this valuable content into a static, non-interactive PDF making it difficult for them to control distribution, gather data, or engage mobile readers.
Content experiences enable the creation of measurable and mobile-friendly reports with interactive charts, infographics, and visuals to present numerical data clearly and in a compelling way.
Extreme Reach, created this inspiring digital report called Video Advertising Benchmarks for Q1 2019. Ad industry metrics have never been so bright and colorful!
4. Annual reports
Annual reports are so widely used, they deserve a section of their own. More specific than industry reports, annual reports highlight a company's financial overview and are typically targeted towards shareholders.
By using interactive content experiences instead of PDFs, a company can gain deep insights into how this critical segment of their audience engages with each section. These insights can then be used to improve each subsequent edition.
University, UC Merced, created a digital annual report, and reportedly reached more than 10k sessions after distribution.
5. Interactive newsletters
Many companies are liberating their newsletters from the constraints of email and turning to content experiences instead. They support video, embedded forms, smart CTAs, and can comfortably facilitate longer content.
Personalized digital newsletters distributed to different target groups ensure better engagement and enable you to gather rich insights about your readers' behavior and preferences.
Take a look at Warner Soliciters' spectacular digital newsletter covering various legal updates for their customers.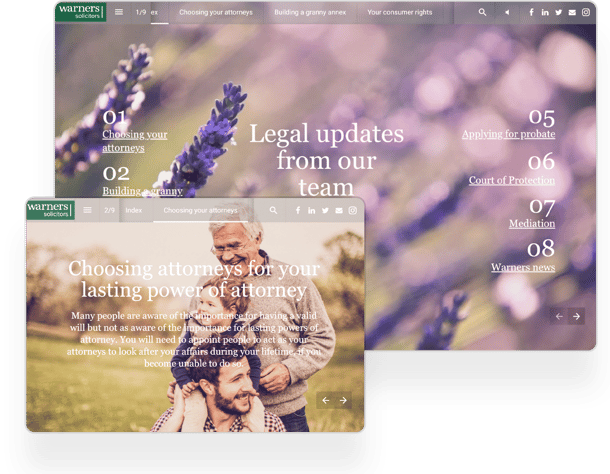 6. Digital brochures
Digital brochures are an excellent way to present your company's products and services in an engaging and personalized way. They're more effective than traditional printed brochures because they allow for embedded media, retroactive updating, performance monitoring, and can be integrated with your CRM.
They can also save you huge amounts of money on printing and distribution while simultaneously allowing you to reach a bigger audience.
Real estate company, AM, created this digital brochure and achieved an astonishing 15min average reading time with 90% of readers making it to the last page.
Discover: The Benefits of Using Digital Brochures in Your Content Marketing

Conclusion
Spending on content has increased over the past 12 months and is indicative of a transformation in the digital world. More money spent on content means brands are putting more effort into catching the eyes of prospects and increasing their ROI expectations.
If your content strategy needs improving and you're exploring different ways to boost its effectiveness, incorporating content experiences into your marketing mix will help you gain traction and keep you ahead of your competitors.