The marketing to sales pipeline is one of the most powerful tools available to any organization to capture sales revenue and close the ever-important deals.
Content marketing has been the latest iteration of innovation within this framework, providing unparalleled engagement with a wide range of prospective clients and doing much to foster a relationship between them and your brand.
The next stage of development for this exciting discipline, interactive content, has exploded onto the marketing scene in recent years and has further refined the already powerful formulae offered by the alignment between sales and marketing.
Getting ahead on the newest trends is a vital part of any marketing strategy; the last thing you want is to be left in the dust by your competitors as they seize the initiative on these new techniques.
Below are some of the key strategies you can employ to make the most of your content marketing initiatives and capitalize on the potential of interactive content to help supercharge your sales team. Examples of sales collateral can come in the form of:
Gamification

Interactive Video

Assessments

Calculators

Webinars

Polls, Surveys, and Quizzes

Interactive Infographics
The benefits of interactive content: Aligning sales and marketing
However, before you can begin utilizing these different techniques to their fullest, you must arm yourself with a holistic understanding of exactly why interactive content is so effective and how it ties into increased sales power and more closed deals.
The marketing-to-sales funnel is nothing new to savvy veterans of either industry. It has become a rather commonplace principle for organizing demand generation and other vital initiatives. Undeniably, the fine-tuning of marketing automation solutions have made it easier than ever to shepherd your leads through the funnel.
However, focusing on particular elements or stages of your funnel can further optimize the quality of these leads and result in more deals being closed by your sales team. Each step of the funnel is crucial, yet not each has been given equal attention over the years.
Content marketing exists at the top and middle of the funnel. In some ways, it's a bit like fishing: you cast several hooks into the appropriate areas for your company using the power of SEO and research to real in a new deal.
Unfortunately, more companies than ever are employing high-quality content to get their message to the market and establish themselves as leaders in a particular space. With the incredible amount of choice available to even the most casual consumers, it's imperative to ensure that your brand stands out.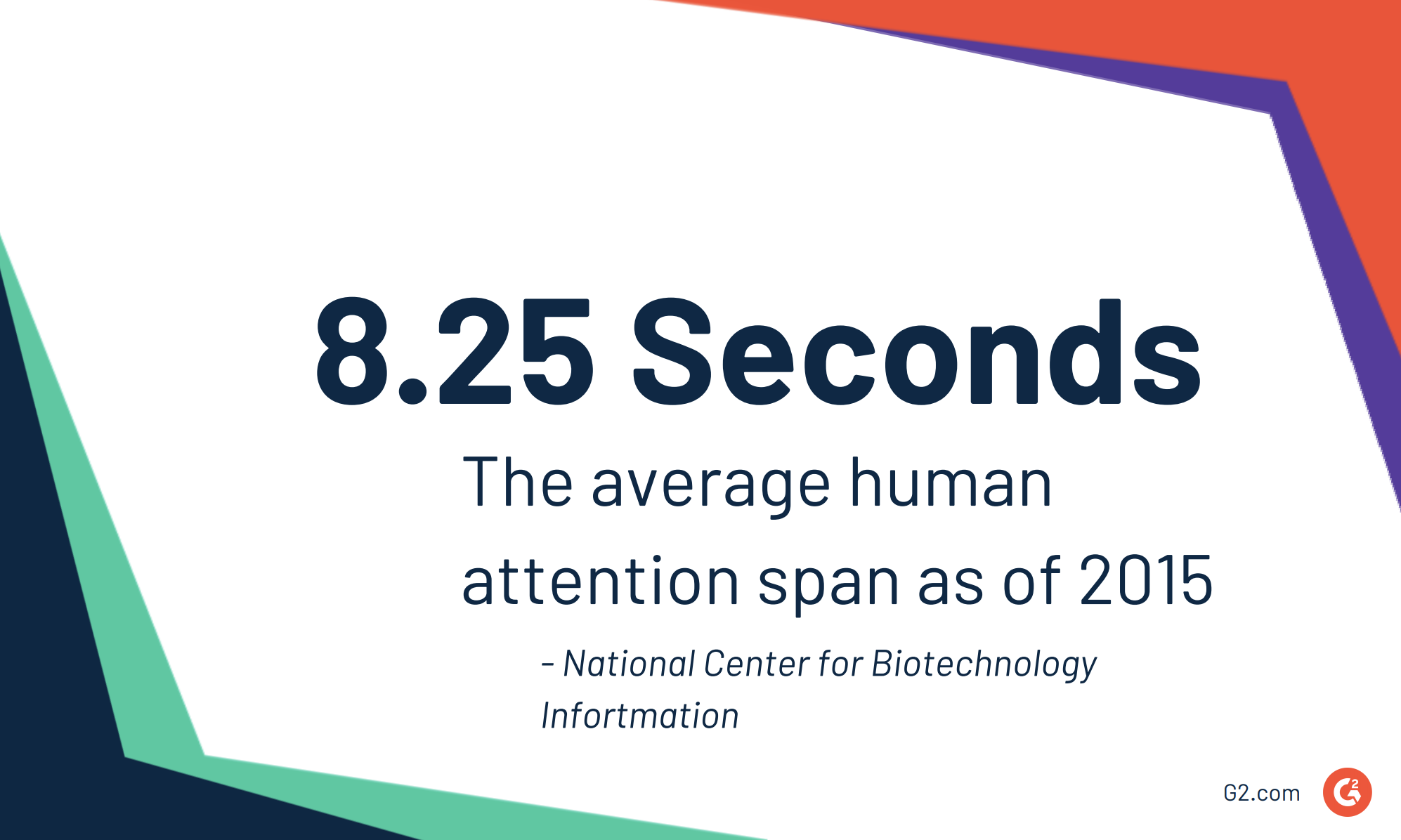 The abundance of content on the internet has led to a user's attention span becoming comparable to a goldfish. Luckily, interactive content is designed to take advantage of that and constantly re-engage users with an immersive and provoking experience based on their participation. Even something as simple as a few clicks to access text is lightyears more effective at keeping someone engaged than passive consumption could ever hope to be.
The power of gamification
A fundamentally empathetic understanding between an organization and its customers is the heart and soul of consumer loyalty. Building that trust should be at the core of every marketing initiative.
Gamification lets you hack that process for one extremely compelling reason: it taps into human nature. Adding elements of immersion, competition, and advancement to already well-researched marketing initiatives has the power to activate our innate human desire for connection, allowing for a more easy formation of that crucial bond of trust.
Interactive videos
Interactive videos are some of the most popular types of interactive content, and it's easy to understand why.
Video consumption is one of the defining features of the modern internet. With platforms such as YouTube continuing to dominate the landscape alongside the rise of new contenders such as TikTok, people are flocking to video and video platforms as a way to both distribute and receive the information they need.
Adding an interactive element to your video materials can be extremely simple or complex, depending on the amount of time and resources you have at your disposal. One common strategy that independent content creators often employ on websites such as YouTube is adding related content cards that appear in specific portions of the video in order to direct the viewer to a website or other video clip at their leisure.
A more complex interactive experience example might be something along the lines of Honda's "The Other Side" Campaign. This clever campaign has two videos layered over top of one another—one of an idyllic family and the other of a thrilling high-speed gateway— that can be instantly toggled with the press of the "R" key on your keyboard. This video received incredibly high engagement and served to create a great deal of buzz around their newest product, the Honda Civic Type R.
Assessments
Assessments can be tailored to target practically any persona or demographic you could imagine. They are an excellent way to garner quality information for both the prospect and the marketing team alike. Not only does it offer solutions to the problems that brought the user to the content in the first place, but it also provides invaluable data on what particular elements of the problem are most at the forefront of the consumers' minds.
Often, these insights will result in the release of new assessments with even more specialized questions and answers that can be further used to help drive their eyes to where they need to end up: the purchasing page of your organization's website.
For example, HubSpot's Inbound Marketing Assessment collects the prospect's name, data, and company type before sending them their assessment. The assessment is directly tied to HubSpot's business offerings — inbound marketing automation services — that deliver tangible value to the user while pitching their services simultaneously. It does not only help collect leads but also integrates easily with a Customer Relationship Management (CRM) tool that translates interactive content into actual sales.
Calculators
Interactive calculators occupy a similar space to quizzes and assessments but have one key advantage. They're extremely easy to use and require less time to deliver value to your prospect.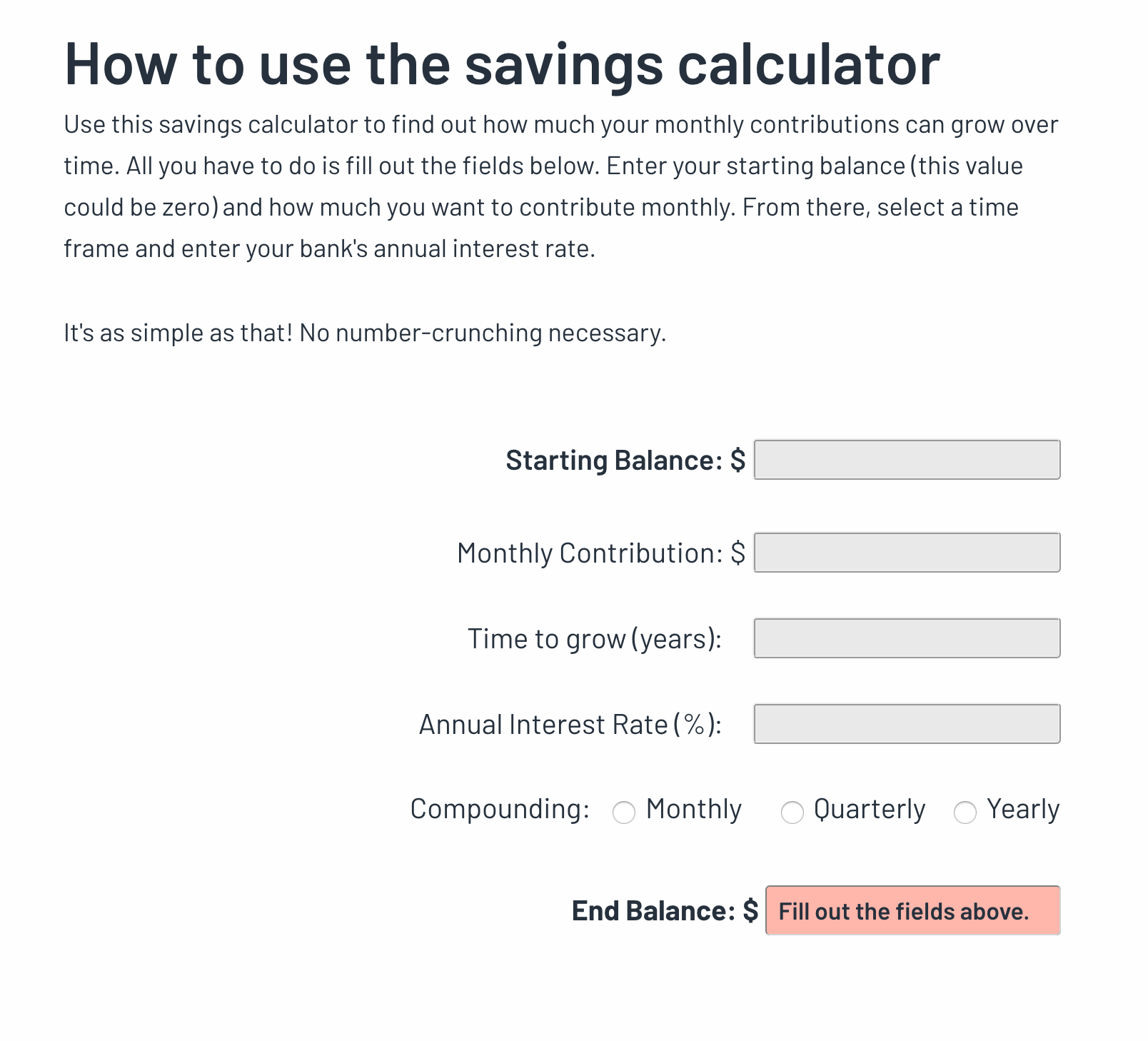 With a calculator, it's easy to create a scenario to demonstrate what your organization can bring to the table by providing answers to specific questions from your prospects.
This savings calculator from G2.com's Learn blog highlights how flexible, interactive calculators can be. They can easily stand on their own or be embedded in a larger piece or landing page, allowing you to capture a greater range of marketing and sales information while offering visitors useful data.
Webinars
While this particular strategy might not seem like the most cutting-edge marketing initiative, interactive web content can be transformed into powerful tools for interaction with little know-how.
Having social media channels such as Twitter or Instagram where your audience can interact with the webinar's host in a question and answer format while watching their presentation can do wonders in building trust and funneling people through your sales pipeline.
Polls, surveys, and quizzes
These forms of interactive content are some of the most widespread examples of these strategies in action. Chances are, you've probably seen these on social media websites like Facebook or Instagram, engaging with a casual audience about popular culture.
However, quizzes don't have to be all fluff and can actually make for seriously engaging content with startling RoI for almost any industry. A poll, survey, or quiz that targets your prospects' pain points demonstrates that you understand their wants and needs, helps them think about the problems they are trying to solve and shows the possible solutions your business can provide.
Interactive infographics
As the old adage goes, "if it ain't broke, don't fix it." But an upgrade surely wouldn't hurt.
Infographics are nothing new to content marketing, but the majority of them have gone from static to interactive. Just like the increase in content marketing, the internet is now peppered with infographics thanks to the competition to attract audiences with visual content. As a result, marketers must be willing to invest a good deal of time and resources to make their infographics unique and stand out from the crowd.
Fortunately, these efforts are paying off as presenting complex topics through interactivity is superior to using static content. This visual introduction to machine learning is an excellent example of this principle and highlights how even the most arcane of topics can be made engaging to a mass audience.
Simply making your content accessible to prospects via mouse clicks, keystrokes, and integration with rich media can go a long way to capture your target audience's attention.
Interactive content with Foleon
A good content creation platform can help you keep your interactive content assets organized and easy to find. It can also manage templates to help you save time and allow you to revise and repurpose content without having to search for it. Designers can also ensure that every piece of content created adheres to brand guidelines and is on message.
Discover how the European Investment Fund (EIF) uses Foleon for its content creation and boosts audience engagement here.
Conclusion
Making good use of interactive content is going to define the truly breakout marketing teams— the ones that can funnel qualified leads through their pipeline and into the waiting hands of their organization's salespeople. Understanding the principles of why interactive content is so effective can go a long way toward building the next initiative to turn your target audiences into valuable prospects that are far more likely to close a deal.