As you align your marketing and sales strategies to go all-in on account-based marketing (ABM), there's one key area that needs particular attention.
Content.
Marketing and sales teams usually have different goals when it comes to content. But when following a best practice ABM strategy, these goals need to line up to have the greatest impact on the success of your content.
That means analyzing every single one of your content assets to make sure it meets the needs of both teams. More importantly, each piece of content must meet the needs of your target accounts.
These best practices will help you review and optimize your content strategy to achieve your ABM goals.
1. Conduct a Sitewide SEO & Content Audit
The first step in ensuring your content will effectively support your ABM strategy is to take a detailed look at every single piece of content you have.
The content audit process will help you grasp the current state of your content assets. You'll be able to see what content performs best for your target audience, where sales and marketing goals are being met, and which assets need some work to be effective for your best practice ABM strategy.
You'll also uncover the major content gaps on your site. Launching an ABM strategy will likely cause significant shifts in your content and other strategies, so you might find new content gaps that weren't previously there.
To conduct your content audit, you'll first need to compile a list of every content asset on and off your site. You can do this by running a site crawl, pulling data from Google Analytics, or using a content or site audit tool. It's a good idea to combine multiple sources and de-duplicate the list to ensure you have every possible asset.
For each piece of content, you'll want plenty of data points: traffic, bounce rate, search engine rankings, conversions, and any other key performance indicators (KPIs) your sales and marketing teams rely on.
Be sure the needs of both teams are covered in your data collection. It's crucial to the success of your account based marketing strategy.
Once you have your data, label each content asset by the work it needs. Some content will only need minor optimizations, while other assets might need a larger-scale rewrite or to be scrapped completely and reimagined to align with your new ABM strategy.
You'll also need to make a list of new content that needs to be created to fill in content gaps. This is particularly important if you're lacking content for a significant audience outlined in your ABM strategy.
Your content audit will form the roadmap for the rest of the best practices discussed here. It will help you make sure each piece of content on your site is useful to your target audience, engaging to visitors, and trackable by your team.
2. Optimize Your ABM Content for SEO
With a targeted acquisition strategy like ABM, you might be wondering if SEO is too broad of a channel to be truly useful.
In fact, SEO is a critical channel for any ABM strategy.
B2B buyers rely on their own research now more than ever. That means they're definitely Googling your company, your products, and your competitors well before they ever talk to sales.
It also means that you need to be at the top of the search engine rankings. You need to be the best solution your prospects find in their research and be perfectly tailored to them.
To optimize your content for SEO, start with your content audit results. Look at what content performs well in organic searches, and what content needs a little boost.
The key to this process is making sure your content is optimized for the right keywords. High rankings and tons of traffic sound great, but not if it's coming from the wrong search terms.
If you're getting traffic from the wrong places, it's time to rework the content to get the right kind of traffic. Use a long-tail keyword tool like Answer the Public to narrow in on specific search terms your target audience may be using. Long-tail keywords are not only easier to rank for, but they also convert better — a win-win for implementing a best practice ABM strategy.
Another crucial element to look for is word count. Most SEOs will recommend a minimum of 1,000 words for any content you create, so make sure your content audit flags any shorter pieces to be expanded.
As you add your long-tail keywords and additional copy, pay attention to structure, formatting, and images. Do you have clear subheadings that include keywords? Do you use bullet points, tables, or numbered lists to enhance your content? Do you have images or videos that engage your reader?
If not, add them now! A little SEO optimization can go a long way in boosting your brand visibility.
3. Tailor Your ABM Content to Your Target Audience
Your account based marketing strategy research has given you detailed insights into your target accounts, and it's time to put those insights to work.
Use everything you know about your target accounts to create highly personalized content. This can be by business size, industry, location, or any other information you have. It should also take into account your target audience's preferred content channels.
Every segment you're targeting should have content created specifically for them.
A perfect example of personalized content is FreshBooks' invoice templates. Their landing page includes templates for more than a dozen different segments of their customer base.
The most obvious way of tailoring content is by industry, which FreshBooks does, but they also have templates for different programs their audience might use to create invoices.
This is the next level of tailoring content. It takes that detailed ABM strategy research and applies it to a content strategy for excellent results.
Free, downloadable content is a perfect lead magnet. When you create free downloads for every possible segment of your audience, you're not only demonstrating your value as a company, but you're also demonstrating just how much you care about your prospective clients.
What's in it for you? More traffic, more shares, and more accounts.
4. Repurpose Your ABM Content Into Different Formats
Sometimes, you'll have a great piece of content, but it's just not clicking with your target audience.
Often, this means the format is wrong for the people you're trying to reach. You've written a white paper, but what they want is a video. Or a blog post. Or an infographic.
This is where repurposing content comes in. Turn an article into a video, a video into a social media post, or a social media post into a long-form article. Think about what parts of your content will resonate best with your audience, and turn that content into the right format for them.
Ultimate guides like this example are often perfect candidates for repurposing. While there's lots of good information in it, some audiences might prefer a more image-heavy format.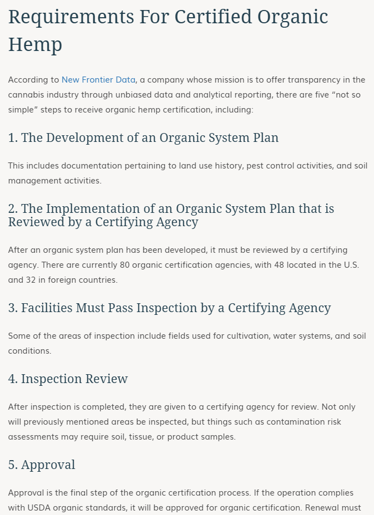 If you were to take the above excerpt and turn it into an infographic, it would instantly become a snackable, shareable piece of content with a greater reach to its target audience.
Almost any kind of content can be repurposed into a different format, regardless of industry or topic. Sometimes you'll want to focus on a smaller section of the original content — like the text to infographic example above — and sometimes you'll want to expand it, like turning a video into a long-form article or a white paper.
The best repurposing strategy is informed by what you know about your target audience and what kinds of content they prefer. It's an excellent way to get more mileage out of a single piece of content while keeping your audience's needs at the center of your ABM strategy.
5. Integrate Design Into Your ABM Content
Effective content must be engaging, and the design of your content is crucial to engaging your audience. The best ABM content is eye-catching and continually draws your readers down the page.
Design is far more than just pretty colors and fonts. It can evoke emotions, address pain points, and even persuade your visitors to take action. Words can do a lot, but design helps them do even more.
But your content shouldn't have to fit into a predetermined design framework. According to Designmodo, "design should start with the content first." It needs to support and enhance the written copy, not the other way around.
The content-first approach helps tailor the design to the intent of the content, creating a more personalized experience for your target accounts. That's the kind of content that will be most effective in your ABM strategy.xt
6. Build Interactive ABM Content
Today's buyers have much shorter attention spans, so your ABM content strategy needs to get to the point, and quickly. One of the best ways to do this is to create interactive content: give your visitors something to do, not just something to read.
Interactive content is not only more fun than reading an article, but it's often more useful too. The best interactive tools guide visitors to highly personalized content that will be more compelling than even your best landing page.
Take this interactive calculator as an example.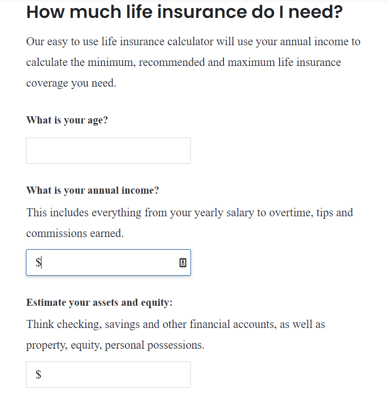 This page could have been a wall of text explaining how to decide what kind of life insurance coverage you need. Instead, it's a fast and engaging way to learn exactly what you need by just answering a few questions and letting the calculator do the work for you.
Interactive content also drives more traffic, more shares, and often, more links to your site. It's a great option for the finance or home improvement industries to calculate savings from a new account or materials needed for a big project — but with a little creativity, you can find interactive content ideas for almost any industry.
One great way to make interactive content for almost any company is to think about how much time or money a prospect could save by using your product or service. Calculate their annual savings or the change in ROI they might see. Any time you're able to engage with your audience, do it.
7. Use Content to Build Trust & Relationships
Underneath every aspect of your ABM strategy is one common goal: to build a trusting relationship with your target audience so they eventually become a customer.
Personalization and other tactics we've already discussed help work toward this goal. You can gain a prospect's trust by demonstrating that you know them and understand their needs.
But some types of content can be more effective at building trust with your prospects. Consider this landing page from Preply: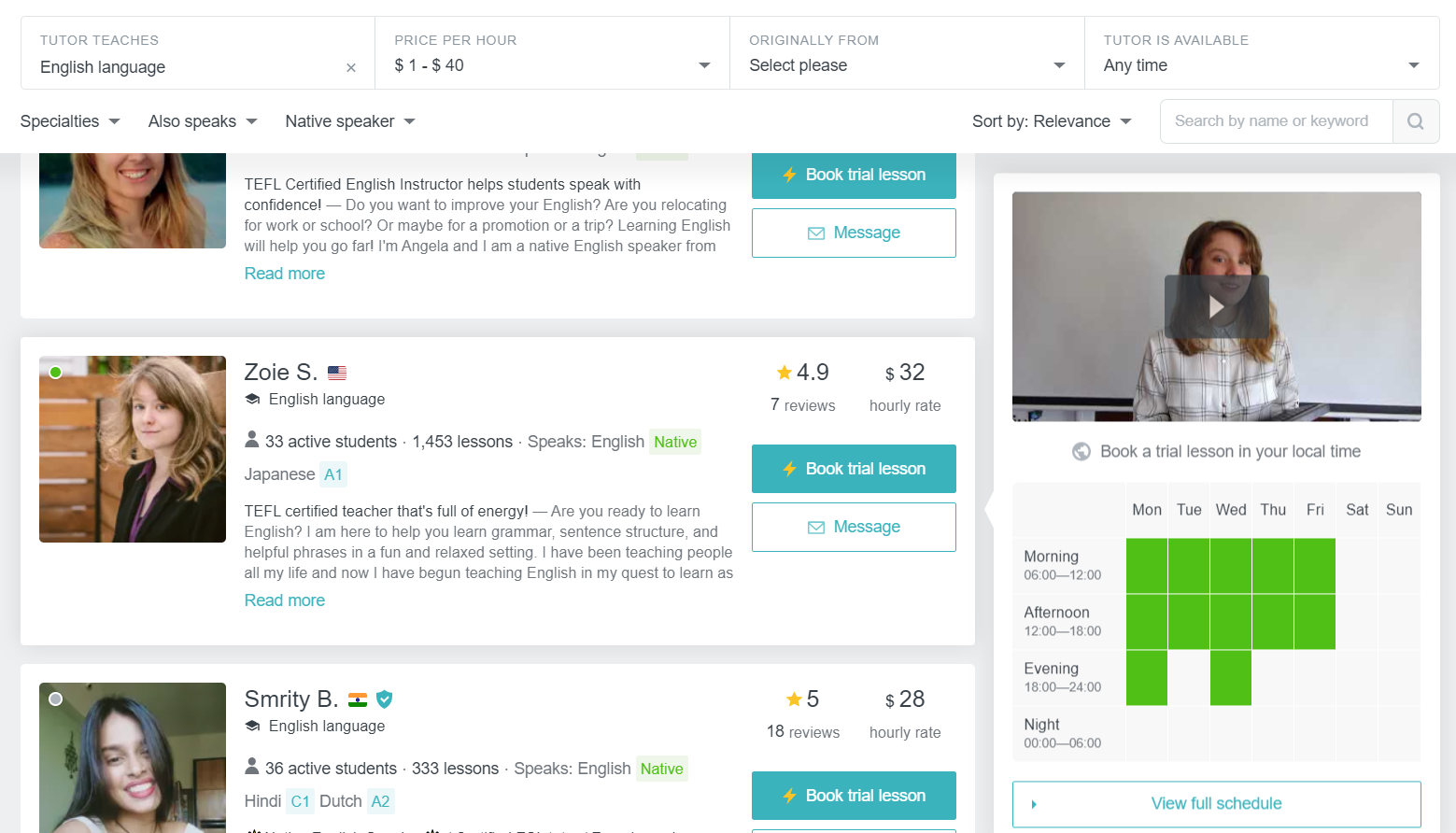 In many respects, it looks like a typical landing page. But there is so much information here that makes it easier for visitors to find what they're looking for (thanks to good use of design). That's one way to build trust.
Another key way is for you to get personal. In the above example, the tutor videos go a long way in helping a potential customer decide to book a lesson. Videos are a highly engaging and highly converting type of content — 72% of people prefer video to text in marketing materials — and when you add a personal touch, that impact is even more powerful.
One of the easiest ways to do this is simply to include real people in your videos, rather than relying on animation. Get your product manager, or customer service team, or whoever is a good fit to appear in your video. Build trust with a personal connection.
Conclusion
Launching an ABM strategy requires a shift within the marketing and sales teams, but it also requires a shift in your content strategy.
Look at your content strategy holistically to determine where it needs to change to best support your ABM approach. With engaging, personalized content, your ABM strategy will be a powerful tool in landing your target accounts.