Adopting an account-based marketing strategy tends to be a very effective approach for Business-to-Business (B2B) companies. And, when you focus on creating campaigns to secure specific clients, you'll need to harness the power of content marketing.
Creating and publishing optimized content can help you to catch your target customers' eyes, provide them with value, earn their trust, and ultimately lead to the sales you're looking for.
In this article, we're going to provide you with the tips you'll need to assemble a powerful account-based content marketing strategy.
What is account-based marketing?
Before jumping into the tips, let's take a moment to explain what account-based marketing (ABM) is.
ABM is a form of marketing where you target a specific (and often fairly narrow) list of prospects based on a strong set of criteria. The level of personalization involved in this type of strategy is what helps convert more prospects into customers. This marketing strategy usually works for B2B companies that have a very clear idea of which businesses they would like to work with.
When creating an effective account-based marketing strategy, it's important to remember that creating the right content is key. By publishing relevant and informative content that's tailored towards a specific audience (or even a specific prospect), you can combine your content marketing and account-based marketing efforts to secure your ideal clients.
Start by conducting an audit of the content you already have
The first step to creating any content plan should be to assess what you already have. This will allow you to see if the articles and other assets you have will work for your account-based approach, and what might need an update.
Conducting an audit can also help you to identify any current content gaps that need to be filled. To accurately conduct a content audit, start by taking an inventory of the current content you have. That includes your blog posts, articles, case studies, videos, white papers, and other assets.
You can use content audit tools to collect all the URLs of your web pages and then assess them to find out which ones you need to update, merge, or delete entirely. You'll be able to decide what action to take when you review data like page views, shares, or backlinks for each webpage.
If you need more information on how to perform a successful content audit, check out this guide from SEMrush.
Research your target audience and the key decision-makers
The key to effective account-based marketing is having a strong understanding of your target audience and the key decision-makers who you are trying to reach and sell to.
If you're having trouble deciding who your target audience is, try analyzing your product or service to create buyer personas. These are fictional representations of your customers that allow you to effectively plan how to attract them. You can also research your target customers by looking through the existing audiences of your competitors. Who follows them on social media, and who has mentioned working with them before?
After identifying the companies or prospects you want to target, you'll want to work out who the key decision-makers are and start to build connections with them. For instance, if you provide content marketing services, you would want to find the marketing manager of a company, or the head of content. The people you need to speak to will depend on what you're selling.
You can build connections with the right people by starting conversations on social media platforms like LinkedIn, Twitter, or even via email marketing.
Collaborate with your sales team so you can properly support them
The whole point of an account-based content marketing strategy is to make your sales team's job easier. So, it's important that you collaborate with them to get a good idea of what kinds of high-converting content you should be making and how it can best be leveraged.
To collaborate with your sales team effectively, try to make use of a content management system that will allow both the marketing and sales teams to share data and content. This will make it easier for people to review or give feedback on different kinds of content while it is still being created.
You could also devise a process where both teams have an initial meeting before starting to create any content. This way, both parties will be aware of the content's KPIs before the project begins. Above all, the key to ensuring both teams collaborate effectively is communication. So make sure there are regular meetings that will encourage open conversations and joint brainstorming sessions.
Plan content for every stage of the buying journey
Every prospective customer will go through a number of stages when working towards making a purchase with your brand. Most sales funnels have three stages: awareness, consideration, and decision.
In the awareness stage, people might just be finding out about your products or brand for the first time. So, you'll want to create informative content that provides them with the best possible introduction. You can also create lead magnets in the form of free tools or templates that will provide value for the people or businesses you're targeting.
At the consideration stage, you'll want to help people plan their purchase. The types of content that tend to be helpful here include buying guides, case studies, or product demonstrations that show exactly what you offer.
Last is the decision stage, when you'll want to focus on nudging people across the line of making a purchase. Comparison pieces, user guides, and even client testimonials can be very helpful here. Essentially, you want to show people why they should opt for your products or services over those of your competitors.
Let's take a look at some examples so you can get a better idea of how to map your content to your buyers' journey.

First, we have a piece of content from Ping Identity, a platform that provides identity and access management solutions. They have a suite of tools dedicated to managing the identity security of their clients and, on their blog, there is a comprehensive guide that explains Security Assertion Mark-up Language (SAML).
This is a very important concept in their industry and it is part of their area of expertise, so they've created this guide to explain the concept to their audience. It's a great way to introduce new prospects to what they do, especially as this is a topic that many people in their target audience might need more information on.
You can also try to use this tactic for your business by creating a well-detailed piece around a particular service that you offer to clients. Is there an element your customers might be totally new to? Explain it in detail.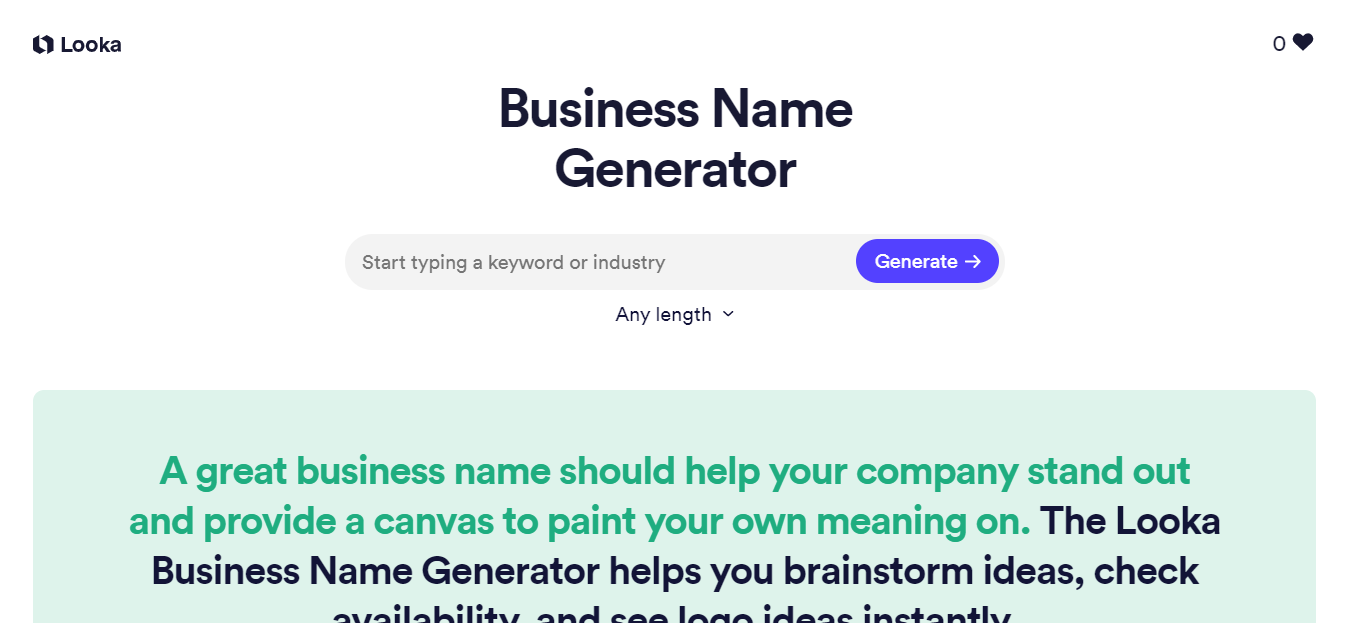 In the awareness stage, you'll also want to provide customers with informative content that shows you're an expert in your field.
Looka is a company that specializes in helping businesses to design their logos and branding. And, they've created a business name generator to show prospective clients that they know exactly what they're doing. Interactive content like this is engaging, and can also allow you to show off your skills so your target clients begin to trust you.
This tool walks website visitors through the process of choosing a business name, and provides a lot of value along the way. If someone has a positive experience of engaging with this interactive content, they'll be far more likely to pay for Looka's services. This is something you'll want to try to replicate when you're aiming to move a prospect through your sales funnel.

To hook prospects during the consideration stage of their customer journey, it can be a good idea to provide them with a round-up of everything you specialize in.
For instance, H Clinical has a webpage that discusses all of the different clinical trial types they can help to facilitate. They cover all of the options, as well as what each of them entails. They also describe the various phases of their clinical trials to give more information and context about the services they offer. It provides prospective clients with plenty of information so they can confidently decide whether to work with the company or not.
One thing you can learn from this is the importance of clearly outlining all the services you offer with your content. You could replicate this example, or put together a high-quality product demonstration.

Lastly, let's look at this comparison piece from SocialPilot, a social media management tool. It talks about 10 Facebook analytics tools for discovering relevant metrics. People who are looking for these types of tools will greatly appreciate this post, especially if they are in the decision stage of their buyer's journey. The post lists out each tool, alongside its benefits, weaknesses, and reviews so people can have all the information they need before making a final decision.
One thing to note when creating content for each stage of your buyers' journey is the importance of tailoring the content to the companies or people you're trying to reach. You'll be able to convert more prospects if you personalize your content to speak directly to the target audience you have in mind.
Harness the power of personalization
Speaking of which, it's very important to personalize content when you're using an account-based strategy. One way to do this is by repurposing the content you already have but adding personalized details that are relevant to your target audience.
You can also create personalized hubs of content and make sure they are aimed at the target clients or companies you're trying to reach. For example, if you own an accounting solution and your target audience is companies that make video editing tools, you shouldn't be publishing content like "the 5 best accounting solutions for e-commerce companies" — you should be speaking directly to your prospects.
Instead, tailor it to companies within the video editing industry so you can ensure your content is reaching the right audience and making them feel like your post was created for their benefit alone. The more personalized and specific your content is, the more likely your target customers will sit up and pay attention.
Summary
Devising an account-based marketing strategy is a great way to make sure your team's efforts are only being targeted at high-value prospects that have a greater probability of converting into customers. Just make sure content marketing is an important element of your strategy.
You can start by following these tips we've discussed: conduct a content audit, research your target audience, and plan content for each stage of your buyers' journey. It won't be long before you start to hear from your ideal customers.