Introduction
Content and Marketing drive our world.
Think about it. You wake up and see videos of leaders and entrepreneurs talking about their companies on LinkedIn. You listen to your favorite podcast on the go. You read a company newsletter during your lunch break.
We all live, breathe, and eat content.
The power of content marketing lies in attracting new customers, educating your audience, driving revenue, and building powerful brand awareness. All the things that you and your company need.
But no one ever got content marketing strategy right from the start. It's a constant learning process. That's why we created this guide to help you get rid of some of the overwhelm.
What's in this guide?
You can find information on the following areas:
What is content marketing?
In order to do content marketing well you first need to understand what it is (and what it isn't). In this chapter, we define what we mean by content marketing at Foleon.
Types of content marketing
Understanding what content type will fit your brand is essential because not everything will. We explain the different content formats you can try out and when they work best.
How content marketing fits into the customer journey
Learn how you can get the right content in front of the right people, and how different content types fit well into various stages of the buyer's journey.
Mapping your content
Understand how to map your content better and determine where it fits best for each customer journey stage.
Content marketing metrics
Find the best ways to document your content KPIs over time to know what is performing well and what isn't, and look for trends.
How to come up with content ideas
Writer's block, anyone? Discover the best places to get information on the questions your audience wants the answers to.
Creating effective content consistently
Learn how to ensure brand consistency in tone, language, and style across every channel and piece of content.
How to monetize and distribute content
Find out how to promote your content and develop a strategy that helps create traffic and raise your brand awareness.
Content marketing tools to try out
Discover the tools that can save you time while helping you perform some essential content creation tasks.
Content marketing takeaways
Here are some suggestions on how you can work through your content market strategy one step at a time.
Let's get started!
1. What is content marketing?
Since we'll be spending a lot of time nitpicking content marketing from all angles, we thought it was best to make sure we're on the same page.
Here's how we define content marketing at Foleon:
Content marketing is the creation and the distribution of educational and valuable content that both engages your audience and builds awareness of your brand."
That's quite a mouthful, so let us break it down and explore further.
"Content marketing is the CREATION and DISTRIBUTION…."
We've emphasized the words Creation and Distribution to clarify that content marketing incorporates both.
You can't just create a great blog post, publish it, and expect it to drive results in your company. You need to distribute that content to the right people at the right time to have the most impact on your target audience.
"…of EDUCATIONAL and VALUABLE content…."
Excellent content marketing has to provide value for your audience, and if it doesn't, it won't be very effective. Well-crafted content can place your company in the position of a thought leader, where you can inform and educate potential buyers. Providing valuable content can form a strong bond between your brand and customers that grows and strengthens over time.
"…that both ENGAGES your audience and BUILDS AWARENESS of your brand."
Content marketing is ultimately about how you build an audience. Of course, you want it to benefit your company, and if you do it right, you'll get the traffic and the sales.
2. Types of content marketing
Now that we know exactly what content marketing is, it's time to dive into the most shared content formats you'll encounter.
Blogs
Blog posts are usually top of mind when we think about content marketing because they're an excellent way to inform, educate, and build your audience.
Best of all, anyone from your team can start writing one, whether it's a listicle or a thought leadership piece, in either a formal or conversational tone; blogs are pretty much universal.
Pros aside, there are at least 600 million blogs on the internet out of 1.7 billion sites (yep, that's a lot!), so needless to say, it can be hard to cut through the noise.
Fear not. There are still many other types of content you can create too.
Podcasts
Podcasts are a great way to reach audiences. After all, we all need something to do while we're cooking, showering, working out at the gym, or standing in line at the supermarket buying groceries.
Audio-only content like a podcast makes excellent sense for the person who can't afford to watch a video all the way through.
Our podcast, for example, is called Perfectly Content, and in each episode, we talk to a guest speaker who shares real-life scenarios on how they tackle content challenges. Listeners hear everything on creating impactful content and strategies and how to build their branding effectively.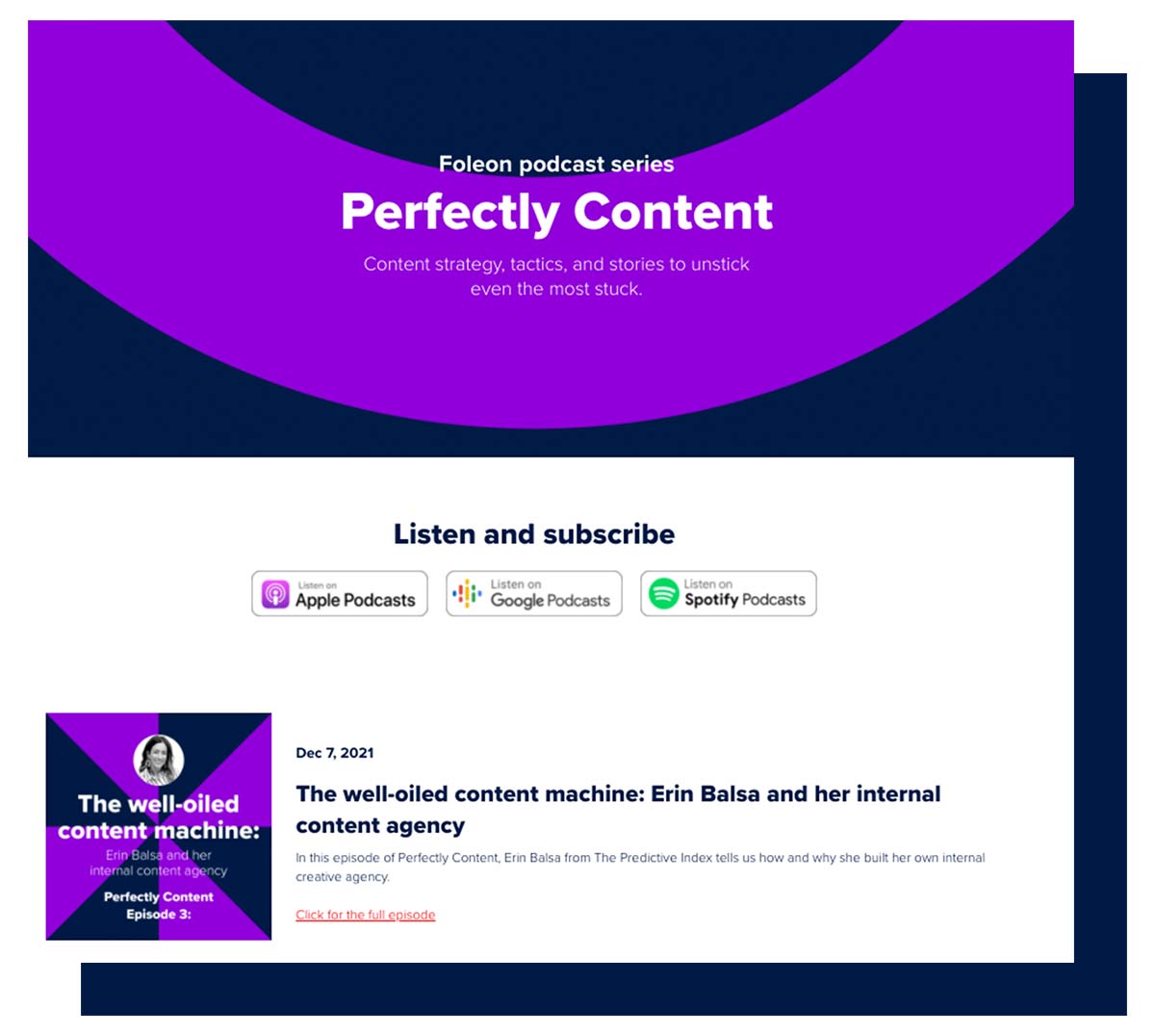 The main purpose of the podcast is to hone in on some of the daily problems that our target audience faces and to help provide solutions to solve these problems.
Here's a fantastic episode we recorded with Katie Leask from Contentsquare, who shares how her passion project led to a super-successful content campaign.
Videos
Videos are a powerful format that continues to become more critical every year — particularly with internet speeds and phone cameras getting better.
Check out one of our videos made on a phone camera:
Use the equipment you have at your disposal to leverage the power of video. You can continuously improve your setup over time.
Another great thing about making video content is that it can live in various places, from your website to the world's largest video search engine, YouTube.
When distributing videos, you can (and should) use social media platforms like Facebook and LinkedIn. Don't forget to measure the impact of your video marketing efforts.
Email newsletters
An email newsletter can be an excellent medium for delivering value-packed content when it's done right.
It's typically focused on a specific topic and delivered via email. Think of it as a little virtual newspaper that reaches engaged and interested folks directly.
We have a newsletter called The Crave, and each week we have a different writer contribute a story, anecdote, or tips to readers. Here's an example of one of our favorite issues where the writer explains better ways to procrastinate.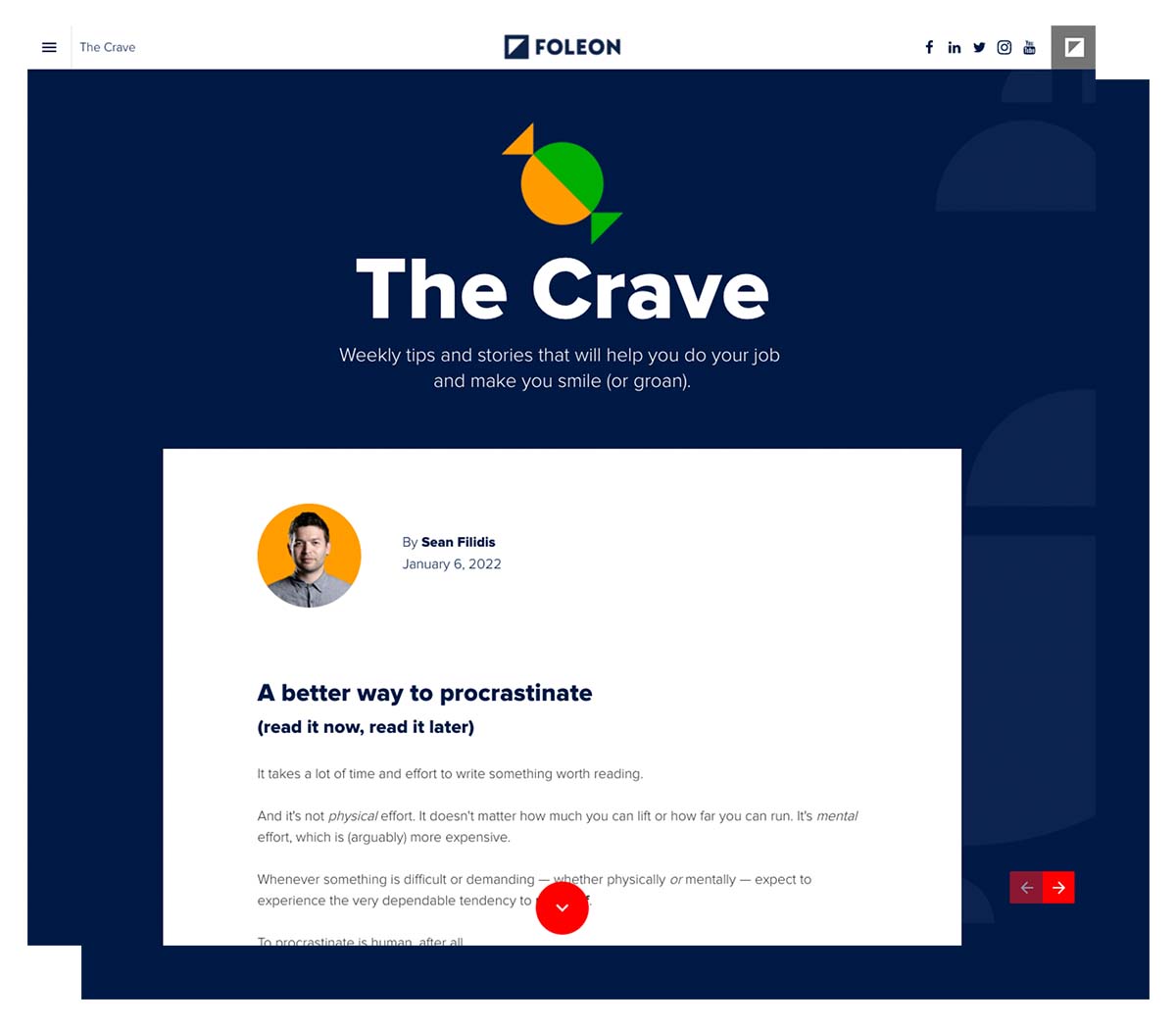 The email newsletters that work best are the ones that stay clear of pitching a product at every given opportunity. Many companies are guilty of this and drive away readers because of an over-aggressive email strategy.
If you want readers to associate your content with education and value, give them that over a sales pitch.
Infographics
The right image can work a charm on social media platforms (think Instagram or Pinterest), and a well-created infographic can generate a ton of likes and shares.
Your brand identity is made up of your visual branding, core values, and mission statements. Combined, these things should communicate who you are, what you do, and what makes you unique.
Your visual branding is where you create a first impression, so it's essential to get it right.
Learn more about how we tackle visual branding at Foleon here.
eBooks
These are a great way to distribute long-form content. You can experiment with the layout using a web-based interactive format that allows you to embed videos, gifs, etc. (These make for terrific lead magnets).
Ebooks are great for increasing conversions and credibility. It can have a lot of impact when used to address a specific pain point expressed by a prospect. Think about them looking for a complete guide on social media marketing.
We often ask our sales team what would be most useful to them and factor that into your planning.
You can read more about popular content types here.
Now that we know what content marketing is and the forms it can take, let's see how it fits into the bigger picture.
Want to know more about creating smart, responsive eBooks that you can track?

Learn more
3. How content marketing fits into the customer journey
If you're a seasoned marketing pro, you should be familiar with the customer journey that follows the stages of progression from when a person comes into contact with your content to become a prospect and eventually a customer.
There are three main stages to the customer journey when it comes to content marketing: awareness, consideration, and decision.
Top-of-the-funnel content for the Awareness stage
Anytime someone becomes aware of your company, they enter into the top of that funnel (or TOFU as it's more commonly known).
TOFU content is all about grabbing people's attention and sparking their interest so that they'll consume more of your content. Your content typically needs to educate, define, contextualize, clarify, and inform to do this effectively.
People in the awareness stage are not ready to be sold to, but they will be highly receptive to any source that helps them name and frame their problem.
This is a great time to make people aware of your brand. If you can provide information that helps them understand an issue they are facing and optimize that content around the search queries they're using, you will rank highly, and visitors will take note of you.
Here at Foleon, we want our TOFU content to be detailed and educational enough to provide real value. It's a bit of a balancing act.
Our strategy is to create blog posts that articulate and describe a problem, help readers contextualize it, and then highlight approaches to solving it that are likely to resonate with people in the awareness stage.
Here are some examples of blog post titles that focus on attracting visitors who are still trying to define and understand whatever issue they're facing:
These three titles cater to potential visitors experiencing frustration but have not yet nailed down exactly what's causing it or what kind of solution to investigate. Visitors are likely to click on these titles because they promise more information that will help them clarify the question they're facing.
Remember that the best way to draw visitors into your funnel is with content that helps them understand their problem and prepares them for the next step: searching for a solution.
Middle-of-the-funnel content for the Consideration stage
The next stage is the middle of the funnel or MOFU. At this stage, the person is considered a prospect and in the process of exploring your product or services further. They may not be ready to purchase, but they are eager to give things a try.
Content should help the reader learn more about possible solutions to the problem they now understand. They'll be looking for more information on you and your competition, so this is the perfect chance to assist them. Content could look like free trials, product demos, eBooks, white papers, and webinars.
Sales and marketing company Drift, for example, hosts a monthly webinar series focused on removing sales roadblocks during the pandemic. It consists of three sessions, each with two different hosts. They cover buyer engagement strategies, winning over newly engaged employees, maintaining close rates across your sales team.
The series works well in the middle of the funnel because the content is extremely helpful and serves as a way to introduce the audience to Drift as a sales and marketing company.
Bottom-of-the-funnel content at the Decision stage
Lastly, bottom-of-funnel (BOFU) content targets people close to making a purchase decision. This is where the stakes get high because you're ultimately persuading prospects to purchase your solution over a competitor's.
Content for the decision stage should flaunt the merits of your solution and provide clear evidence of how it helped others who faced similar problems succeed.
Good BOFU content can convince people to click on the "Buy," (or, the "Try") button.
Content targeting the decision phase should give evidence of expected results and persuade prospects that your solution is the best choice among many. Pieces of content ideal for the decision stage typically include instructional videos and tutorials, case studies, and success stories.
We've created webpages for our customer stories and customer examples. This is a great approach for us because it showcases our wide-arrange of customers, and allows potential customers to find templates and designs that could work for them.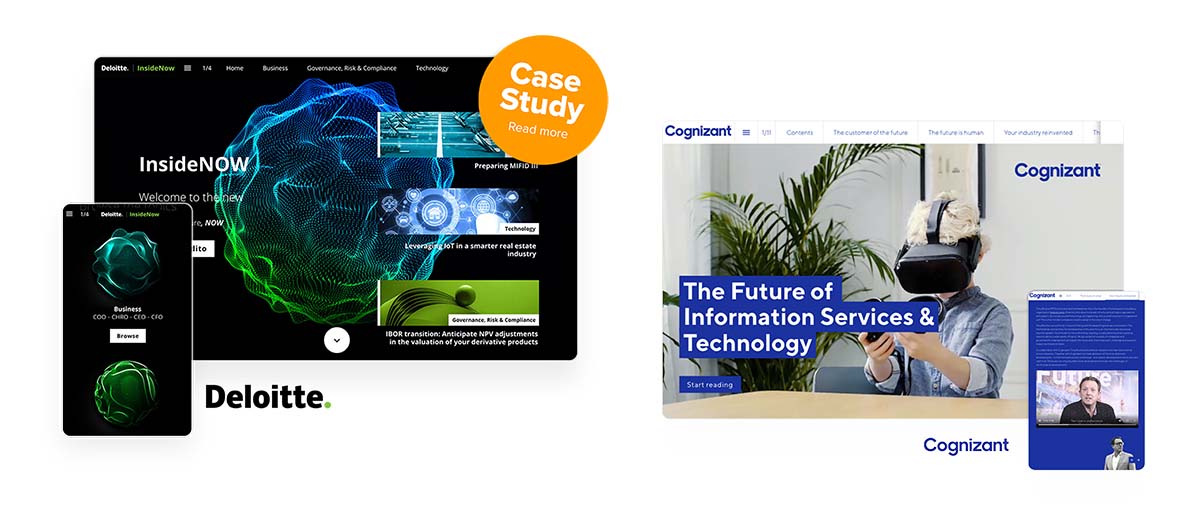 As you can see, understanding the customer journey helps you present the correct type of content to potential buyers at the right time.
The challenge now is to determine where each of your current assets belongs in that journey.
4. Mapping your content
Not sure what direction to head into next? It's time to map everything out.
The best way to get strategic with your content and begin applying it to the customer journey is by performing an audit of all your existing assets.
For each content asset you have — whether a blog post, brochure, web page, video, white paper, or something else — you should determine where in the customer journey it belongs and how effective it is in moving prospects further through your funnel.
This allows you to:
Identify content gaps in your funnel
Optimize content according to where it belongs
The goal of a content audit is to get a complete picture of what content you currently have published, its performance, and then to let that influence which pieces you'll plan for the next several months and their projected performance.
If this is beginning to sound like lots of work, that's because it is. Effective content marketing is no walk in the park, but when done right, it pays off!
Identifying gaps with a content audit
To help you identify gaps in your content strategy, first create a spreadsheet that includes a list of every piece of content your company has created and is currently planning for the future.
The spreadsheet should have columns for the status (published or planned), type, title, stage of the customer journey it targets, persona it targets, and the URL.
Filling out this sheet will give you a great idea of where your content might be lacking. You might notice, for example, that the majority of your content addresses the decision stage and that you have very little geared towards the awareness stage. Or perhaps your awareness stage is well-covered, but you lack consideration stage content.
Focus your content creation efforts on filling these gaps and ensure that every customer stage/persona combination is catered for with quality content.
Establishing goals for your content
So, after determining where each piece of content belongs within the customer journey, you need to check whether those assets are doing their job.
Is your awareness stage content helping people define their problems?
Do your consideration assets showcase the merits of your solution?
Are your decision pieces persuading prospects that your offer is better than those of your competitors?
Before you can answer these questions, you need to decide on some measurable goals. Goals allow you to gauge the effectiveness of each piece of content and then optimize them accordingly.
Here are six content goals we use at Foleon (though yours may differ):
Acquisition: To attract new visitors
Activation: To turn visitors into subscribers
Education: To engage subscribers and keep them coming back
Revenue: To persuade visitors to make a purchase
Expansion: To encourage customers to upgrade
Referral: To delight customers and turn them into evangelists
As you can see, the goals don't always have a 1-to-1 relationship with the journey stages. While acquisition and activation are most associated with the awareness stage, activation could also fall neatly into the consideration stage, depending on the context.
What's important here is that assigning goals to content allows you to measure their effectiveness and optimize them.
Only once you've determined a goal for each asset can you assess its effectiveness and begin to optimize it.
Filling your funnel
The beauty of filling your funnel is that as different prospects move through your customer journey, you'll always have a good piece of content there to nudge them along.
In this way, you'll be able to help prospects along the entire journey, from beginning to end.
The more robust this ecosystem becomes, the better your conversion rate. In turn, this will give you better insights into your customer journey and enable you to create even better content.
This is how marketers sustainably fill their funnel, which makes content marketing so effective.
5. Content marketing metrics
If you want to improve the performance of your content marketing, you have to track and measure it over a period of time.
To determine what content is successful and what isn't, you have to keep an eye on content marketing key performance indicators (KPIs) for every piece of the published content.
Here are some of the KPIs that we track at Foleon to measure the performance of our content.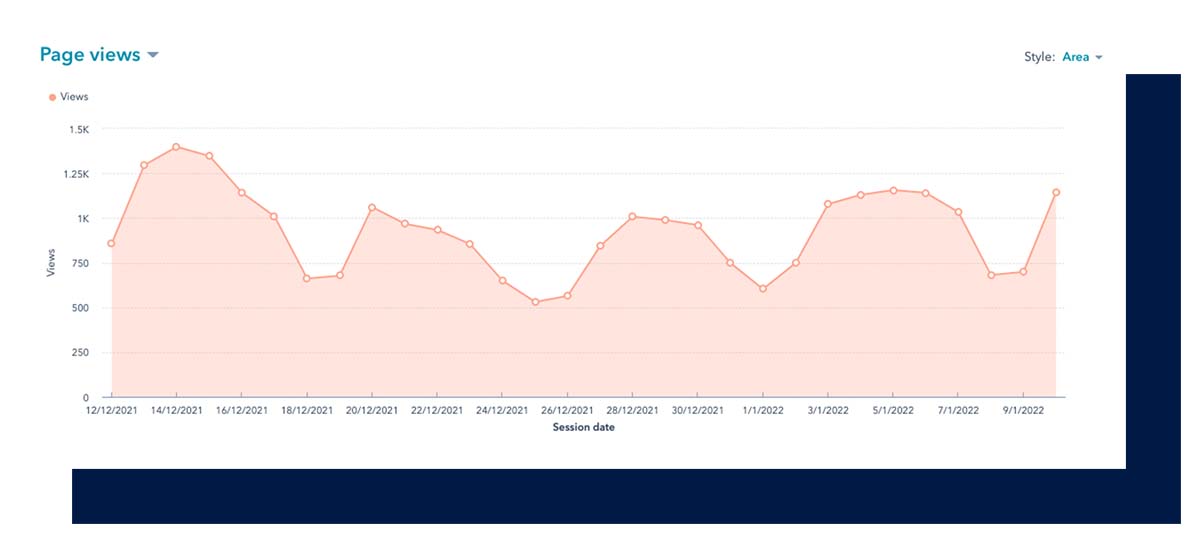 Blog posts
Pageviews. This metric can help us determine what our audiences are interested in, how well our website pages are optimized for search and user behavior trends. It's never a bad idea to keep your finger on the pulse of how many people view your posts and at what times. This gives you an idea of your content engagement.
Organic sessions. With organic, you want to bring interested people in with high-ranking relevant content. Your organic sessions let you know how effective your content is in attracting people looking for answers to the questions you're answering.
Ranking keywords. Keyword rankings can help you determine which content you need to work on to solidify your rankings or launch new pages to outrank the competitors for the keywords they began to go after.
Email subscriptions. The main purpose of growing an email list is to build a relationship with your subscriber, and a key component of relationships is mutual. Opt-in is a good indicator that your audience resonates with the content you're putting out into the world.
Podcast KPIs
Downloads. This refers to the number of people who downloaded episodes. Keeping track of episodes with the highest number of downloads is important because it can help you gauge the effectiveness of your podcast's episode title and which topics your audience finds most appealing.
Video KPIs
Your KPIs for videos will depend on the platform(s) you choose to distribute them. For the sake of this article, let's focus on the most prominent video platform, YouTube, where you can monitor and examine the following:
Subscribers. Your number of subscribers is the best approximation of your audience on this platform, so the higher the number, the better.
Likes and comments. These metrics can help to show how much people are engaging with your content. On YouTube, you can also track the number of likes versus dislikes. For a more in-depth analysis, you can scour the comments section to understand better what people think and are saying about your content. You may also find more questions, which you can then address with follow-up content.
Views. This is often considered a vanity metric. Yes, the more eyes you get on your content, the better. However, let's examine video views in context with the abovementioned metrics. If you're generating a lot of views but have few subscribers with little to no engagement, that's a sign that your headline and thumbnail are great but that your content is failing to deliver the value that viewers are looking for.
Making the most of your KPIs
It's essential to track your KPIs and look for trends to give your content a fair shot to see what's working and what isn't.

For instance, if one of your videos got 500 views, you wouldn't know if that was good or bad if you didn't have other videos to compare it to.

Perhaps you got 400 views last month, or 200 views the month before, and so on. In this context, you can reasonably assume that this video has touched upon a trending topic and is rising in the search rankings.

Or, perhaps your average video got 1,000 views, in which case it's underperforming. If that's the case, this gives you reasons to question why that might be. Did it target a competitive keyword? Was the publishing time less than great? Are the headline and thumbnail subpar?

If you notice that your content is consistently underperforming, that's a sign that it might be time to stop and try something else. You always want to optimize your content — and the only way to do that is by tracking and measuring your KPIs.

.
6. How to come up with awesome content ideas
Do you ever go around in circles to figure out what to write and how to write it?
If you're having trouble figuring out where to start, consider these tricks to help you find even more ideas.
One of the most common ways to develop awesome content ideas is to find out what questions people ask about your industry. Knowing what information people are looking for makes creating content much more straightforward.
You can use the following tricks to determine what content to create next:
Quora. This is an online forum where anyone can ask any question. You can search for topics or your industry to find out what readers are interested in. You'll soon find questions that you can answer through your content.
Reddit. This is another great online forum where you can discover all types of content. You can use Reddit to examine what people are sharing and are interested in the most in your industry.
Facebook groups. People discuss industries, interests, and topics here. This is an excellent place to look for groups with many questions and answers in your industry.
Google Keyword Planner. This is an excellent place to see what content generates high traffic from searches. You can look for other potential keywords that could focus on future content using this.
Industry publications, popular titles, and topics. Find and follow all the sites and newsletters in your industry to see the latest trends, news, tips, anecdotes, and everything else your readers like. Keep an eye out for articles with the most engagement in shares, likes, and comments. This will give you a feel for what is resonating with readers. You can then create content to build on those topics by exploring different angles, bringing in a different viewpoint, or expanding on what is already being discussed.
Sales teams as a source of information. They talk to your prospects and find out the most common pain points, what your audience likes and understands about your product, what they don't like and understand, what they want to know more about, etc. You can come up with many great content ideas just by sitting down and having a chat with your sales teams.
Surveys. These are always a good idea to send out to customers to find out what's working for them and what isn't. You can do this by asking them what challenges they're facing in the industry, what topics they would like to know more about, etc. Directing even one question to a few customers can inspire great content and ideas.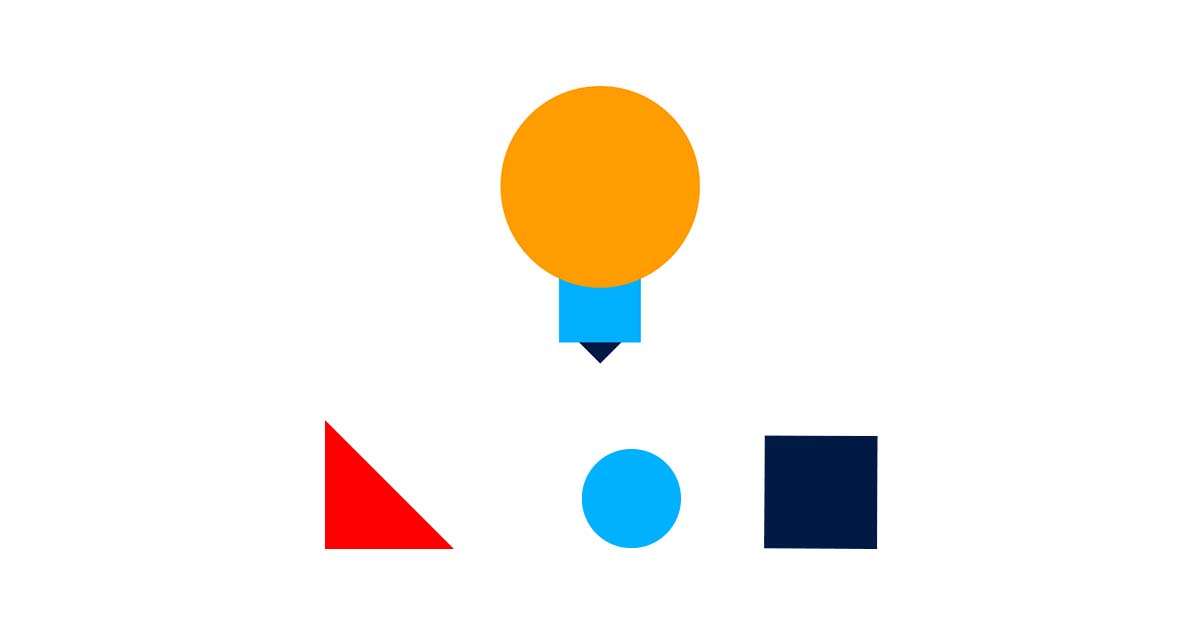 7. Create effective content consistently
So we've explained what content marketing is, how it fits into the customer journey, what metrics to track and measure, and how to come up with awesome content ideas.
Now it's time to get into the nitty-gritty of creating compelling content consistently.
Here are three ways to do it:
Create a content calendar
Brand consistency is critical in content marketing. You'll want to make sure your content is published regularly so that your audience knows when to come back.
That's why we recommend the use of a content calendar.
With a content calendar, you'll better picture what content you will publish and when. A calendar also ensures that you're more strategic about the content (rather than just randomly posting about topics as they occur to you, which many companies do!).
Just like your content strategy, your content calendar can be as easy or complex as you need it to be. At a bare minimum, we recommend including the following details: title, content type, publishing date, author for each content piece, and customer journey stage.
Create a style guide
Having a brand voice is important when millions of people post content online and want to stand out. However, one of the biggest challenges with this is the issue of consistency.
To make sure all your content has the same voice, tone, and style, you must create a style guide that all writers can follow.
Your style guide is a list of rules to follow that helps multiple different people writing for your site achieve a consistent brand voice.
Your style guide should touch upon the following areas:
Grammar
Voice, tone, style, personality
Cliche phrases to avoid
Design
Use of industry-specific words
Blog, video, or podcast guidelines
A good style guide will help keep your tone, style, and voice consistent, give your content a feeling of cohesion and make your company appear professional and trustworthy.

Take a look at our style guide here.
Repurpose content
Want to know how to dramatically improve and efficiently speed up your content creation at the same time?
Repurpose your content.
Repurposing content is also known as "content recycling" and is when you reuse all or elements of existing content to expand that content's reach.
To put it simply, you don't need to write every post, record every podcast, or film every video from scratch.
Instead, you can recycle former content and publish it by doing the following:
Taking an existing blog article and applying it to a different buyer persona
Taking an older piece of content and pulling out soundbites that are still relevant to share on social media
Taking a piece of content and turning the facts and stats into an infographic
We often turn our webinars into blog posts. Take this webinar on Applying Content Intelligence with Foleon. We turned it into a long-form blog post by pulling out video excerpts from the webinar and deep-diving into specific points on uncovering the content intelligence insights that matter.
Talk about getting the maximum possible mileage out of every new piece of content you create!
8. How to monetize and distribute content
After spending a lot of time coming up with content, researching it, and writing it, it's time to publish. But that doesn't mean the hard work is over.
It's important to promote what you have and develop a strategy that helps create traffic and raise your brand awareness.
There are a variety of options when it comes to the content promotion that you should be using. Let's deep dive into some of them:
Social Media
Social media is the place to start and build conversations with your audience (around your company and niche) and it allows you to reach more people at once.
You can share your content directly to your own or someone else's page. You can also communicate with the groups that you're in. This means that you have an infinite number of ways to share on social media.
Social media is also how most content becomes viral. Just think of memes, videos, hashtags, etc.
Here are some social media promotion tips:
Target specific people with mentions and tagging
Cross-post, but change up the messaging for each platform
Tag relevant businesses/people when you can


On Your Blog
Your content has to live somewhere, and there's no place better for it than your blog.
Your blog acts as your content hub. Articles, brochures, reports, etc., can live here. Your blog is also a great way of sharing updates on new services or products set to launch.
It's essential to keep your blog as relevant as possible by doing regular content audits. No one wants to see an article published years ago. Keeping your content up-to-date can be enough to get people to redistribute it.
Tips for promoting on your blog:
Update outdated or irrelevant information
Promote guest post content
Write a roundup


Email Broadcast
You likely have a newsletter or an email drip campaign which are great places to share your content.
Newsletters mostly have the main message and then relevant articles linked throughout. While readers may not click on all the links, they may be intrigued if something catches their eye.
You may have also seen some people share a recent guide or webinar in their email signature before. Again, people may be intrigued enough to click on it, and at the very least, they know it exists.
Ideas for sharing your content via email:
Drip campaigns
Email signatures


Guest Posts
You can earn your backlinks by contributing to roundups and guest posting.
If you can find a non-competing company with similar customers to yours, you can write content that will benefit them and help drive traffic back to your content. For instance, you could add the link to your blog in your author bio.
With guest posting, you have the potential to discuss relevant new content and have the opportunity to promote your content and build a new audience while doing so.
You can also build up your authority in the space because you're more likely to be found in searches through guest posting, which can build up your audience's trust in you. This could lead to more guest post requests, and in turn, greater content promotion opportunities for you.
Tips for getting a guest post:
Make sure to bookmark blogs that guest writers are on
Contribute to roundups when you can
Ask partners if they'd be keen to do a guest swap with you


Paid Ads
You may have to pay to promote specific content on Facebook, Twitter, or LinkedIn. Display ads are an option for getting your content seen by more people.
A paid post is worth exploring because you can target who sees it. In most cases, these all fall under pay-per-click (PPC). This essentially means that even though many people may see your ad, you only have to pay only when someone clicks on your post.
You might want to consider driving paid ad traffic to a landing page so that you can get your audience to engage with your content.
Here are some tips on how to create paid ads that help with promoting content:
Use high-ranking keywords
Set yourself a budget per month or quarter, and choose who you want to target
Make sure your ad copy is compelling
Drive traffic to a landing page first
Promoting your content is essential because it creates brand recognition and awareness, enables you to become a part of the conversation, and makes it easier for others to share your content too.
9. Content marketing tools to try out
We've covered a lot of ground so far, and you may be wondering; How do I *do* all this stuff? And that's a valid question!
Fortunately, some beneficial tools can save you time while helping you perform the most important tasks when it comes to content creation.
Here are some of our favorite tools:
Blogging tools
SEMrush. This is a great tool for brainstorming for new keyword ideas. For example, suppose you click on the keyword "content marketing" on SEMrush. In that case, many more keywords will be displayed that are relevant to it, such as "effective content marketing," "content marketing case studies," "content marketing success," and so on.
Keywords Everywhere. You can quickly get the search volume for any keyword by going directly to Google and typing it in, including relevant keywords. Great for saving time having to search for keywords on different platforms.
Ahrefs. This is mainly used to analyze a website's link profile, keyword rankings, and SEO health. You can also use Ahrefs to conduct keyword research for Google, YouTube, and Amazon. And many people use Ahrefs to find content that's performed well (in terms of social shares and/or links) on a given topic.
Google Analytics. This is essential for providing helpful metrics on your blogs like your bounce rate, time on site, average pages visited, and more.
Answer the Public. This free service shows you what questions people have asked about specific topics. It's a great way to develop content ideas that are more varied, specific, and helpful.


Writing tools
Google Docs. What's not to love about this? All your files are saved online, and they're accessible from anywhere in the world, which makes it great for collaborating with your colleagues, even if they're halfway across the world from you!
Grammarly. This tool highlights spelling and grammar mistakes by offering suggestions. The last thing you want is content littered with grammatical errors.


Video tools
iMovie and Windows Movie Maker. These are two great (and free!) video-editing options for Macs and PCs, respectively.


Podcast tools
Buzzsprout. This podcast platform makes getting started easy for beginners and has a host of advanced tools for pro users. Apart from that, the platform gives you the privilege of monetizing your show.


Content creation tools
Foleon. The intuitive Drag & Drop Editor and interactive Foleon Doc make it easy for anyone to create content that's 100% on brand.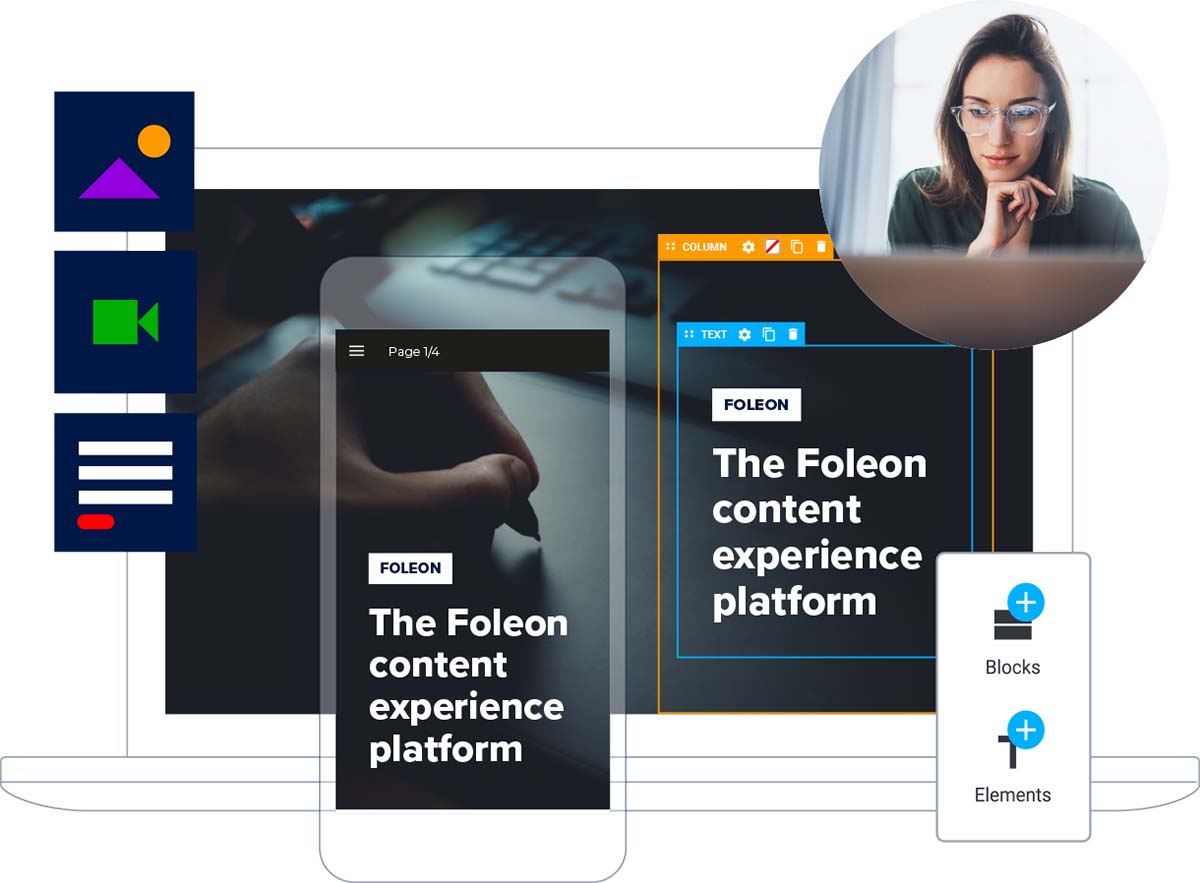 10. Content marketing takeaways
Congratulations on making it until the end of this guide. By now, you should know everything that there is to know about content marketing!
We know it's a lot of information to absorb, but the most important thing to remember is to work through your content market strategy one step at a time.
Here are some key takeaways to help you:
Be patient. Content marketing is a long game. It can take time to see success — especially when it comes to SEO. Stick with it, and give your strategy some time to succeed.
Educate, don't procrastinate. Too many companies procrastinate when it comes to content marketing, but it's a vital part of your company, so you should focus on it. The best way to do that is to educate your peers on its importance and divide and conquer!
Value, value, value. The theme of this guide is value. Make sure you're doing something to help your visitors at every step in your content marketing journey.
Now, what are you waiting for? Get out there and start creating some awesome content for your company.
P.S. We have plenty more content marketing resources for you to check out and take your content marketing even further!