Hey, Google. Write me a blog post about scaling content creation.
Bleep, bloop. Here's a result I found on the web.
Sigh... Do I have to do everything myself?
Okay, so Google can't do it yet. But honestly, AI is getting better at writing authentic-sounding text. Have you seen this article from The Guardian written by GPT-3? It's creepy how human it sounds.
In recent years, legions of AI content marketing platforms have popped up offering to write "high-quality" SEO-optimized posts from a simple headline.
But while these algorithms can put coherent keyword-stuffed sentences together, they all have an inherent flaw: none have anything to say. You still need a brain to have an idea, make a case, and argue a point.
So, while we wait for the robots to come for our jobs, we content marketers must keep churning out content the old-fashioned way — one keystroke at a time.
Luckily, though, there's a ton of existing technology to make content creation easier, faster, and more scalable.
From tools that will make you a better writer to platforms that will turn your whole team into — I want to say "content machine," but given the intro, that now sounds uninspired — into a streamlined content powerhouse.
So, let's put down those quills and explore some of the best.
Tools for scaling content creation
When we say "scaling content creation," we're not just talking about individuals pumping out content faster — although that's part of it.
It's about setting up department or company-wide systems and repeatable processes that make content production more streamlined, predictable, and consistent. The goal is a system that can handle growth as your needs increase and as you add more capacity.
Having the proper tech stack is an essential part of this.
Here, we can divide technology into two categories: tools that help individual contributors write, design, and publish; and platforms that help teams collaborate, manage, and govern both their content and their processes.
Let's look at the former first.
Tools to help you create better content faster
Below are a few of my personal favorite content marketing tools. Some of them help me write better. Others help me finish other content-related tasks faster and more consistently. All of them make my life easier, and can probably do the same for you.
Grammarly — write like a pro
We've reached a point where you don't necessarily need a background in journalism or literature to become a good writer. Practice and a little help from our robotic friends can help turn mediocre into remarkable.
I start all my documents in Grammarly's distraction-free text editor before moving them to a Google Doc or CMS. At Foleon, in fact, we make the use of Grammarly mandatory for anyone who writes customer-facing content — that's how useful it is.
More than just a spell-checker, it analyzes your style, tone, and word usage and suggests improvements.
Probably the best part is that, with a company account, you can add your own brand guidelines to keep individual writers using the correct verbiage and punctuation.
(By the way, I recently wrote an opinion piece for the content marketing newsletter The Crave about whether or not Grammarly is a crutch. It's a fun read — you can check out here.)
Thesaurus.com — always find the perfect word
There's honestly no substitute for a good synonym. 🥁
Not only does a thesaurus help make your writing more varied and exciting — it can help you find exactly the right word for every situation. I use Thesaurus.com so often that I have a dedicated keyboard shortcut to open it in my browser.
The great thing about Thesaurus.com versus other thesauruses is that you can click on any word to get more results — and then click some more. I often find myself rather deep down a rabbit hole of new and fascinating terms.
Charcount — optimize your titles and tweets
Here is one to bookmark. Charcount.com is a simple tool that tells you — you guessed it — how many characters you've typed out. Okay, it also gives you words, lines, pages, and several other helpful statistics.
I find it especially useful when writing ads or tweets with a hard character limit. It's also great for email subject lines or anything else where you want to squeeze as much value into as few words as possible.
Capitalize My Title — because APA is confusing
Most of us know not to capitalize short articles, prepositions, or conjunctions when writing a title. The problem is that most of us aren't even sure what a preposition is.
That's why CapitalizeMyTitle.com is so handy. Whenever I'm in doubt, I paste the whole title in there, and it capitalizes the appropriate words. You can also set it to Chicago, MLA, or whatever standard you prefer.
HTML/Text converter — avoid formatting issues
One of the most frequently botched steps in publishing a blog post or article happens when writers move text from a word processor like Google Docs into their CMS to publish it on the web.
Copying and pasting often causes messy code and unintended formatting issues. If you're familiar with HTML and CSS, you may be able to fix these yourself. But it would be better to bypass the problem altogether.
I use https://html5-editor.net all the time for this. I paste my text from a Google Doc, or wherever, into the rich text editor, click the clean button, then copy out the HTML it provides. Then I put that into the source code section in my CMS for a clean document.
Your web manager will love you for this.
Spritz Reader — read stuff really, really fast
Good content creators spend lots of time reading. It's essential for research, staying up to date on industry trends, and monitoring what other content people are producing.
If you've never experienced Spritz, you're not living up to your full reading potential. It's a new way of reading, developed by some very clever people, that increases your reading speed and your ability to retain information.
It's hard to describe; you need to experience it for yourself. You can use the Spritzlet browser plugin or just watch this YouTube demonstration to see it in action.
It takes some getting used to at first, but it is incredible once you do.
Figma — Create your own graphics
Have you ever finished an article just on time for your publishing deadline, then realized you forgot to ask your designer for a header image?
Here comes Figma to the rescue! It's like a mix between Adobe Illustrator and InDesign, but for mortals. It's online, free, and highly intuitive.
You can have an account with multiple seats meaning your designer can put a bunch of templates and visual components in there for you to use. You can then just change the text, for example, and be done.
It's great for creating quick social posts, ads, diagrams, etcetera.
Canva — Make your own charts and graphs
Canva is another very easy-to-use design tool. Probably their most distinguished selling point is the vast number of templates they offer for free. You can create great-looking charts and graphs to spice up your content in just minutes.
The one below took me about 60 seconds to complete.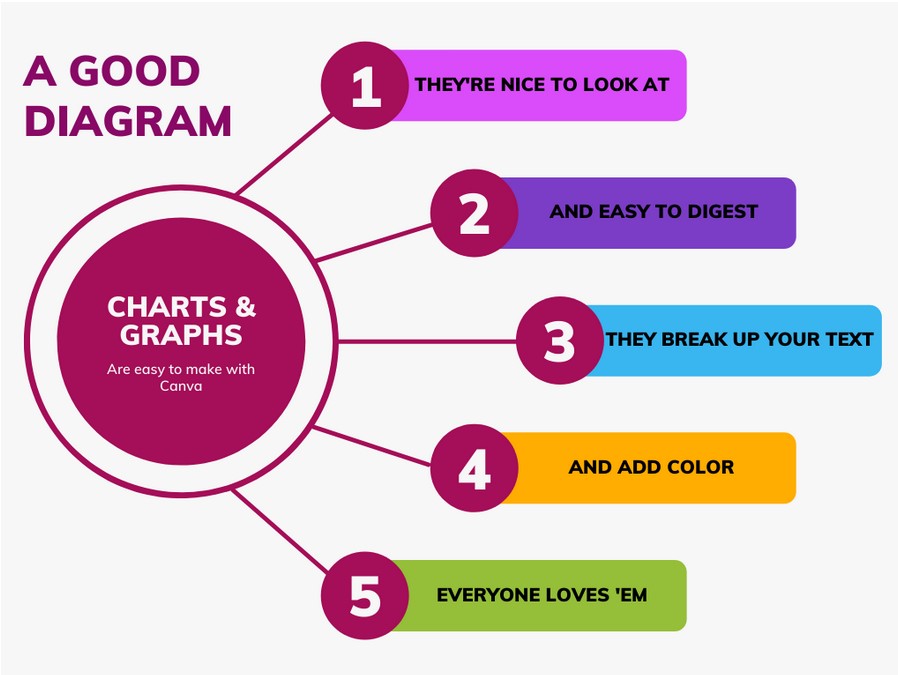 Statistica — get data already arranged in charts
Adding numbers and statistics to your content is always helpful and lends authority to your writing — especially if you're arguing a point that requires some evidence.
Statistica is a great place to go for all kinds of data already pre-arranged in graphs. Much of the available data is free to use, but it can be worth getting a paid membership if you use it regularly.
Tools to help your team scale up content creation
The previous section focused mainly on technology that help individuals speed up their workflow and get more done with less effort. But when you're part of a content team, that's only part of the story.
Scaling up content creation requires teamwork, and that's why the following list of platforms focuses on better collaboration.
Google Docs — comment, edit, collaborate
It wasn't that long ago when Google Docs felt like magic. More than one person writing in the same document at the same time!?
Today, it's hard to imagine how we got things done without it. I still remember sending Word docs back and forth in a fog of confusion about which one contained the latest changes.
Collecting feedback from other team members, non-destructive editing, and commenting make Google Docs a potent tool for content teams. Here at Foleon, most of our work gets done — and most of our writing starts — in a Google Doc.
When it comes to collaborating with a team of writers, there may be better tools, but I haven't found them.
Hypothesis/UsePastel — annotate even when it's already online
Wouldn't it be great if you could use the comments feature from Google Docs anywhere on the web? What if, for example, your colleague's article is already published, but you still want to provide some feedback.
UsePastel and Hypothes.is are two tools that allow you to annotate the web and let others in your team see the comments you've left. It's an ingenious idea.
You could, for instance, leave comments on your corporate home page for one of your copywriters to look at later. Only other team members will see them. You can even leave comments on other websites where you find great ideas and share them with your team.
Monday — project management meets spreadsheets meets automation
Monday.com could just be the most useful project management tool out there (though, to be honest, I haven't tried all of them). There is almost nothing you can't do with it.
It's excellent for keeping track of tasks and ensuring everyone is on the same page. But it can also be a real time-saver as it helps you automate many tasks.
Set up an automation that notifies your social media manager, for example, when you mark a blog post as published. Or tie together two boards where items contain interdependencies.
The platform is so flexible and customizable and has so many valuable integrations that I've started using it to replace spreadsheets for some use cases. And I love the ability to switch to a kanban or calendar view.
The systems and processes we've set up in our Monday environment are partially what keeps our content output steady and predictable. Everyone knows where to find things and can see what's coming up with just a glance.
The dashboards and reporting make it especially useful for lookbacks and performance analysis.
Foleon — get more people creating without breaking your brand.
No list of content creation technology would be complete without mentioning Foleon. It's a platform that lets teams create engaging, interactive content without much design or technical expertise.
One of the most significant advantages of Foleon is that it helps companies scale up content output by involving more people in the creation process without jeopardizing brand guidelines.
The workspaces and user roles let your brand team govern templates and other company assets while your authors and editors can add or adjust content without messing anything up. This gives your brand team less to worry about and empowers customer-facing colleagues to create bespoke content without always waiting for marketing or comms.
A salesperson, for example, can create a tailored proposal for a prospect using a pre-approved branded template without the brand team looking over their shoulder.
Tip: Check out this story about how Avison Young scaled content creation globally with Foleon.
Miro — brainstorm and develop ideas together
Nothing can replace a proper in-person whiteboard session. But Miro comes close to replicating that experience.
Zoom calls and Slack messages aren't always enough to convey complex ideas or prompt creativity. Sometimes you need to sketch it out and show one another. Whether it's drawings and sketches, or charts and diagrams, your team can use Miro to work together visually, develop ideas, and understand each other better.
Whenever our team has whiteboard sessions, we have more good ideas than any single person can remember. The great thing about doing it on Miro is that you don't have to take a smartphone picture of your whiteboard afterward — you can feed valuable items directly into your project management system.
And there's so much more
There are so many great tools for creators to get things done that I could probably turn this post into a book. But we've got to stop somewhere.

If you're interested in learning more about scaling content creation, you should join our free webinar on May 31. We'll discuss some of the exciting updates Foleon just launched to help teams ramp up their content creation.