Types of marketing collateral:
eBooks
Blog posts
Pillar pages
Landing pages
Branded content
Infographics
Event magazines
Brand stories
Case studies
White papers
Corporate brochures
Product catalogs
Proposals & presentations
Re-engagement emails
Corporate magazines
Newsletters
Digital reports
Customer magazines
Member magazines
Content hubs
Click to see the full infographic.
Introduction
Remember when U2's Songs of Innocence album magically appeared in your iTunes library back in 2014? Many people were not pleased about an unwanted record showing up in their music library and had a lot of trouble getting rid of it again.
What in theory should've been a good marketing move (after all, everyone was getting something for free) ended up backfiring on both U2 and Apple.
But why?
Existing fans may have appreciated the free music, but not everyone listens to U2. New listeners who were unfamiliar with their music weren't ready to commit yet. Rather than attracting new fans, indiscriminately putting an unwanted album into millions of user's iTunes accounts provoked resentment and even feelings of violation.
Using the right type of marketing collateral with tailored messaging to new and existing fans could have saved them from the backlash. Perhaps, an email newsletter announcing the new album with an iTunes download link would have sufficed.
Before convincing someone to buy into your product or service, you must nurture them through the buyer's journey with the right collateral for each stage. Pushing for a hard sell right off the bat will not work.
No matter how well-known your brand is, you will always have to approach different audiences when creating marketing collateral. Targeting different audiences with the right marketing collateral will help you generate leads, promote new products and campaigns, entice prospective customers, re-engage existing customers, and make yourself more publicly known.
This guide will detail the most important types of marketing collateral you should include in your repertoire and explain how and when to use each type.
Chapter 1: What are marketing collaterals?
Marketing collateral is any media material used to promote a company's products or services. This includes everything from print materials like posters and flyers to digital content like catalogs and digital magazines. Marketing collateral is anything you can use to communicate your company's brand message.
In the past, businesses relied heavily on printed marketing materials. However, these traditional methods, which require direct contact with consumers, are no longer the only option. The internet has made it possible for brands to reach more consumers than ever without depending solely on face-to-face interactions.
The move towards online media has opened up endless opportunities for companies to create marketing collateral to promote their products and services. You can now send personalized emails, which are gateways to all of your other content, to as many recipients as you want. Thanks to the internet, everything you see online can now be considered collateral: e-magazines, white papers, blog posts, digital annual reports, and more.
The move towards online media has opened up endless opportunities for companies to promote their products and services.
No longer just for marketing
Historically, these materials were relevant mainly to sales, marketing, and other customer-facing teams.
Nowadays, branding is essential everywhere within a company, and so are the marketing materials that support it. Even human resources departments, which were traditionally internally-focused, now need to promote their brand for employee engagement and recruitment purposes. So yes — every part of an organization needs digital marketing collateral!
Purposes
Your marketing collateral serves different purposes for your various audience segments, but it collectively helps to support your marketing and sales efforts. You might focus on building awareness if your audience is figuring out the challenges they are facing. If they know about your brand but are unsure about whether they should start using your product or service, you might create something that's focused on converting them into qualified leads.
Most digital marketing collateral contains at least one call to action. It may be something as simple as asking the audience to check out the company's website or a more specific request to check out a blog post. Regardless, your marketing collateral should work together to draw prospective customers through the buyer's journey and eventually help them make a decision.
What kind of collateral should you use?
Different marketing collateral types serve different purposes and largely depend on how far along your prospects are in the marketing funnel. Some prospective customers might be ready to commit to your product while others are just exploring options. It's vital for you to address each group with different collateral that is appropriate to where they are in the buyer's journey.
Tracking marketing collateral
A big challenge for many companies is tracking, measuring, and optimizing their digital marketing collateral. This is especially true when marketers use PDFs or other "static" formats. While you can see how many people download a PDF, you can't measure how much of it is read, nor which specific pages were read. Furthermore, there is no way to track PDF distribution. Once your marketing collateral is out there, it can be forwarded freely to others — even after its information is out of date — and you have no way to track its circulation. That's why many progressive companies have switched to online marketing collateral that can be tracked.
Want to know more about smart marketing collateral that you can track?

Learn more
Chapter 2: Types of digital marketing collateral
Now that marketing materials are no longer limited to print, you have a multitude of digital marketing collateral varieties to choose from. There are many advantages to going digital. You can easily share your marketing collateral on social media and track your audience's engagement. You can use captured lead information or feedback to determine collateral types that work well and plan your future campaigns.
The variety of marketing collateral that exists means you are no longer limited to boring PDFs or PowerPoint presentations. You can use web technology like interactive forms and apply immersive user experiences such as parallax scrolls and background videos to bring your digital marketing collateral to life.
Since each type of marketing collateral falls into different stages of the buyer's journey, we've compiled a list categorized by appropriate usage for each funnel stage.
Awareness stage
Marketing collateral used for the awareness stage should educate prospective customers on the problems they are facing. Defining your audience's challenges will help them articulate their needs and drive them to start searching for solutions.
At this stage, your prospects realize they have a problem but may not be able to flesh out those challenges. Your goal is to let them know you understand their challenges. Creating marketing collateral that resonates with your audience can keep them coming back to you and move them to the next funnel stage.
Providing value should be the focus at this stage. Subtlety is critical — don't try to sell anything yet, or you'll risk turning people off.
Below, you'll find examples of marketing collateral you can use at this stage to introduce your brand and value proposition to new audiences.
eBooks
Brands that want to position themselves as authorities on specific topics can look to eBooks to share their expertise. eBooks are an excellent way to inform and educate your audience. At this point, you might begin to wonder how eBooks are different from white papers. Both are digital marketing collateral, and both are long-form pieces of content that aim to educate readers on a particular topic, but eBooks are less technical and usually more entertaining. White papers are indeed a great digital asset but are more suited for use at the consideration stage.
When creating and formatting an eBook, make sure your content is engaging enough to keep your audiences reading as they tend to get lengthy. You can add social links to sections that are highly visual and worth sharing.
Gating is a good practice for eBook distribution. If your target audience or prospects are willing to exchange their lead information for your expertise, it's a win-win situation for both parties.
See examples of eBooks
Take a look at our eBook on smart lead generation above. It'll give you an idea of what an eBook looks like and how you can leverage your high quality content to generate leads from your target audience.
Want to know more about creating responsive, measurable eBooks?

Learn more
Blog posts
Blog posts are one of the most popular types of marketing collateral that brands use to attract a wider audience. Besides educating visitors, business blog posts often contain a call to action to persuade new readers to check out the company's products, services, or other content.
Because they are a hub for answering questions that people are searching for, blogs effectively drive traffic to your website and help your company build brand awareness as a byproduct.
As marketing collateral, blog posts can be used at any funnel stage, depending on what the call to action is. However, they're especially great for awareness stage marketing. By writing posts that address the problems your prospects are facing, you help them on their journey toward finding a solution, and you build brand awareness at the same time. To appeal to your target audience, you can even do a feature story with an appropriate influencer who shares your company's values.
Fitness subscription service ClassPass has a blog titled The WarmUp, which is designed to look like a standalone publication. The advantage to this design is it mimics the look and feel of a lifestyle news publication, which increases the likelihood that readers will trust what they're reading and see ClassPass as an expert in the health and fitness space.
Check out our blog!
We also have a blog where we give you all kinds of tips on writing, analytics, and anything you need to know about content marketing. You can also find product updates on our blog.
Pillar pages
A pillar page is a comprehensive piece of marketing collateral about a specific topic, on a single web page. In case you haven't noticed, you are reading one right now. Pillar pages go in-depth into related topic clusters and are interlinked with other blog posts and content pieces. Because of their length, they usually include a table of contents to help readers easily navigate each section.
Pillar pages can be included as part of a blog or as a standalone section on your website. Because they contain links to a lot of your content, they serve as a hub where people can find everything related to your pillar's topic. Also, all your related content contains links back to your pillar page. This is great for your SEO because all the keywords on blog posts, images, or content that you link to will now be associated with the pillar page. Your content has a greater chance of showing up in search results, as your increased keyword count will likely match longer search queries.
Aside from reaping the SEO value of pillar pages, B2B companies often create educational content for their customers to establish themselves as an authoritative source on a topic. It's a great tactic for attracting new users as those who find your pillar page helpful will return for more content.
Form-building platform Typeform creates many pillar pages on other topics related to marketing that appeal to marketing professionals. They include topics like brand awareness and lead generation, all of which any marketer will find useful. Certain sections also include CTAs, which are an excellent way to remind readers they can sign up to learn more.
Pro tip: Don't wait until the very end to include your CTA, or you'll risk losing some of your readers who don't have the patience to read through your entire pillar page.
Check out this pillar page
Many of your posts can be linked in a pillar page, which makes it an important part of your content promotion. If you're interested in learning how to build an effective content strategy, check out this pillar page on Building and Applying a Content Marketing Strategy.
Landing pages
Landing pages are standalone pages tied to specific marketing campaigns. This is where your audience lands when they click from an ad. They usually include a form asking for your prospects' contact information. They act as a cover for pages they link to, depending on each campaign's purpose.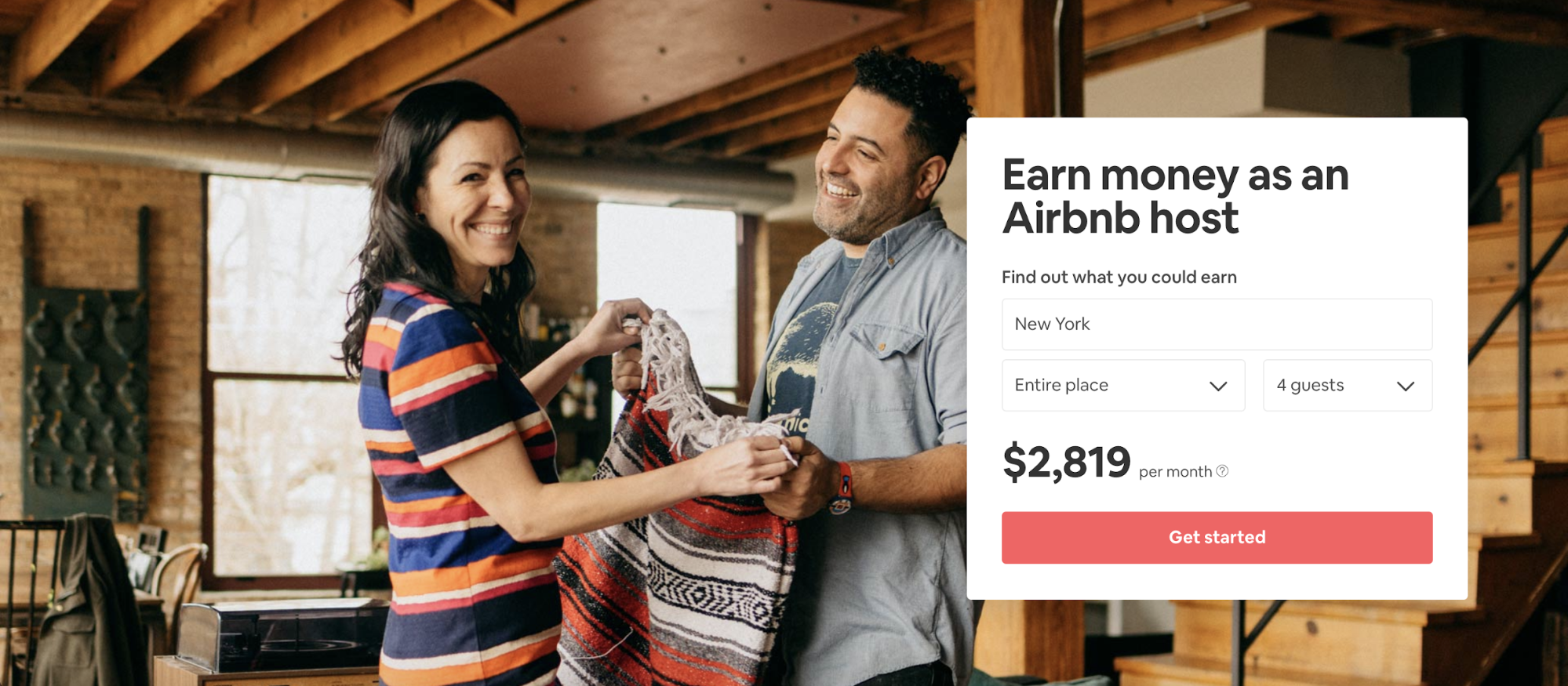 Although landing pages can be used for different purposes at various stages of the buyer's journey, they're typically used to collect information for lead generation at the awareness stage. This usually includes a form that the prospects fill out in exchange for downloading a content piece or staying on the company's mailing list.
You can create multiple landing pages for different campaigns that still lead to the same page after the user completes the survey or form. You can also create landing pages to gate content specific to each page of your website. The content behind each of your landing pages can serve different purposes. By asking your prospects to provide additional information, you can personalize your content for your audience. The most significant benefit of getting your prospects' contact information is you can use them to generate leads.
Landing page examples
Take a look at Airbnb's landing page for hosts. It includes a widget that predicts how much money users can make renting out their homes on the platform. It even lets users determine their potential earnings based on their location. Simple forms like these are great for generating leads.
Branded content
Unlike other collateral that's been so far, branded content is created specifically to be featured in a news publication. With branded content, businesses pay media publications to create newsworthy content that aligns with their branding. These can be articles or videos, depending on what the brand and publication agree to create.
What is brand collateral?
Brand collateral is the collection of assets (both online and physical) that support and promote a company's brand strategy. They're the materials that support your company's message.
What makes branded content special is that the content reads more like a news article than an advertisement. They don't require mentions of a specific product or service the company is looking to promote but do mention the company as a sponsoring partner and show their logo.
What a branded piece can look like
Hennessy sponsored this post in the New York Times to highlight the story of a chef who mastered the farm-to-table concept for his restaurant in Austin, Texas. At the very top of the post, Hennessy's logo is visibly shown as the sponsoring partner.
The article doesn't mention Hennessy but centers around its primary association with the concept of mastery. At the very end of the article, Hennessy's tagline "Harmony. Mastered from Chaos." is shown in a banner with a call-to-action that leads to its website. The tagline nicely wraps up the article and puts the entire idea of mastery into perspective for the reader. This helps readers understand why Hennessy sponsored this post despite them not mentioning any of their products in the article.
Infographics
Infographics are another form of collateral that can be used across the buyer's journey but are more common at the awareness stage. An infographic can be an illustration, graph, chart, or a combination of any of those elements. They can be used as standalone pieces of content or included as part of a blog post or article.
With so much content on the internet, it can be hard to stand out. Infographics do an excellent job of getting you noticed because of how visual they are. Research has shown that humans are better at processing visual information than text, which means an infographic will leave more of a lasting impression on your audience.
Examples of infographics
This report by CodinGame contains multiple infographics that display additional information when your audience hover over them. Animating each element to show one at a time lets you control the hierarchy of information and makes it easier for your audience to follow. The report requires audiences to interact with hidden elements, which is a great way to ensure they're spending more time on the report.
Event magazines
If you host big conferences that you want to publicize to new audiences, an event magazine is an excellent place to start. Event magazines are publications dedicated entirely to coverage on a specific event.
You can use them to recap or detail highlights from an event your company has hosted. Creating a magazine for a past event is also a good way for to archive it for those who were interested but didn't have the chance to attend.
They can also be used to promote upcoming events. You can give your audiences a glimpse into what they can expect from the event, the kind of speakers who will be there, and location details.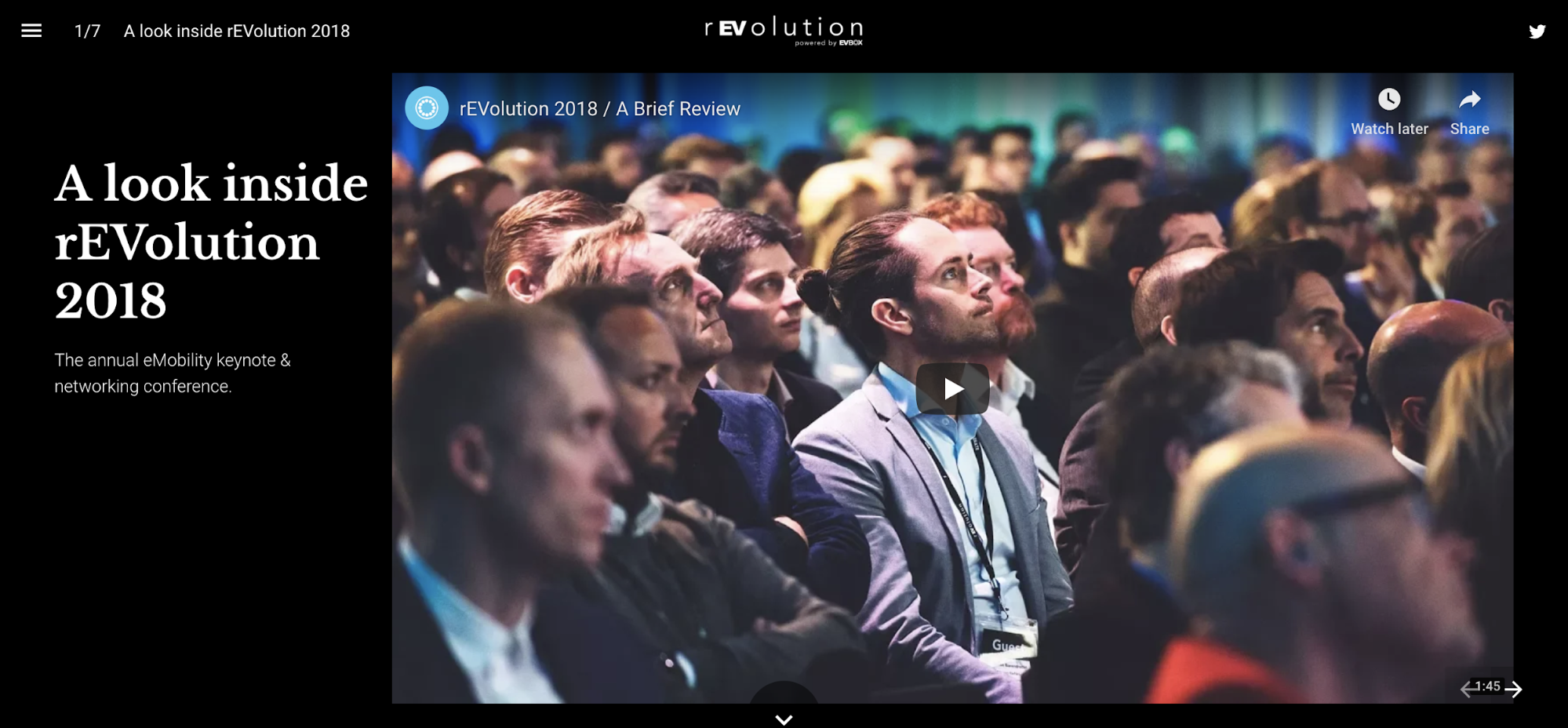 Missed an event? Just read about it
Printed event magazines are now a thing of the past. EVBOx's recap on their Inside Revolution 2018 eMobility conference offers an immersive way for audiences to re-experience the event. You can choose to view interview footage of each speaker through different buttons on the publication rather than watching an entire interview. It's a great example of how you can use digital publications to customize the way you segment your content.
Consideration stage
In this funnel stage, your prospects have clearly defined needs and are considering available options. They're thinking about your products and services but also evaluating alternatives. Since they are aware of your solutions but not entirely ready to commit yet, your goal is to help them move towards making a decision on your company's offerings.
Generally, marketers use collateral created for this funnel stage to prove a company's success with its clients. Below you'll find a few formats for consideration stage collateral.
Brand stories
Your brand story is your company's narrative. This can exist in the form of a video, a digital publication, your website, or the bio section of your Facebook page.
Your brand story is crucial not only for your marketing purposes but also for building trust and humanizing your organization. You want your brand story to connect with your audience so they hold you in higher esteem than your competitors. Most companies have a brand story page on their website dedicated to their origin story, what they do, and other essential information about the business. These pages are usually titled About Us or Our Story.
See our brand story
Learn more about our company on Our Story page. We also have another page dedicated to our team members so you can get to know them.
Case studies
Case studies are the best example of consideration stage collateral and are used to showcase your company's success stories. They are versatile and can be created as single-page or multi-page documents. Case studies usually include four main components: the challenge, the solution, the result, and the client's testimonial.
When writing a case study, it's important to conduct interviews with your clients. Ask them about their experience with your product or service and what tips they have for other customers. Asking questions that tap into your client's emotions will help you create an even more compelling case study. Using quotes will also make your case study more convincing.
The goal of a case study is to demonstrate how other companies achieved success with your product or service. Ideally, you'll have many case studies so that your prospects are likely to find one about a company similar to them, facing the same challenges.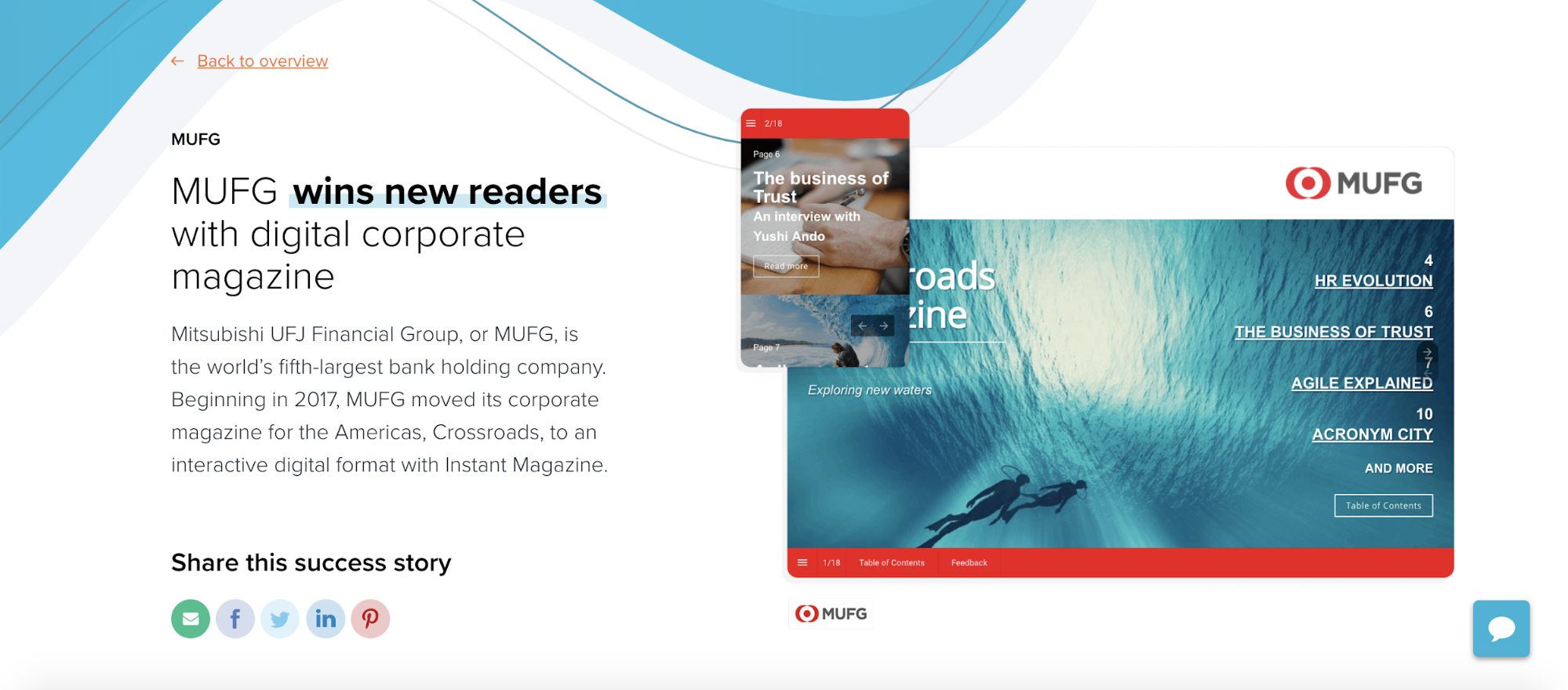 Talking about big wins
At Foleon, we produce case studies with clients from various industries to showcase their success using our platform. One of our case studies, with MUFG, explains how we helped them win new readers once they began using our platform to create their digital corporate magazines. We interviewed MUFG's Director of Corporate Communications to hear about his experience with our platform and why he chose us to help MUFG engage millennial readers. The result is a convincing case study that proves to our audience, with the backing of our clients, why our tool works.
White papers
White papers are long-form, in-depth pieces on a technical subject. They are often used to position you as a thought leader on a specific topic or area of expertise. They are similar in length to eBooks but written in a more technical rather than entertaining style.
Check out this white paper
White papers can be used to explain highly technical information and typically go more in-depth than a single blog post. This interactive white paper on data privacy and GDPR from BDO clearly illustrates the point. Because data privacy and GDPR are such specialized topics, white papers are an excellent choice for educating their audience.
Create your own
If you're looking to create white papers, take a look at our comprehensive guide on how to write and format a white paper.
Want to know more about creating responsive, measurable white papers?

Learn more
Corporate brochures
Traditionally, brochures were foldable pamphlets that companies distributed to prospective consumers during in-person interactions. They contain information about a company's products or services, as well as contact information.
With all the tools that are now available to create online content, brochures have evolved into digital information resources that are easily shareable. They can be confused with eBooks and digital magazines when rendered digitally, but shorter copy and bullet points are the distinctive feature of brochures.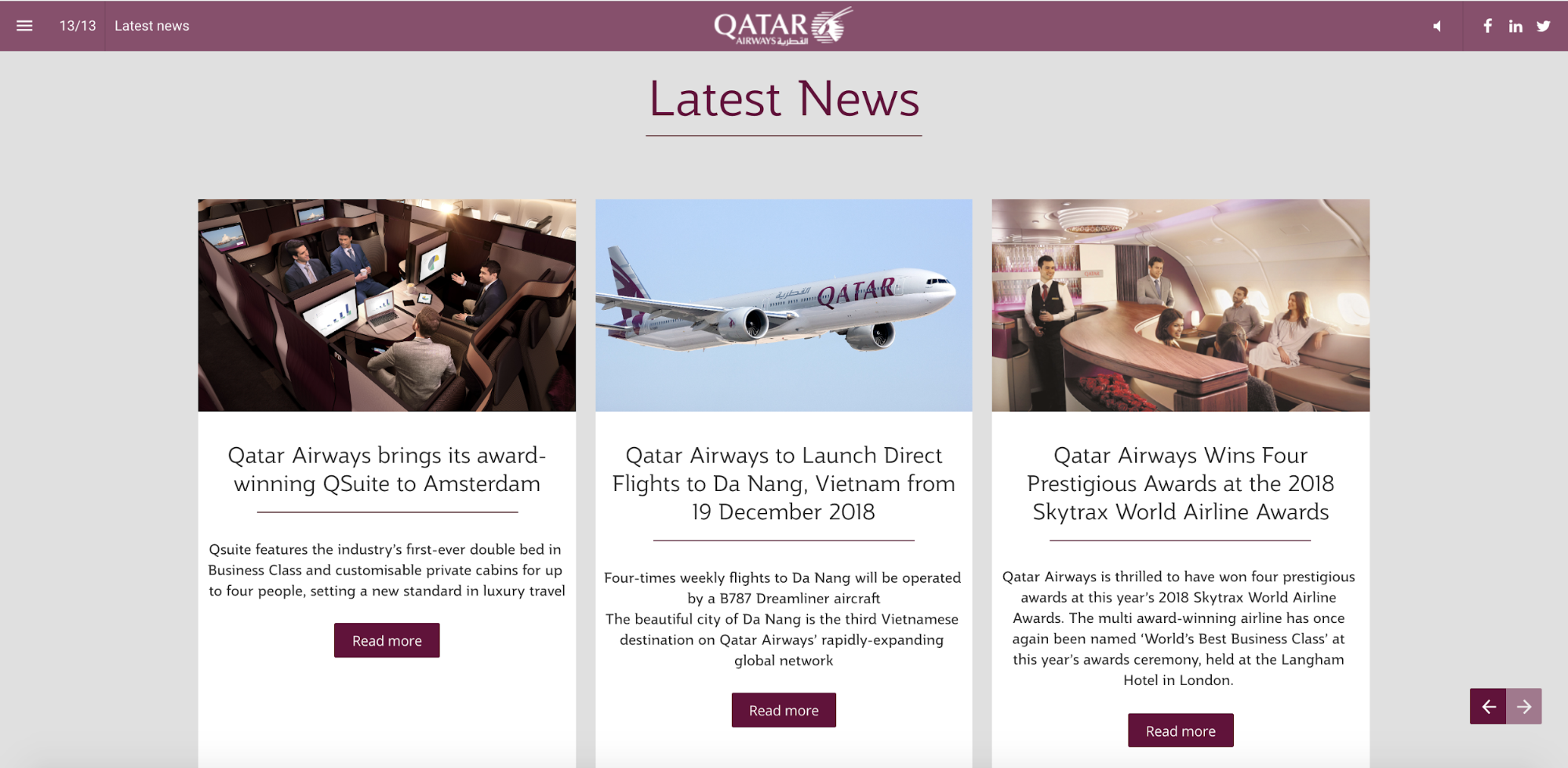 What does a corporate brochure look like?
This digital brochure from Qatar Airways highlights the airline's offerings, ranging from cabin-class seating specifications to destinations, lounges, and aircraft models. Each page covers a separate topic, which allows viewers to focus and not be overloaded with too much information.
Product catalogs
A catalog can be described as a book-length brochure. Catalogs detail information on products in a similar manner to brochures but are much longer since they sometimes include feature stories about the products. They are better suited to companies that want to showcase a broader range of products and services.
Showcasing your offerings with a catalog can help you increase sales. It's easier for your users to buy your products through a catalog than other collateral because all your offerings are laid out for them to make a decision.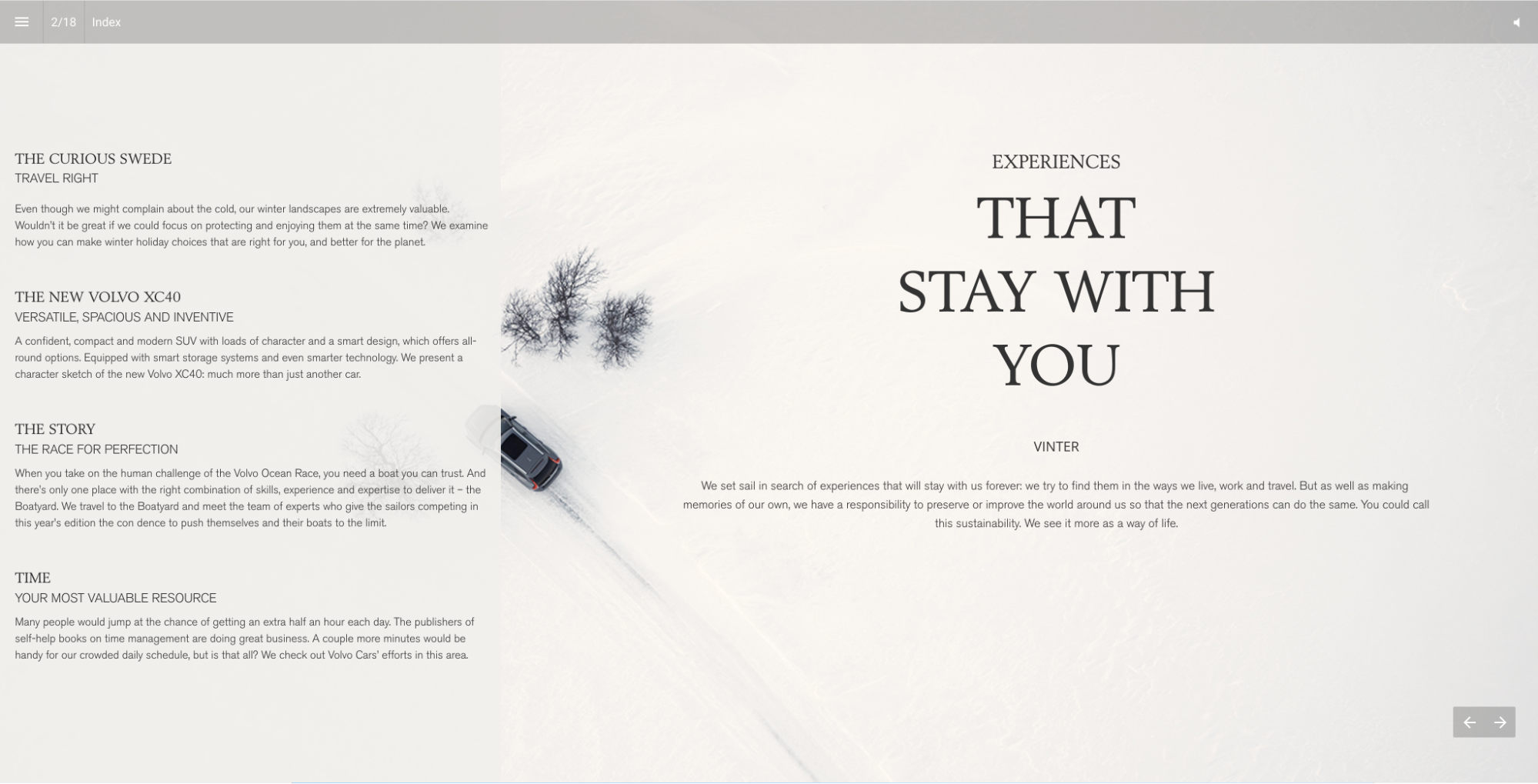 What's special about this car
Because customers want to know technical specifications for products like cars, they require more in-depth explaining. This digital catalog from Volvo showcases their Winter vehicle line, the individual parts with pricing information, and the story behind the car line. This allows for a magazine-like feel to the catalog, which readers will find enjoyable.
Decision stage
At this point, your prospect has decided on the approach they'll take to solve their problems. They may have specific features they are looking for and might be researching options to come to a decision. This is when you want to let them know the advantages your product or service has to offer over your competitors. Ultimately, you'll want them to choose you.
Your decision stage marketing collateral should convince your audience to buy your product or service. The following collateral can be used at this stage to show your prospects how awesome you are and why you are the answer to their problems.
Proposals & presentations
Traditionally, new business proposals and presentations have existed predominantly in PowerPoint or PDF formats, but this is slowly changing as brands shift towards more interesting ways to present to and convince their clients.
Examples of presentations
In this interactive presentation deck from real estate company Knight Frank, the audience is guided through the very finest waterfront properties of 2022. As the audience flips through each page linear format allows audiences to focus on one feature at a time, which helps them better process the information since the entire deck exceeds 13 pages. Buttons and a menu tab are included on each page for the audience to click and easily jump between sections.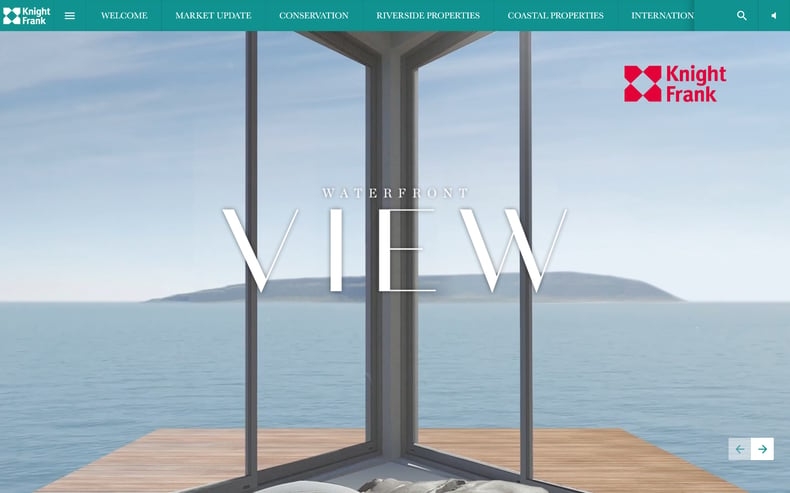 Re-engagement emails
Re-engagement emails help urge your clients to complete a purchase or subscribe to a service. Maybe your client has been using your product or service for a while now, and you think they should upgrade to a higher plan. In the case of retail companies, these emails remind users that they've added things to their shopping cart but haven't checked out yet.
A sample purchase reminder
Bloomingdale's uses abandoned cart emails to remind users that they have existing items in their shopping cart that are waiting to be purchased. The average abandonment rate is around 67%, but you can recover up to 12% of your sales if you send abandoned cart emails.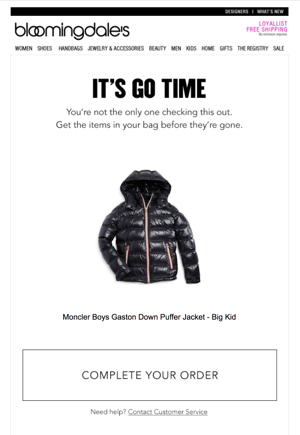 Users don't always intend to abandon their carts. Sometimes they happen because of website crashes or timeouts during the payment period. Either way, abandoned cart emails will save you from losing sales.
If you'd like to improve your sales recovery process with more content, consider sending your customers a lookbook that contains the items they want to purchase. You can create interactive lookbooks with Foleon's drag-and-drop editor, which is easy to use and doesn't require the help of designers or developers.
Loyalty stage
With loyalty stage collateral, your goal is to keep your current users engaged and convince them to continue using your product or service. At this point in the funnel, your audience is already familiar enough with your offerings, so you don't have to worry about the initial push to get them on board. However, you should always keep your existing customers updated on what's new.
Corporate magazines
Keep your current customers up to date on industry news with corporate magazines. They can cover anything from upcoming trade shows to listing the latest trade publications that your customers should know.
A go-to resource for airline executives
Corporate magazines are highly tailored to address a specific audience in each industry. Travel technology firm Sabre Global creates corporate magazines like Ascend covering airline retail technology and information that those outside the aviation industry might not find useful. However, to airline executives, this corporate magazine provides insights that can help them adopt new solutions and make better decisions for their businesses.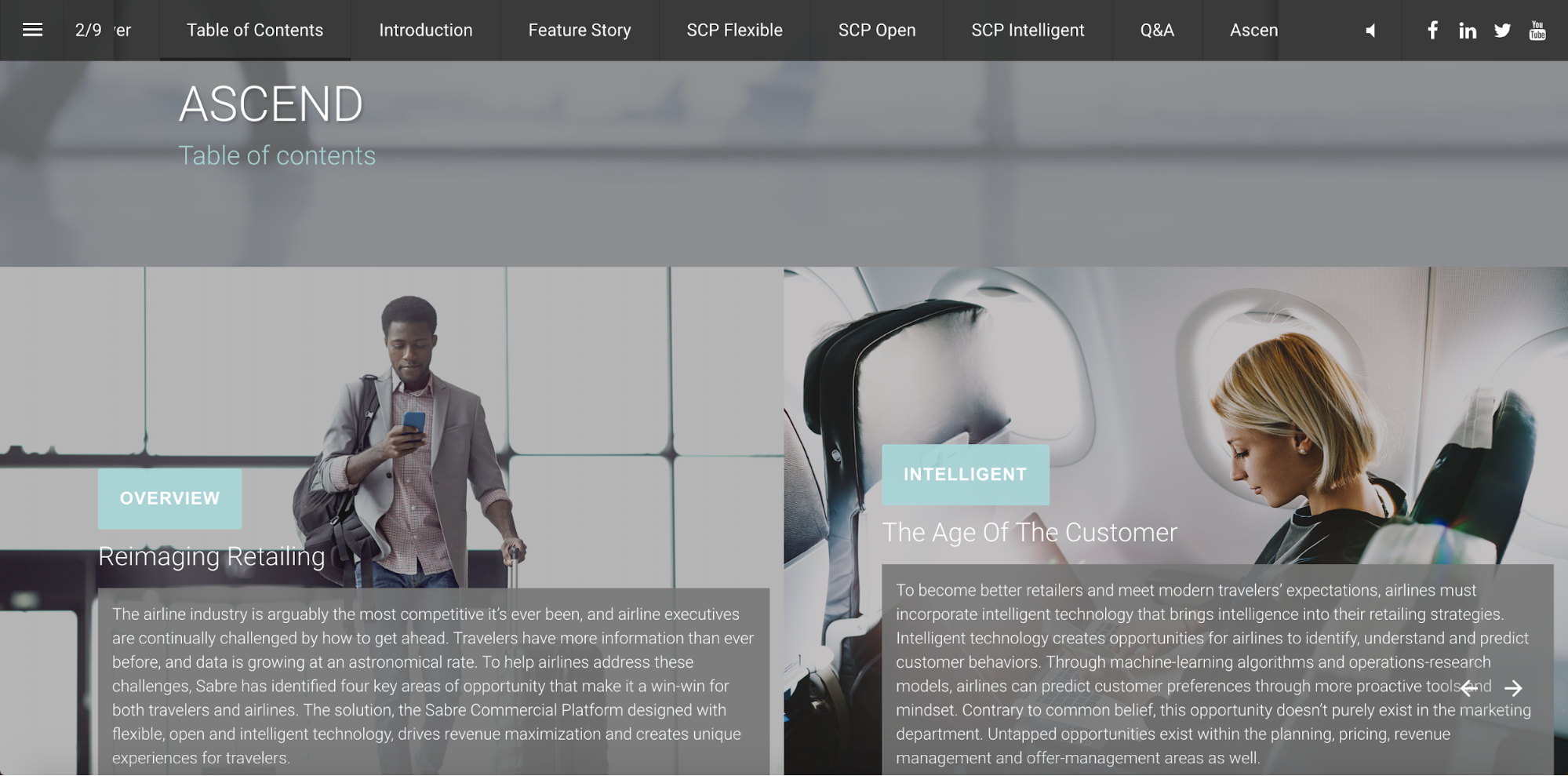 With Ascend, Sabre proves it's possible to make your corporate magazine more engaging in a digital format. They used Foleon to create the publication, which enabled them to insert buttons and features that would otherwise not be available with a flat, non-interactive content format like a PDF document.
Want to know more about creating responsive corporate magazines you can track?

Learn more
Newsletters
Businesses typically use newsletters to stay in touch with current clients. They are also used to keep clients up to date on new features or product updates. They're commonly sent out as emails, and nearly 70% of businesses rely on them to keep up with their customers.
There are better ways to send updates to your clients though. Your clients may find your email newsletters intrusive if you send them too frequently. They're also becoming increasingly outdated. If you want to find new ways to stand out among your competitors, try presenting your newsletter as interactive digital publications instead. This will encourage your readers to engage with all your content.
There are many advantages to using newsletters. Aside from connecting with customers, you can drive traffic to your site through CTAs. At the consideration or decision stage, they can be used to drive sales and move prospects further down the funnel. Offering incentives like coupons and custom content will likely convert users if you're using newsletters to close deals.
Although your newsletters are targeted to your current or loyal customers, you can choose different ways to distribute them to different target groups. Personalizing your campaigns will result in better engagement from your clients.
Give your readers the best of content
Our Year in Review showcases some of our clients' best use of our platform. It's a nice way to condense a year's worth of content into something that our customers can look at within minutes.
Digital reports
Digital reports present data that is vital to both organizations and individuals. Information in a digital report is commonly concise and contains many statistics. Traditionally, digital reports were created as PDF documents which made them dry and static.
Organizations like Forrester consistently put out reports for their readers. Due to the large volume of reports they produce, Forrester sticks to PDF as their default format, which isn't very engaging. Adding a more immersive experience and some visual flair to their reports could help Forrester attract and engage more readers.
There are many ways to jazz up your reports. With an interactive content creation platform like Foleon, you can create reports that use charts, infographics, and visual aids to present your numerical data. Most importantly, your report will be responsive and viewable on different devices, making it more accessible. See how easy it is here.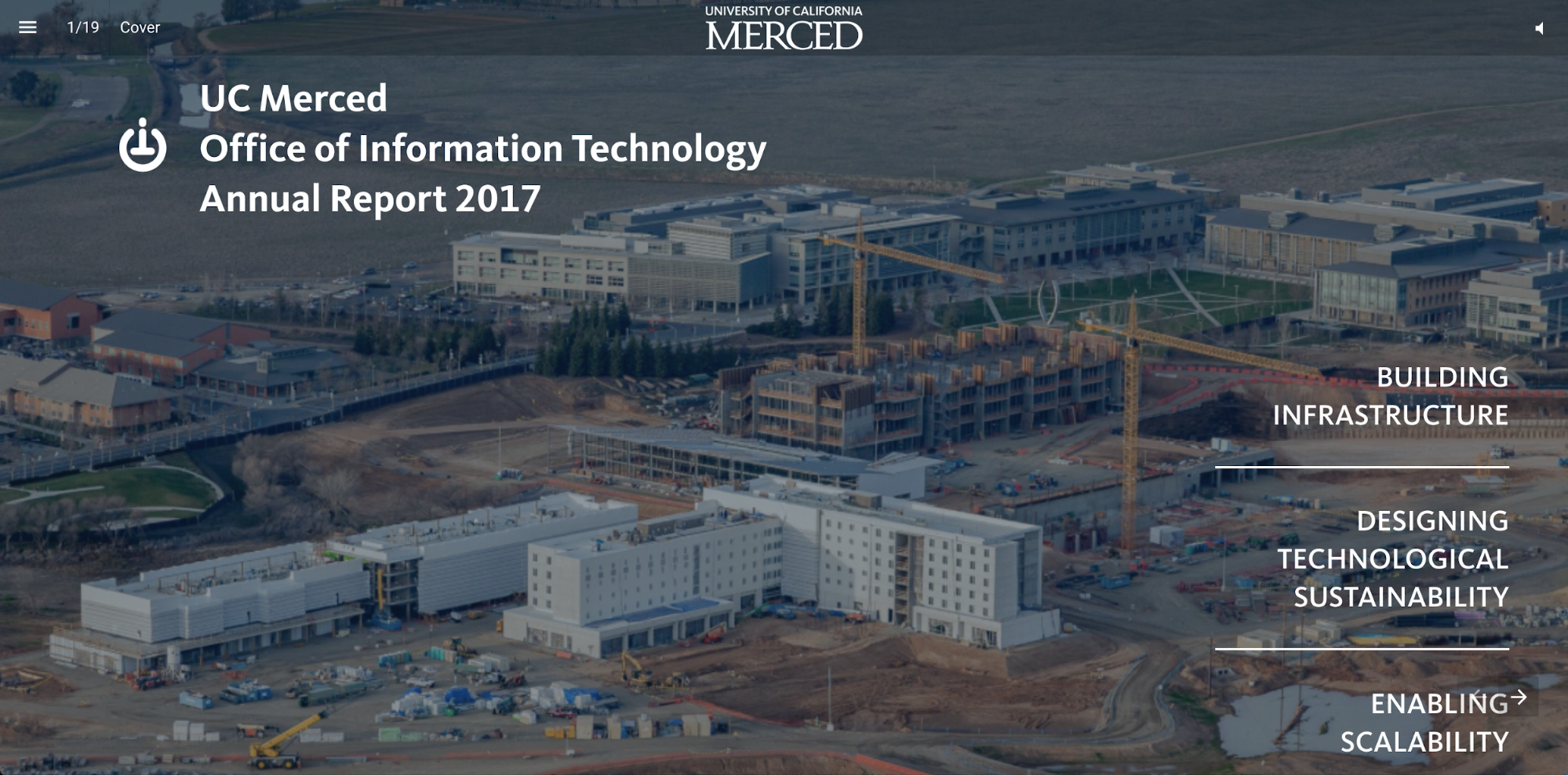 Digital annual reports are a common form of company reports. They are designed to inform an organization's stakeholders about important information like financial metrics, sales figures, and company growth. Demonstrating impact is crucial to an annual report. Your readers want to know how your work affects the communities, businesses, and individuals involved with your organization. You can conduct interviews to gather this data and present them as quotes or testimonies.
Creating an annual report requires effort. Gathering the information you need is already a time-consuming process. You should try to make your report as scalable as possible if you're going to be creating one every year. What does this mean? Before you put together your report, plan a standardized format that you can always reference. You'll save a lot of time if you have a general idea of what your next report will include.
Making educational technology fun
UC Merced's digital annual report covers all functions that make up the university as an organization. Each section leads with important facts and figures — the distinctive feature of an annual report. This helps the audience have a general idea of the critical numbers they need to know before doing a deep dive into each metric. More importantly, their use of fullscreen images helps them stand out from other annual reports that use more standard imagery.
Customer magazines
Like any regular magazine, customer magazines include various kinds of short and long-form stories. However, rather than containing articles covering various topics, customer magazines focus on content that is related to a specific brand.
Because customer magazines are longer and include various kinds of micro-content that serve different purposes, they can also be used at any funnel stage.
Many brands use customer magazines to communicate important announcements about their products in a more entertaining and reader-friendly way. There is no standard format for a customer magazine, but the content usually follows a particular genre or theme related to the brand.
A feast for your eyes
As a leading food and drink company, Nestlé created a publication titled I Am Chef to share stories about innovative people in the culinary world. In each issue, they highlight different chefs in a way that appeals to a broad audience.
The goal for this magazine isn't evident until readers flip to the last page. Calls to action to explore Nestlé's Chef-branded culinary bases are appropriately placed at the end of the magazine to ensure readers have fully associated the chef concept with their brand. They were able to successfully weave product promotion into their storytelling without compromising the quality of their content. This is an excellent example of how you can use a customer magazine to communicate your objectives in a subtle and entertaining way.
Member magazines
You might be wondering how a member magazine is different from a customer magazine. They can both follow the same format, but member magazines tend to include more exclusive content that is only made available to current paying customers or subscribers of the company's services. In this case, the content is usually gated and requires login access from a current paying customer.
Want to read this? You'll have to register
Exclusive members' club Soho House has a digital publication that's available to the public titled House Four but also has a members-only magazine under a separate publication titled House Seven. You'll notice that all articles on House Four are readily available to the public, but the first page you see on House Seven is a login page. This means the publication is only available to current members of Soho House and might include content that is only relevant to people who use the Soho House facilities.
Member magazines are a kind of gated content — a content piece that requires users to fill out information before receiving the content. When used at other funnel stages, it can be great for lead generation as you'll be able to capture data on your potential customers. In this case, Soho House is using the members-only magazine to verify that only its current members have access to the content.
An important thing to keep in mind when creating your member magazine is to address everyone. Your members are not a homogenous group of people and may be interested in different aspects of your business. Ensuring your magazine covers topics that are relevant to all your audiences is key to making your member magazine successful.
Content hubs
Content hubs are online platforms that act as a centralized location for a collection of resources on a specific topic, industry, or brand. It's a focal point where relevant and valuable content such as articles. blog posts, videos, white papers, and case studies are collected in one place.

Unlike a website that contains all kinds of information, a content hub is a curated space that aggregates content from various sources, presenting it in a unified, user-friendly format.
A content hub has two key purposes. First, it aims to provide value and meet the audience's informational needs by offering in-depth and authoritative content on a specific subject matter. Second, it's a strategic marketing tool for brands, enabling them to establish thought leadership, build brand awareness, nurture customer relationships, drive engagement and generate more leads.

Discover: How to create and format a content hub.


Gathering and creating content
It's a good idea to have all of your assets and copy ready before you start the design process. For a better understanding of how you can combine your design and copy, take a look at our Complete Guide to Building and Applying a Content Marketing Strategy.
Chapter 3: Designing your marketing collateral
Since there are so many types of marketing collateral, it can be overwhelming to figure out how and where to start creating them. Any marketing collateral is made up of a good balance of text and visuals. Knowing the right amount of text and graphics to use will make your collateral easier to follow and help your audience better retain information. Here are some guidelines to keep in mind when designing your marketing collateral.
Knowing the right amount of text and graphics to use will make your collateral easier to follow and help your audience better retain information.
Brand consistency
Your collateral should aim to build awareness, trust, and a following. Whether you're creating collateral for the awareness, decision, or loyalty stages, one thing you should always keep in mind is that all collateral that you create for your brand should be consistent so your audience can tie it together and know that it's coming from the same company. This means not only keeping the tone of voice and messaging for your brand consistent but also visual elements — think brand color palette and templates. This is especially helpful for future brand recalls from your audience.
Using the right design tools
Here at Foleon, we use our very own proprietary content creation platform that allows us to build all the marketing collateral that we need. From digital magazines to interactive white papers, our drag-and-drop editor lets you make your own collateral without any help from a designer.
Using a similar tool to help you build your collateral will save you much time and the headache of having to seek out designers and developers to assist you with your design.
Chapter 4: The future of web-based content
The future of web-based content goes beyond turning flat documents into immersive ones. Due to the continually evolving nature of storytelling, brands are making their content more innovative. Here are some of the emerging content trends we've observed in the past year that we predict will become the future of content marketing:
Infographics - looking beyond data visualization
We mentioned infographics earlier as an example of awareness stage content. Infographics go far beyond displaying qualitative data in quantitative formats. This interactive infographic from QZ is animated and reacts to the user's actions as they click. Adding this interactivity can help keep your reader's attention on your content a little longer.
Well-designed infographics are more than just informative; they are an experience, that typically explains complex topics using simplified visual elements.
Virtual reality (VR) - immersion like never before
Virtual reality has seen a massive surge in popularity, thanks in part to portable devices like Google Cardboard. Who would have thought a simple piece of cardboard would make such a difference in the way people view content? Along with VR devices like the Oculus Rift, people can wholly immerse themselves inside video games and stories.
VR is used predominantly in video games, but brands like TOMS and Volvo are embracing the power of VR in their advertising and brand storytelling. Known for its mission to donate shoes to those in need, TOMS used VR to let customers take a virtual charity trip with them. This helps them build rapport with their customers.
Volvo's campaign lets prospects easily test drive a new car wherever they are. By making the experience more accessible to more people, they show that they're inclusive and mindful of those who may not be able to visit a car showroom.
Augmented reality (AR) - enhancing your environment
People often get virtual reality (VR) and augmented reality (AR) confused. Both require a separate device to view hidden content that can't be seen in the real world, but the difference lies in the fact that those who view AR content are only viewing things that are added into the real world and not an entirely reconstructed digital world like VR. The term augmented implies the content is helping to enhance the users' reality (and not replacing it like VR).
Many brands are now leveraging technologies that let users gain access to AR content. Pushing the boundaries of what an old-school print collateral like business cards can look like, Moo created business cards that let users tap them on any NFC-compatible smartphone to reveal additional information. Moo also allows users to customize the digital information they want to be displayed on their phones after they tap the card. Talk about both interactivity and personalization!
Some brands like Jägermeister are using QR codes to give users access to more content on their phones that is hidden from plain sight for entertainment purposes. Others like Ikea think AR can help consumers virtually test out their furniture in their actual homes before committing to buying and having their furniture shipped, saving them time and money in the process.
The proof is in the pudding — 81% of marketers say that interactive content is better at grabbing their audience's attention.
Interactive templates - maintain attention and create content at scale
The visual presentation of your marketing collateral along with the quality of your content are the two biggest factors that will influence the success of your content marketing strategy. Fortunately, professionally designed templates help guide the structure and layout of your marketing collateral.
Professionally designed and fully customizable
You'll get the most out of your interactive marketing collateral with a content creation platform that allows you to tailor a library of expertly designed templates covering a range of content types using a drag-and-drop interface. Modern content creation platforms are responsive across all devices with integrated tools that automatically adapt your content to different screen sizes.
Custom templates set your white paper, newsletter, magazine, or annual reports up for success by providing a starting foundation to help guide the layout and structure of your content. This way you can spend less time designing and more time getting content out of the door.
The template you choose is more than just a matter of aesthetics, it is a strategic decision that impacts content engagement, user experience, and the way your brand is perceived.
Why you should incorporate interactive web-based content into your marketing collateral
The proof is in the pudding — 81% of marketers say that interactive content is better at grabbing their audience's attention. Getting and keeping your audience's attention is a constant challenge for marketers, but luckily, web-based content is the answer to that.
Using immersive, media-rich collateral helps you tell better stories that resonate with your audience. If you wonder why quizzes are so popular, it's because people enjoy the ability to get results tailored to their responses. If you can forge an emotional connection with your audiences, they will come back to you for more content.
Conclusion
Now that you're equipped with knowledge of every marketing collateral type you need, you can own your entire marketing communications suite and create any collateral to keep both new and existing customers coming back to you.
Since we've discussed the future of web-based content in the above section, you're already one step ahead of most marketers out there. So why not start by creating some collateral with us?
With Foleon, you can start building interactive catalogs, annual reports, and digital brochures. Our tool's linear format also gives the look and feel of an editorial magazine — the perfect way to keep your audience turning the pages for more content. Check it out!
Cover photo by Nick Adams.