Staying in the minds of our ideal customers is always a priority for content marketers. We must create the perfect messaging that resonates with a potential customer at a specific stage of the buyer journey, deliver that campaign that sets off an avalanche of conversions, publish an interactive eBook or video guide that gets those leads over the finish line, and so forth. You get the point.
Choosing the right format for your content is central to your success in all of the above marketing activities. How your reader interacts with the content significantly affects how rewarding their experience is and how much your messaging, value proposition, offering, and brand stick in their memory.
This article takes an in-depth look at creating flipbooks with modern design tools and explores if PDF based flipbooks still play a role in today's content marketing toolkit. We'll explore how the format has evolved since its conception and the pros and cons of using PDF flipbooks, particularly in relation to other available tools.
Read on to find out if you should create a flipbook and how to tick all the boxes when creating a memorable reading experience.


What are PDF flipbooks?
In a nutshell, PDF flipbooks are static PDFs that are converted into digital publications. They are designed to look and feel like a real-life magazine where you can turn the pages. When they were first introduced in the late 1990s and early 2000s, they presented marketers with a new way of engaging with their audience.
Adobe launched the static PDF format in the early 1990s to enable anyone to capture, print, and send documents exactly as they were designed, without requiring specific software or hardware.
In 1999 a company called Digicel introduced flipbook animation software, and brands quickly capitalized on emerging technologies to produce PDF flipbooks to showcase products and services. By the early 2000s, PDF flipbooks were everywhere, and brands could create them fairly easily as long as they had access to the right technology.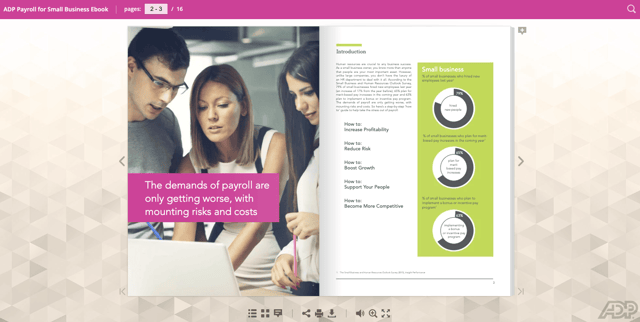 ADP Payroll for Small Business Flipbook
Is creating PDF flipbooks still relevant?
The short answer is: not really. Some styles of clothing come in and out of fashion, and you might get the odd brand that likes to bring back a content format for nostalgia's sake, but generally, things move on for a reason. Technology progresses, and audiences expect and welcome new content experiences. Social media and publishing platforms are evolving, and phones and mobile devices are getting smarter.
Nowadays, marketers can access various tools to create digital flipbooks that enrich the content marketing experience. Content creation platforms like Foleon's, for example, enable users to connect with their readers in a much more meaningful and immersive way, including:
The ability to navigate easily around a document on any device
A great user experience on all screens and devices
Interactive media-rich content experiences, including video, animation, checklists, quizzes, and much more
Powerful user analytics so you know what content elements are working and which need improvement.
Want to know more? Foleon's co-founder and CEO Daan Reijnders reveals 6 reasons why you should stop using PDFs for business content.
Some styles of clothing come in and out of fashion, and you might get the odd brand that likes to bring back a content format for nostalgia's sake, but generally, things move on for a reason. Technology progresses, and audiences expect and welcome new content experiences. Social media and publishing platforms are evolving, and phones and mobile devices are getting smarter.
What are the pros and cons of creating PDF flipbooks?
While they might not be the newest kid on the content marketing block, PDF flipbooks do have a few plus sides for businesses. However, there are also several limitations to this format that you will need to consider if you want to optimize your content and make the right impact on your target audience. Let's look at the pros and cons of creating PDF flipbooks for marketing.


PDF flipbooks — the cons
PDF flipbooks aren't as good for SEO
PDFs aren't as visible to search engines as interactive eBooks and other content formats. Google and co. can crawl them like they do with standard web pages but don't contain enough information to index the page effectively. Furthermore, links in PDFs aren't processed the same way as those on web pages which reduces the effectiveness of your internal links.
Your search engine results pages (SERP) can also be negatively impacted. Title tags are a very important ranking factor. While meta descriptions don't have as much direct influence on rankings, they are a valuable tool in your SEO arsenal and are very important for the user experience.
When readers are presented with search listings, they are very often motivated to click because of the page description and title. It is possible to edit the metadata of a PDF flipbook, but most are published without it, so the search engines will use the document name as the title tag and decide on their own meta description. This means the listing will look strange compared to the others, which can negatively impact the click-through rates. Not an elegant or SEO-friendly solution, we're sure you'll agree.
PDF flipbooks don't provide a good user experience
Some of the available software for PDF flipbooks is mobile responsive, but the user experience is generally poor compared with other content formats. They tend to be less interactive, and navigation is limited. People are used to being able to zoom in and out, scroll, and control the viewing experience accurately and easily these days on any device. So, PDF flipbooks are unlikely to cut it when it comes to memorable and pleasurable user experiences.
Want to see some alternatives to PDF flipbooks in action? Sean Filidis has compiled some great examples in his blog on why B2Bs are ditching PDF white papers for a better format.
The impact is lower with a PDF flipbook
This follows our previous point but is worth highlighting separately. eBooks and online magazines present the ideal opportunity for brands to create a strong and positive first impression with their potential customers. It's the chance to tell the story behind your business and its people and promote the features and benefits that will convince readers that your company is the right choice for them.
You want to put your reader at the heart of the content experience and fire up their imagination. Without interactive elements and seamless navigation, this will be much harder to achieve, impacting conversions and sales.
Is the ROI and usability of interactive formats that much better than PDFs? Julie Alexander investigates.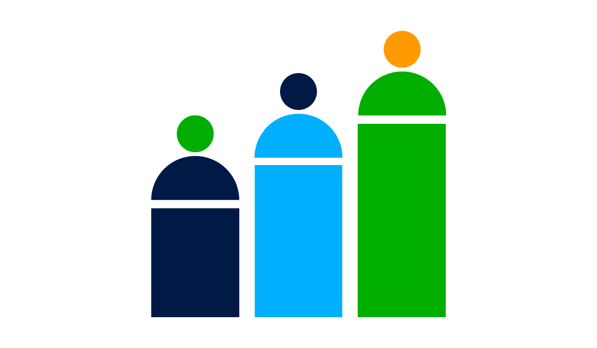 You miss out on valuable user analytics
Even the most experienced marketers aren't always sure how their content will land or which elements and messaging will hit the right note or otherwise.
Some PDF flipbook tools offer user engagement analytics, but they don't tend to be as powerful or comprehensive as other interactive content platforms. For example, you might see how often the document was accessed but not how many pages were viewed or how much time a reader spent on the content. Furthermore, you may not understand which page(s) your viewers are exiting from or how many viewed one page and then bounced.
When you have access to this information, you can use the insights to make data-led changes to the content order, messaging, or design to boost content engagement and generate more leads.


PDF flipbooks — the pros
With the right design, they can showcase your content well
PDF flipbooks are high-res versions of a digital magazine with added page-flipping technology. Therefore, if you have produced a great-looking publication with plenty of interesting images and well-formatted text, there is no reason why it won't look good as a PDF flipbook. Furthermore, if your main aim is to encourage your reader to consume the content linearly, PDF flipbooks can be a good choice of format.
They are easy to publish
Once your PDF flipbook has been created, it can be uploaded and published on your website in just a few clicks.
They can present a strong value proposition to advertisers
The print publishing industry may not be in the great shape it once was, but people still like consuming magazines, and the 'flip' element of PDF flipbooks remains a draw to some people. This user preference, coupled with the high-res format, means brands in some sectors may be interested in placing adverts in PDF flipbooks. For example, fashion retailers or high-end automotive companies might see flipbooks as the ideal format for showcasing their wares.
PDF flipbooks aren't the only digital magazine formats out there. Far from it! Check out Sim Samra's guide to the 5 online magazines you need to know about.
What are the benefits of using Foleon instead of creating PDF flipbooks?
We thought you would never ask!
We might sound biased, but considering we designed and developed our content creation platform to address the deficiencies of redundant formats such as the humble bookPDF, we know we're in a good position to comment.
Here are some benefits of using Foleon's platform to create digital flipbooks instead of tired old PDF flipbooks.
A great user experience on any and every device. All content created with Foleon is fully mobile responsive and looks and behaves brilliantly on all screens across all devices.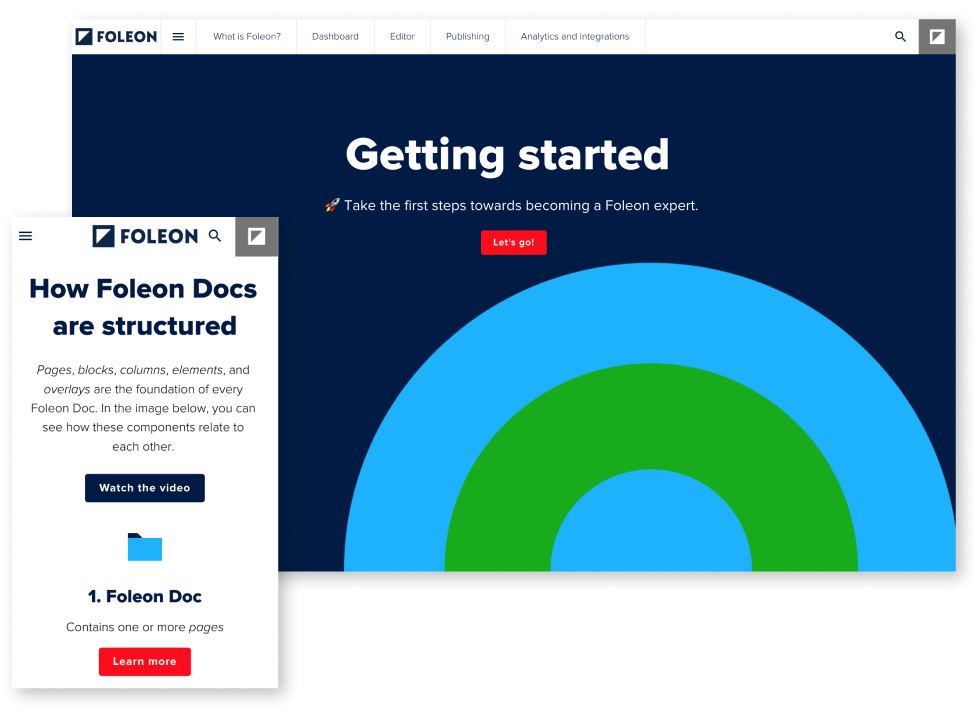 Interactive elements that put your reader in the driving seat. Users can incorporate various interactive elements to bring the content to life. These include videos, animations, charts and graphs, maps, checklists, quizzes, and illustrations.
Valuable insights that help increase conversions and boost user experience. Foleon comes with powerful baked-in analytics to help you understand how your content is used and by whom. Real-time reports show how many people have accessed the content, how many pages they viewed, and how much time they spent reading the document. It also reports which page they exited and whether they bounced after one page.
Insights like these make it possible to improve and enhance the content so more people find and enjoy it. Combined with your other marketing analytics, you can better understand who your customers are and how you can best serve them.
Great for sharing on social and via email
Foleon makes sharing even large documents simple and straightforward. No more weighty and clumsy attachments will make you the enemy of your colleagues, clients, or leads' inbox. Your content lives on its URL, so you send a link and wait for your recipient to be delighted!
Did we mention that you can keep tracking engagement even after the content has been published and distributed? Not something a static PDF can offer!
Flipping the script on tired ol' static PDFs
When PDF flipbooks arrived on the marketing scene, they were greeted with open arms. There was a brand new way to present our products and services in glorious high-res technicolor with a level of interactivity that looked super professional.
But things change. Technology moves on, and the way people want to consume and share content evolves. We will always have a place in our hearts for PDF flipbooks and a sense of nostalgia for the first days we converted our files and made those pages flip for the first time.
But ask any of our team and most marketers out there — not to mention their customers — and we're willing to bet they wouldn't give up the suite of engaging, interactive elements that today's content creation platforms provide. Plus, they wouldn't want to do without the real-time analytics they use to refine, personalize and improve their content.
For impactful content that looks great on every device, flipbooks aren't it. If you want to create a great first impression on your ideal customer and make sure your content stands out from the crowd, interactive content creation platforms for creating flipbooks are what you need.
Book a free demo today to see Foleon in action, or check out our webpage to discover why Foleon is the right alternative to PDFs.