Introduction
Brochures are content marketing gold. They provide the ideal platform for brands to convey large amounts of information and promote thought leadership, all within a handy shareable file. Plus, today's brochures transcend the yawn-inducing static PDFs of yesteryear. Nowadays, marketers can create, format, distribute, personalize and track brochures that appeal to their target audience in no time. Without specialist design or technical skills.
All you need is your imagination, a firm grasp of who your audience is and what you want to achieve, and the right tools to make it happen.
This guide will take you through the various steps to creating and formatting a brochure. We'll explore potential uses for a brochure or interactive eBook, how to get your messaging and content right for your target audience and how to integrate the finished product into your customer journey.
We'll also offer top tips on writing and designing your brochure and how to make sure it gets seen by the people that matter, aka your target audience. Let's begin.


What is a brochure?
A brochure is a sales and marketing tool used by brands to communicate with their target audience. This could be information about the company, product or service, research findings, an event guide, or anything else a brand wants to let its customers and prospects know about.
Brochures can be produced in print or digital form. Both have their pros and cons. One thing's for certain, however. If you want to create eBrochures with impact, don't resort to tired old PDFs, as Foleon's CEO, Daan Rejinders, explains.
Who should create brochures?
The short answer is anyone with something valuable to communicate to an audience. Creating brochures is usually the marketing team's responsibility, but it doesn't need to be. Today's brands must produce much content to move individual leads through the buyer journey. Encouraging your non-marketing colleagues to get on board with producing brochures means more targeted and personalized content right when you need it. Want to know more about avoiding unnecessary production bottlenecks by democratizing content? Our very own Sean Filidis explains all.
Where in the customer journey does a brochure belong?
Brochures can be used at any stage of the buyer or customer journey, but they are usually most effective at the awareness, consideration, or decision-making stage.
At these points, your leads are interested in discovering more about how the product or service works and perhaps a bit more about who you are as a brand. You can address pain points and barriers to sales with a sales brochure, offer different use cases, highlight specific features, and encourage the lead to get in touch by filling in a form or reaching out to your sales team.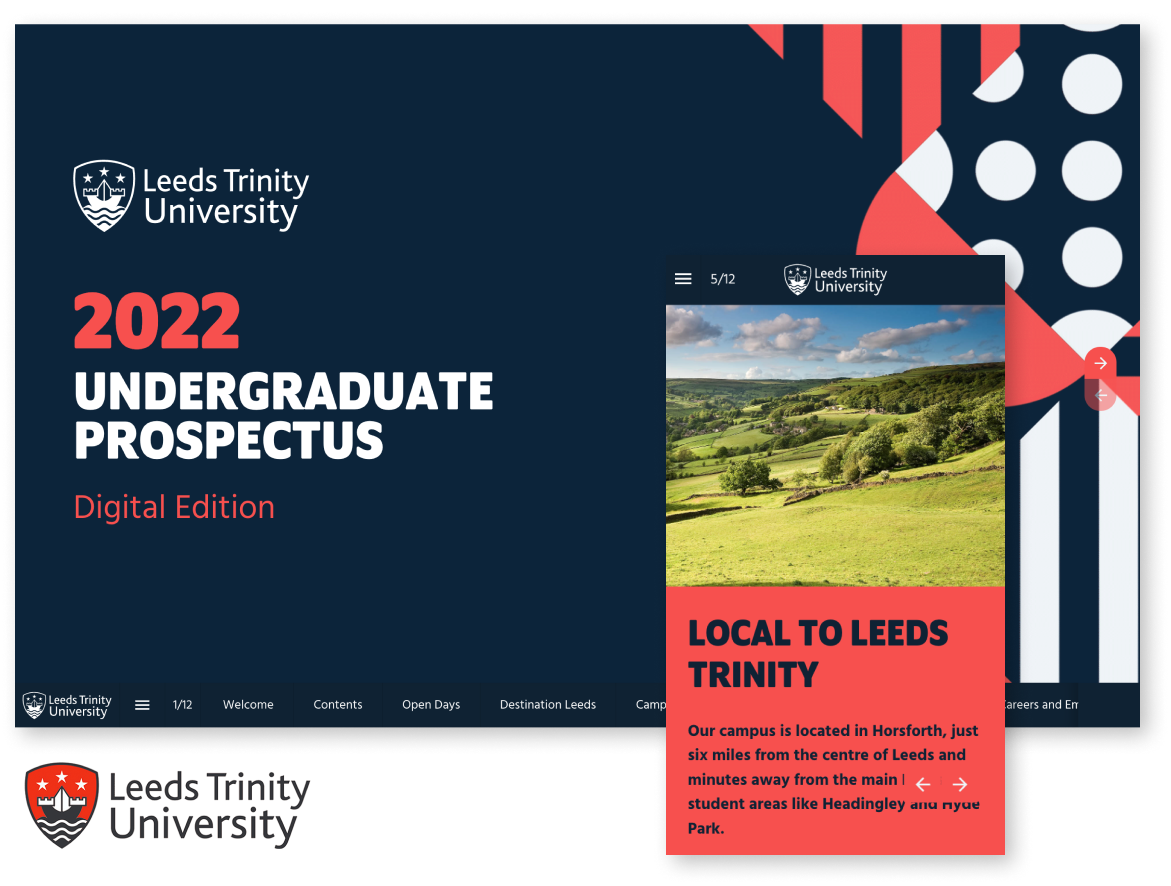 Digital brochures versus print
Print brochures still have their place. For example, they're great to give out at an event or in-store. Plus, for luxury brands, printing product info and pictures on gorgeous-feeling paper is a very effective sales and marketing tactic.
Digital brochures offer many benefits to B2B brands. They can be designed, edited, and distributed easily and are highly shareable. You can increase customer engagement by including interactive elements like quizzes, checklists, graphs, and animations. You can also monitor how viewers interact with the content to refine it over time.
Discover: Why B2Bs are ditching PDF white papers for a better format
What kind of information should be in a brochure?
The information you include in your brochure will depend on your content's goals and your target audience's needs. Here are some content elements and information to consider in your brochure.
Cover page. Seize this chance to capture your audience's attention and imagination. Include compelling on-brand visuals, a punchy title, and perhaps a sentence or two explaining the main thrust of the brochure.
Index or contents page with links to the different sections. You could also include an author page to demonstrate thought leadership. Or you could add this in the back.
The body of the brochure. Consider the design and layout carefully (more on this later) and focus on the most important information. You can always link to further resources as part of the user journey through the brochure.
Contact form or information about how to get in touch. Don't ask for too much personal data on the form. Name and email will do for now — you don't want to risk alienating your lead.
A strong call to action. This is likely to be to contact your business, but you could also encourage the reader to visit landing pages, case studies, whitepapers, and other content assets. Or prompt them to sign up for a newsletter or attend a webinar or event. Whatever makes sense to your customer journey. Remember if you choose the right content creation platform, you'll get valuable insights into how your lead is navigating and consuming the brochure so you can adjust it to boost engagement and increase conversions.
Looking for some real-life examples to inspire you? Foleon's Director of Brand and Communications, Julie Alexander, lists 7 of her favorite digital brochures.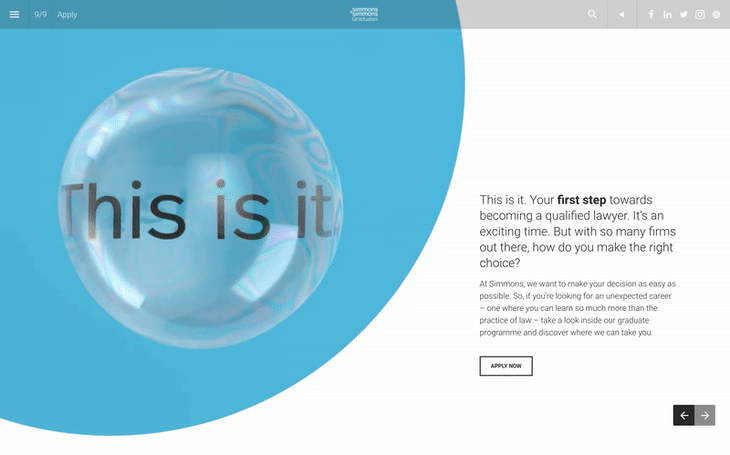 What questions should your brochure answer?
One thing that makes brochures such powerful lead generation tools is their ability to answer potential customers' questions. This helps break down barriers to sales and shows your lead how your product or service will benefit them.
Here are some questions your brochure could answer:
Who you are as a brand, how long you have been doing business, and what sectors or geographical areas you cover. This helps promote trust and tells a bit of the story behind your company.
Why people need to use this product and service, the problems it solves, and why it is better than your competitors.
Who already uses the product? Mentioning reputable clients demonstrates your credibility and encourages your readers to picture themselves using your offering.
What results and benefits can customers expect?
How to use or optimize the usage of the product.
How to troubleshoot any common issues.
What accreditations do you have, if relevant?
What support do you offer, including technical support, consultation, etc.?
How to get in touch or buy the product.


How to create an outline for your brochure
Creating the right outline for your brochure is key to its success. Brochures are about the structure and pace of the information and how you prioritize and present it.
Think about what you want to achieve from this marketing brochure and its role in your wider sales and marketing strategy.
Devise a hook to get the interest of your target audience. Include this in your title or the first page. E.g., Discover how Foleon's content creation platform can help you boost engagement and leave your competitors in the dust.
Carefully consider the customer journey. What information will they need at which point, and why? What is the right order to present this in? What will make the most sense to the reader?
Create a page plan and map the priority information to each page. Craft a compelling headline (more on this next) that clearly sets out the intent and themes of each section and don't deviate from that.
Be ruthless with the content you are including. Ensure every content element and sentence can justify its place on the page. Brochures can be long-form content assets if necessary. But it's best not to overwhelm your lead with too much information or information that isn't relevant at this stage. As we mentioned earlier, adding links to external resources is far better than keeping the main layout clear and uncluttered.
Test the content journey and user experience out on colleagues as well as peers who don't already have a good understanding of your brand or products. Find out what elements do and don't make sense to them and which messaging works or otherwise. What are you missing, and what hasn't earned its place on the page? Then make adjustments accordingly. If you are unsure, create several versions. Once you get those all-important audience insights, you might reintroduce content elements or reappropriate them for other content assets.
Want to skyrocket sales and delight your customers? Find out how Foleon's digital brochures help you make it happen.
How to craft the perfect headlines for your brochure
Crafting the perfect headlines takes time. You need to strike the right balance between grabbing your reader's attention and giving them a clear idea of what to expect from each section of the brochure. How you frame the headline will depend on your brochure's subject matter and layout. Here is a checklist to run each headline through before you decide on the perfect one.
Is it specific? Your headline should have its own content 'identity' and stand out from the others.
Is it 100% clear what the section covers?
Is the benefit of reading obvious?
Is there a strong hook? A feeling of FOMO or a sense of urgency. A compelling reason to read on.
Is it the right length? Too long and it is hard to digest, too short, and the section's themes and objectives might not be obvious.
Top tips for writing your brochure
Now we get to the fun part: writing your brochure. Here are some top tips for creating a brochure that will leave your competitors in the shade.
Decide on the perfect structure. As the backbone of your brochure, designing the structure should be a top priority. The front cover should be visually arresting with a strong title, company logo, subheading, and author, if appropriate. Include content on the first pages that make an immediate impact, encouraging the person to read on. Capture their imagination, tell a story, and keep hooking them in as they turn or scroll the page.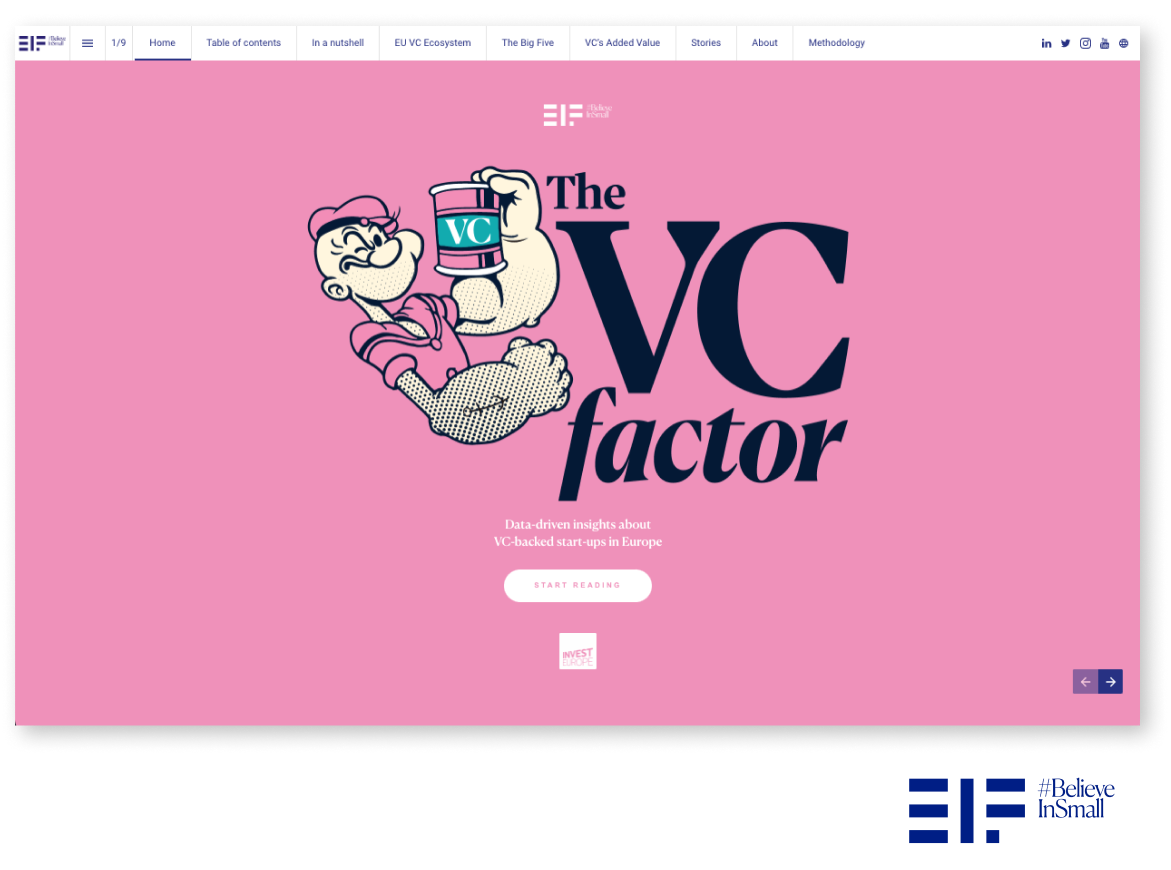 Choose a great topic. Brochures can be focused on product or service promotion and be used as powerful sales tools. Or they can be used to demonstrate thought leadership. If your brochure is about communicating the advantages of choosing your brand, you don't need to worry about the topic, as the topic is you. If your brochure falls into the latter camp, you must pick a topic that will resonate with your audience.
Get inspiration by investigating some interesting research findings or trends in your sector that will grab your audience's attention. Ask your sales team for ideas on challenges that are keeping your customers awake at night, or ask your customers themselves. How can you help them? What information and advice are they missing out on? What are the burning questions you need to answer?
Do something different. Get stuck into market research and find out what content your competitors are currently focusing on, then do something better. You won't be able to reinvent the wheel every time, but you must create a brochure that stands out from the crowd. You can answer the same common questions (you want to be useful, relevant, and informative, after all) but put your unique spin on them. Add your own research, including interactive media, and bring your brochure to life with a compelling, engaging, and beautifully-crafted copy.
Speak your audience's language. Half the battle with connecting with your audience is speaking their language. This means no unnecessary jargon and only using language they will relate to and make them feel understood. If you have very different audience groups, make different versions of the brochure to appeal to the interests and preferences of each. Brand style guides are a great way of keeping your language on point. But don't take our word for it. Foleon's Sim Samra reveals the secrets behind building a kick-ass brand guide that everyone will love.
Keep it concise. Only use plain language, keep the superlatives to a minimum and get straight to the point. Remember, if you use a content creation platform with powerful analytics, you can see which copy is hitting the right notes or not and adjust the content and page structure accordingly.
Focus on the benefits. Try to keep the body text honed in on how your brand and products can make a difference to your customer. If your product is challenging to use for first-timers, don't take up too much valuable page space on how-tos. Better to embed a video or link to an external guide.
Give them a reason to read on. The more content you can encourage your reader to consume, and the more time they spend with your brochure, the better chance you have to convince them that you are the right choice for them. Include prompts at strategic places in the copy and at the end of each section to show the benefits of staying engaged with the brochure. Mention topics you will discuss later on and why they matter. For example, if you're wondering how to structure your brochure's layout, don't worry; we're going to cover that in one of the next sections!
Make it personal. Today's customers want to feel valued by the brands they choose, and rightly so. Delivering personalized content is a big part of that. Adding pieces of copy or imagery that speak to their specific interests and solve their challenges can mean the difference between deterring a lead and converting them. If that sounds like a lot of work, it needn't be. Find out how to scale content production successfully in our free guide.
Make it a pleasure to read. Overloading your reader with huge chunks of text is a surefire way of getting them running for the hills (or your competitor's website). Keep sentences short and snappy, including plenty of page breaks, bullets, lists, quotation boxes, etc. Use the same font throughout (two at most) and opt for a font size of around 12 points or 16 pixels for the body text, larger for headlines but not too large.
Include a killer call to action. What do you want your reader to do once they have finished the brochure? Chances are it will be to get in touch, so make sure you give them a reason to do so. A free demo, for example, or a special offer. You could also consider adding in a CTA halfway through the brochure - "want to know our product could transform your business? Contact us today!"
Proof, proof, and proof again. Taking the time to polish and perfect the copy for your brochure is vital. Alongside the usual spelling and grammar checks, have it reviewed by colleagues or peers. Make sure it is easy to read, the running order makes sense, and all links and rich media work.
Discover: The do's and don'ts of digital publishing
Designing your brochure
Creating and implementing the visual style for a brochure can be a real challenge for marketers. If you don't have design training or a clear vision of how to represent your brand, it can stop you in your tracks.
We're happy to tell you that a lack of technical or design skill simply does not matter these days. You can create elegant, branded eBooks and brochures in a matter of clicks with Foleon's platform with templates that are 100% on-brand. Let's pass you back over to Sim to discover how to use design templates and still be creative.
Using the right software for your brochure. We've just touched on how choosing the right software can help you design and produce top-quality brochures. Foleon's platform can also empower marketers to collaborate with colleagues, freelancers, and other content creators. It gives you those powerful insights into your target audience that ensure that every brochure you create has maximum impact. If you're still thinking of using static PDFs for your brochure, consider our top nine reasons to reconsider PDFs.
Publishing and distributing your brochure
The best tactics for publishing and distributing your brochure depend on your goals and objectives. If your brochure forms a valuable part of your customer journey, give it a suitable spot on your website and link to it well from key commercial pages. You could also promote it in your e-newsletters, remarketing emails, and social media channels. If you choose Foleon Docs, the content lives on the web, so you can drive traffic to them like any other page or piece of online content.
Make sure you think about the search terms and keywords that will get your content discovered by those who matter. Foleon's platform, for example, uses server-side rendering technology that ensures no render-blocking scripts prevent crawlers from indexing all your content. You have full control over page slugs, titles, meta descriptions, headings, alt image attributes, and more for each of your pages.
Furthermore, brochures created using Foleon's technology are hosted on our global network of secure servers and use a state-of-the-art content delivery network (CDN) to ensure your readers get the best experience wherever they are located.
Adding forms to your brochure
Adding forms to your brochure is an excellent addition to your lead generation strategy and improves your customer journey. There's no need to ask for loads of information from your prospective customer unless they are looking for a quote and would be expecting to hand over a lot of personal data. If the form's main purpose is to arrange a callback or a demo or sign up for a newsletter, then all you need is their name and email. You can always ask for more data once you have established a rapport.
If you encourage leads to sign up for a newsletter, you could consider asking them about their areas of interest to personalize the content.
Find out more about creating and managing forms in Foleon.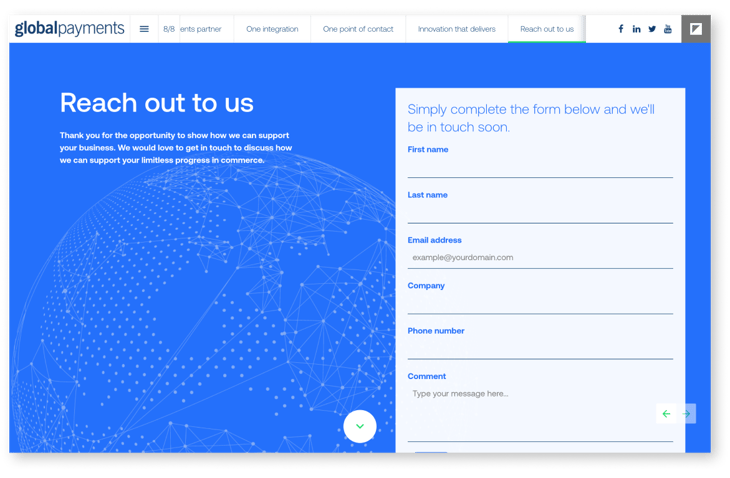 Gathering data and feedback from your brochure
As with all aspects of your marketing, it is vital to take the time to monitor audience engagement and use these valuable insights to improve and enhance the content. For example, if you find that people aren't viewing many pages of your brochure and therefore missing out on the all-important benefits summary and CTA, it could be worth testing a shorter, more concise version.
Similarly, if many people are exiting from a particular page, think about what could be causing them to drop off. Perhaps they feel they have learned enough, or maybe you have overloaded them with information. Either way, use these metrics to make your brochure better over time and keep on testing. Small adjustments in the user journey can make a real difference.
With Foleon's platform, you benefit from powerful baked-in analytics that gives you a wealth of information about how your content is performing. These include:
Unique visitors — The number of people who have visited your brochure over the selected period.
Page visits — The number of times people have visited each page, including multiple visits.
Pages per visit — The average number of pages viewed per visit.
Visit time — The average amount of time spent in your doc.
Bounce rate — The percentage of visitors who only viewed a single page of your brochure.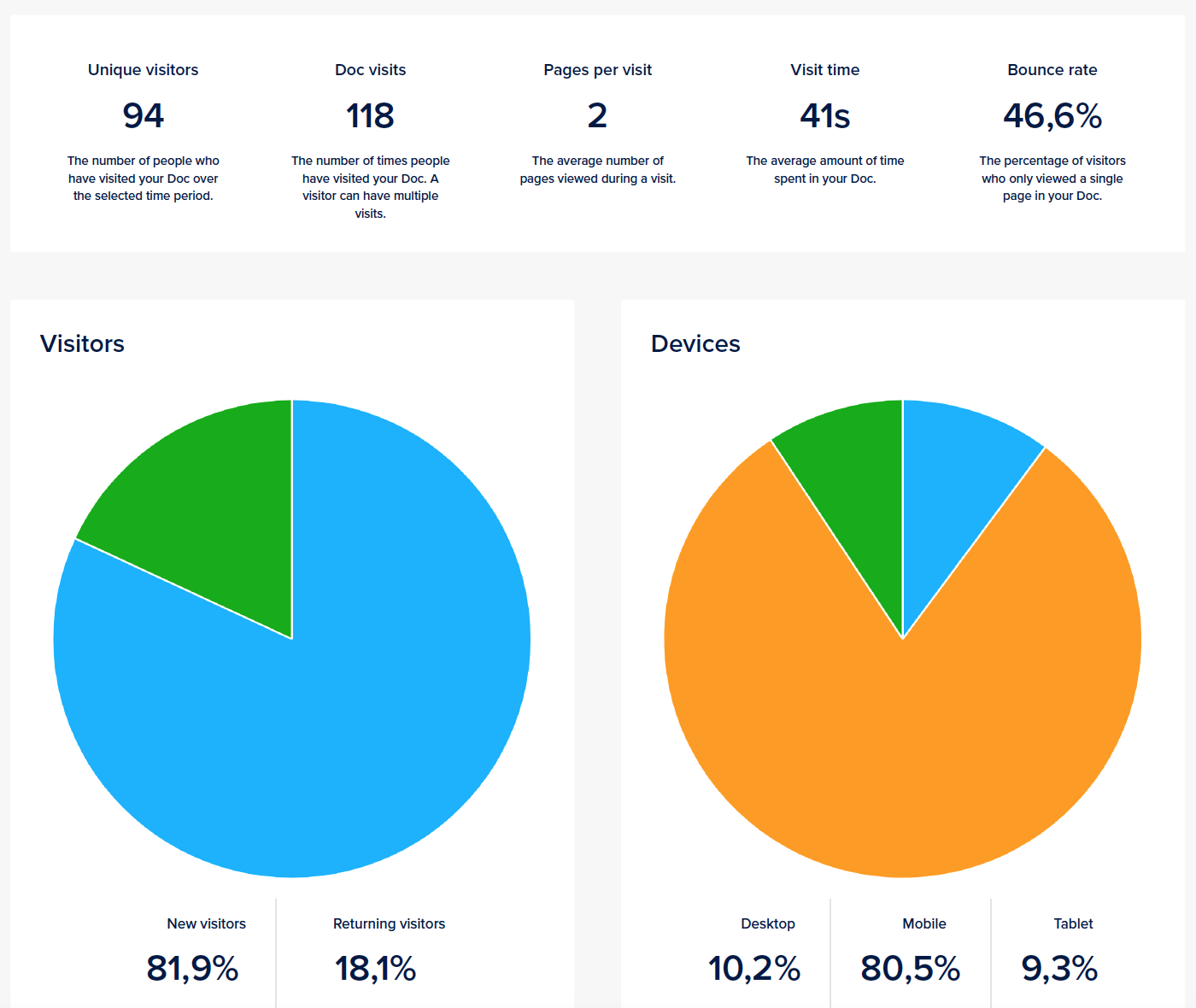 Adding rich media to your brochure
Adding rich media to your digital brochure is a great way of bringing your content to life. Interactive elements such as scroll animations, checklists, quizzes, calculators, videos, charts, and graphs help put your reader in the driving seat. They encourage your lead to focus on the content and immerse themselves in the story you are telling. And they're fun!
You will likely have a lot of information you want to convey in your digital brochure, but communicating all that in the text could exhaust your lead and deter them from reading right to the end. When you are creating the structure of your e-brochure, examine each of the messages and sections one by one and see if there is a way of communicating some of the elements visually. Video explainers, for example, rather than a list of instructions. An interactive chart showing geographical trends rather than a list of stats.
Want to know more? Find out how to put a fresh spin on an existing topic in content creation.
Now it's your turn…
You are undoubtedly brimming over with ideas and inspiration for creating, formatting, and publishing the perfect brochure to represent your brand and what makes it special.
Remember, you don't need to do all this alone. Content like eBooks and brochures benefits from a good amount of brainstorming and collaboration. Talk to your sales team and find out what kind of content they know resonates with leads and at what stage of the buyer journey. What interactive elements do they think would be useful to prospective customers and why? Your customer service team can also be really valuable here. What are the most common queries they get, and what kind of explanations are most effective? Are customers always asking for explanations for certain jargon words or technical terms? If so, don't use them!
Another benefit of involving colleagues from other departments is that you might uncover hidden talent. Perhaps Phil in Finance is a whizz on Instagram, or maybe Anna from Product Development is a freelance photographer on the side and would love the chance to flex her creative muscles at her main job.
The other kind of support that you'll need to create the best sales and marketing brochure possible is investing in the right tools. We have undoubtedly made the benefits of using Foleon's content creation platform pretty darn clear. But if you want to know more or want to see it in action, book a free demo today and start your journey to creating the brochures that will excite, delight and convert your target audience.