Brand and business owners are becoming increasingly aware of the benefits associated with publishing digital content over print — or even over legacy formats like PDFs.
Today's sales and marketing collateral — like brochures, catalogs, eBooks, white papers or proposals — can all be made interactive, media-rich, personalized, measurable and fully responsive. Digital "magazines" that offer a sleek user experience on any device have long been touted as the future of digital publishing.
But as is the case with most emerging online trends, best practices have a tendency to be difficult to navigate at first.
That's why we've asked Chad Harwood-Jones from the award-winning digital content agency Ad-Rank Media to give us a rundown on online publishing etiquette and help ensure that your business achieves the most from its digital content.
Here's his list of do's and dont's.
The DO's of digital publishing:
Follow your existing brand guidelines
You want your digital sales and marketing assets to be a seamless extension of your brand. Consistency fosters recognition, familiarity and ultimately, loyalty. No matter what type of content you're producing, keep the overall message, style and tone of your business at the forefront of your mind.
Be open to trying new things
The online landscape is constantly shifting as new trends emerge, so it's beneficial to have an open mind and be prepared to try something new. If you're used to producing lots of written content in PDF format, for instance, think about how you can incorporate video into your digital assets instead.
Keep a close eye on metrics
One of the biggest advantages of using digital assets instead of PDFs is the ability to keep a close eye on real-time metrics. Tools like Foleon allow for the easy implementation of Google Analytics, which gives you a clear view of what content is working for your audience and what isn't — right down to individual pages. From there, you can modify, iterate and plan future publications accordingly.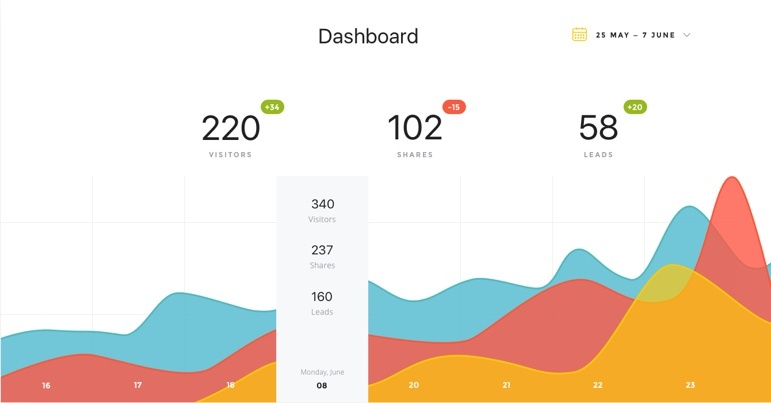 Promote everything
Whether it's a white paper, catalog, brochure, magazine or something else, it's not enough just to hit 'publish' and expect your audience to find your content on their own. Promotion is key. Whether through organic or paid channels, getting the word out is the only way to drive traffic and ensure your content is seen by the people that matter. Many marketers go by the 80/20 rule, which suggests that 80% of your time should be focused on promotion.
Focus on interactivity
The great thing about interactive sales and marketing collateral is that it is, well, interactive! So make use of the opportunity to involve and activate your audience. Quizzes, polls, embedded video and animations can make your assets feel more engaging. Including interactive forms can both help you gather leads and understand more about the users accessing your content.
The DON'Ts of digital publishing:
Don't forget about your existing audience
Digitizing your sales and marketing collateral is excellent for expanding your reach, but it's important to keep your current audience in mind too. In addition to creating new business, interactive content is a great way to (re)engage existing customers. Customer magazines, support manuals, newsletters and annual reports are some examples of customer-oriented content pieces that could also use an upgrade from static to interactive.
Don't neglect mobile optimization
Mobile accounts for more than half of the world's online traffic, so optimizing all your content for mobile is something of a no-brainer. PDFs offer notoriously poor user experience on mobile — and yet bafflingly, many large companies still use them to send important proposals (old habits die hard?!). Using online interactive content instead ensures that every sales asset you send is fully responsive and looks beautiful across all devices. With features like access control, digital publications make ideal substitutes for PDFs.
Don't put quantity over quality
In a world already so saturated with digital content, you may be tempted to flood your domain with as much online content as you can, in a bid to carve out a space. Like most things, however, quality is key. It's worthwhile to spend a little more time curating a smaller amount of content that's of genuine value to your audience. Pay attention to detail. Ensure the imagery is stunning, the copy is clever and the message is crystal clear.
Don't repeat the same message as everyone else
Taking inspiration from digital content that's already popular within your space is a good way to fuel the ideation process, but there's little reason for your own content to stand out if it merely acts as a carbon copy of something people have already seen. Thinking outside the box and creating something entirely new is going to win you more fans in the long run.
Don't forget your overarching business goals
Designing an interactive piece of sales or marketing content can be fun in itself — in fact, it should be. But it's important not to lose sight of your business goals in the process. Whether you're hoping to drive traffic to your website, increase conversions or establish your brand as an industry leader, keep referring back to your content strategy and the specific aim of your interactive publication.
Discover: 7 types of digital brochures to inspire you