Introduction
By definition, sales teams are all about converting leads and driving sales. To attract and win new customers you need relevant, valuable, and unique sales collateral that builds trust with your audience and positions your brand as thought leaders and experts in your field.
Great sales collateral is the ideal companion to your sales process. When you want to summarize complex information in a digestible format, sending an elegant eBook or guide can be far more useful to a lead than a lengthy phone call. If you're looking to promote thought leadership, a digital report or blog is a great method for showing your prospective customer that you are the brand they should be working with.
When your lead is struggling to understand exactly how a product or service works, sending a video guide at just the right moment in the decision-making process could mean the difference between losing them to another brand and chalking up another win.
In a nutshell, creating the right sales collateral, for the right stages in the buyer journey, converts leads into customers. But how do you know what type of content to produce and when to send it?
What's in this guide?
This guide to the 16 Types of Effective Sales Collateral will take you through all you need to know about producing the right content for your audience and business. We'll explore what sales collateral is used for and the kinds of content that are most effective.
We'll then take you through the types of sales collateral to use at the different stages of the buyer journey and offer some pointers on how to get started producing sales collateral, including some tools to help make the process more efficient and effective. Let's get started.
1. What is sales collateral?
Sales collateral is any kind of document or media that helps support the sales process and moves leads through the sales funnel. This includes printed media such as adverts, flyers, or brochures and digital collateral such as blogs, landing pages, eBooks, videos, and social media.
What kinds of sales collateral are most effective?
The types of sales collateral that are most effective depend on the stage in the buyer journey the person consuming the content is at. So, if they are at the awareness stage and just getting started on exploring their options, a blog post might be useful. If they are getting closer to the decision-making stage they might benefit from a video guide exploring the different ways a product is used.
While the format of the content your choose is important, the information you send to your prospective customer and the tone of voice in which you deliver it is also key to your success. Perhaps even more so. The content you send them should clearly convey the information they need for the specific stage in the buyer journey.
Ask yourself what guidance, stats, facts, and figures might help address any barriers to sale at this time. What additional knowledge or data would help convince them that you are the brand to help them fulfill their needs and desires.
How effective the sales collateral is will also depend on the nature of your brand and the products and services you are promoting. For example, if you work in financial services or government, a white paper might deliver the gravitas that social media wouldn't. If you work in FMCG or fashion retail, an Instagram campaign or email re-marketing campaign could result in the highest engagement and conversions.
Who creates sales collateral?
Traditionally it is the responsibility of the marketing department to create sales collateral, but today that needn't be the case. In fact, as the sales team is at the proverbial coalface, they are often in the best position to provide the insights that hit the right notes with the lead and result in the most engagement.
Empowering your sales team to create tailored content means you can respond to the needs of individual leads more swiftly too. Things can move fast in the world of sales and marketing. If you're not ready to move at a moment's notice with the right content, you could lose the deal.
2. Types of sales collateral
Both content producers and consumers are no doubt grateful that the types of materials available for sales collateral have diversified. Gone are the dull, static PDFs and pamphlets of yesteryear. Today's content producers have access to a variety of engaging and inspiring content formats to impress leads. For example, interactive forms and immersive user experiences such as parallax scrolls and background videos can bring your sales collateral to life and cut through the noise.
And if that all sounds a bit beyond your budget or your level of internal expertise, don't worry. With the right tools and a little training, you'll be on top of it in no time at all. In fact, if you're looking for an intuitive solution that makes producing sales collateral simple and straightforward, check out our content creation platform. It could be just what you need to scale up your content and convert more customers!
So, let's continue with exploring some of the most effective types of sales collateral that will get your brand noticed and leave your competitors in the dust. We have mapped each of the types of sales collateral to the different stages in the buyer journey to help you make sense of where and how they could be used, and how best to optimize their performance.
3. Sales collateral for the awareness stage
Awareness stage
For sales and marketing teams, the first step to winning new customers is building awareness of your products, services, and your brand in general. This is the point where you show you understand the problems and challenges your audience is facing, and that you are in a position to help them explore the solution.
Your potential customer might not be 100% clear on the entire scope of their problem, let alone what they need to do to fix it. Therefore, the awareness stage is about encouraging your customer to recognize and accept there is a challenge to overcome and give them the impetus and motivation they need to do further research. Any pressure to buy or convert at this stage will probably not be welcomed, so leave the hard(er) sell until later.
Blog posts
Blog posts are one of the best content formats for building awareness with new leads. They provide the perfect platform for demonstrating thought leadership, they're entertaining, and they're easy to consume on a variety of devices (providing you get the formatting right!). Furthermore, they are highly shareable and provide the ideal stepping stone to other content such as case studies. Perfect for moving your customer through the buyer journey.
Here's a great example of a blog for the awareness stage. Forgive us for getting all meta, but this article from Grammarly on how to write a blog is the perfect example of building awareness without being pushy. The content covers everything the reader needs to know and more. It's scannable, well-articulated, and has a subtle but compelling CTA at the end to encourage the reader to upgrade to their premium offering.
Here's an example of an awareness stage blog from Foleon: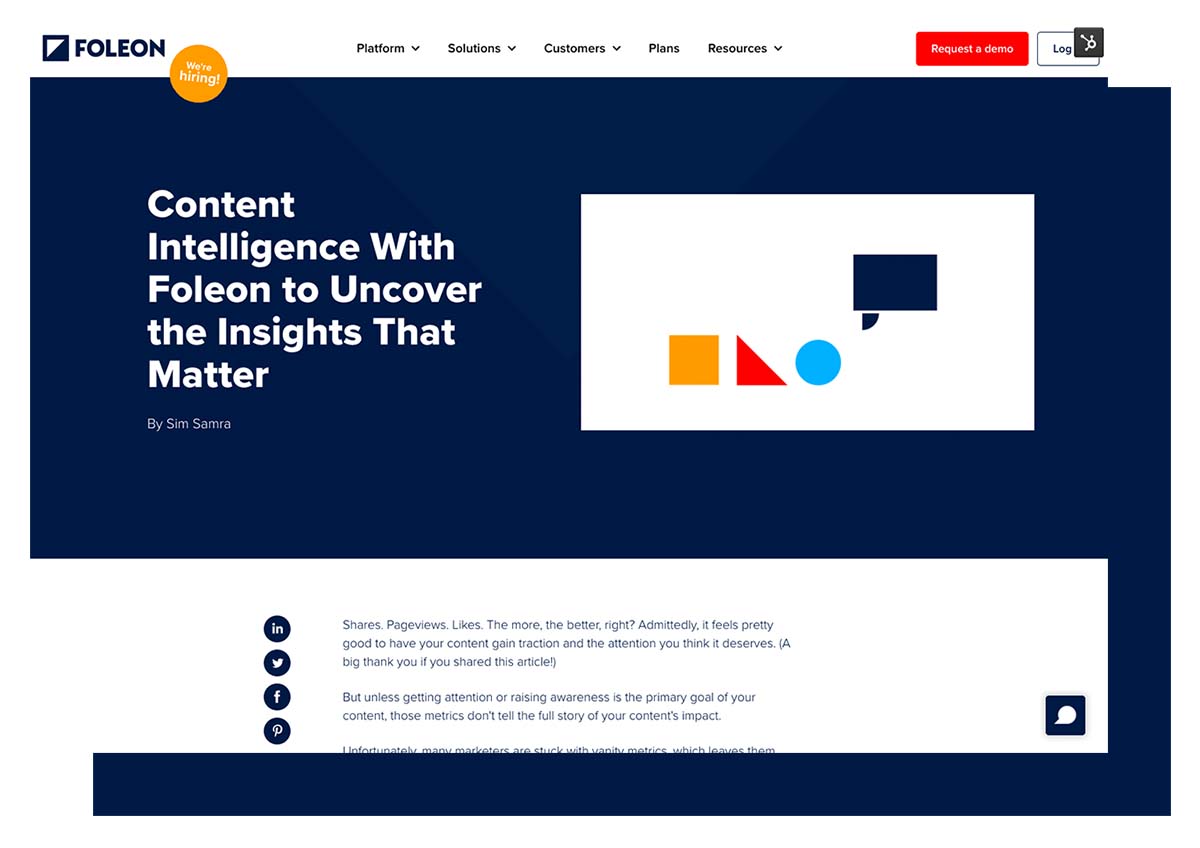 Social media
Social selling isn't just sliding into someone's DMs and asking if they want your product. It's posting content on your own feed that you know will be relevant and helpful to your audience. This is such a great opportunity to build rapport with prospects and let them know you understand their pains and frustrations. So why not let them come to you!
Social media platforms like LinkedIn can be particularly good for sales teams as they are probably already quite active there. So, adding a few relevant links to thought leadership sales collateral and encouraging discussion can really help build trust and keep your brand at the forefront of people's minds.
Who does it well? Rand Fishkin is an excellent example of how to sell and promote yourself on LinkedIn. Rand is a digital marketing guru and knows how to balance demonstrating his expertise while still being personable and accessible. He posts regularly, linking to both his own company's relevant, authoritative content, but also includes plenty of links to other people's collateral, which means he doesn't come across as too sales-driven. He also provokes plenty of discussions. This is social media that is genuinely social and not just shouting into the ether.
eBooks and guides
Your leads won't always have availability for a long telephone or video call. In fact, at the awareness stage, this could be a deterrent. When you're struggling to get time with a prospective customer or just want to supply a lead with information that is easily digestible and can be shared easily within the company, eBooks, and guides could be just what you need.
Formatting is really important with this type of sales collateral. You need to make sure your reader can find exactly what they want, straight away. Using a web-based interactive format for your eBook and guide means you can signpost and a link between content. This enables your lead to click through to the sections they're interested in and bypass others that aren't relevant to them.
Interactive content formats also allow you to embed rich media, they're responsive, easily accessible and you can track engagement. In short, far better than boring, static PDFs! Find out more about why you should stop using PDFs for business content.
Want to see how it's done? Here's a great eBook for the awareness stage. Leeds Trinity University has produced a wonderful example of an eBook for prospective graduates. The content is clearly signposted, there are plenty of engaging visuals balanced well with useful, concise textual information. You can link easily between sections, it looks great on all devices and there's a strong CTA at the end.
Want to know more about creating responsive, measurable eBooks?

Learn more
Website landing pages
Your company website is the hub of all your sales and marketing activity. Alongside the usual suspects such as the About Us section and product and service pages, you could also consider creating specific landing pages for sales collateral purposes.
At the awareness stage, this could be a page dedicated to solving a particular problem or introducing an element of your service that you think could capture a lead's attention and imagination. Or you could create a page that alerts new customers to a particular offer, incentive, or loyalty scheme. Or use them as a neat stepping stone to other commercial pages such as case studies or testimonials.
The added bonus of using website landing pages for sales collateral is the ability to track engagement and attribution (how the lead found you).
There are a variety of marketing analytics platforms available so it's well worth shopping around for the solution that will deliver the most useful insights and best ROI for your company. With Foleon Docs, for example, you not only get the attribution metrics that can help inform and improve your inbound marketing strategy, but you also get additional engagement metrics that you won't get from a regular web page, so you can tailor it for, say, target accounts or individuals.
Check out this landing page, Spotify for Podcasters. It's perfect to build customer awareness is a delight for first-time visitors. You know straight away that you've landed at the right place, there's clear encouragement to scroll, and the benefits are beautifully presented but not overwhelming. Spotify understands that its audience may have different skill levels so have offered useful links for inspiration and guidance including a 'learn from the best' link and FAQs.
Pillar pages
Pillar pages (also known as "content pillars'') are guides that take a deeper dive into a particular topic. The pillar page provides a focal point to your content strategy where you can answer questions relating to that subject, present high-level research findings (with links to more in-depth information), and drive traffic to relevant feature pages on your website.
Alongside being great formats for sales collateral, pillar pages are also great for your search engine optimization (SEO). They make your content easier for search engines to crawl, and they're great for your internal linking strategy which helps customers to find more useful content around your site that will coax them further through the buyer journey.
TravelPerk's 2022 Guide to Corporate Travel Management offers a comprehensive overview of a potentially complex subject. It is well-paced, easy to navigate, and identifies the various challenges faced by stakeholders, and how to address them. Perhaps most importantly, it signposts the reader to valuable content elsewhere on the site so they can access information that addresses their particular pain points, helping them find the solutions they need quickly. This content also builds trust, demonstrates thought leadership and moves leads elegantly through the sales funnel.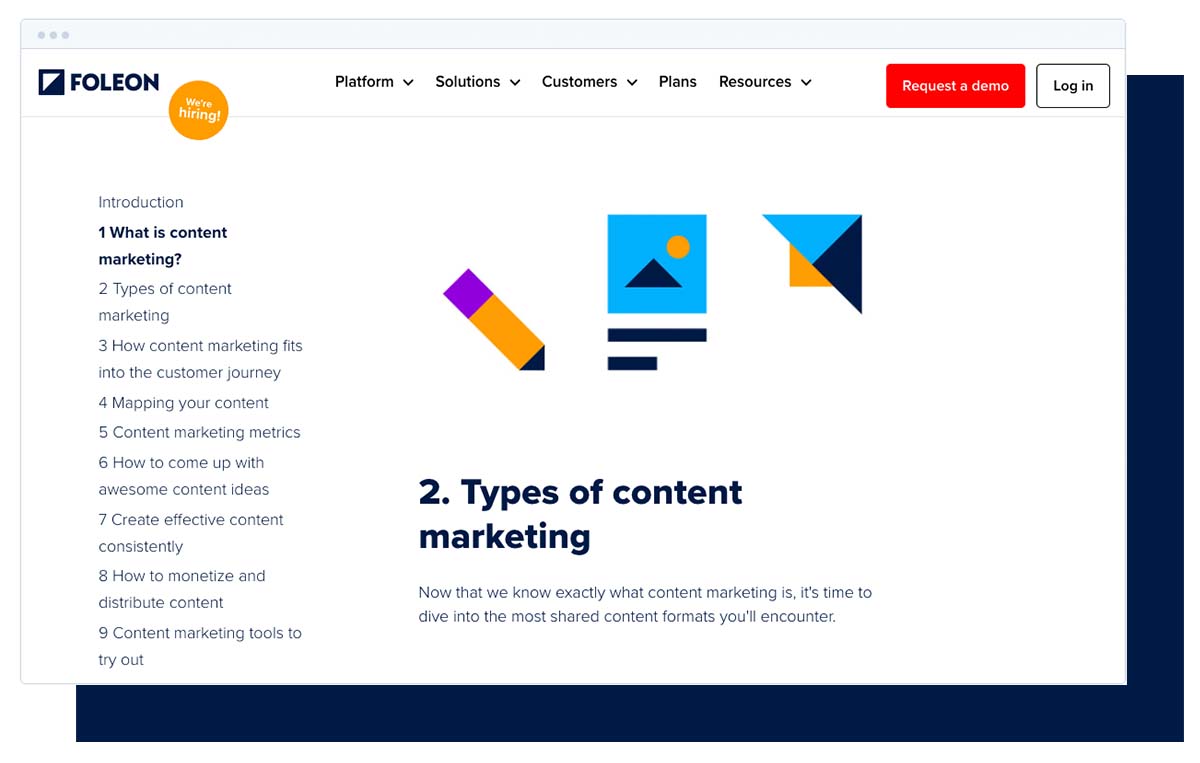 Infographics
Infographics continue to play an important role in creating brand awareness. Providing they are designed well and present genuinely useful data, they are a great format for conveying a lot of information or explaining a complex workflow. They are also great for boosting social media engagement, especially if there are interactive elements.
The Marriott Hotel in Scottsdale has created a genuinely interesting, and fun, infographic which helps visitors to discover their ideal activities in the region. It's simple to use, useful, the style is easy on the eye and it's 100% on brand.
Newsletters
When you can't get hold of a hot lead via telephone or email on a regular basis, sending out a useful, relevant newsletter can help keep your brand in their minds and continue to demonstrate your thought leadership. Always include a compelling and concise subject line and clearly explain at the top of the newsletter about the topics you've included with links so they can head directly to what interests them.
4. Sales collateral for the consideration stage
Now we move to the consideration stage. You have your prospective customer's attention, now you need to convince them that you are the brand that will solve their problems and help them achieve their goals. It's OK to be a bit more sales-oriented here but you still need to focus primarily on adding value to your audience.
Here are some great sales collateral formats for the consideration stage.
Corporate brochures
As with the eBooks and guides we mentioned in the awareness stage, corporate brochures are a useful format for delivering a fair bit of information in one document. They should be kept short, snappy, and visual — you don't want to overload your reader, after all.
Brochures are perfect for conveying a wide range of information and addressing customer pain points. They're likely to be shared internally with a number of stakeholders, so make sure you use a format, such as web-based PDFs that allow you to do so.
Your corporate brochure is the ideal format to showcase your brand, what it stands for and how it can help customers to achieve their goals. It should be easily digestible and contain just enough information to motivate your lead to visit your website, click on a case study or white paper or call your sales team.
Be creative, have a good amount of graphs, charts, and pictures that genuinely support and enhance the written content, weave in trust indicators such as testimonials and short case studies — and don't forget to promote your USP!
Here's an example from Foleon: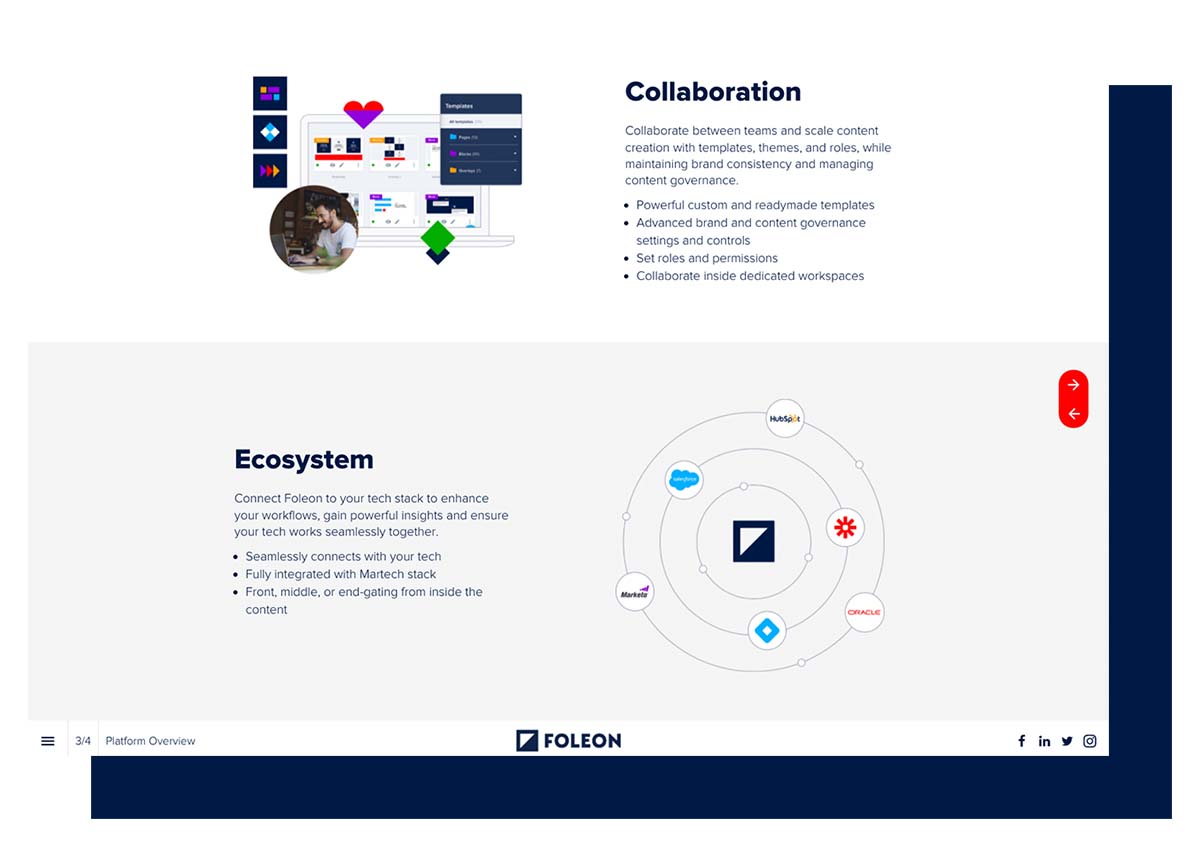 A corporate brochure is a great example of sales collateral for the consideration stage. Check out the brochure from Volvo Penta for a masterclass in interactive corporate brochure design. There's plenty of useful information, which is structured beautifully and there are some truly enticing visuals to get your pulse racing. Both scrolling and navigation are a pleasure. It's a brochure that doesn't feel like a brochure, but something altogether more fun, modern and engaging.
Want to know more about creating interactive corporate brochures?

Learn more
Fact sheets
Your prospective customers are highly unlikely to respond to being bombarded with facts and figures over the phone. But if you present relevant stats and numbers via a well-designed fact sheet it's a great way of convincing customers you are the brand to choose.
Factsheets can be used throughout the sales process including sharing information around product usage and explaining costs and ROI. Remember — the point is that you're sending over the facts, so choose a design that highlights them clearly.
Product catalogs
Product catalogs are the ideal format to showcase your brand's offering. At the consideration stage, don't miss an opportunity to impress your customer and create a catalog design that is both visually compelling and interactive.
Check out this case study on Forbo Flooring Systems, which explains how it inspires and persuades readers with interactive product catalogs.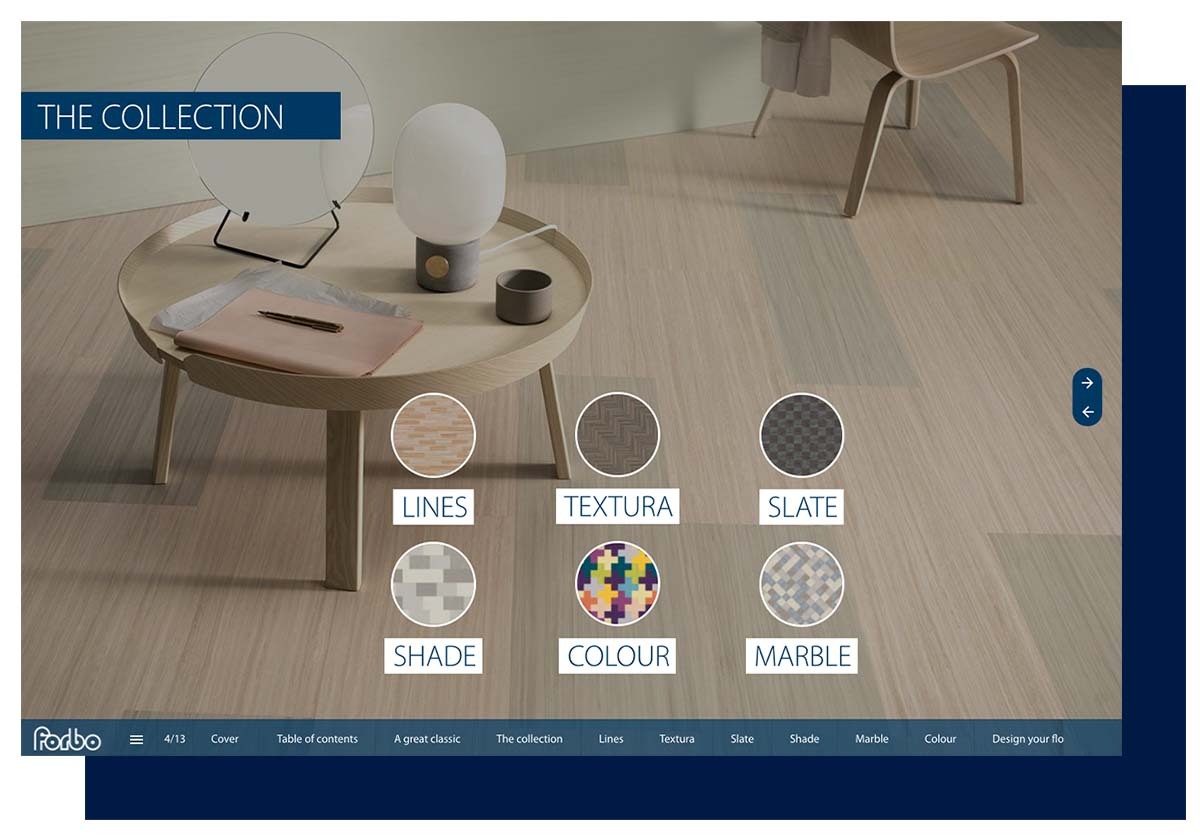 Remember, when you use a web-based PDF format you will also get valuable insights into the parts of the catalog the customer has been interested in so you can personalize your follow-up call or email based on their preferences.
Looking for some inspiration? Check out these beautiful examples of product catalogs,
Case studies
Case studies are a wonderful tool for sales teams. By telling the story of your brand and products via a valued customer's experience, you encourage your reader to imagine the benefits you could offer them and put themselves in the brand's shoes. All without being overly sales-focused.
Case studies should be concise, with clear subheaders and bullets explaining the benefits and results. Visual elements are great as long as they are relevant. Customers using the product or visiting the showroom, for example. Or infographics displaying results.
Here's an example of a great case study for sales teams. This elegant case study of Fantasy's redesign of the New York Met's website is a delight to view. Understanding the importance of the visual elements, the producers haven't included too much text. But you still feel like you have been presented with plenty of information and insights.
White papers
When it comes to the consideration stage, salespeople often have to get down to the nitty-gritty with facts and figures. This isn't always the most compelling or easy information to deliver — or to remember if you are on the other end of the sales call.
Enter white papers. These handy documents are great for presenting research findings, company process information, product data, and a variety of other factual information. They are ideal for showing your brand is an expert in its field and can be a useful tool for getting discussions going on LinkedIn.
Interested in finding out more about white papers and seeing some great examples of how it's done? Check out our blog on how to write and format a whitepaper.
Videos
Who doesn't love getting a tailored video from a BDR versus an impersonal, cold outreach email? Video is the perfect way to put a face to your brand's name and show your enthusiasm and expertise.
Video also provides a valuable opportunity to show your prospects that they're important to you and that you took the time to put together a message just for them. Bespoke is the name of the game.
Video isn't just for outreach, though. Particularly when many of us can't meet in person, video is the perfect medium for adding a personal touch. We mentioned earlier the benefits of getting your sales team on board with producing tailored content for your audience.
Today's workplaces are full of social media pros who can create fabulous video content without the need for fancy tools. So, why not get them on board? Not only does this mean you can upscale your content, but it also helps to bring your team closer together and facilitates knowledge sharing.
5. Sales collateral for the decision stage
Now we come to the final stage of winning that customer. This is the point where all your hard work is going to pay off, so it's always worth having a think about what has worked well so far and building on those successes. Here are some essential content pieces for the decision-making stage.
Presentations
Your sales team will already be familiar with presentations but that doesn't mean you can't improve the way you present them. We've all been to conferences where the PowerPoint was overloaded with text and distracting or irrelevant visuals.
This is one of the surest ways to alienate your prospect. Keep the information concise, include rich media where it is genuinely valuable, and always finish on a high note.
Presentations are a powerful tool for building a personal connection with your brand and making sure you stand out from the competition. Great presentations take time to create so it's a good idea to use a format that is simple and straightforward for your sales team to create and alter.
Proposals
When you have invested all this time and effort into getting your (nearly) new customer to the proposal stage, the last thing you want to do is deliver a document that feels standardized and impersonal.
Now is the time to create a proposal that absolutely wows them, so seize this opportunity to revisit all of the insights you've gathered during their particular buyer journey. What were the articles or case studies they were especially interested in? Which messaging really hit home? Who did they share the content with internally and how can you anticipate future barriers to sales from these stakeholders?
Armed with these valuable insights you can create a proposal that speaks directly to your lead. Personalizing content shows you understand their challenges and reassures them that you are the right company to help them solve their problems and make their lives easier.
You can save a great deal of time and keep the buyer journey moving smoothly in the right direction by using a content platform like Foleon. So, rather than recreating the proposal every time from scratch you can edit and refine the document to suit the exact needs of your lead.
Digital reports
Digital reports are the perfect showcase for important research findings or 'state of play' communications. If your data is valuable and you share it well, you could find your content being referenced across your industry, which is gold dust to any ambitious brand.
There are many ways to jazz up your reports. With an interactive content creation platform like Foleon, you can create reports that use charts, infographics, and visual aids to present your numerical data. Most importantly, your report will be responsive and viewable on different devices, making it more accessible. See how easy it is here.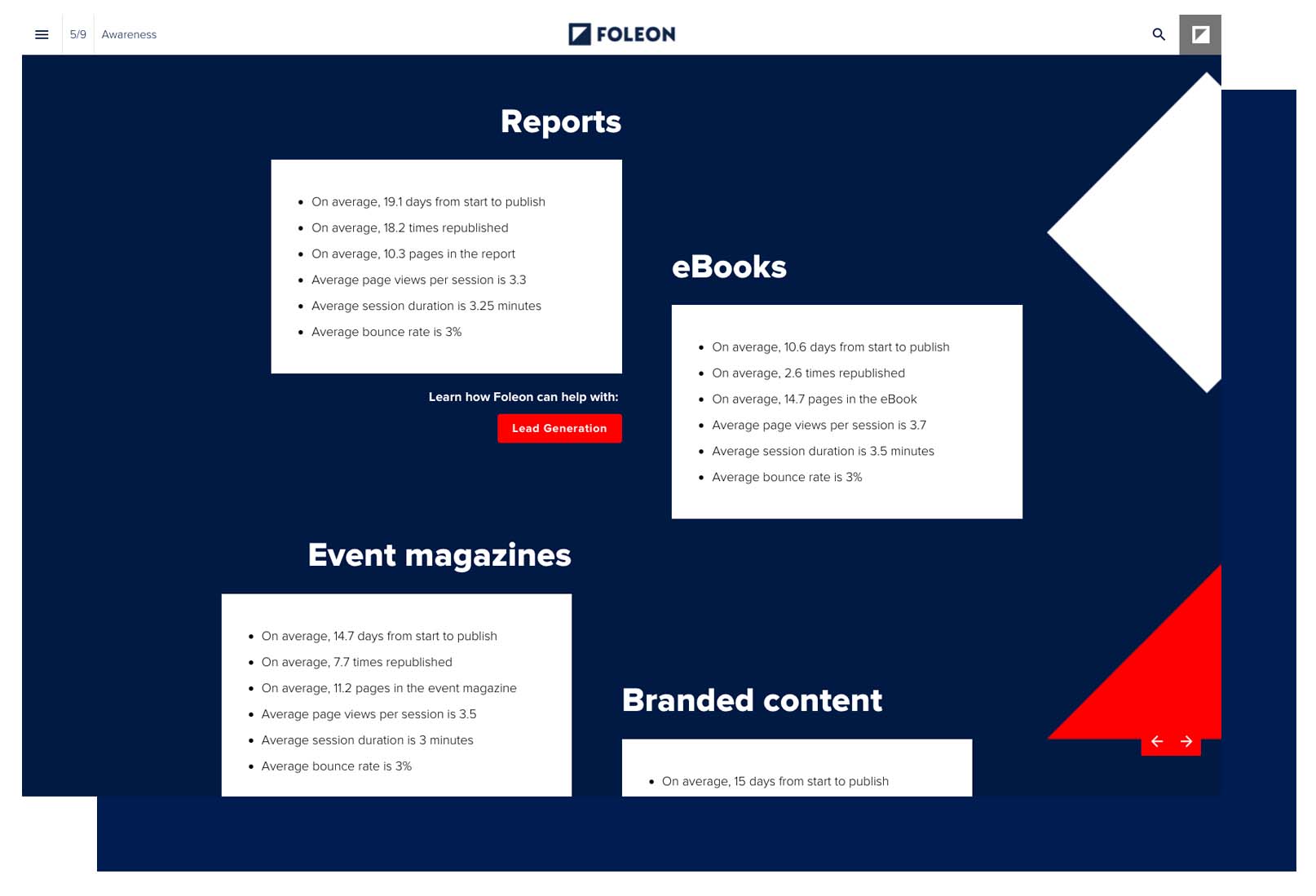 Loyalty stage
Building loyalty in your customer base is critical for customer retention and also for encouraging brand advocacy. We haven't gone into detail about the loyalty stage of the buyer journey in this guide as it is generally more in the remit of the marketing department. However, head on over to our companion guide to marketing collateral and you will get all the information you need.
6. How to develop and design your sales collateral
Whether you have been producing sales collateral for eons or are new to the process, it's a good idea to review the kinds of formats you are using, the kinds of messages you are conveying, the tools you are using and the designs you opt for.
The needs of your customer, the technologies on offer, and the available content formats change over time so it's well worth taking a step back to make sure your sales collateral is as effective as possible.
Identify what your audience needs
As with all aspects of your marketing and communications, your sales collateral needs to be focused 100% on what your audience needs and wants. Remember that their requirements and objectives will differ as they move through the buyer journey so it's a good idea to base your content creation and delivery around the different stages of the sales funnel, as detailed above.
Talking to your current customer base can offer valuable insights into the changing needs of your audience, so why not pick their brains? Ask them what makes your brand and service stand out from the crowd and why they continue to be loyal to you. This is also a great opportunity to ask for a testimonial or a case study!
Recycle and repurpose your marketing collateral
Take a look at the classic formats and ask yourself how you can modernize them to make them more engaging, intelligent, and scalable. In other words, it's not always what you say, but how you say it.
Businesses often forget that marketing content is also sales content. The blogs, eBooks, magazines, social media posts, PR articles, webinars you've produced for marketing purposes… all of this content is there for you to use, and it's designed for your specific audience.
You may also be able to find out what has proved popular and to whom by looking at the website analytics, email campaign results, and other marketing data. At Foleon, we always brief our sales team when we publish new content. We share our process and templates for doing that in this article.
Chat with your content creators, get to know them, understand what they're making and why, and make sure you're getting the info you need to be able to use all of that fab content they're creating!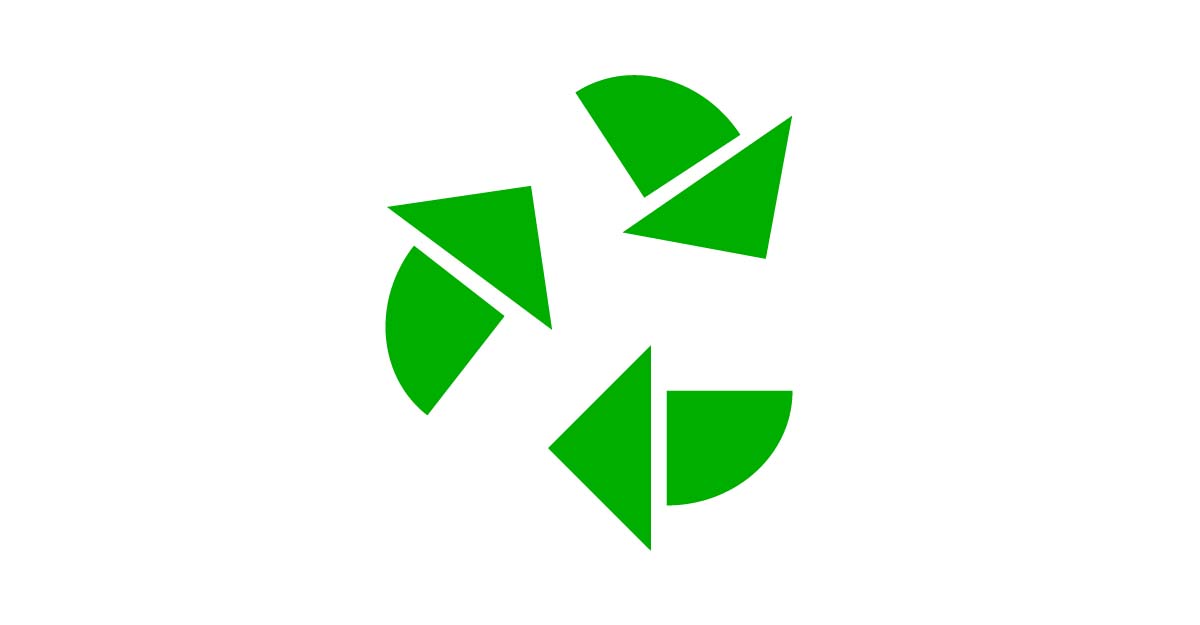 Make sure it's on-brand
Brand consistency is absolutely central to your sales and marketing success. Every touchpoint your customer has with you must be recognizable, credible, and beautifully produced. Developing a style guide, customer personas and a tone of voice guide can help with ensuring your sales collateral is always on-brand. This is particularly important when you have a number of people producing content.
Use the right tools
Producing the high standard of sales collateral you need to grow your company takes time. From the ideation stage to distribution, it's vital you use the right tools to help streamline your processes so you can create enough sales collateral to support your sales team.
One of the most effective ways to boost your lead generation activities and drive more conversions is to create bespoke content. Supplying a prospective customer with content that is tailored to their particular interests or addresses their specific pain point is sales gold dust.
Naturally, not every marketing department has the resources to upscale its content in this way. That's where content creation platforms come in, like Foleon, making sales enablement a breeze.
You don't need to have internal design expertise, and you can easily create rich, immersive formats that will excite, and delight your customers. The ability to get more quality content to market quicker means fewer bottlenecks in the sales process and less chance of losing your customer's interest as you move them through the buyer journey.
Furthermore, the engagement data provided by the platform allows you to track performance and hone those campaigns and customer journeys so they become more effective over time
Sounds good? Find out more.
7. Time to produce great sales collateral
As we reach the end of our guide to the 16 Types of Effective Sales Collateral we hope you are feeling more confident about the kinds of content that can help you grow your business and drive more conversions.
It really is all about supplying your prospective customers with tailored collateral that stands out from the crowd. Your sales team might only have seconds to make an impact, so why not arm them with engaging, interactive, valuable, and relevant sales collateral that arrives just when they need it.
Remember, when it comes to producing your content you aren't on your own. Using Foleon's platform simplifies content creation and facilitates collaboration throughout your business. So, why not Check it out!