As with all your marketing activities, content marketing is always a work in progress. Every time you publish an article or upload a video case study you're hoping it performs even better than last time. And the best way to make this happen is to measure your results as your campaigns evolve and mature.
But how do you measure your B2B content marketing ROI, and how do you prove it is worth the investment?
In this guide to content marketing ROI, we'll explore how to improve your ROI across different content marketing activities and how to identify which assets are most valuable to you and your customers. We'll also look at ways you can measure and benchmark your ROI — and how to prove the value of content marketing to your business. Let's get started.


What is content marketing ROI?
In a nutshell, content marketing ROI is a percentage showing how much revenue you gained from content marketing in comparison to what you spent. In other words: (Return - Investment ÷ Investment) x 100 = ROI.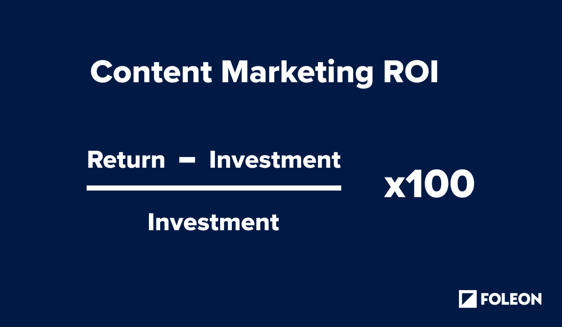 When calculating your ROI remember to include the total investment rather than the cost of the piece of content itself. This could include labor costs, advertising spending, software, or any other financial impact resulting from your content.
What is the average ROI of B2B content marketing?
Calculating an average ROI for B2B content marketing can be tricky. But as any good marketer knows, it is important to benchmark your performance. Lead generation experts First Page Sage attempted to demystify the process by analyzing their proprietary data set. Here are some of their key findings.
Image source: FirstPageSage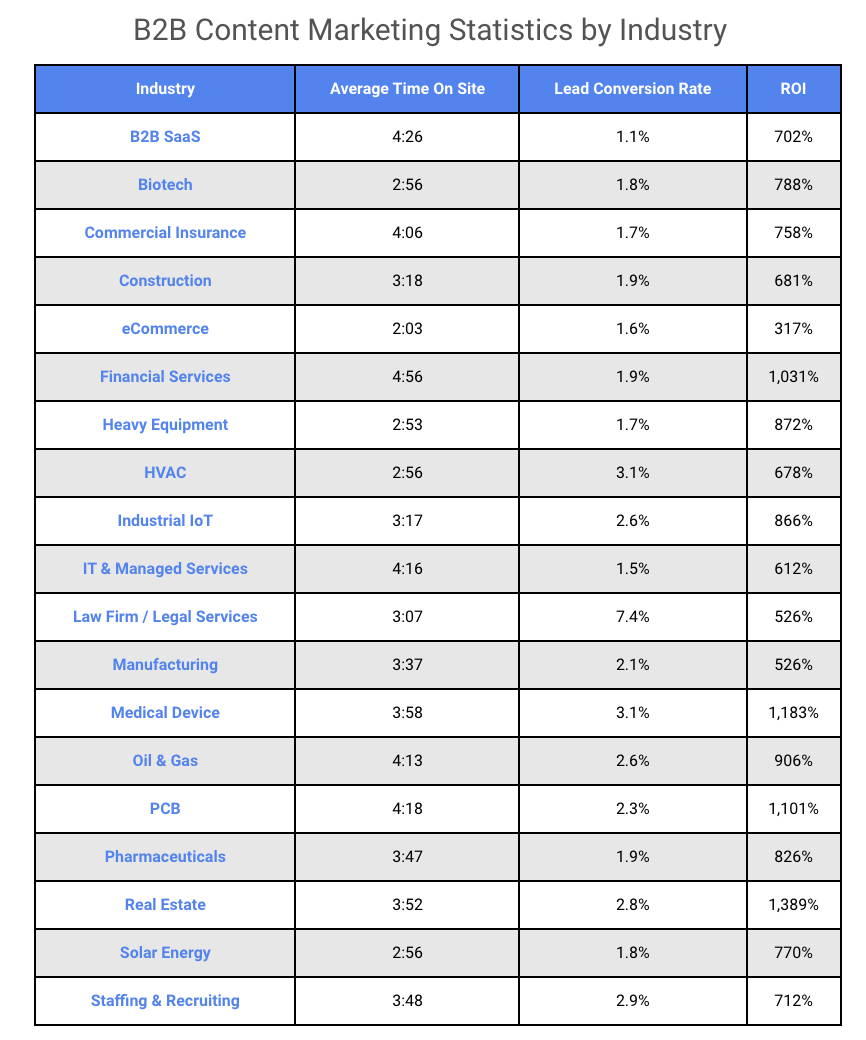 Image source: FirstPageSage
Naturally, your content assets don't exist in a vacuum. You are far more likely to achieve — or even surpass — these benchmarks if you incorporate them into your wider sales and marketing strategy.
So, when it comes to planning your blog content, you'll need to consider the bigger picture: the keywords that will get it found online, the calls to action that will boost your conversion optimization, and where the blog will be positioned in the buyer journey.


How do I prove the ROI of content marketing?
Now comes the challenging part: identifying the most relevant metrics to prove your content return on investment. Not unironically, you have to invest some time initially to pinpoint these, but the activity is well worth the effort.
The best ways to measure content marketing ROI will depend on the activity. Let's look at website content, social media, and SEO in turn.


Measuring ROI on website content
Of course, not every visitor to your website will become a customer. For some brands, their blog's ROI comes from promoting brand awareness, or other less tangible metrics.
When looking at 'concrete' ROI you'll need to ascertain what a single conversion is worth to your company. You can work this out by multiplying the average transaction amount by the average number of people that converted due to this blog and became customers.
As all content marketers know, tracking blog conversions on one particular page isn't usually enough. Your website visitor might convert once they've consumed that insightful white paper your blog has led them to, for example. If this sounds a bit tricky, don't worry.
You can set goals in Google Analytics to see how many pages are viewed in one session, how long the visitor stayed on the site, where they were referred from, and any other events they trigger during their visit. You can then use this data to calculate the estimated revenue of the blog for each goal.
Once you have completed the process for each goal, you can add all the figures for your blog conversions during a specific time frame and work out the average.
>Helpful hint< This is a great exercise to do in conjunction with your sales team. By sitting down and cross-referencing the content with the leads or sales generated, you can work together to identify areas for improvement or opportunities to expand on successful content themes or formats.
Measuring ROI on social media
As well as being a great platform for building trust and increasing brand awareness, social media is a powerful amplifier for your content, so measuring content marketing ROI on Twitter, Facebook, Instagram, etc, is vital.
The metrics you focus on will depend on your company's sales and marketing goals. Perhaps your priority is to reach new audiences with your blog, or maybe you want to build a community of influencers and advocates that can persuade new customers that you're the right brand to choose.
Consider all your different audiences and the goals and objectives you have for each. It's not just new customers you are trying to win. In B2B particularly, valuable partnerships are formed on social media which have a very real value to your content marketing.
It's also a good idea to expand the scope of your ROI calculations to include the impact on your wider business. For example, if your company uses social media for customer service, you might want to include the impact on call resolution times or other ways social media affects your customer service provision.
You can decide which metrics to track. These will be based on your business objectives for each audience. For example, you might use conversions or audience engagement for your new customers, shares, and comments for your partnerships, or positive mentions or useful anecdotal feedback to demonstrate the value to your product development team.
When you have been tracking these metrics over time, you can work out what your social media ROI is using the same ROI formula as website traffic. Remember to include every financial outlay including the cost of your freelance consultants, social media listening tools, and any other internal costs.
Measuring ROI on SEO
Search Engine Optimization (SEO) is essential to content marketing success. You want your content to be found by the right people, after all. But good SEO takes time — and it can make a considerable dent in your budget — so you need to be able to prove ROI whenever possible.
It's important to keep in mind that Google and other search engines change and adjust their ranking criteria on a fairly regular basis so you need to keep on top of which tactics you should be prioritizing to optimize your content. And we don't need to mention that you should never use so-called Black Hat tactics or work with agencies who do. This could result in penalties that take months or even years to recover from.
Even as a relative novice you can track your content marketing ROI for SEO in a few easy ways.
Keyword tracking. This can be done in Google Analytics on the Traffic Sources tab. Alternatively, there are a variety of tools and platforms out there that can help you monitor your most popular search terms.

Check your page ranking. This is perhaps the most important KPI and should be monitored on a regular basis. You can do this on tools such as Ahrefs or you can simply open an incognito or private window on a web browser and see where you rank for the keywords you are targeting.

Domain authority. A brand's domain authority indicates how trusted its website is and how likely it is to rank well in search engines. It's a good indicator of how your content is perceived and should be monitored as a KPI for your content marketing ROI. You can use a free domain authority checker to keep tabs on how you are doing.
SEO tactics can take a while to bed in, and you might not see any impacts or movement in the first 3-6 months. But if you keep targeting the right keywords, only use ethical Google-endorsed SEO tactics, and publish valuable, useful content you should see positive results before long.
Even experienced marketers find calculating ROI for SEO difficult. It can be hard to put a price on costs associated with all your activities. Plus, attribution models for conversions aren't always clear. For example, how do you really know which click resulted in a conversion?
Setting up goals in Google Analytics is helpful and keeping an eye on the above three activities should prove useful. When you have your data in order the same formula applies — (Value of Conversions – Cost of Investment / Cost of Investment).
Don't forget to compare your performance across different periods of time, and take into account any changes in algorithms, your business, or your marketplace.
How to improve content marketing ROI
After all that hard work getting to grips with calculating your content marketing ROI, it's time to think about how you will improve your tactics and strategy to boost your ROI. Here are some effective and actionable activities you could consider:
Concentrate on creating evergreen content that your audience really appreciates. Focus on what they want from you, not what you want from them.
Update your content regularly to ensure search engines regularly crawl and index your site. And make sure you have submitted your sitemap to Google correctly.
Repurpose your most valuable, popular content in other useful formats to capitalize on your successes. A popular how-to blog could be recrafted into an interactive eBook or video tutorial for example.
Don't forget to promote your content regularly, and monitor engagement. This might sound obvious, but with a million content creation activities to complete each week you'd be surprised by how often this gets missed.
Optimize your content on a regular basis. Revisit those pillar pages and guides to make sure all links are up to date, the stats are current and you have exploited all opportunities to enhance the buyer journey.
Test your content to see which versions are performing better. You could try a new title, different calls to action, or alternative imagery, for example.
Make sure you are using the right distribution paths. If no one is opening your email newsletter perhaps it's time to focus on other channels to share your news. Or perhaps you need to review your newsletter strategy altogether!
Understand the user intent when people are visiting your website. If it seems from your analytics like the visitors need a specific question answered then prioritize that content at the top of the page. Not only is this best for your visitor but it gives you a shot at winning the Google Answer box, which is the top spot on search rankings — and it should reduce your bounce rate too.
Review your keyword strategy regularly to make sure you are targeting the right search terms and relegate the most competitive ones if they are genuinely out of your reach. If you are hoping to win an answer box, focus on questions that are possible for you to win.
Devote time to improving the visitor journey on your website and apps. There's little point in driving high-quality traffic if you don't engage your visitors from the get-go.
Always keep the bigger picture in mind. Your website content, social media, SEO, PR, CRO, paid advertising and all your other marketing activities are a closely integrated, interdependent network that needs to be viewed holistically.
Update your strategy over time to reflect the changing needs of your audience, how the market is evolving, and the different tools and platforms you are using. Stay agile and you'll reap the rewards.
Establishing ROI for downloadable assets
Establishing the ROI for downloadable content assets like white papers, eBooks, and reports can be tough because the only metric you can measure is the number of times the content has been downloaded, leaving you with no idea how it performed.
This means that you miss out on the following:
Assessing how much of your content is being read. This is an important metric to gain insights on as it can help you determine whether your content is contributing to bottom-line results. For instance, if you find that people are getting through your content from beginning to end, this could warrant a follow-up call by your sales team.
Tracking how often your asset is being shared. This is one of the telltale signs that your content is good. Suppose your downloadable asset is being passed along. This will give you a much better idea of its value, and an opportunity to collect data from 2nd degree leads as well — that is, if you've gated it properly with an embedded form.
Determining which pages and topics people spend the most time on. Knowing which chapters or sections readers are resonating with is useful for optimizing your content and allows you to better segment your audience by their interests and use a personalized follow-up approach.
Without access to metrics like the ones mentioned above, you're unable to properly evaluate and optimize your content, perform A/B testing, and assess whether your content is working and bringing in new customers.
Using a file format you can track
Online interactive white papers, eBooks, proposals, brochures, (etc., etc.) are the next generation format because they're modern, impactful, interactive, and best of all — trackable.
With their web technology, online interactive formats are fully measurable and allow you to personalize your content as leads move through the funnel, meaning you're more likely to convert them.
Read more about how we use interactive web-based content to leverage our marketing efforts.
Unlike PDFs, with interactive content, you can do the following:
Assess what readers do after they download your content. From the reading time to click rates — you get all the insights you need.
Use the data-driven insights you collect to improve and optimize your content. You can do this by guiding your leads on to the next desired action.
Get attribution right and see the contribution of your assets to bottom-line results.
Since online interactive assets don't need landing pages, you can embed the lead generation form in the content itself. This means that if your leads share your content with others, they'll encounter the form too, so you'll have their information.

Many progressive brands are already switching away from PDF legacy formats to interactive web-based content that helps them better understand their contribution to overall ROI.
Read more about the ROI and usability of interactive formats here.
Looking ahead
It's a great feeling when all your learnings come together and you get a clear impression of what you need to do to take your content marketing forward and can understand the ROI you can expect.
Too often, marketing is dismissed as a secondary activity to sales. With a concrete content marketing ROI in place, you can walk into that boardroom and secure your dream marketing budget for next year and beyond. Good luck!