In many ways, B2B buying is increasingly coming to resemble B2C buying. As B2B buyers rely more on self-directed research, the need for engaging and personalized content experiences in B2B is growing fast.
However, major differences between the B2C and B2B content marketing funnels remain. For example, the B2B sales funnel typically has more stages because the buying cycle is longer.
And while both funnels begin with stages of awareness and interest, B2B buyers move through longer and more serious stages of consideration and intent. After all, B2B buyers are making decisions for a business.
So how do you create successful content for the B2B sales funnel?
Define Your Audience and Funnel Stages
The first step is to know your audience. According to Forrester, 73% of those making buying decisions for businesses are now millennials.
This generation of buyers prefers to do research via Google search and vendor websites before interacting with salespeople — meaning you need plenty of pristine content that's easy to find for every stage.
But it's not only about quantity. Your content should speak your audience's language and be tailored to their needs and habits. This means creating buyer personas to represent your ideal customer — and in B2B especially, there may be several.
73% of those making buying decisions for businesses are now millennials
For example, you might have one buyer persona representing the primary decision maker for your product/service. You might have another one representing the person(s) who will actually use your product on a day-to-day basis. And there may be other potential stakeholders you regularly address in your sales process, such as procurement officers.
After developing personas, identify the types of content you aim to create for each and map them to the stages of your B2B content marketing funnel. The key to winning at marketing is to create content that meets the customer at each stage of their journey.
Typically, most marketers use a three-level funnel that includes the top (TOFU), middle (MOFU) and bottom (BOFU).
1. Top of funnel content
Content at the top of the sales funnel should be related to your industry and the products and/or services you offer — but without attempting to sell. This part of the funnel should have content that focuses on being helpful.
Offering tips and tricks, and other valuable content your audience wants to read helps to establish your business as an authority in your industry while simultaneously generating awareness for your brand.
2. Middle of funnel content
As the potential customers begin to show interest and move into the middle of the funnel, they should see content that mentions your offerings more explicitly. This could be in the form of case studies or webinars where you're still sharing helpful information, but it's a bit more focused on your brand and the solutions you offer.
3. Bottom of funnel content
And finally, at the bottom of the funnel where prospects are familiar with you and are considering making a purchase, content is driven by sales. This is where you include the last bits of information a customer needs to make their decision. For example, presentations, pricing, proposals, datasheets, competitor comparison charts, and more.
Discover: 6 After-Sale Customer Conversations That Foster Trust and Loyalty.
Creative B2B Content to Support the Sales Funnel
It's critical to have strategic, creative content spanning your entire B2B content marketing funnel because close to 70% of the buyer's journey is completed before a prospect ever reaches out to sales. To attract prospects, capture their attention, build up trust, get them enthusiastic, and eventually convert them into a sale, you'll need a variety of b2b content types.
70% of the buyer's journey is completed before a prospect ever reaches out to sales
1. Actionable, advice business blogs
A great B2B blog will do more than just sell the product or the service. It will house valuable information for your audience that will win over their trust. A 2019 survey among B2B marketing professionals in the U.S. found that 55% of respondents consider articles and blog posts the most valuable content for moving prospects through the sales funnel.
In fact, blogs are a leading marketing tactic among B2B brands. According to Statista, 93% of B2B marketers in the U.S. use blog posts or short articles for content marketing.
The reasons blogs are so effective — especially in the B2B arena — is because they're accessible, drive website traffic, educate your audience, and lead to sales. A 2018 report from Demand Gen revealed that 71% of B2B customers said they interact with blog content before completing a purchase.
An example: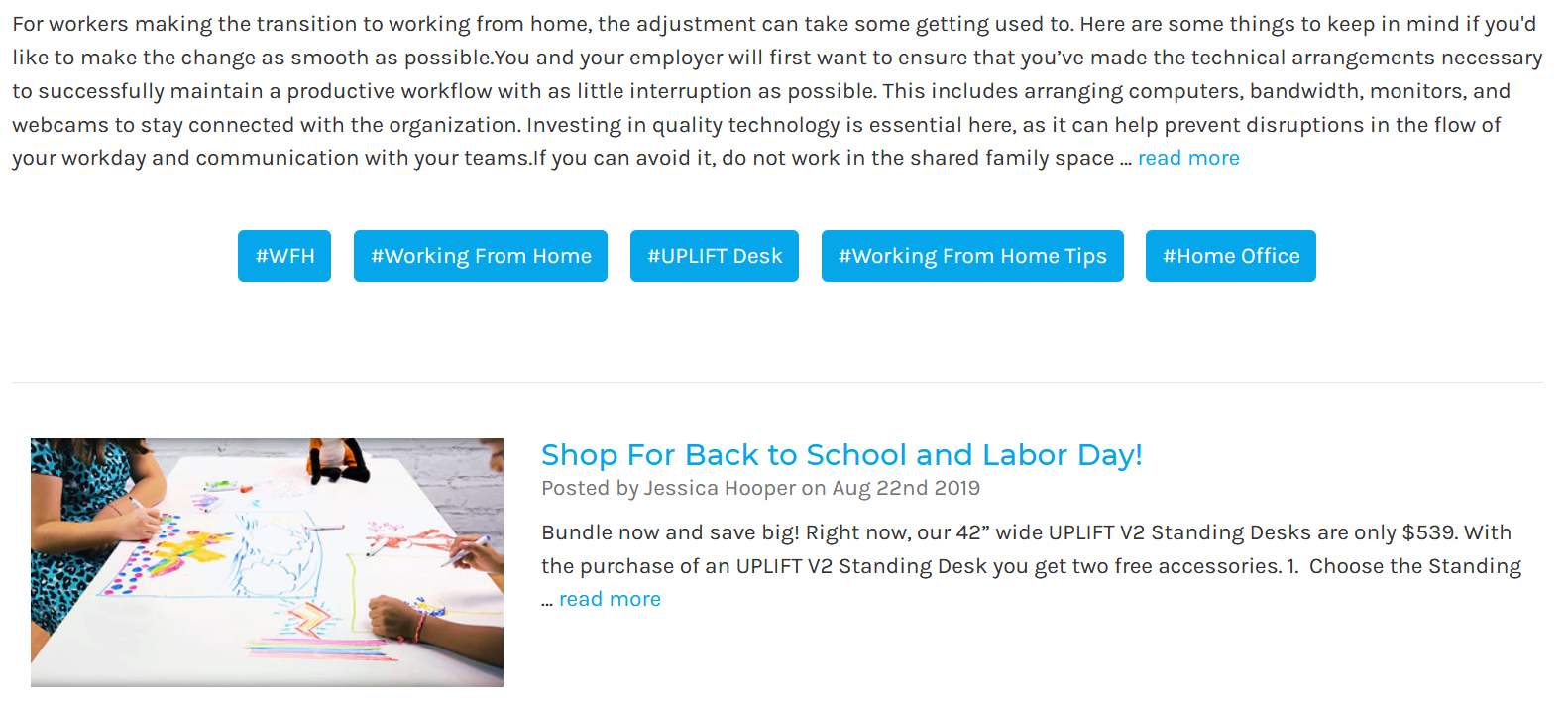 A great example is B2B ecommerce company UPLIFT Desk, which sells standing desks. They have an informative blog that focuses on product information and related health tips. In 2020, when much of the world entered some form of lockdown, they wrote tips for a smooth adjustment to working from home.
This blog works because it provides unique and helpful information customers are looking for. Because of this, if at some later point a reader is considering buying a standing desk, more than likely they'll think of UPLIFT desk first.
55% of respondents consider articles and blog posts the most valuable content for moving prospects through the sales funnel.
2. Podcasts. Podcasts. Podcasts.
A podcast can serve as great content for the top your B2B content marketing funnel. In 2020, a survey on podcast consumption revealed that 37% of U.S. adults had listened to a podcast within the last month, a figure that has more than tripled over the past decade.
For U.S. consumers, podcasts are not just a source of inspiration or a way to escape from daily life, but they're also an opportunity to educate themselves. In a survey held in early 2019, the majority of respondents said that their main reason for listening to podcasts was to learn new things.
If your target audience is already listening to podcasts, then you'll want to meet them where they are. You can utilize a podcast to increase brand awareness and establish your brand as an authority in the industry. Just like with a blog, unique and useful content on a podcast can help you stand out from the crowd.
For your podcast, you might consider an interview format that features different guests on each episode. You could also go for a panel discussion to showcase a diverse range of voices. By featuring different guests, you're bringing in different opinions and expertise, but you're also reaching the guest's audience.
An example:
Exposure Ninja's podcast features interviews with digital marketing experts speaking on topics such as PPC, SEO, conversion and websites.
This podcast works because Exposure Ninja provides digital marketing services. The podcast showcases its expertise in the industry but also invites other voices and viewpoints.
37% of U.S. adults had listened to a podcast within the last month
3. Make a webinar series
Webinars are a great way to conquer content for any stage of the funnel. Webinars create an opportunity to reach and educate your target audience, while also sharing more about your business offerings.
You can utilize a webinar series to share your expertise on industry trends, tell customer stories, give free product demonstrations, or even do training sessions.
An additional benefit of hosting webinars is that — even though you're reaching many people at once — you can create personal connections. Many webinar platforms have chat options and you can do a Q&A session at the end of each one to answer any direct questions.
One popular strategy is to break up a large topic into smaller sections and dive deeper in each session. This approach helps maintain audience engagement and gets them coming back for the next one.
An example:
Sales and marketing company Drift hosted a monthly webinar series focused on removing sales roadblocks during a pandemic. It consisted of three sessions, each with two different hosts. They covered buyer engagement strategies, winning over newly engaged employees, maintaining close rates across your sales team.
The series worked well because the content was extremely helpful, but also served as a way to introduce the audience to Drift as a sales.
4. Customer stories and testimonials
User testimonials are perfect for potential customers who've reached the bottom of the sales funnel. These stories from customers can also drive organic website traffic from search engines since positive reviews boost your online signal.
User testimonials build trust with a brand. In a November 2019 survey by Statista, it was found that the average number of reviews U.S. consumers read before trusting a business was ten. However, younger age groups were more likely to read more reviews before trusting a business.
It doesn't hurt that many potential customers also view customer testimonials as objective. Consumers can often relate to customer stories, which can also help sell the product.
As many as 63% of shopping occasions start online. Even if a customer makes a purchase in-store, their journey is starting online – in most cases on Google or Amazon, where they're doing their research. Testimonials can even close the deal in these cases.
Zendesk — a CRM company that builds software designed to improve customer relationships — created a webpage dedicated to customer stories. This is a great approach because it showcases Zendesk's wide-arrange of customers and it allows potential customers to find a story that resembles theirs.
The page can also be sorted to the potential customer's liking: by industry, business challenge, or region.
U.S. consumers read an average of 10 review before trusting a business
Wrapping Up
There are several different approaches you can take to fill the B2B sales funnel with quality, creative content that will attract buyers. Choose the tactic(s) that will work for your business and its audience. Which one can you sustain? Which one makes the most sense for your staff? For your audience? Do some brainstorming and strategizing and then, get to creating!