Good content creators know how to engage B2B customers with engaging videos, web pages, social media posts, and other snackable forms of content. But how can B2B content creators apply these tricks to the long-form content they create that's traditionally more boring and static?
From crafting a compelling story to optimizing the content design, read on for some actionable tips for making your B2B content more engaging.
1. Be relevant
With a staggering amount of content uploaded on a daily basis, it's vital that yours cuts through the noise. The best way to do this isn't crafting click-bait headlines, it's making your content as useful and relevant as possible. Here are some tips for ensuring your content is valuable for your audience:
Develop and use customer personas.
Personalize and tailor content for each segment, company, and stakeholder — depending on how far you can drill down.
Base your content themes around the problems your audience is trying to solve or the need they want to satisfy.
Speak directly to your audience's hopes and fears, dreams, and aspirations, pains and hesitations, obstacles and struggles.
Consider the stage of the buying cycle they are at and what they need from you right now. If they're at the awareness stage, a blog could work well. If they're at the point of consideration then a how-to guide or case study could work wonders.
Make sure your content is timely. It should land when it is needed most and reflect the events that are relevant to your niche.


2. Be human
This might sound obvious, but you just won't engage your audience if you don't craft your content to be personable, relatable, and human. Even if yours is not the most glamorous sector, you can still be creative and pleasurable to read, while remaining professional. Your audience wants to feel like they're dealing with a human being who understands their needs and objectives, even in B2B!
3. Tell a compelling story
People love being told a rich, compelling, and satisfying story. By using a strong storytelling arc, you encourage your reader to place themselves in a particular situation — and that makes your content more relatable. Case studies can be a powerful format for storytelling. Even if your chosen format is a blog or how-to, you could include a mini case study at the end with a fictional or real scenario and characters to illustrate your point.
Discover: Why Data-Driven Storytelling is the Best B2B Marketing Content
4. Make your content easy to read and digest
We've all clicked on a link and been presented with a seemingly endless page of impenetrable copy. You know the kind — where you make it to the third line and run for cover. You want people to engage with your content, though, not feel like they're in some kind of endurance test. Here's how to make your content easy to read and digest:
Use short sentences and paragraphs.
Make it scannable using clear headings, sub-headings, and bullet/numbered lists (like this one!).
Consider putting important points or concepts in bold. But don't capitalize unless absolutely necessary — this risks your audience feeling like you're shouting at them.
Use a font that is easy to read on every platform and device.
Break the text up with relevant images (avoiding stock images, where possible).
Only include relevant, useful links — and don't overdo it.
Make good use of white space (more on this later on).
Test the content to make sure it looks great on every device.
Avoid using pop-ups or content that distract from the messaging and design.

5. Get the structure right
Ensuring your content has a good structure and flow is vital for audience engagement. Assume your reader has ten seconds to make up their mind if the content is right for them and write accordingly.
Top-load your content with a great hook to catch their interest. You could ask a question that will capture their imagination, introduce a statistic, or place the content theme in the context of a recent piece of news.
Then summarize in a sentence or two what the reader can expect from the content and how reading it will benefit them. For example — "Think you're prepared for the latest algorithm update from Google? Research from The Drum has revealed that 40% of businesses could be penalized when Penguin is unleashed. From auditing your backlinks to disavowing domains we reveal everything you need to know to protect your business."
Once you have your reader hooked you can move on to the main body text, keeping in mind the readability guidelines mentioned above. Try to keep to one idea or theme per paragraph and don't refer back and forth between themes unnecessarily.
You don't want to lose your reader's interest once they reach the end of the content, so include a strong call to action prompting them to get in touch, download a guide or sign up for a newsletter or webinar. Alternatively, you could suggest other content types they might like to move them further down the sales funnel.
Discover: Creating and Formatting Your Content Hub for Maximum Engagement

6. Include plenty of white space in your page design
The design of your marketing collateral is just as important as the words. Leaving room for plenty of white space means your reader won't feel overwhelmed by the information and be tempted to leave. It also improves readability and comprehension and creates balance. White space also gives you room to emphasize the important elements in your content.
7. Use relevant visuals
Breaking your text up with interesting and relevant visuals helps your reader process information and makes your content more pleasurable and attractive to read. If you can say it in a visual instead of with text, do it, particularly if you are trying to communicate or distill a lot of complex or potentially 'dry' information.
Explaining a convoluted business process with an infographic is far more likely to engage your reader than a bunch of text. Likewise, a few photos demonstrating how your product is used in situ will capture the imagination more than a list of its various features and the environments it is useful for.
Top tip: Eye-tracking studies show that people are naturally attracted to images on a webpage, so include your most important information directly after the visuals.
8. Use visual or text cues to keep people engaged and moving to the next section
All your hard work with engaging your reader in the first instance needs to continue throughout the whole piece of content. People are easily distracted, particularly when reading online. To maintain your reader's interest, try using visual or text cues to keep them moving to your next point. You could ask a question at the end of a section, letting the reader know that this problem will be solved in the next paragraph. Or you could include a theme of images that runs through the article, gradually revealing the unfolding story that relates to your content.
9. Experiment with other formats
It's hard to be unique in B2B content marketing, but being brave with your content formats is an effective tactic for standing out from the crowd. Naturally, you don't want to be experimental for the sake of it, and you need to make sure that you keep usability and accessibility in mind, but why not try something new? Not everything has to be in a PDF, after all!
Consider using a format that allows you to use rich media like video, which is great for sharing, or try a quiz or an interactive e-book, timeline, assessment tool, or calculator. Make it relevant to your niche and helpful to your reader. Then keep an eye on your engagement rates and analytics to check it's fulfilling your content marketing goals.
10. Make it responsive
We've touched on this point in previous sections, but considering the potential for error here, it's definitely worth repeating. Whatever content format you choose, always make sure it is responsive and suitable for all the devices your customers will consume it on. PDFs are a pain to read on mobile, as are lengthy blogs or reports with no images to break them up, or that are poorly formatted.
Keep your titles concise and catchy and make sure all links are easy to click on so that mobile users don't struggle. Graphs and complex graphics aren't easy to comprehend on small screens, so keep your designs simple so readers can interpret the data. Remember the all-important whitespace to stop your readers from being overwhelmed and finally, test your content on as many different screens as possible and check your analytics for any signs of disengagement on particular devices.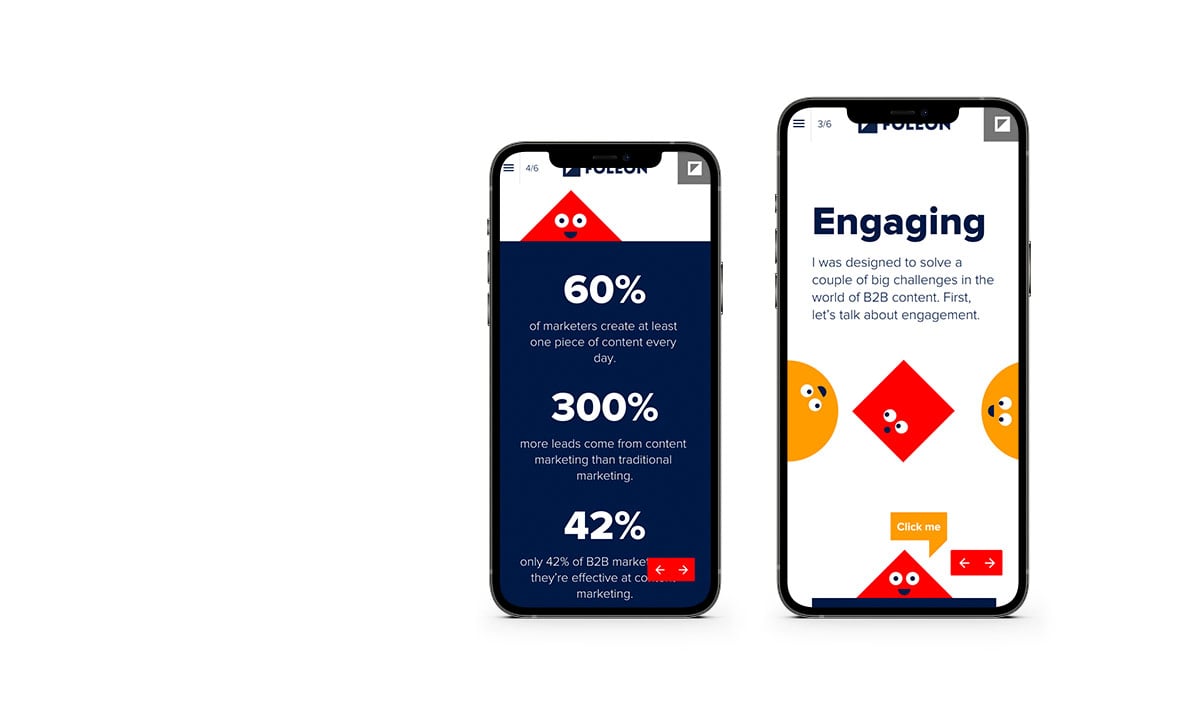 11. Learn from your data
As with all aspects of B2B marketing, it is vital to check your engagement analytics to make sure your content is performing as well as possible or if there are any barriers to engagement that you need to address. This is equally important for content that is not on your website.
Keeping an eye on your analytics helps you understand audience preferences and behaviors so you can make better content in the future. Your analytics will give you valuable insights on the themes that people are responding to, how long they are willing to spend consuming different formats and subject matter, whether they are struggling to access your content in any way, and if you need to do more to keep them on your site once they have consumed the content.
Discover: What to Know About Developing Content for Your B2B Inbound Strategy
And finally...
Good content marketing is always a work in progress. Your tactics and strategy will evolve and mature as you understand the needs of your audience better, and as your product, service, and market change. Always keep your audience's needs in mind, focus on how you can be valuable and useful to them, remember what makes your b2b brand unique, and keep an eye on your performance and you will be well on your way to B2B content marketing success.