Let's face it. The rise of artificial intelligence (AI) has disrupted the way marketers traditionally create content. Artificial intelligence tools like ChatGPT have changed the game forever, especially the content creation process.

If you're a content writer or creator, worry not. The foundations of the content creation process have not changed. Hang tight while we boil down how to create content effectively at scale.
1. Effectively plan your content creation process
We've said it before, and we'll say it again (and again).
All effective content strategies start with proper planning.
You'll need more than just talent to publish high-quality content consistently. For success, you have to see the big picture. Often this begins with knowing how to ask the right questions, but to move forward, you've got to look back.
To identify the kind of content your audience connects with, it's best to examine what content you have that's performed well. Content intelligence tools will help uncover the metrics that matter and, above all, help you prove the ROI of your content marketing.
Before putting pen to paper, you need to understand your target audience to create content that aligns with each stage of the buyer journey. A clear content creation process will help you stay focused and organized to keep your content on track.

A successful content marketing strategy follows these three steps:
Understanding your customer. Ask yourself what they want, their problem, and how your brand can solve it. Here's where a customer advisory board can be super helpful. By hand-picking several customers to share their feedback, you can uncover plenty of helpful information about your customer base and their needs.
Create detailed buyer personas and understand what their most likely path to purchase is so that you can create a customer journey around this. Think about all the actions your customer takes before making a purchase.
Decide how to communicate. Once you know your audience, you can determine the tone of voice and format you'll use to communicate with them. With so many marketing collateral options, finding the right content type to deliver your message can be challenging.
Once you clearly understand these three steps, you can map out your content and identify any gaps in topics your brand has the authority to cover. The easiest way to plan out your content creation is to build a content calendar.
For more on this, check out our guide: How to Build a Content Calendar You'll Actually Use
2. Production tips to optimize your content creation process
Content creation may be the single most important part of your marketing strategy. Keeping this philosophy in your content creation process will help you attract, engage and convert your target audience through brand building and establishing yourself as an authoritative voice in your industry.
Every piece of content you write should have a purpose
Early on in the content creation process, you should identify exactly how this particular piece will help you achieve your long-term marketing goals. This way, you can measure the impact of your inbound marketing efforts.
Let's say your goal is to provide social proof to the members of your target audience that have shown interest in your product or service. In this case, you'd assume that your audience has a bit of an understanding of the problems that your brand addresses. For these, your content should talk less about solutions and more about how your top customers have used your service to achieve business impact.
Your best customer stories deserve to be told in a visually immersive format that captures your reader's attention. Case studies and dynamic reports are great content types that quickly demonstrate how your customers achieved their business objectives.
A centralized content hub containing customer success stories is the best way to communicate social proof to your customers.
Different stages of the buyer journey require different content, which determines its messaging.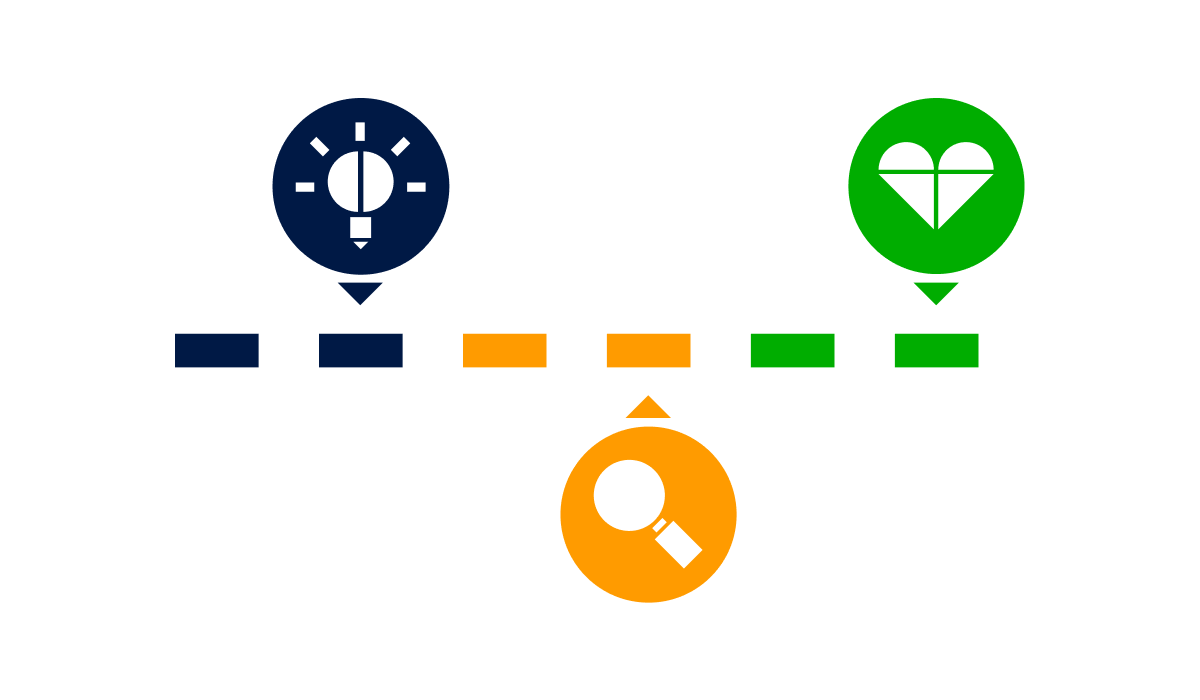 Long-form content is your strongest weapon in B2B marketing
Generally speaking, long-form content is considered any piece of writing between 1,000 and 7,500 words. This format can work wonders for your brand. Here's how:
Storytelling is powerful. Long-form content gives you the space to thoroughly uncover a meaningful topic relevant to your brand without coming across in an overly sales-y manner. This format allows you to create a lasting connection and establishes your brand's expertise.
Tip: Discover why data-driven storytelling is the best B2B marketing content.
Educating your audience builds trust and authority. Readers don't want to rely on several publications for a particular topic they are researching if they trust your brand's expertise.
Long-form content is gold for SEO. Search engines always prefer quality, content-rich websites. The longer a user is engaged with your page indicates to Google that your website is a credible source and that the user has come to the right place. It also provides more opportunities to earn backlinks and incorporate high-value keywords relevant to your article.
Scale your content creation with powerful tools
Scaling content creation with powerful web-based tools isn't just about empowering individuals to pump out content faster; it's about setting up company-wide processes that help to streamline consistent content production for everyone in your team.
Naturally, employing the right tech stack is an essential part of this.
Content production tools can be divided into tools that help individuals write, design, and publish; and platforms that accelerate the content creation process for teams with useful collaborative and brand governance features.
Tools like ChatGPT can help individuals create content at scale whilst harnessing the power of AI to generate text based on custom prompts that you feed into the platform. Just remember that this new technology requires a thorough review from an expert content writer to ensure that what you publish is accurate and grammatically correct. This is where Grammarly is your new best friend.
It's wise to use this technology with caution as an increasing body of research supports that search engines will penalize websites that display a disproportionate amount of AI-generated text.
AI tools aside, teamwork is the best way for your brand to scale content creation.
Collaborative tools like Google Docs streamline feedback loops from other members in real-time, making it a potent tool for content creation. Project management tools like Monday are instrumental in tracking tasks and ensuring everyone is on the same page. Designing a new process flow in an infographic can help team members build a better understanding of the new ways of working.
To get the most out of your team, you'll want to invest in a content platform like Foleon that helps companies scale up content output by involving more people in the creation process without jeopardizing brand guidelines.
In this scenario, cross-departmental teams can work simultaneously on different types of content in separate workspaces governed by your brand templates meaning all users can add or adjust content without breaking your visual identity. This empowers customer-facing colleagues to create bespoke content without waiting for your brand team to sign off on your content.
Tip: Check out this story about how Avison Young scaled content creation globally with Foleon.
Avoid chaos with a content creation workflow
When you're flooded with content requests left, right, and center through a barrage of internal comms channels, managing content requests can begin to feel unmanageable without a concentrated dose of radioactivity to grant you content operations superpowers.
Setting up the content creation workflow can be quite time-consuming, but as they say, an hour of planning can save you ten hours of doing. The design depends heavily on your company structure and the type of content you create, but the main ingredients for this part of the process are:
Where is the content located?
Make sure everyone involved has easy access to the content. Nobody has time to play hide and seek.
Who owns the content piece?
Be clear about who's doing what. Make sure there is a clear owner responsible for pushing the content from planning to publishing.
Who are the stakeholders involved?
Other people are probably involved in the creation process other than the content owner. Consider who else this content request impacts, such as a copywriter, designer, or studio manager. Everyone should be in the loop.
What steps does the item need to take in the workflow?
Install clear stages and steps in the workflow to help track its movement. When a task is assigned — a content creator begins work, and when finished — the text is ready for a final review before publishing.
What's the deadline (and review date)?
Set clear (and realistic) deadlines to help with prioritizing and structuring the work.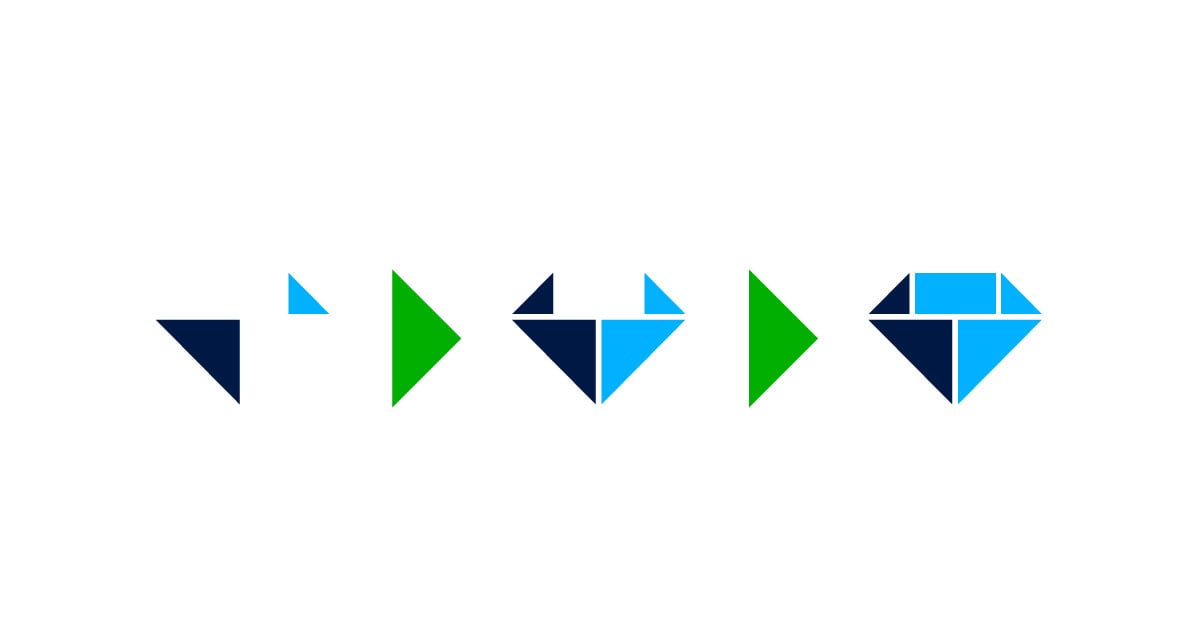 3. Publishing your content for the maximum impact
It seems like we've come a long way since Marshall McLuhan's "the medium is the message," but thanks to new technologies that fundamentally change the way we interact with content, this statement couldn't be more relevant today.
Today's digital consumers expect engaging, highly visual, and bespoke online publications that operate cross-device flawlessly.
Using PDFs as a format for your content significantly weakens your marketing efforts by excluding a large audience segment, providing you with little data for improvement.
If you're exploring different ways to improve content strategy, incorporating unique content experiences into your marketing mix will help you outpace your competitors and stand out.
Discover: The Do's and Don'ts of Digital Publishing
Quality assurance is key to an effective content creation process
Now that you've finished building your content, it's hard to resist the temptation to share it with the world. However, before doing so, it's important to put your content to the test against a comprehensive pre-publishing quality checklist. A well-structured pre-publishing quality checklist can make a huge difference when it comes to quality control.
The type of content and the platform you're using will determine what needs to be checked, but a typical quality assurance check includes the following:
Copy and proofreading
Thoroughly review the copy to ensure there are no grammar or spelling mistakes and that the tone of voice is consistent with your brand guidelines. Free tools like Grammarly can do the heavy lifting in this stage of the content creation process.
Design
Make sure that the graphics, aesthetics, and overall design adhere to your brand's visual identity. Provide a link to your brand guide in this step of the quality checklist.
Functionality
Check every link! Navigation issues and broken links won't win you any awards for user experience. Even though your page looks great on your browser, make sure that you thoroughly examine responsiveness across devices. You can use your browser's inspect feature to check mobile and tablet compatibility.
Settings
Always check your page settings. This might make a difference in how your article or page appears in search results. Ensure that the metadata reflects the messaging theme of your page to increase search engines' ability to find it.
If you're sending out a white paper to your audience, keep in mind that there's no way to update PDFs after you've distributed them. Fortunately, there are alternatives to PDFs.
Foleon CEO Daan Reijnders explains the 6 Reasons You Should Stop Using PDF for Business Content.
Discover: How to Guard Quality Throughout the Content Creation Process
4. How to distribute your content effectively
So you've spent significant time planning, producing, and publishing your content. I hate to break it to you but that was the easy part. After all, if the leads you want can't find your content, how can they benefit from it?
Promoting your content without a proper distribution strategy is like throwing a dart blindfolded and expecting to hit the bullseye. Pretty dangerous and probably unsuccessful. Without a proper strategy, the content that you've worked so hard to create will vanish into the internet ether, never to be seen or heard again. To avoid this, you need to strategize how you will promote your content in a way that will achieve its goal, such as building traffic to your website, raising brand awareness, or generating more leads.
Like most things, content distribution can follow the 80/20 rule - you should spend 20% of your time producing content and 80% promoting it.

Content distribution channels explained
Effective content distribution involves promoting content to your online and offline audience through various channel touchpoints and formats.
Broadly speaking, we can place these channels in three categories:
Owned distribution includes the online channels you have complete control over, such as your website, social channels, blog, newsletters, and content hubs.
Earned distribution involves free third-party coverage of your content, such as guest blog features, reshares on social media, mentions on external platforms, press coverage, etc. If your annual report is shared by a hundred of your page followers, then all of the combined impressions and page visits would count as earned distribution.
Paid distribution includes all efforts to distribute your content that incurred media spend, such as paid social ads, paid influencers, content promotion through native advertising channels, and pay-per-click (PPC) methods.
Within these three categories, you can promote your content in endless ways.
Let's dive in further.

Social media
Social media is THE place to build conversations with your audience. The more engagement your content receives, the larger the audience it'll reach.
It's generally a best practice to share your social content on your company page and your personal profile to reach a wider audience. Remember to tag relevant people and businesses when appropriate to give your post a boost.
Although you can repurpose content, it's good to remember that different platforms require different content formats and tones of voice. Never simply duplicate the same post onto every social networking platform. Put your research cap on, test them with different titles and graphics, and then share them with your community to gauge how it's received.
Pro tip: When selecting hashtags for your copy, check their popularity and performance over time, as this will help boost the visibility of your content. Also, hashtags should be appropriate for your content, support its message, and not deceive social media users.

Blog distribution
There's no better place for your content to live than on your blog. A well-organized blog is carefully structured by specific topics of interest so that your users can easily find information relevant to their needs.
Think of your blog as a content hub. White papers, articles, brochures, and reports can all live here. It's also a great platform to share updates on new services or products set to launch.
Regular content audits will help keep your blog as relevant as possible. Set quarterly reminders to update articles published years ago with up-to-date information and resources. Keeping your content current will help people redistribute it.
Tips for promoting your blog:
Update outdated or irrelevant information
Promote guest post content
Post information from industry leaders and subject matter experts

Email distribution
Email marketing is a great strategy to segment your users with information tailored to their needs and stage of the buyers' cycle.
Newsletters containing new features and product updates are suitable for your current customers. Case studies, however, may be more helpful for contacts in a specific role or industry evaluating your business against competitors.
To maximize engagement, you can utilize email to help tease your audience about research-heavy content, such as industry reports and thought leadership articles examining upcoming trends.
One way to incentivize users to join your email list is to grant your subscribers early access to white papers before it's published to the public.
You may have also seen examples of people including a link to a recent guide or webinar in their email signature before. This is another distribution tactic you can include in your content creation process.

Guest posting
No SEO program is complete without a dedicated guest post strategy.
Find a non-competing company with similar customers to yours and write content that will benefit their blog and help drive traffic back to your website via earned backlinks. This can be placed as a link in the article or by including a link to your website in your author bio.
Here you can discuss relevant new content, and over time, you'll begin to generate a network of new contacts by building authority in the space.
Strict guidelines should be communicated to all guest contributors to ensure that supplied content is on-brand and non-promotional. Check out our guidelines on how to submit a guest post to Foleon.

Paid content distribution
You may recall us mentioning the importance of assigning goals to the content that you are producing earlier in this article. Established goals will help define your paid media strategy as users move through your marketing funnel.
All of your paid content should be organized around the following stages:
Awareness - Ideally, your content at this stage is designed to build your brand whilst educating users on how you can resolve the operational problems they face. You'll know if your awareness campaigns are working if you see an uptake in the engagement you receive through more web traffic, social media connections, and inquiries.
Consideration - Users that have shown interest at the awareness stage now move into consideration. Here is where retargeting comes into play, and the more channels you can activate, increases the chances of your message being delivered. Typically users in consideration are evaluating whether your product and service are better than your competitors. You should measure your consideration campaign's success on a cost-per-lead basis.
This could be a free trial sign-up, demo request, or pricing inquiry.
Decision: By now, your leads should be ready to convert into customers. Think of content that will help push your customers to purchase, such as social proof that demonstrates business impact, competitor comparisons, discount offers, etc.

Feedback loops are essential in creating a well-oiled marketing funnel to help optimize channel effectiveness. Always keep a close eye on the quality of leads coming through each channel and each campaign message so that you can allocate a budget in areas that drive your bottom line.
For more detail on this, check out our Building a B2B Marketing Funnel article.
5. Optimizing your content with actionable insights
Although it's seen as the bane of marketing, and one of the more difficult tasks for marketers, measuring the return on your content is fundamental to proving the value of your marketing efforts. You need to prove your value, just like every other team. Thankfully, can track behavioral metrics page-by-page for your white papers and digital brochures. This gives you the power to optimize your content, make it more persuasive, and ultimately drive more bottom-line results.
Improving your content based on data
The most basic marketing principle is to always collect performance on your content to make it more effective. You always want to improve; if you're not moving forward, you'll fall behind soon. Drop-offs in reader engagement over time should signal to your team whether the content is relevant or needs refreshing. You may find that your audience's response to lengthy reports with detailed charts is declining. In this case, you could always try to use an infographic instead.
Marketers must evolve from tracking page views, click-throughs, and general audience data. You must focus on the insights that truly matter to your business to inform your content marketing decisions.
This is why it's a great idea to combine content analytics from multiple sources and platforms into one place. This way, you'll gather substantial insights quickly.
Not only can you make better decisions about your content strategy moving forward, but you'll also better understand which channels and content types generate the most traffic, engagement, and conversions.
Discover; Content Intelligence That Uncovers The Insights That Matter
Measuring the ROI of your content
You have a clear picture of the costs of producing your content. Copywriting, design hours, and paid promotion all incur clear expenses you can put a $ amount against.
To make sure you're not throwing money down the drain in your content efforts, you should be able to gather insights that help you maximize not just downloads but SQLs and, ultimately, revenue.
Below is a list of questions to help you start measuring your ROI.
How many people downloaded your content?
How did your audience engage with your content?
Which pages and topics did they spend the most time on?
How often did your content get shared?
How many new customers were generated through your content?
Much of this information is not available in PDF legacy formats. Fortunately, interactive content experiences like Foleon allow you to:
Determine what readers do after they download your content. You get all the insights you need from reading time to click rates and on what page they become a lead.
Collect data-driven insights on a page-by-page basis to improve and optimize your content.
Nail attribution from the get-go and see the contribution of your assets to bottom-line results.
Embed lead generation forms in the content itself with online interactive assets.
Discover: How to Measure the ROI of your Content Marketing

Final thoughts
Now that you understand the fundamentals of an effective content creation process, you can bring your team together and share guidelines that will help optimize production moving forward.
When creating any new process, it's wise to keep in mind that this guide will be followed by any colleagues or teammates who create content in the future. With that in mind, holding feedback loops to collect input from key stakeholders at each stage of the process is a good idea.