Introduction
We spoke with Avison Young to learn more about how they resolved content bottlenecks and empowered teams to create content independently using Foleon.
300% increase
in views for the 2021 Forecast compared to 2020
>10 minutes
engagement time compared to the industry avg. of 3 min.
Scaled content creation
globally across teams
"Using Foleon, we've ramped up content creation across teams with workspaces and by centrally managing brand standards and content templates."
Who is Avison Young?
Avison Young is a global commercial real estate advisor operating in over a dozen countries. It employs over 5,000 real estate professionals in 100+ offices worldwide, helping clients leverage real estate as a tool for business.
What's your company's mission, and what role does content play in achieving it?
As a commercial real estate firm driven by a common purpose to create real economic, social and environmental value, powered by people, we need to bring to life how the built environment impacts our communities and the places where we live and work.
We aim to create that connection through engaging thought leadership content that helps our clients – whether owners, occupiers, or investors – answer key questions they're considering about how real estate can achieve their business goals.
Our teams are built to be nimble, embrace curiosity, foster creativity, and promote agile thinking to achieve our shared value.
The challenge
What challenges were you facing before using Foleon?
As a global organization, keeping up with content requests from our local teams in the field was challenging. We needed a way to democratize content creation for our marketing teams while maintaining our brand standards.
How was this affecting your business?
We suffered from a content bottleneck because we relied too much on our centralized designers. This slowed down the content creation process.
Additionally, we couldn't analyze key metrics across our technology suite because we were using PDF formats. This left us in the dark as we couldn't get beyond the vanity metric of the number of downloads and determine if our audience engaged with the content.
Our go-to-market content needed to be digitized and delivered in an engaging, dynamic format. Our clients are regular people – who consume media and information for work as we all do in our personal lives. So, we needed a way to deliver compelling content across desktop and mobile.
What solutions did you evaluate?
We considered custom HTML development or other content platforms. We quickly found that these didn't allow us to create the types of content we wanted and, most importantly, wouldn't empower people across the organization to produce content on their own efficiently.
Our teams are built to be nimble, so one key goal was to democratize content creation across the organization. We needed an intuitive platform that would allow us to:
Scale content creation
Ensure adherence to brand guidelines
Deliver better content experiences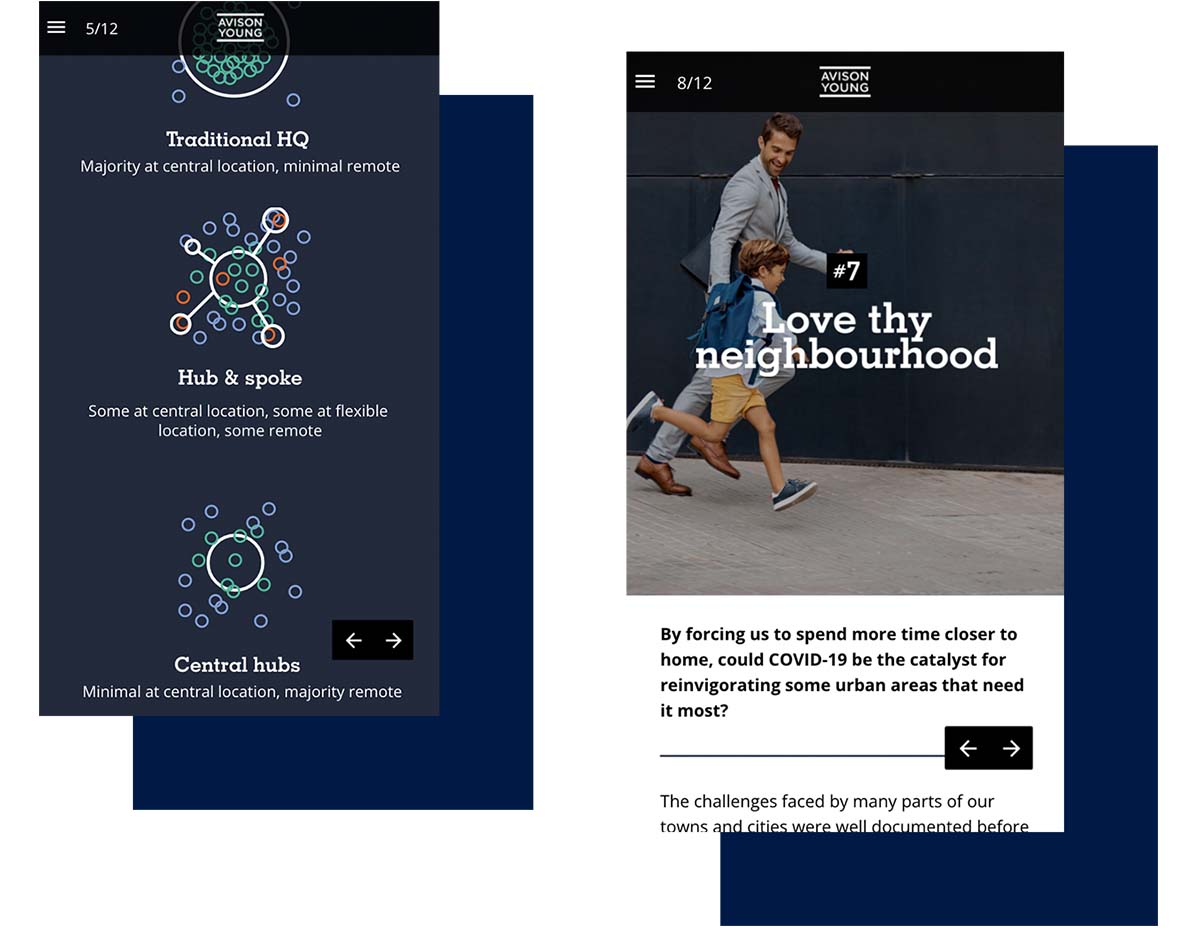 The solution
Why did you choose Foleon?
We chose Foleon because it's easy to use and allows for collaboration between multiple people and teams (regardless of formal digital or design background). Foleon's workspace proposition allows us to empower our local teams to create content on their own according to brand guidelines. At the same time, it lets us ensure people can only see what's relevant for them and their market.
Who uses Foleon in your organization?
Foleon is used across the organization by our global, corporate, and local marketing teams. The global team controls our brand guidelines and is in charge of setting up theming and templates to empower teams to create content that's on-brand.
For which phase(s) of the customer journey are you creating content with Foleon?
We create content for the entire customer journey but focus on thought leadership and buyer & sales enablement. Content types include brand content, employee stories, insights, market reports & forecasts (like the 2021 Forecast that's featured in this story), and proposals.
Market reports and forecasts are best created locally, so we're really happy that Foleon provides us with the tools we need to empower local teams to create content that looks great.
How was the transition from your previous content format to Foleon?
Foleon's intuitiveness made the platform easy to adopt across the organization, regardless of formal digital or design background, allowing us to scale content creation across the organization.
The workspace proposition and the ability to set up branding and templates centrally have allowed us to produce more content without jeopardizing quality.
The results
How has our platform changed your business, and what has it meant to your overall operations?
Our global team manages brand standards at a central level and has created hundreds of content templates. Our local teams can now apply these, swap out images and text, and publish in a matter of hours.
This new way of working has vastly increased our content velocity and allows us to produce content faster than ever.
What results have you seen so far?
We've seen good results from Foleon so far:
We've shifted from PDF to dynamic, digital content
We drive brand governance without limiting content creation
We empower local teams to create content independently
Content is automatically responsive across desktop and mobile devices
We've unlocked engagement metrics that show we're elevating our go-to-market presence
How does Foleon contribute to the overall objectives of your organization?
Foleon has enabled us to present research, insights, and presentations with a digital-first mindsight, enhancing the reader and/or client experience. Not only are we creating content that's modern, we're creating more of it than ever before. And what's best is that local experts in the field are creating the content.
The inside scoop
Do you have any tips for other Foleon customers?
If you're rolling out the platform across your organization and with many users, it's vital to set it up in an organized manner while following best practices. For example, our centralized Brand Hub team led the development of core templates and content that we could distribute quickly.
See it for yourself