Introduction
We talked with Pascal Martino, Partner Advisory & Consulting at Deloitte Luxembourg, to hear how they are using Foleon to crush content bottlenecks and present themselves as thought leaders in their space.
2.5x
faster content creation
3x
lower production costs
4x
increased content engagement
"Using Foleon, we are now able to take an agile approach to content production while also reducing our carbon footprint. On average, we produce content 2.5x as fast and save roughly 300 percent in printing costs."

Pascal Martino
Partner Advisory & Consulting at Deloitte Luxembourg
Tell us about your organization and your role
Deloitte is a leading global provider of audit and assurance, consulting, financial advisory, risk advisory, tax, and related services.
I lead Banking and Human Capital Services transversally for our Luxembourg office and am the sponsoring partner for our thought leadership content hub, InsideNOW, which we produce using Foleon.
What is your company's mission?
Deloitte drives progress. We help clients become leaders wherever they choose to compete. Our work combines advice with action and integrity. We believe that when our clients and society are stronger, so are we.
What role does content play for Deloitte?
We work hard to present ourselves as thought leaders in our space and content is the perfect vehicle for that. For example, the reason we are producing InsideNOW is to build eminence around topics such as business, risk, governance, compliance, and technology, by sharing the latest insights and hot topics weekly.
The challenge
What challenges were you facing before using Foleon?
In 2016, we created InsideNOW's predecessor Inside. It was a printed magazine that we produced about three to four times per year.
However, things move fast in our space and printed content typically takes a long time to produce and distribute. This led to the content being out of date by the time it was distributed. In turn, this content bottleneck prevented us from quickly reacting to changes in the market.
We also wanted to reduce our carbon footprint by moving away from print. We already offered a PDF version but found that the reading experience was subpar, especially on mobile devices.
Finally, we had no way of knowing if people were actually reading our content and, if they were, what content was the most engaging.
What solutions did you evaluate?
We had several solution requirements. The output needed to be digital, trackable, sustainable, and provide a good reading experience across devices. Additionally, the solution had to be easy to use and allow us to create content on the fly.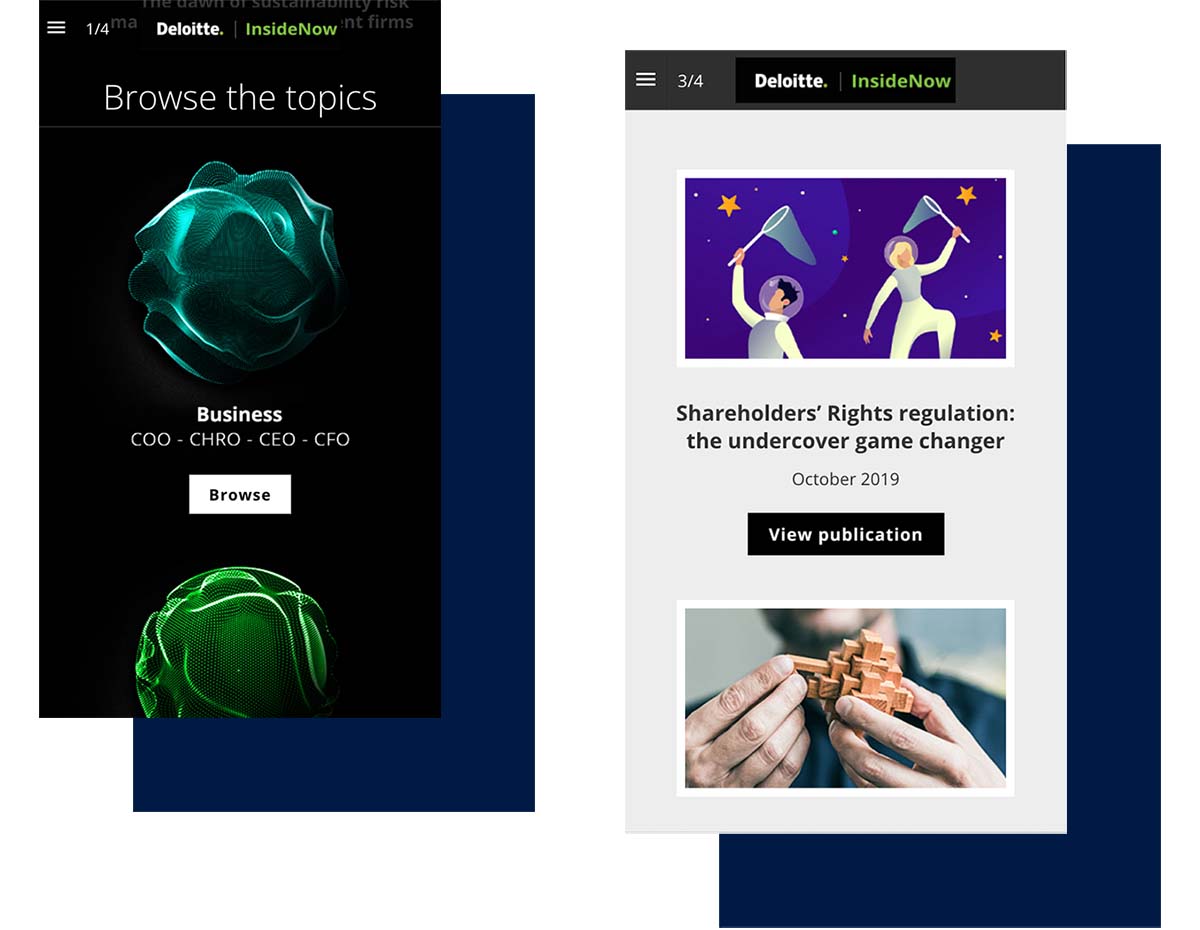 The solution
Why did you choose Foleon?
Foleon stood out due to its ease-of-use and slick design. Also, the platform comes with professional templates and distinct functionalities that empower us to increase content velocity and has built-in analytics that allows us to track how our content is performing.
The output is great too. Compared to our previous PDF version, we have already seen content engagement go up by roughly 400 percent.
Who uses Foleon in your organization?
Our web team uses Foleon to produce InsideNOW.
To make sure everything lives up to our standards, our editorial committee picks the topics to cover. Then, specialist authors write the articles and our marketing communication specialists work in Foleon to produce the content. Of course, we also have project managers that oversee everything.
Our designers have created templates for us, meaning our brand stays consistent throughout our content hub and it is easy for us to quickly publish new articles.
For which phase(s) of the customer journey are you creating content with Foleon?
Our priority was to revamp and shift Inside from a printed magazine to a digital content hub. With that done and Foleon proving to be a powerful platform for creating engaging content quickly, we are exploring where else along the customer journey we can use it to further improve the overall customer experience.
Additionally, we want to explore more of the functionality that Foleon has to offer to take our content to the next level and increase reader engagement even more.
How was the transition from your previous content format to Foleon?
First, we introduced a new visual identity and shared prelaunch teasers in our last printed edition and on social media. This led to quite a buzz! Finally, when we transitioned from print to digital, we changed the name from "Inside" to "InsideNOW" indicating that it is always current.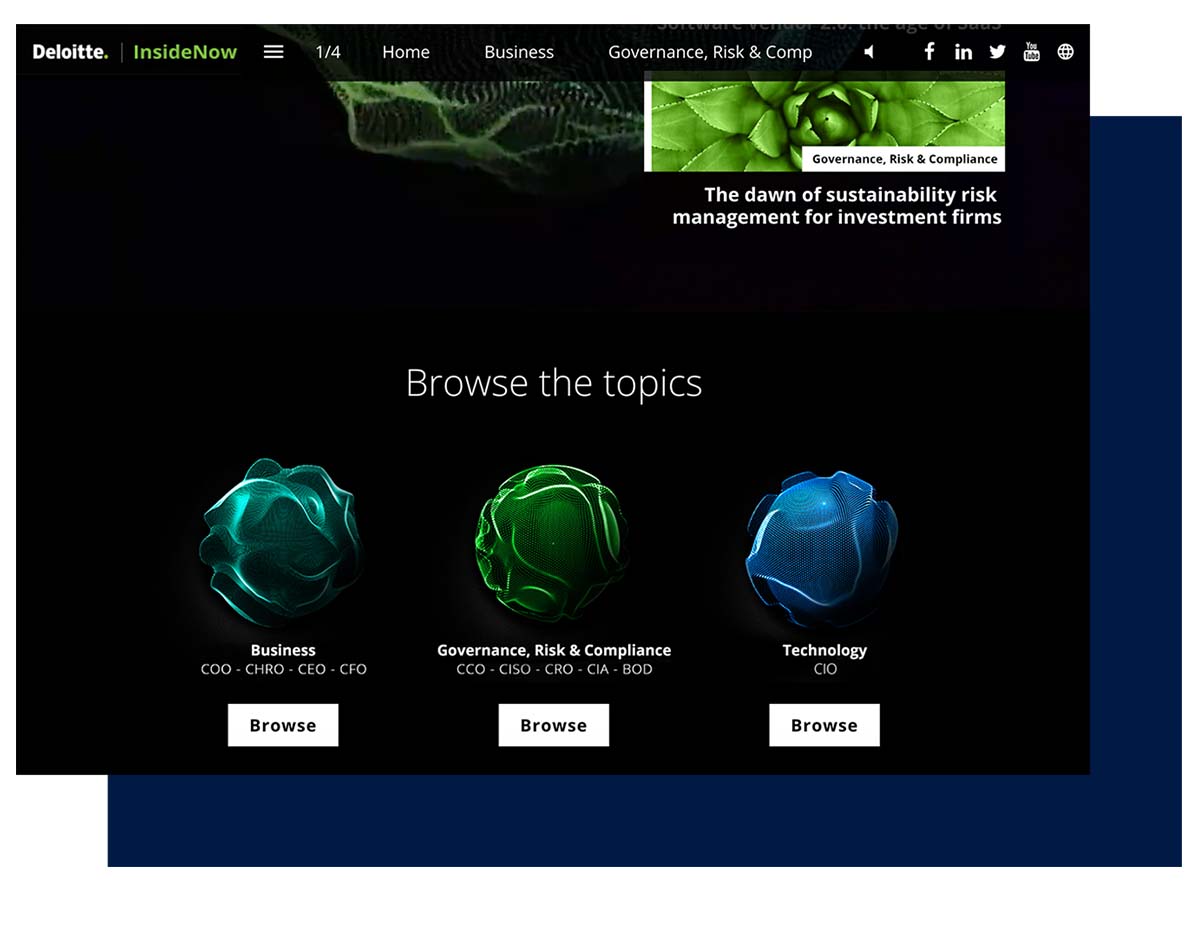 The results
How has our platform changed your business?
Using Foleon, we are now able to take an agile approach to content production while also reducing our carbon footprint. On average, we produce content 2.5x as fast and save roughly 300 percent in printing costs.
What results have you seen so far?
Engagement has gone up significantly since we moved to a more appealing, digital format.
Of course, we were not able to see how our previous PDF version was being read. But based on the number of downloads, we can see that, on average, articles now receive about 400 percent more visits and we have seen our reach go up by 175 percent.
How has your audience reacted to your new content?
The feedback has been positive! We regularly share new articles from our content hub on our social media channels and have noticed that these posts perform better than anything else.
Additionally, switching to a digital and sustainable format has had a positive impact on our brand and we have noticed we are interacting more with our audience—which is great.
The inside scoop
Do you have any tips for other Foleon customers?
We would like to share several tips and tricks that we think would be highly beneficial to other Foleon customers:
Create templates
Start with a base layout that includes all types of content you would like to include and turn these into several templates. This, coupled with Foleon's duplicating pages functionality, will make it easier to scale content creation.
Think mobile-first
Always check what your content looks like across Foleon's responsive views. This allows you to finetune your content's appearance across devices.
Make your content an experience
Make use of Foleon's built-in animations and supported rich media formats. This will make your content more dynamic and livelier.
Add links
Be sure to link to your social media pages in your navigation bar, as this may score you some additional followers. Also, cross-link to your other publications and websites so you can keep engaging visitors after they have finished reading.
Optimize loading times
When uploading images, try to make the files as small as possible for optimal loading times. First impressions matter!