Introduction
We interviewed Joyce Chiu, Content Marketing Manager at DataCamp to hear how they shifted their content marketing strategy to engage today's B2B audience throughout their journey.
4
departments working with Foleon: Marketing, Sales, Customer Success, and Product
4
solutions: Buyer Enablement, Lead Generation, Content Marketing, and Customer Success
3
offices worldwide using Foleon: Belgium, UK & USA
"With Foleon we are able to differentiate ourselves by creating engaging content experiences that appeal to larger B2B entities. We are now able to stand out and show that we have an interesting enterprise offering."

Joyce Chiu
Content Marketing Manager at DataCamp
Tell us about your organization and your role
DataCamp is an online learning platform that helps people understand the importance of data. We define success as helping individuals and companies to become more data fluent.
In my role as Content Marketing Manager, I manage a wide variety of marketing content that we use throughout the customer journey, ranging from long-form thought leadership content like white papers and blog posts to our monthly B2B newsletters and sales enablement assets.
The challenge
What challenges were you facing before using Foleon?
When I started at DataCamp, we had a standard offering for content marketing that was heavily focused on our B2C audience. We needed to evolve our content marketing strategy to gain authority and appeal to our B2B audience and more specifically to Fortune 1000 companies. To do so, we needed to differentiate ourselves by offering more targeted content experiences to prospective buyers and existing customers throughout their journey. As an online learning company, our digital marketing experiences need to be very polished and state-of-the-art.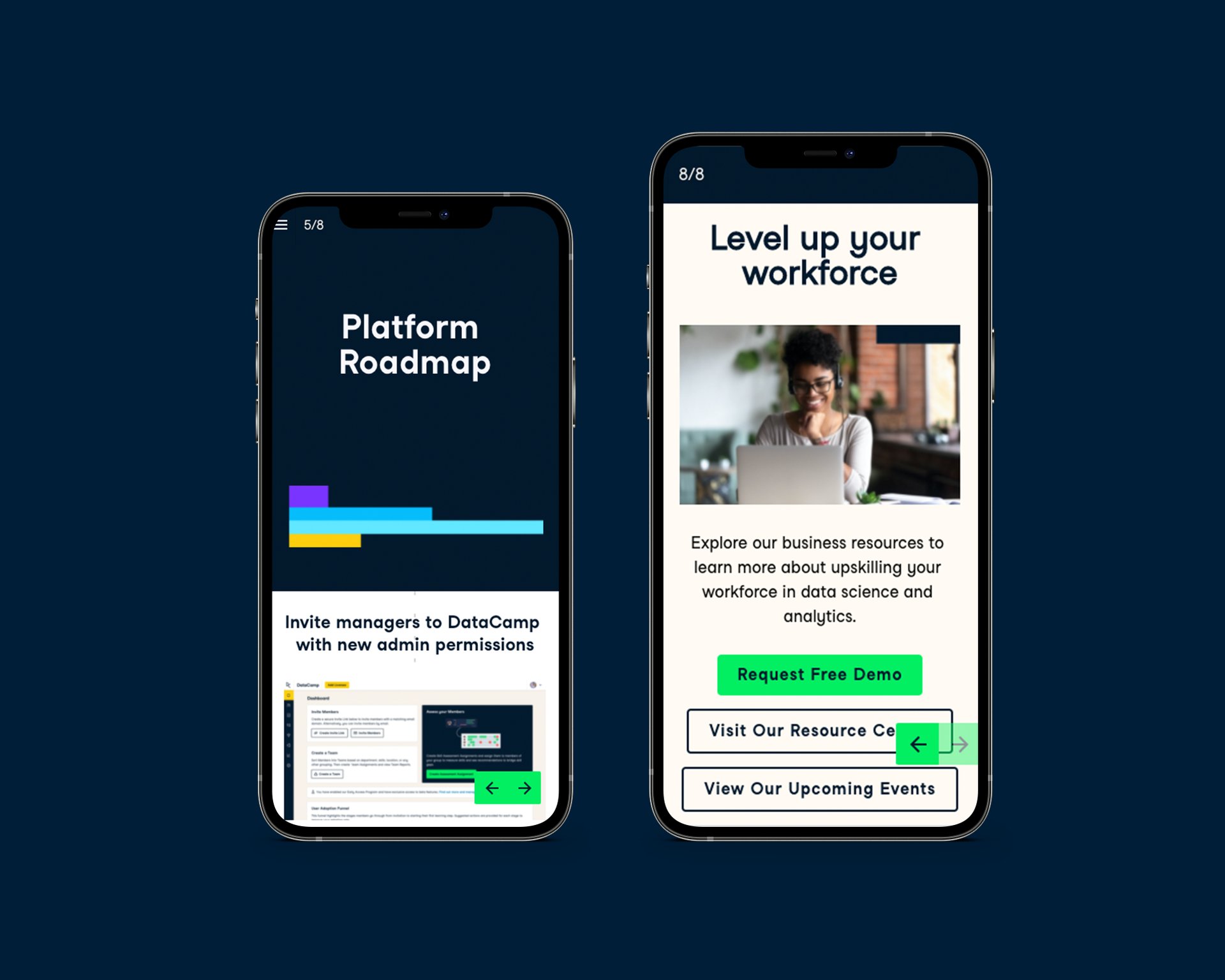 How was this affecting your business?
It made us look like we weren't as impressive in our conversations with our target audience. To give an example: before Foleon we prioritized feature-heavy product demos, which were good for understanding the practical usage of our platform but didn't educate the buyer in a strategic and value-added way. By offering various buyer enablement assets, we are now able to help prospective buyers understand how our business offerings fit into their overall data strategy.
Our learning methodology is to "learn by doing." Foleon helps us to show how our products meet the buyer's needs throughout their journey—from awareness and consideration to purchase and even post-sale.
The solution
What potential solutions did you investigate, and what drove you to choose Foleon?
In September 2019, I attended a conference and learned about the importance of interactive content experiences. I researched different providers and found that a lot of offerings were similar—but Foleon provided a single platform to address the variety of content that we need to produce. Also, the platform seemed very intuitive and easy to integrate.
What type of content do you create in Foleon?
We use Foleon for several touchpoints on the customer journey, like lead generation, content marketing, and customer success, but we predominantly use Foleon to create buyer enablement assets. Our most recent asset is a remote work guide for data science teams, in which we share tips on how to work more effectively during Covid-19.
The results
What measurable benefits have you seen so far?
All our Foleon Docs are seamlessly integrated with our sales and customer success tech stack. We have four teams working with Foleon (sales, customer success, product, and marketing) and the assets are used by all three of our offices. All of the teams using Foleon are enthusiastic about the way we are now able to stand out and differentiate ourselves with our content.
To drive content velocity and to make sure all of our content is on-brand, we've created different templates to help us scale more effectively with content creation.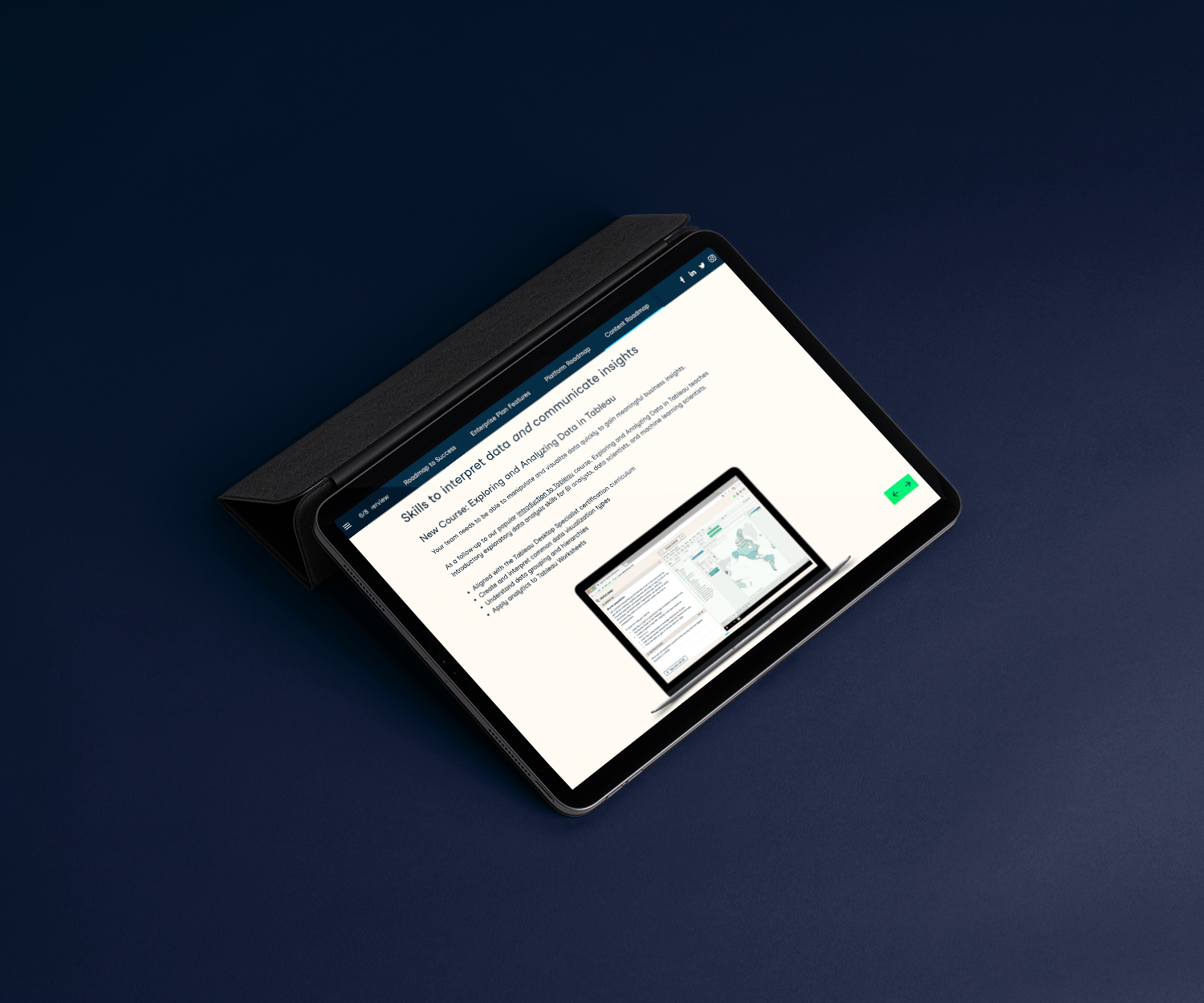 How has Foleon contributed to solving a strategic problem?
With Foleon we can distinguish ourselves by creating engaging content experiences that appeal to larger B2B entities. We are now able to show that we have an interesting enterprise offering with our various content marketing publications on Foleon.
What are your plans for the future?
We're keen to take Foleon to the next level by focusing on utilizing the audience insights that we can get from our Foleon assets.
What tips would you share with other Foleon users?
Utilize the customer success team! Our customer success manager Veronica has been super helpful. As a new user, it's really helpful to learn formatting tricks. After the excellent onboarding, I am now able to create new content autonomously.
See it for yourself