Introduction
We interviewed Kerry Leighton-Bailey, CMO at Lumi to hear how Foleon enabled them to fuel their customer journey, speed up their sales process, and get all their content aligned and on-brand.
2
times faster qualification of leads to MQL
5
solutions: lead generation, sales enablement, internal communications, content marketing, customer success.
11
offices worldwide working in Foleon
"Foleon helps us offer interesting and engaging content as part of an integrated customer journey. In addition it helps us stay aligned with internal communications and the creation of global sales enablement assets."

Kerry Leighton-Bailey
CMO at Lumi
Tell us about your organization and your role
Lumi facilitates the smooth and reliable running of Annual General Meetings for listed companies, partnerships, unincorporated associations, and other member-based organizations. We serve the industry with in-the-room meetings, as well as hybrid and virtual meeting technology, and event apps.
In my role as CMO, I'm responsible for the global market positioning of Lumi, as well as delivering growth across our key target markets.
The challenge
What challenges were you facing prior to using Foleon?
As we are operating in a niche market, we only have a limited amount of topics to talk about. The challenge for us was to keep sharing the same message and sell the same product but in a more interesting, impactful, and engaging way.
We also wanted to allow the reader to develop their own journey and find out more about the areas that they want to at a time that suits them best. Previously we had a predetermined journey in which we would guide them from the top of the funnel down to the bottom of the funnel. We would, for example, send an eBook, then an infographic, and eventually a case study. This made it difficult for the reader to find out more straight away if they wanted to.
How was this affecting your business?
Foleon has allowed us to speed up the qualification process significantly and contributes to delivering high-quality MQLs into our pipeline. The Foleon Docs we are producing are far more reflective of the dynamic of Lumi than some of our previous content.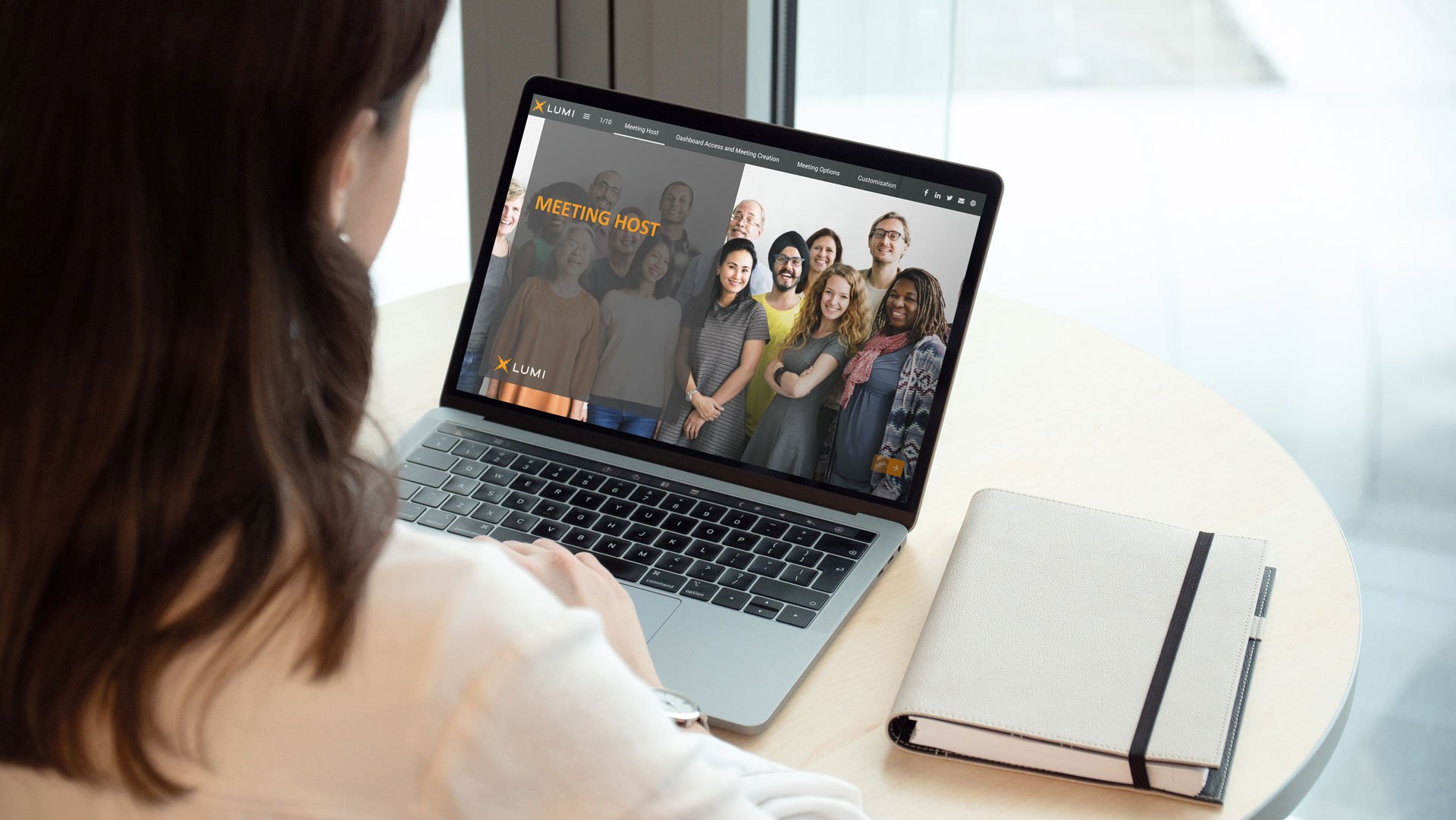 The solution
What potential solutions did you investigate, and what drove you to choose Foleon?
We were looking at different ways to present our information in a way that was more in line with what we are, a modern B2B tech company. Our Dutch office mentioned Foleon as a possible solution. My initial perception was that Foleon was just another design tool. However, after five minutes on the first call and seeing examples of how other companies use the platform we were sold. It does so much more than we thought it could. The advanced marketing functionalities really sparked my interest. A good example is the option of mid-gating your content. I hadn't seen anything like this before.
Why did you decide that Foleon was the solution?
Before using Foleon we would nurture leads with a nurture flow including external links to content like infographics and whitepapers, but with Foleon the reader can now control their own journey by going to the next video or another piece of content directly in a Foleon. The entire journey can happen within one document, decreasing the drop off rate that occurs with external linking. It also allows us to create a hub for our publications, allowing our prospects to easily return to continue their journey.
Inboxes are ever more crowded, making it very hard to break through the noise. With Foleon we are able to stand out.
What type of content do you create in Foleon?
We use Foleon for the entire customer journey, from right at the top of the funnel until post-sales and case studies. The initial idea we had with implementing Foleon was that we would use it solely as a marketing platform, but it has become way more than that. We create product guides, sales enablement content, lead generation assets like eBooks, but we also use Foleon for internal communications. I'm even planning to start using it for reporting to our board.
Did you create measurable goals?
At this point not yet, but the reason for this is that 80% of what we currently produce isn't what we were aiming to produce. So far, we've only run a handful of external marketing campaigns. At Lumi, we have two Foleon champions and we are looking to get them more involved at the start of the marketing planning, so we can implement measurable content goals. In the current situation (Covid-19) online communication is crucial, and Foleon will become vital in getting our message across.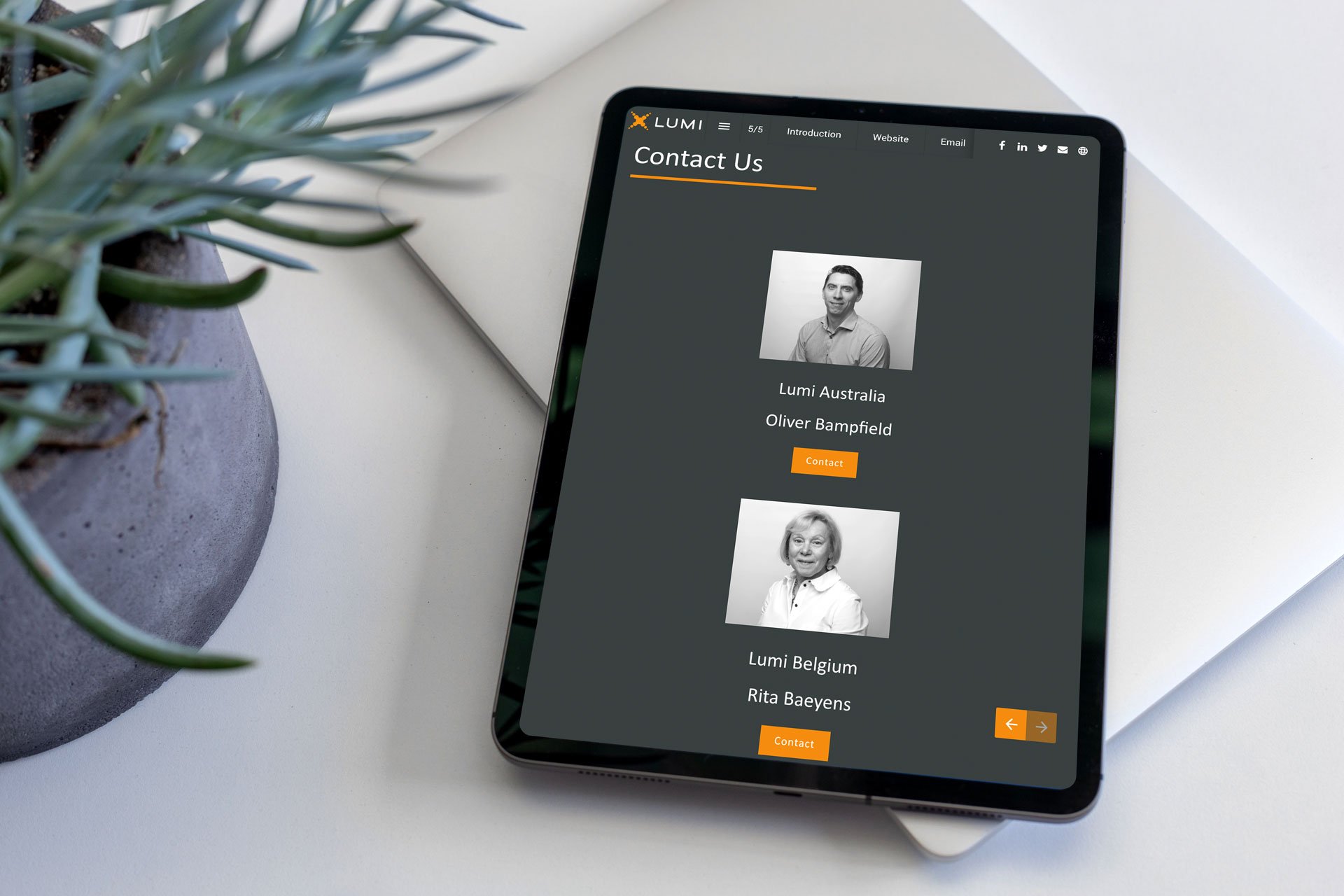 The results
What measurable benefits have you seen so far?
I see that the process of leads entering the funnel to turning into an MQL is about two times faster, as the qualification can be done much quicker. By integrating the HubSpot platform we are able to do progressive profiling. This way we are able to make sure to qualify our leads and only hand over the leads to sales once they are ready for it.
As mentioned earlier, we want to do way more with the platform's possibility to gather actionable insights. We want to look into the average reader time, how our call-to-actions are performing, and ultimately also see how much revenue we get from Foleon campaigns compared to other campaigns.
How has Foleon contributed to solving a strategic problem?
Foleon mainly does two things. Foleon helps us offer interesting and engaging content as part of an integrated customer journey. In addition, it helps us stay aligned with internal communications and the creation of global sales enablement assets. It has solved a problem that we didn't know we had. By using Foleon we are able to have all of the content created by our 11 offices around the world aligned and on-brand.
It has also reduced the number of queries we received from other offices. Before using Foleon we had our information scattered across Microsoft Word files, Zendesk, and emails. Now people can find it easily, as we bundled all relevant information in a Foleon. This helps our teams around the world work more efficiently.
In what way has Foleon enabled you to offer content experiences?
With Foleon the recipient can decide on their own experience, letting them read and learn about the content as they wish, whether it's in text, video, or illustrations. That's what Foleon is really good for.
What are your plans for the future?
We want to look more into content intelligence, work with actionable insights, and roll out integrated marketing campaigns. The current split is 20% marketing and 80% sales enablement or internal communications. We want to switch that the other way around. I really want to get under the skin and be able to tangibly demonstrate that the ROI is there. We've been so excited that it just looks so brilliant, that we haven't looked into all the other value that the platform has. Just the look and feel already is enough reason to use the platform.
What tips would you share with other Foleon users?
Try and fully immerse yourself in there. View tutorials, webinars, videos, speak to your CSMs and Support. The platform is fantastic, the support is fantastic, but make sure to spend as much time as possible learning all about the possibilities of the platform.