Measuring your inbound marketing performance is critical to your success. But it's also one of the things that content marketing professionals struggle with the most.
We've put together a handy guide to help you get to grips with monitoring and measuring your inbound marketing content strategy to help keep you on track.
We'll give you the lowdown on identifying the KPIs that matter for you and your business and how many you should track for your inbound marketing activities.
We'll offer guidance on the different KPIs for activities like lead generation, SEO, and website traffic. Plus, to make sure you get the most out of your efforts, we'll look at the best ways to track KPIs that don't leave you with acute allergies to anything resembling a spreadsheet.
So, grab that coffee you've been promising yourself all day and prepare to discover the best ways to determine and measure inbound marketing KPIs.
What are different types of inbound marketing KPIs?
Great question!
Inbound marketing KPIs come in a few different flavors. These include:
Quantitative KPIs. As the name suggests, these measurements refer to actual amounts and figures, e.g., the number of downloads or new unique visitors to a landing page.
Qualitative KPIs. KPIs based on opinions or feelings, e,g social media engagement.
Leading KPIs. These are used to predict future activity, such as increasing website traffic.
Lagging KPIs. These report on past results such as customer lifetime value (CLV).
Which KPIs should I track for inbound marketing?
According to Google, which knows a thing or two about measuring data, 89% of leading marketers use strategic metrics like gross revenue, CLV, or market share to measure the effectiveness of their marketing campaigns.
The search/everything behemoth also reports that 95% of marketers say that to "truly matter, marketing analytics KPIs must be tied to broader business goals."
The best or most important inbound KPIs will depend on your wider business goals and objectives and your team's structure. The metrics you choose to track will also depend on how mature your business and your products and services are.
If you're a newbie brand, you are likely to be more concerned with the KPIs that will legitimize (or otherwise) your entry to the market, such as anecdotal feedback and reviews or responses to launch campaigns. If you are an established brand, you will probably be more interested in KPIs that monitor your market share or look at the CLV, average order size, etc.
Sit down with your team and get your sales colleagues involved too. Analyze your current performance and identify any issues that need to be ironed out and any successes you can capitalize on.
Think about your business priorities, what you are trying to achieve, and the current methods and tactics to get there. Working backward like this is the best way to choose the KPIs that should be most important for your program.
What are the main categories for inbound marketing KPIs?
The main KPI categories for inbound marketing are:
SEO
Organic website/landing page traffic
Lead generation
Social media reach and engagement
Sales revenue
Categorizing your inbound marketing KPIs makes it far easier to monitor your data and integrate it so you can make more sense of your findings. For example, your SEO KPIs will likely feed into your website traffic data and vice versa. Lead generation KPIs will be far more valuable when viewed alongside sales revenue.
Let's look at some popular KPIs and how and when these can be used. We'll then explore some examples of how these can be applied to three common marketing goals; growing new business, educating customers, building loyalty, and expanding into new markets.
Inbound marketing KPIs you should be tracking
Organic website traffic. This is one of the most important KPIs to track, and thanks to Google Analytics, it's one of the most straightforward. By monitoring unique and returning visitors, time on page/site, referral traffic, next page paths, and other metrics, you can understand whether your content marketing and messaging impact the people who matter. The more you resonate, and the more you get noticed, the better your rankings will be.

Website conversion rate. These can be applied to a number of goals on your website; downloads, completed contact forms, newsletter subscriptions, etc.

Top tip: Determining your website conversion rate is pretty straightforward. Simply divide the number of goals achieved in a given time frame by the total number of visitors to your website, then multiply that number by 100.
Qualified leads. These are the lovely, juicy leads that have not only responded to a marketing activity but are also a good fit with your company. They are interested. They have the budget, the infrastructure, and so forth. They are likely to close.

Sales revenue.

The aforementioned juicy specimens are now sitting pretty on your sales board.





Lead to customer ratio. This KPI is about making sense of how many qualified leads get over the line.

Customer acquisition cost. This is a KPI that the purse-string holders (finance) will be interested in. Your total customer acquisition cost should include every expense, from external marketing support to the platforms you use. It takes the entire time you engage the customer from the first point of contact to winning the sale.

Marketing revenue attribution. This KPI refers to how much of your revenue can be put down to specific marketing activities. This is a critical KPI as it provides important information about which channels, activities, tactics, and messaging are working and which aren't. It can be tricky to measure as it might not be clear which campaign or activity first got your lead's attention and caused them to convert. Many brands choose last-click attribution, the final activity that resulted in conversion. This may not suit every brand, so it is up to you to decide which model is best for you.

Email marketing engagement. The opens, click-through rates (CTRs), downloads, unsubscribes, and shares that show your email campaigns are hitting the right people at the right time or not.

Social media traffic. Setting KPIs is vital for understanding how well your social media activity is working from the likes and shares to the comments and overall sentiment.

ROI. As with customer acquisition costs, this should include all relevant marketing spend, both internal and external resources. ROI will always be a priority KPI and one your boss will pay particular attention to.

Customer Lifetime Value (CLV). This metric is one of the best KPIs for showing how well you are doing with customer retention and loyalty. How do you calculate CLV? It's simple.



(Amount of average sale per customer) x (Average Number of times a customer buys per year) x (Average retention time for a typical customer (whether that's a year, a month, or more))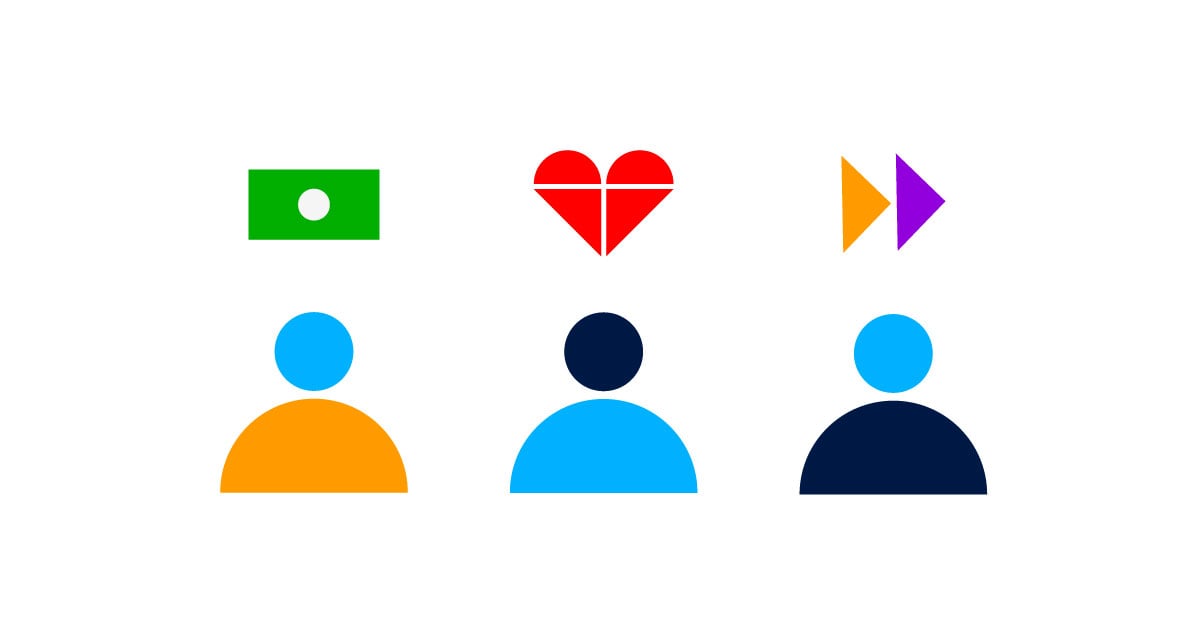 Examples of KPIs for common marketing goals
Here's how some of the most common KPIs could be applied to growing new business, educating leads, building loyalty, and expanding to new markets.
Growing new business
There are relevant KPIs for growing new business, including organic website traffic, social media engagement, qualified leads, and email marketing engagement.
Let's look at organic website traffic. Growing your business means appealing to a wider pool of leads, so you'll want to understand how they respond to the different tactics to convince them that your brand and products are the right fit.
Total conversions to revenue is a good KPI for this. The formula to use is:
Total conversions to revenue = Number of conversions for specific goal / total organic traffic
Remember, your goal can be any conversion that makes sense to your business; an eBook download, a call to your sales team, etc.
Educating customers and building loyalty
Inbound marketing isn't just about winning new customers. Building customer loyalty is integral to your ongoing success, so you'll need the right KPIs to keep you on track.
E-newsletters are great for customer retention and building loyalty.
KPIs should include opens, clicks, shares, and downloads. Monitoring these and experimenting with delivery schedules and subject lines can mean the difference between a winning campaign and one that disappears into the ether.
Any of the e-newsletter KPIs can be classed as conversions. Here's a conversion rate formula for email marketing campaigns:
Conversion rate = Number of unique emails resulting in conversion/the Number of sent emails - Number of bounced emails x 100.
Expanding to new markets
When you are expanding your business to new audiences or markets, you will need specific KPIs to monitor your progress and ensure you are attuned to the needs of your new customers.
You will undoubtedly want to keep a close eye on your new and returning website traffic, referrals from advertising or social campaigns, etc.
But to plan your marketing budget effectively and keep that market growth moving in the right direction, you'll need to understand how many resources you need to allocate to win each customer. Therefore, calculating customer acquisition costs is a must. Here's your formula:
Customer acquisition cost = total costs of sales and marketing spend for specific time/ number of new costumes acquired.
How many KPIs should I track for inbound marketing?
As with all of your content marketing, we would always advise focusing on quality over quantity — and KPIs are no exception. When you decide which and how many KPIs to track for your inbound marketing activities, keep in mind the first word of the acronym — Key.
You don't want to track all of the performance indicators — just those you're going to do something with. If you try to monitor too many, you risk getting buried under an avalanche of metrics that you simply don't know what to do with.
A far better strategy is to focus on a few KPIs and make sure they tell a coherent and cohesive story about your marketing plan. So, if you are tracking email marketing engagement rates, are you then linking it to the lead's ongoing journey through the website or how they interact with the downloadable guide they clicked on?
Head on back to those business goals you identified earlier and assign a doable number of KPIs to each goal. Perhaps two to start with, increasing to four or five as your campaigns progress.
Remember to check which inbound marketing KPIs they need to see with your management team. You want to give them enough information to demonstrate the effectiveness of your campaigns and show them the great work you are doing.
Still, you don't want to spend hours each week putting beautiful reports together that aren't useful or are seen as vanity metrics.
What is the best way to actually track KPIs?
One of the joys of working in today's marketing world is the fabulous tools and tech we have at our disposal. Every platform that reduces tiresome admin and gives us more time to create fabulous content is worth celebrating.
Finding the right way to track your KPIs will save you eons of time, but it will also help you better understand your progress and what you need to do to optimize your activities and campaigns.
Plenty of marketers use spreadsheets, and there's nothing wrong with that. At Foleon, we have an inbound dashboard set up in Hubspot and a spreadsheet where we record the most important KPIs. This means we can get a clear overview of change over time.
For inbound, you're going to be able to do the best analysis once you've got your KPI tracking set up for at least a year.
Remember, inbound marketing is a long game, so if you're just getting started, don't expect to be able to do too much optimization right away. You need to let your content marinate and bed-in before you will see if it's working or not.
Don't worry, your patience will pay off. You'll notice little trends along the way and can pencil in opportunities for repurposing or adjusting content as you get to know your audience better.
When the results start coming in, remember that not every inbound marketing campaign will set your sales boards alight. If you are struggling with getting the results you expected, take a look at our blog on dealing with slow inbound marketing results.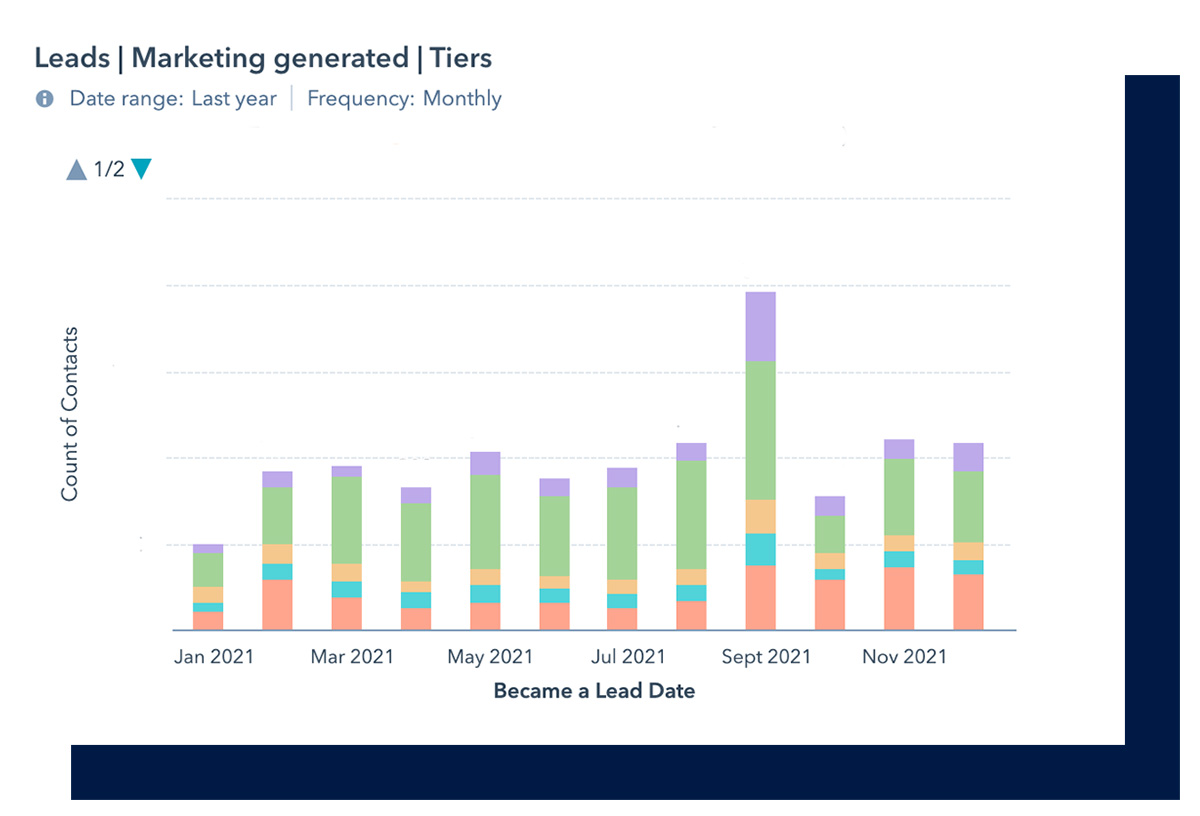 Keep it simple and contextual
So, we reach the end of our guide on determining and measuring KPIs for your inbound marketing. Setting up KPIs can be time-consuming the first time around. Especially if your business is new to the market and you aren't sure exactly what you want to test. But isn't that one of the fabulous things about our sector? Having the opportunity to experiment and test new things out!
As long as you can justify why you are interested in the KPIs you are setting up; as long as you have a clear idea about what you will do with the data once you have it and that you can see how each KPI will form part of a larger picture, you are almost certainly on the right track.
Good luck with your KPI adventures, and here's to harnessing that precious data and making it work for your marketing team and your business.