Every year, parents and guardians face a tough choice — which is the best school for their child? The annual school guide is one of the communication tools that parents have at their disposal to help them make the right choice.
How schools are perceived, the atmosphere, the type of education, and the location play a major role here. A printed school guide is generally a fairly flat document with not much scope for visual impressions. That is why Stichting Alkmaarse Katholieke Scholen (SAKS) — Alkmaar Catholic Schools Foundation in English — decided to produce a digital school guide.
The challenge
How do you make sure a school guide is fun to read while being a useful way to introduce a primary school?
This involves another challenge — how do you keep it cost-effective? Every year, SAKS has been sending a printed version of the school guide to parents and guardians. They were also sent to the parents and guardians of every new pupil who enrolled at the school. This was time consuming and a very costly process.
The solution
SAKS decided to explore options other than print. Together with the RAADHUIS creative agency, they developed a digital school guide for a number of schools in their community.
The main reason for going digital is that a digital presentation of our school offers many more opportunities. We can give a much clearer picture of the school thanks to a spectacular visual presentation, which stimulates the interests of the reader. That means using video, for example, and photography, and everything shows up really well on any device. As a result, the school and the team are shown in a much better light.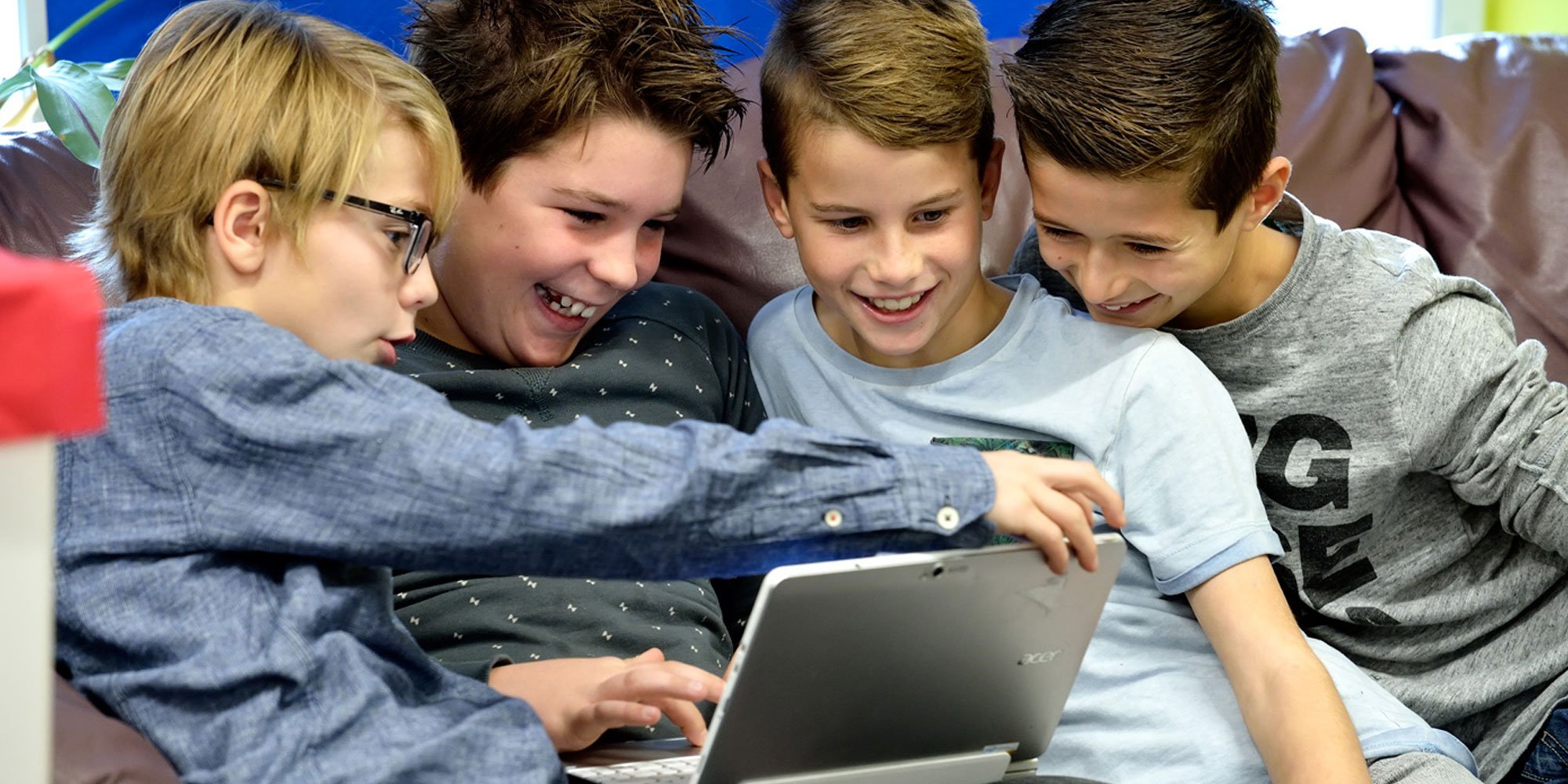 "The visual opportunities are far-reaching, and that appealed to us."
School guides are also often used by parents and guardians as works of reference. In the case of printed guides, this is much less convenient, as they are not always immediately on hand. With our digital school guide, though, things are different. It means we are can make life for parents and guardians that much easier. They are now able to consult the school guide wherever and whenever they want, so that they can remind themselves, for example, of study days and the dates of holidays.
We have placed the task of creating and managing our school guide entirely in the capable hands of RAADHUIS. They previously produced the printed version of our school guide, but now they are our partners in producing the digital school guide and the school plan, which appears every four years. We are pleased to be able to outsource this entire project to creative communications professionals who have an outstanding feel for the combination of images, texts, and emotions.
"Distribution of an online school guide is easier and less costly."
The results
At first, it took the parents some getting used to — instead of a book in the backpack, there was an e-mail with a digital school guide. We can now see from the results that the school guide attracted many visitors when it was first published, and even during the year there are quite a few repeat visitors as well.
A savings of 60%
In the past, we used to print about 1,250 copies of the school guide for our five schools. On average, this cost in the region of 5,500 euros. We now use a professional license, plus four 'one-offs'. Together, this is amounts to a savings of 60% per year.
Next steps and advice for other school communities
We will certainly be continuing to publish our online school guides in partnership with RAADHUIS and Foleon. This enables us to present our schools as dynamic and innovative.
Smart distribution and new method for attracting pupils
During this interview with Stephan of Foleon, new angles were discussed, such as sharing via social media. Actually, this is not something we have ever really given much thought to, but it is a useful way of attracting new pupils. If we are to make our school guide more recruitment-oriented, we have been advised that we should add an option on the last page whereby people can leave their personal details for a guided tour or for early enrollment.
Company: SAKS
Agency: RAADHUIS
Publication: Primary School Guide The Compass