Introduction
We talked to Webmaster Michel Küng (Mi) and Mona Blum (Mo), Senior Manager, from Helvetia's Corporate Communications department about how they use Foleon to provide their employees with first-class content experiences that they are happy to spend time reading.
3
languages (IT, GER, FR)
4:03 minutes
session duration
"The aim of the company magazine is to make colleagues feel connected to Helvetia. The recent feedback and results show that the digital edition has been very well received."

Mona Blum
Corporate Communications Manager at Helvetia
Tell us something about Helvetia and your role
Mi: I am responsible for the design and implementation of our website, and any other special projects in the Corporate Communications department. One of my initiatives is the digital edition of our corporate magazine viva.
Mo: I am responsible for internal communications at Helvetia and also a co-editor of viva.
The challenge
What challenges and problems did you have before you started using Foleon?
Mi: Our magazine was previously only available as a downloadable PDF and a print version. We wanted to offer readers an attractive and interactive reading experience online, which the PDF couldn't provide.
Mo: We also always found it a great pity that we couldn't use all the good additional material, such as videos, high-resolution images, or animated graphics. Therefore, we were looking for a first-class digital solution and found it at Foleon.
What potential solutions did you look at before Foleon?
Mo: We talked to several agencies. The solutions they proposed more closely resembled a blog. That was not what we had in mind. We already have a blog on our website where we regularly add new posts. But we also wanted to pursue a linear storytelling format with the online edition of viva, in a similar fashion to print media. That doesn't work on websites because they are not made for it. But viva should not look like content that you just browse, because it is an editorial magazine that the reader likes to take time for.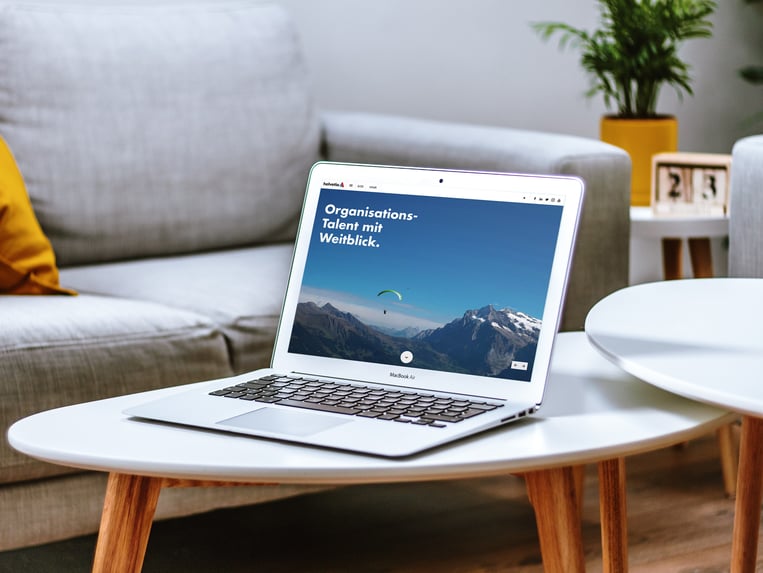 The solution
Why did you decide that Foleon is the right solution?
Mi: The platform enabled us to create digital magazines that exploit the full potential of web technology. Some features such as integrating multimedia elements, naturally don't work in a print magazine. But Foleon also gave us more freedom to present high-quality visual materials in a more compact way.
Mo: We often work with professional photographers, and the ability to use hi-res photos is very important to us. It was always a pity that we have very limited space in our print magazines because we have so much more material we would like to show. But on the web, we have a completely different realm of possibilities. We can present many more visuals, such as galleries, without overloading the page for the reader.
How does Foleon help you with the production of your publications?
Mi: Foleon created the first issue for us, along with the Helvetia-specific templates for the magazine. We were thus able to benefit from Foleon's expertise in setting up the magazine. Eventually, we were able to produce future issues ourselves. We don't have a large internal team, so the ability to produce content quickly is essential.
Mo: The editor is very easy to use. Thanks to the editor's flexibility and customizable templates, we can adjust them to fully reflect our corporate identity.
What kind of content have you created with Foleon?
Mo: Our employees are viva's main target audience. We redesigned viva at the beginning of 2018 to transform it from an internal magazine to a corporate magazine for employees, customers, and stakeholders. We are currently discussing internally how to expand our use of Foleon to other publications, such as our company brochure or other external publications.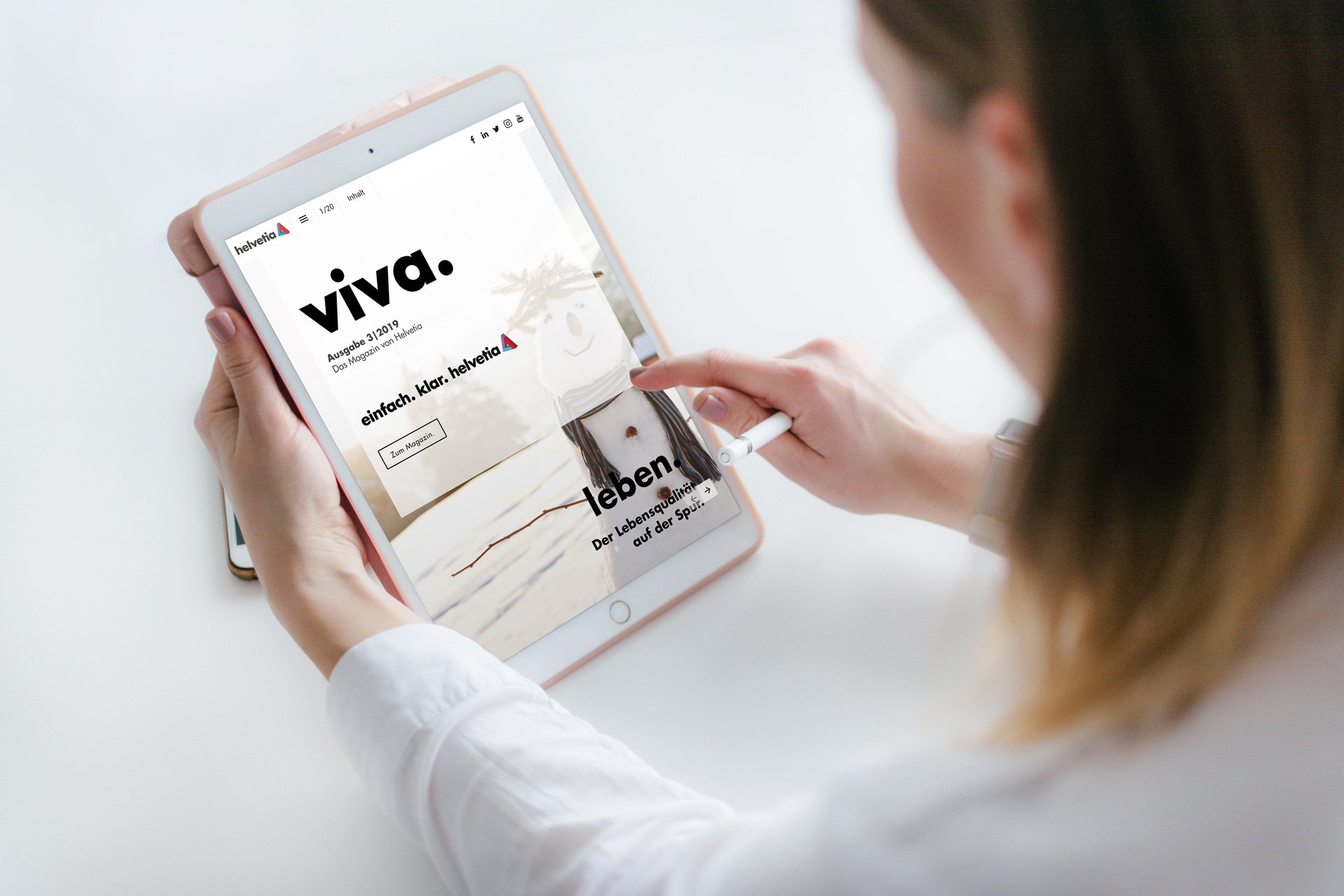 The results
What measurable successes have you achieved so far?
Mo: We are very satisfied with the results. The current issue already has more than 1000 visitors and we are also very satisfied with the average session duration, which is more than four minutes.
Mi: Noticeably, over 45% of all readers read viva on a mobile device last month, which underlines the importance of offering the reader a good viewing experience on all screen sizes. A PDF on a smartphone is simply no fun.
How did your readers react to Foleon?
Mo: The feedback from the individual employees has been consistently positive. When we published the first edition, we received feedback that employees had been waiting for a digital version of the magazine for a long time.
Mi: In fact, our readers even asked how they can cancel their print subscriptions. A high-quality, digital edition, which is a little more up to date, is now the preferred choice.
What goals are you pursuing with the employee magazine and its digital edition?
Mo: The goal of our corporate magazine is to make employees feel connected to the organization. But most importantly, we want to go to great lengths to offer the employees a great magazine as a sign of appreciation for them. The feedback we have received so far and the results show that the digital edition has been very well received.
What tips would you give other Foleon users?
Mi: We are very happy with the advice and support we have received from Foleon. Even the discussions before the purchase were fun and helpful because our concerns were addressed. We think any new user should definitely take advantage of this onboarding session.
Mo: The design training was very helpful and the customer success team is extremely well versed in content strategy. We also recommend businesses with small teams and limited budgets to look into Foleon's creative services, as we've been very satisfied with the custom templates they helped us create.
See it for yourself