Working environments have changed significantly in recent years, with hybrid (and remote) working fast becoming the norm. Naturally, company benefits and compensation and how they're shared needed to evolve and follow suit.
We spoke with Matt Simanski, Enterprise Employee Communications Consultant at NFP, to hear how they adapted to the new work environment and workforce by reinventing benefits communications for their clients.
The Indianapolis branch of NFP is an employee benefits brokerage firm with decades of experience helping clients holistically take care of their people.
They have:
100+
digital benefit guides published
60+
different customers served
1
platform to create engaging benefit guides
"When we first experienced the Foleon output, we were impressed. It was a great experience and perfectly optimized for tablet and mobile. Anybody can just go on their phone and access the information they need. It's very easy to read and user-friendly."

Matt Simanski
Enterprise Employee Communications Consultant
Can you tell us more about NFP?
As an advisory firm, NFP focuses on establishing thought leadership by building out a vast resource library to be utilized by clients and partners.
"We develop unique content and push that out through newsletters, blogs, emails, text, digital experiences, and much more. The marketing rule of 7 is a principle we live by for internal and external communications. This means we believe a (potential) client or employee must see a message at least seven times before they're likely to take action."
When you put a lot of effort into distributing content, you want it to leave a lasting impression.
"We also focus fiercely on what we refer to as 'Total Rewards' content instead of just benefits-oriented content as many other players in the industry seem to do. We put this together in what we refer to as digital benefits guides," says Matt.
Evolve or risk getting left behind
It's of key importance for any business to change with the times, something which Matt recognized.
"The benefits industry has predominantly been stuck in the past regarding employee communications. Nowadays, almost everyone always has a mobile device in hand and access to a computer or tablet, so why should employee communications not take advantage of this?"
Legacy formats no longer cut it as mobile continues its dominion, and attention spans are getting increasingly shorter.
"The traditional way of communicating employee benefits by putting together a lengthy and wordy PDF Benefits Guide was no longer fulfilling our clients' needs. To continue our mission of being industry leaders, we needed a solution that would allow us to 'take our talents digital' in an efficient and scalable manner."
Businesses that don't modernize their services risk staying behind. PDFs are commonplace in today's digital world, and few marketers give them a second thought. Their limitations, however, are extensive. From their static presentation and complete lack of data to their difficulty to use and produce.
"We never felt like we were doing a poor job communicating to our clients and their employees, but we felt like we were doing the same things year after year because it had 'worked' in the past. Not offering our clients an online presence had been a growing concern, and we needed a solution," explains Matt.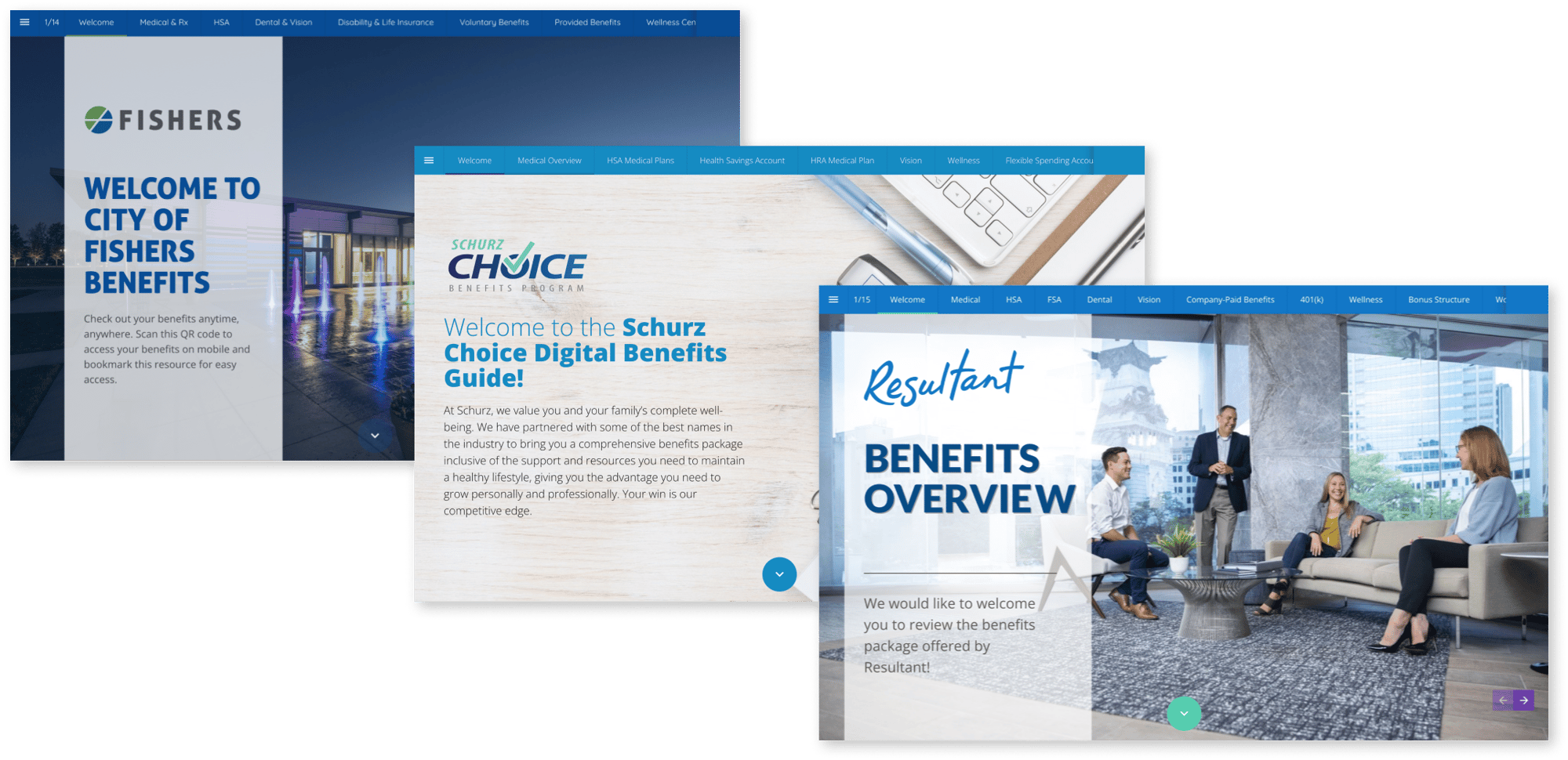 Three digital benefit guides NFP created for clients
Requirements for change
When moving away from PDFs, there are lots of things to consider.
"To a certain extent, we knew what we wanted to achieve in the area of online content experiences. But finding the right solution was the hard part. We vetted multiple solutions, but many seemed like marginal upgrades, and we were looking for a bigger splash."
Information needs to be easy to find and access and presented in an engaging manner.
"We wanted a one-stop shop (or a microsite) where people could access all information in an engaging experience, regardless of their device. We felt this was the one thing we were missing to continue to be industry leaders," says Matt.
As with anything, you need to keep costs in mind.
"We recognized large companies with sufficient financial resources were already producing microsites and could warrant the costs of creating them through the number of employees. However, we wanted to find a solution that wasn't just for the big guys, but something that's flexible and cost-effective and that we could roll out for clients regardless of their size or budget."
Easy access to communications that kept readers engaged was a key criterion for NFP.
"Traditional CMS' such as WordPress didn't cut it. There are many limitations, and the backend isn't very user-friendly. We didn't want to deal with custom coding. We needed a solution that was super flexible and, most importantly, would allow us to scale content production."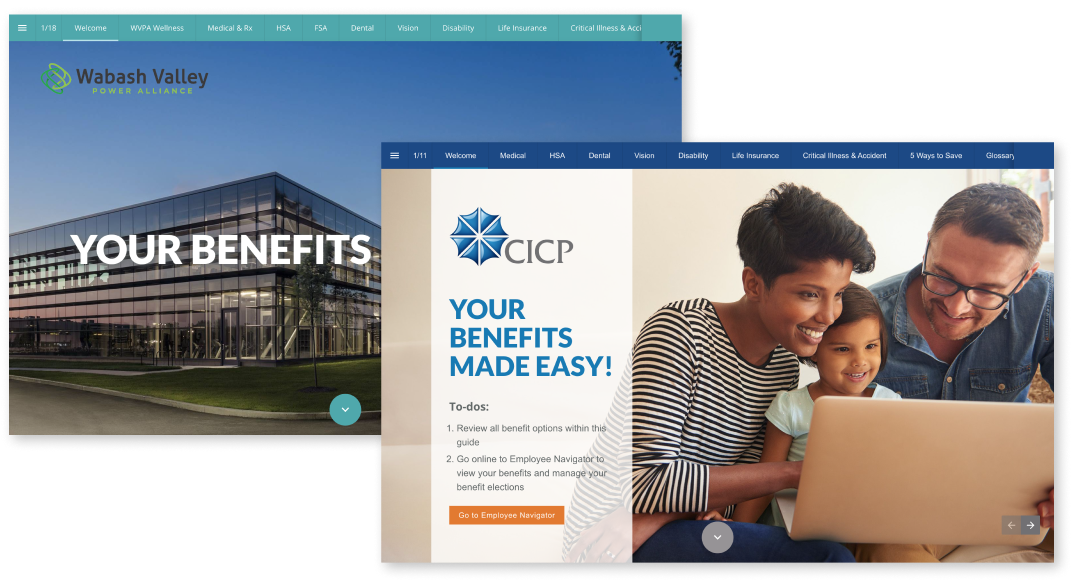 Two more digital benefit guides NFP created for clients
Why Foleon was the best option
"When we first experienced the Foleon output, we were impressed. It was a great experience and perfectly optimized for tablet and mobile. Anybody can just go on their phone and access the information they need. It's very easy to read and user-friendly."
Positive client feedback echoed the sentiments of users being able to access benefits information in one centralized place at any time.
"Having a dedicated digital benefits guide gives readers (including prospects) a really good branded experience to get a feel of the company's brand and offerings."
NFP's clients truly appreciate the uniquely engaging format Foleon provides.
"Client feedback has been super positive. They're extremely happy with the digital benefit guides. They're a one-stop shop for all their benefits information, and their employees love it."
Following a plan upgrade, NFP was able to add more users to the tool and experiment further with their templates, continuing to improve its time savings and efficiency.
"Getting access to unlimited templates was a game changer for us. We started out with five and now built 40 full doc templates or so in two to three months as well as 400+ block templates. We have greater efficiency and faster publishing times in terms of value."
Foleon's continuously evolving product and roadmap play a big role.
"It's also nice to see the feedback we have given implemented. Foleon is always listening to its users and implementing updates, which is a good indicator of the type of company it is and the people working at Foleon."
When asked if Matt would recommend Foleon, he says the following:
"For anyone putting together online content, whether it's publications, landing pages, or microsites, I highly recommend Foleon."