Introduction
We interviewed Peter Wenneker, Marketing & Communication Officer at ACTIAM, to learn how the company used Foleon's Template manager to speed up their content production process, stay on brand, and gain valuable insights into their readership.
1
day to create a digital publication with Foleon's Template Manager
3
use cases: newsletter, event communication, presentation
9
templates used for the monthly ACTually newsletter
"The new Template Manager makes it even easier to create our newsletter and related articles in Foleon. To give a recent example, we were able to send out a summary of an event we hosted, within 24 hours after it took place."

Peter Wenneker
Marketing & Communication Officer at ACTIAM
Tell us about Actiam, and specifically about your role
At ACTIAM, we offer sustainable solutions to insurance companies, pension funds, banks, and distribution partners, as well as to private investors. As a Marketing & Communication Officer, I'm responsible for internal and external communications such as presentations, newsletters, events, and our website.
Could you tell us about your newsletter called 'ACTually'?
ACTually is our monthly newsletter, with around 400 subscribers. The editorial formula of ACTually includes 5 articles of which performance of our funds - with a brief explanation to the results - is a fixed item. Other items can be around thought leadership articles, awards, and topical market developments.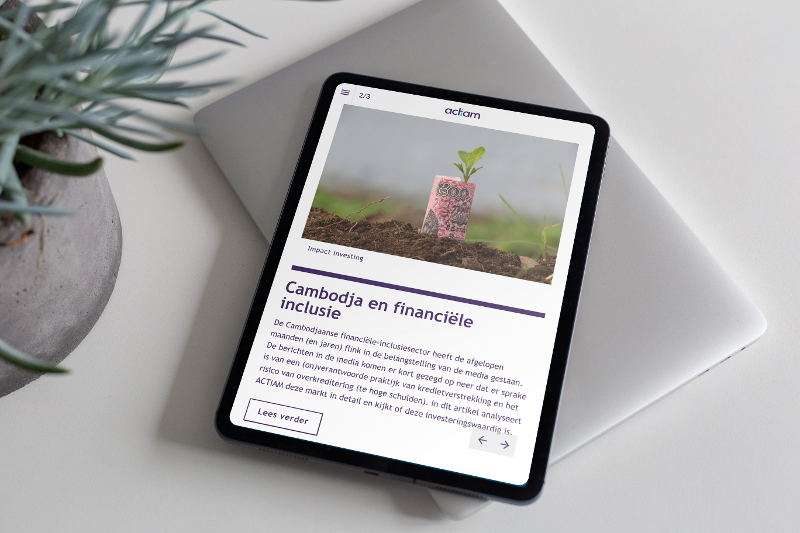 The challenge
What type of publications do you create in Foleon?
Next to our newsletter, we use Foleon for our corporate presentation and for event communications, like our event invitations and recaps.
What were your content creation challenges before using Foleon?
The biggest challenge we are facing at ACTIAM is building our brand and establishing ourselves as thought leaders. Moreover, the content we create is very divers. Therefore brand consistency is vital for us. We focus on developing our newsletter, which is relatively new. So we don't wish to change the way we present our content dramatically.
We have scarce resources, so we need to work as efficiently as possible. And lastly, I want to mention that until recently we published most of our content in PDF. This resulted in less traffic to our new website and lacked insight into how our content is performing. We couldn't measure valuable metrics such as click-through rates and average reading time.
The solution
How does the template manager help you?
We have been working with Foleon for a while now. The introduction of the new Template Manager prompted us to freshen up our monthly newsletter. The most valuable benefit is that we save time when creating our publications since we can re-use and edit existing templates. Moreover, it helps us stay on brand and be consistent with what we publish.
How did Foleon help you create branded templates?
After an in-depth intake, Foleon created several options, fully aligned with the look and feel of our website. Within a few days, our first new newsletter was already sent to our subscribers. All in all, the whole process was smooth and didn't take a lot of our valuable time.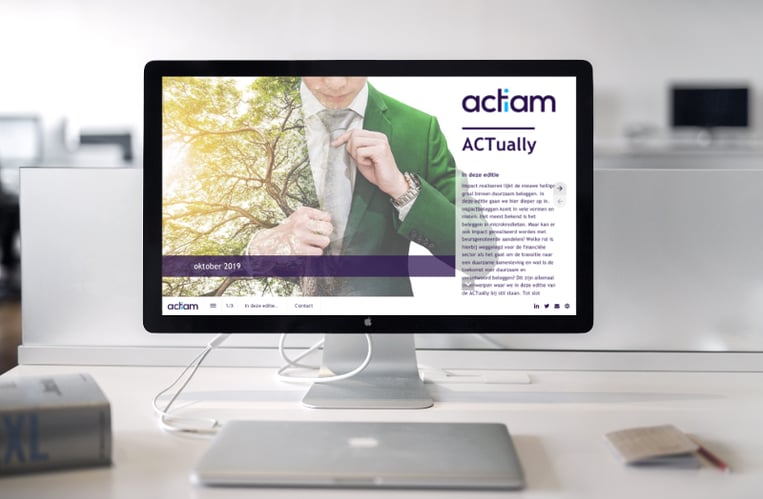 The results
What measurable benefits have you seen so far?
We didn't set concrete goals in terms of numbers, but we will leverage the analytics dashboard to set measurable short-term goals. Overall, Foleon is a platform that lets you build on your brand value proposition.
The new Template Manager makes it even easier to create our newsletter and related articles in Foleon. To give a recent example, we were able to send out a summary of an event we hosted, within 24 hours after it took place.
Do you foresee using Foleon for additional use cases in the future?
We will explore the possibility of using Foleon for product presentations and pitches, and we will start introducing the platform to other teams as well. Since Foleon lets us send out password protected publications, we could also use it for client-specific purposes and internal communication. Last but not least, we will make use of the available reports to monitor reader engagement and fine-tune our publications accordingly.
What tips would you like to share with other Foleon users so that they can get the most out of the Template Manager?
There are 3 essential things that users should take into account:
Use a modular approach while building your template library, which can be used for different purposes and publications.
Focus on the combination of imagery and content so that they reinforce each other.
Last but not least: see Foleon as a solution helping you reach your Marketing & Communication KPIs, and not as a goal in itself.