Introduction
We had the pleasure of speaking with Jessica Gelzer, Director of Marketing & Communications at Curative, about the challenges of keeping up with content demands in a high-growth company — and how Foleon helped overcome just that.
Watch the video or read more below.
Improved collaboration
between marketing and sales
Creating content
faster than ever before
"I recommend Foleon to any growing company that needs extra resources to get digital content up and running. It empowers marketing teams to create content, is easy to adopt, and has many different use cases. You'll be getting your money's worth."

Jessica Gelzer
Director of Brand Marketing
Tell us about Curative and your role.
Curative is a leader in on-demand public health service programs and infrastructure development, with over 16,000 community-based COVID-19 testing sites across 40+ states. We partner with communities to strengthen public health services with turn-key programs, easy-to-access experiences, and scalable infrastructure, keeping people everywhere safe, healthy, and informed.
In my role as Director of Brand Marketing, I shepherded in a new brand direction. I led a team on comprehensive B2B and D2C (direct-to-consumer) initiatives to drive the adoption of COVID-19 testing.
What role does content play at Curative?
Content is crucial for Curative. It helps motivate people to get tested, know when to get tested, and educates them about COVID-19. For our employees, content is what keeps them engaged and motivated.
The challenge
What challenges did you face before using Foleon?
Curative grew from 9 people to over 3,500 in a year's time. Challenges arose quickly with our steep growth. Not only did we need to create content faster to keep up with requests, but it also had to be digital-first because our audience has to be able to consume information at any time, on any device.
How did this affect your company?
We didn't have the resources to meet content demands while presenting ourselves in the most professional way possible. Our content had to be dynamic and robust to reflect the impact our company can have; a mere attachment wouldn't do it justice.
Internally, we weren't getting our message across to our diverse workforce. Most people are on their phones when they're in the field, the lab, or working remotely. So, a mobile-optimized experience was essential to ensure alignment.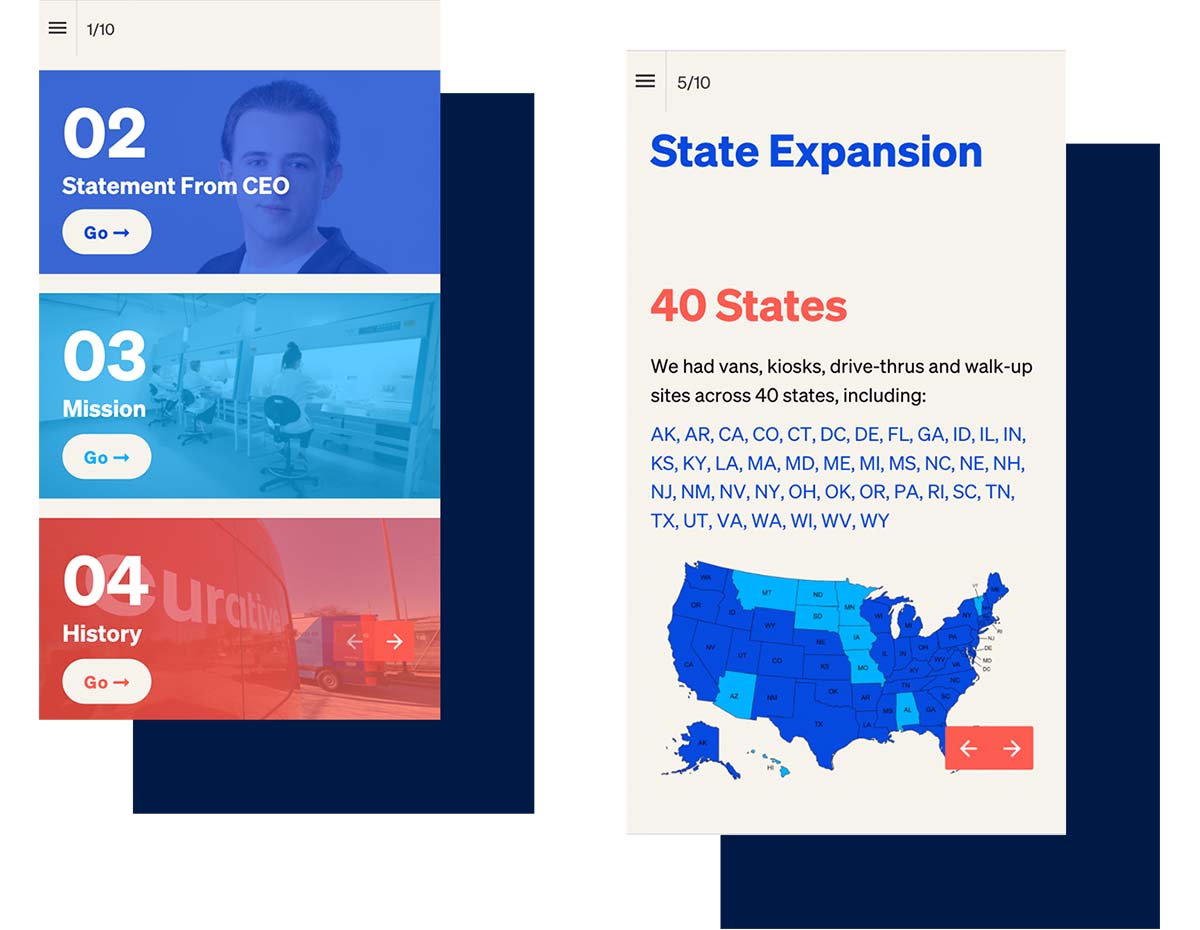 The solution
Why did you choose Foleon?
We looked at several platforms that allow marketing teams to get digital content up and running quickly. Ultimately, we went with Foleon because it was the easiest to adopt.
It's user-friendly, which was particularly interesting as our team has different technical skills, and it's mobile-optimized by default. Another delightful feature is that Foleon Docs can easily be updated as things change, so no outdated versions are floating around.
Who uses Foleon in your company?
Foleon is an excellent extension of our marketing toolkit. It takes the pressure off engineering and design by empowering our marketing team to create the content we need.
For which phases of the customer journey are you creating content with Foleon?
We have content throughout the entire customer journey. Right now, we're experimenting with lead generation. This wasn't necessarily on our roadmap yet, but we decided to fast-track that tactic because it's so easy to set up with Foleon.
We also created our first-ever impact report, which is featured in this story. The platform allowed us to create it quickly and make it immersive and interactive. Instead of a long PDF that's hidden in somebody's folder, the report lives online and includes dynamic content for a more engaging experience.
Internally, we create newsletters to spotlight employees, disseminate policy updates, and show different stories and case studies of what we're doing. We need to demonstrate the impact of the work our employees do.
How was the onboarding process with Foleon?
The platform is super easy to incorporate; we had our first content piece live within a week. As a young company, we're building everything from the ground up, and Foleon has been one of the puzzle pieces that helped put it all together.
The results
How has Foleon changed your company?
The platform has changed our business in three ways:
We can now easily deliver all the content we need to showcase our offering.
It's given our sales teams the extra confidence to present what we're doing in a modern way.
It's been a game-changer for employee engagement. The team appreciates the digital experience instead of legacy formats like PDF, which are typically clunky and dry.
I recommend Foleon to any growing company that needs extra resources to get digital content up and running. It empowers marketing teams to create content, is easy to adopt, and has many different use cases. You'll be getting your money's worth.
What results have you seen so far?
Our readership has doubled since switching to Foleon, and we're happy to have the right tools to measure that. The analytical capabilities are top-notch.
How does Foleon contribute to the overall objectives of your company?
Foleon helps us get content out the door quicker than ever before. We don't have to rely on designers or engineers that are overburdened with other tasks. Our marketing team can now focus on what content is needed and create it themselves — seeing it come to life. This reduces friction and makes collaboration across teams much easier.
The sales teams are proud to share our content assets and feel like the marketing team responds to their needs in real-time.
As a young company, we also have a very young brand, so consistency is key. Foleon allows us to set guardrails in place to ensure we create a professional, branded presence.
The inside scoop
What are your tips for people looking at Foleon?
Go for it. With Foleon, if you envision it, you can create it. If you have an idea, you simply have to write up the content, collect visuals, and place it into Foleon. It's plug-and-play.
You'll quickly realize that content doesn't have to be static and that it can be dynamic and multi-dimensional. Foleon Docs are a journey and unique online experience, enhanced with video, GIFs, and animations.
Additionally, it's important to look at how easy it is to adopt when evaluating various solutions. This is the primary reason we chose Foleon, and we're happy that we did.