Introduction
In this interview, Lenny Gerdes, Editor-in-Chief at Wageningen University & Research shares the international success story of their internal and external digital publications.
9,000+
unique visitors for WUR's Resilience magazine
3.5 min.
average reading time
4 use cases:
customer magazines, staff magazines, digital magazines, micro-site
"After publishing our research studies with Foleon and sharing them with an international audience, we are confident that we will find new partners from all over the world."

Lenny Gerdes
Editor-in-Chief at Wageningen University & Research
Tell us about Wageningen University & Research and your role
Wageningen University is joining forces with specialized research institutions, and together we're contributing to finding solutions on topics in the field of healthy food and the living environment such as biodiversity, circular agriculture, food quality, and climate. Our goal and what we stand for is:
"To explore how nature can help us improve our quality of life."
As Editor-in-Chief, I introduce online and offline magazines to the exciting world of research and science. I work closely with all WUR institutes to share inspiring and relevant stories with our international target group.
The challenge
What challenges were you facing before adopting Foleon?
We wanted to make an online version of our Resilience Magazine to serve our international target group. Being able to share it online was an essential requirement for us, so we searched for a new solution in addition to print. The challenge we had was to display scientific articles in a more attractive way because people don't want to spend time on really long articles. In essence, we were looking for ways to engage our readers' attention. Furthermore, issues such as design and mobile-friendliness played a significant role. In the end, we wanted a responsive magazine that would be inspiring, attractive, and professional.
What possible solutions did you investigate?
In addition to print, we previously made our online magazines in WordPress, but it was very inconvenient and time-consuming. I decided to reach out to Foleon especially after learning about the capabilities of the platform and how we could do so much more with visuals such as photo animations, videos, and infographics which would make reading our magazines more attractive to readers. We decided to turn Resilience Magazine into our first online publication, and we really enjoyed it.
The solution
Why did you decide that Foleon was the solution?
Resilience Magazine was a success, and with Foleon, we can easily measure the reach of our content. Now, 9 months later, we already have more than 9,000 unique visitors with an average reading time of 3.5 minutes.
Taking into account that those stories are scientific and about abstract subjects such as "resilience," that's quite a lot of time. On top of that, these are metrics we couldn't measure with the print version.
We also see that we have succeeded in reaching an international target group. Fifty-five percent of our visitors read the magazine in English and a large portion of these come from the States. At the same time, 45% of our visitors read the magazine in Dutch, and we also see that we are addressing a new, younger target group by sharing our magazine online. The majority of our readership is between 25 and 35 years old, followed by the group between 35 and 45 years old.
Can you say something about the various publications that you make?
We use digital publications internally and externally for various purposes. We make member magazines, staff magazines, digital magazines, and a micro-site.
Resilience Magazine is a member magazine aimed at policymakers and scientists.
We also have our KennisBasis magazine, which is published in both print and online. This magazine is primarily aimed at policymakers at the Ministry of Agriculture, Nature and Food Quality (LNV). We see that the online magazine where we display a selection of articles from the print version is increasing in popularity. Those stories reach a broader audience than just the ministry.
All of our KennisOnline magazines, which are only published online, consist of stories about research in WUR, funded by the Ministry of LNV. We use a lot of videos in these magazines to support the stories. Experience shows that our stories are evergreen because they remain up-to-date. For example, when there is news about biodiversity, we'll share a page with our research on this subject on our social media channels and our websites. This is an excellent way to boost the number of readers of our magazine.
Internally, we have created a digital magazine about data, aimed at researchers and employees of WUR. The results of this magazine were extremely good. After two weeks, we already had 1,000 unique visitors, and we saw that almost every reader reads the magazine from start to finish.
I can't think of a bigger compliment.
At the moment, we're using Foleon to set up a micro-site that will work as a platform for our university fund. The goal is to make an overview of 14 types of studies, to make sure it becomes easy for people to find more information and decide if they want to contribute to a study.
How did Foleon help you create your digital publications?
We received a significant amount of help for our first digital publications by Foleon's designer, Yvonne, who helped us design the content in an appealing way. Also, the service from Foleon support is very good. Whenever we have a question, they always respond fast and adequately.
The results
What is the purpose of your publications?
We always say that our goal is extreme shareability. In other words, we want to bring excellent stories and research from WUR to the attention of the largest international audience possible.
How did you deal with distribution?
Distribution plays a vital role in the success of content. In every one of our publications, we measure what is shared, where, when, and why. Our distribution channels are the website, email, newsletters, social media, and our network. For our KennisOnline magazine, for example, we send out a biweekly newsletter with a video or a story from the magazine. This triggers the recipient to visit the magazine and read more stories.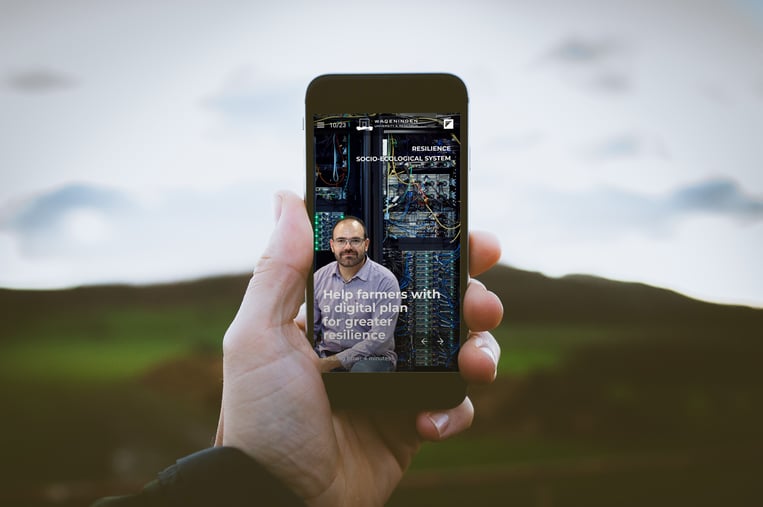 What measurable results have you seen so far?
Our magazines have a large number of unique visitors and are often shared on various channels, such as social media and through our network. As mentioned, with Foleon, you can measure the success of your content. The average reading time of our publications is 3.5 minutes. Our Resilience Magazine has the highest number of visitors — more than 9,000 unique — which makes sense since it's been online the longest.
How does Foleon contribute to the objectives of Wageningen University & Research?
We create stories to show off the impressive research we do at WUR. Thanks to Foleon we can share our stories in a beautiful, interactive, and mobile-friendly way that's easily accessible by everyone.
What are your future plans with Foleon?
Our next major project with Foleon is a magazine solely focused on research about how WUR contributes to solutions for a climate-proof future. The biggest goal is to reach out to people who would like to contribute or participate in our climate research. By using Foleon to communicate our research and by sharing it with an international audience, we are confident that we will find new partners from all over the world and that research institutions or other parties will want to contribute to this research.
Do you have tips for other Foleon users?
Everything has to be snackable and fast these days but believe me, there is always room for really good content. By enhancing your valuable content with great visuals like photos, videos, and beautiful design, you can retain the attention of your readers.
See it for yourself