If you use HubSpot as your CRM, you'll be happy to hear that over the past few months we've launched and improved a series of features to make Foleon and HubSpot work better together. Let's dive right in.
Foleon empowers organizations to replace PDF and print with web publications that are mobile-friendly, interactive, and measurable. Our goal has always been to help you create spectacular content that drives engagement, boosts sales, energizes your employees, and — above all — gets you the data-driven insights you need to continually optimize your content.
Marketers execute their content marketing strategies with ever-increasing sophistication and keep a closer eye on the ROI of their efforts than ever before. The number of tools companies have in their marketing stack continues to increase, and so does the need to keep them aligned and properly integrated.
That's why we're launching (and improving) features to better connect Foleon with third-party tools like CRM software, email marketing platforms, and more — with HubSpot being at the top of our list.
We at Foleon are avid users of the HubSpot platform and are always willing to share experiences. So, if you want more information regarding HubSpot or want to talk about how to best put it to use feel free to contact us.
Helping you measure your content's effectiveness with HubSpot
Depending on your Foleon license, we already have multiple features in place for syncing contacts with other tools. Now, for HubSpot specifically, we've introduced a new feature that allows you to see how your HubSpot contacts interact with Foleon content.
Together, these features empower you to better keep track of your content's effectiveness. So, without further ado, here's our complete toolkit for connecting Foleon with HubSpot:
Good to know: most of these features can also be used in combination with other platforms than HubSpot.
1. Embedding HubSpot forms in your Foleon publications
If you want to automatically add new contacts to HubSpot, you can use our Embed element to embed HubSpot forms on any page of your publication. Here's how it works.
1. Go to HubSpot, open the form you want to add, click on Share, and copy the share link.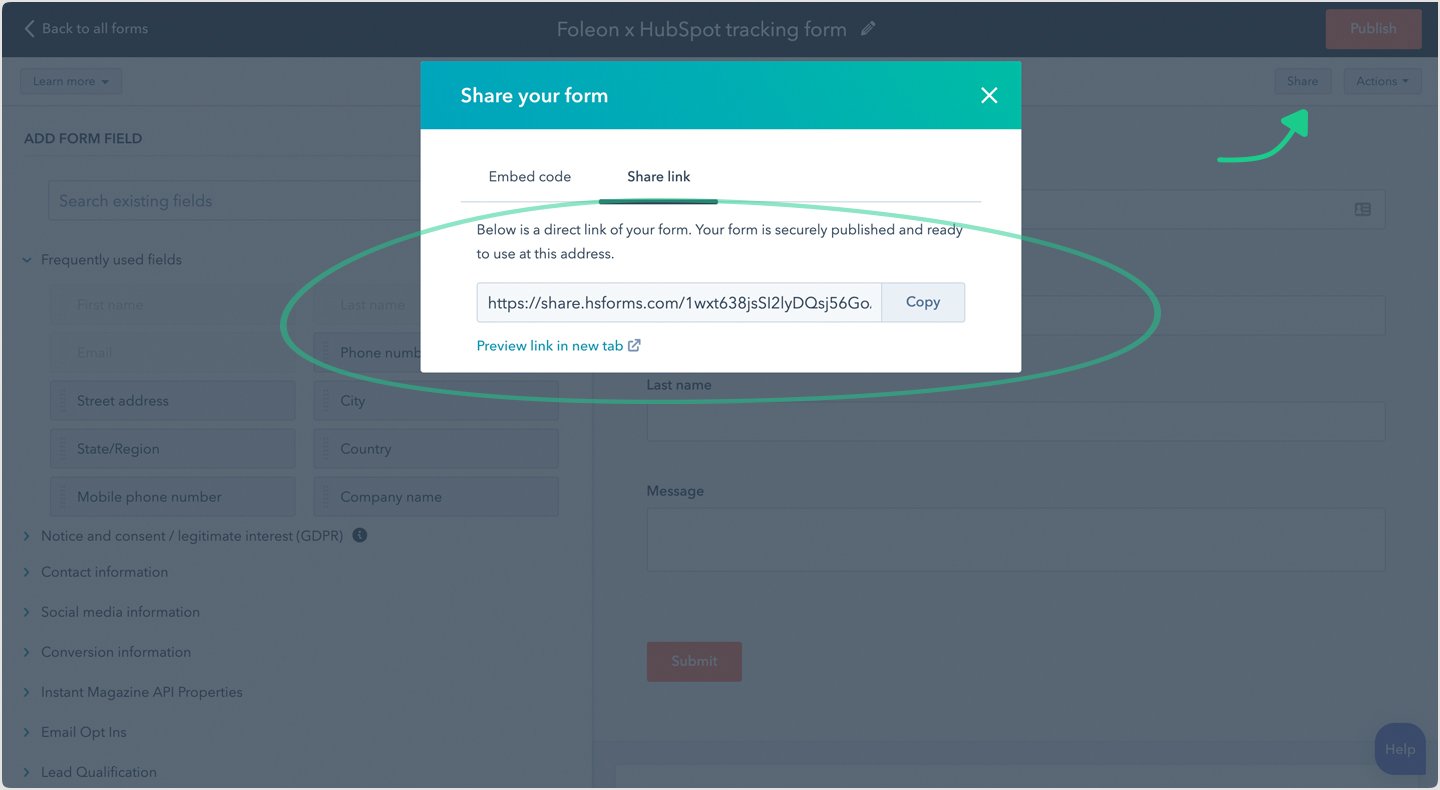 2. Go to Foleon, open your publication, click on Elements, add the Embed element to your page, and paste the HubSpot form's share link in the Embed source URL field.
3. See the embedded HubSpot form in your publication.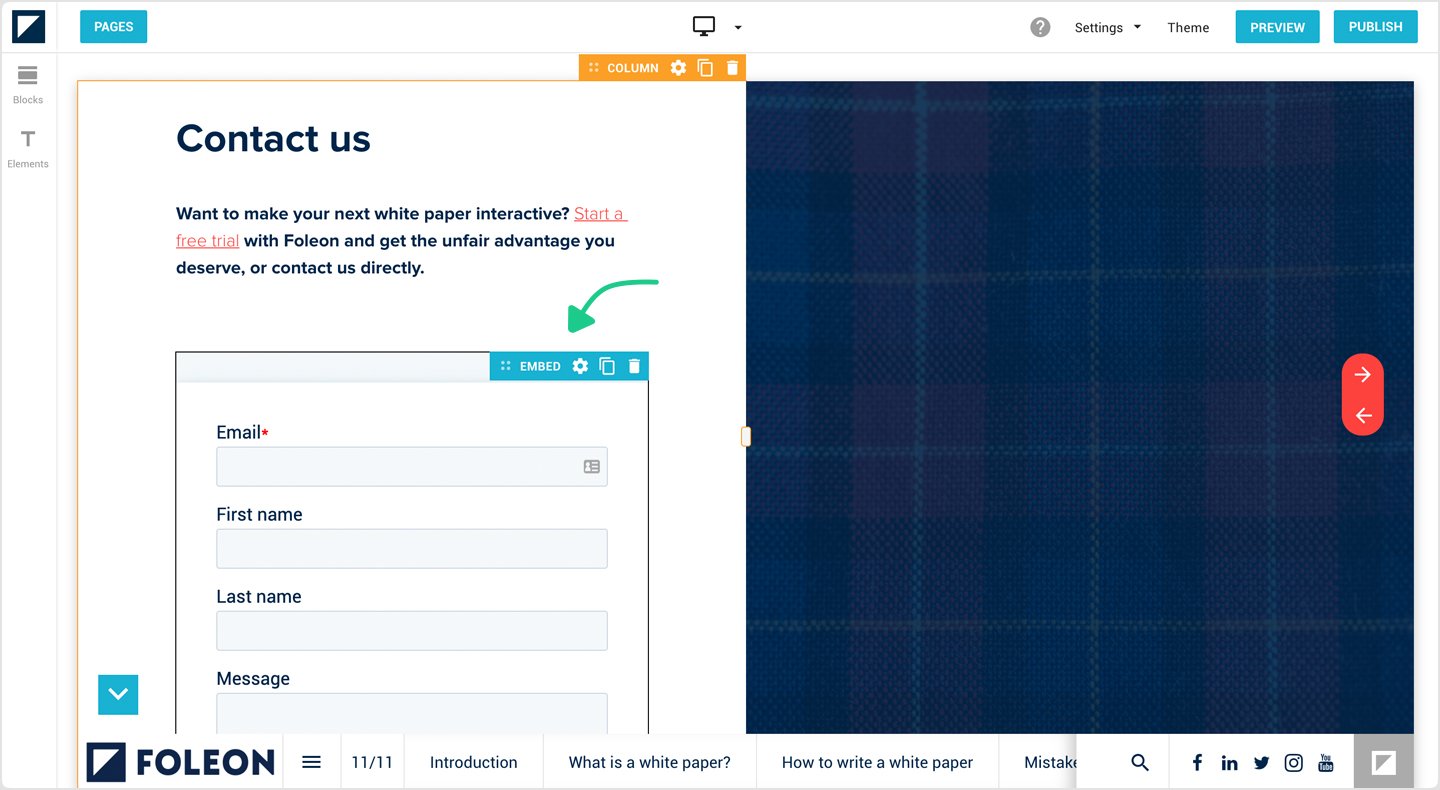 Tip: You can change the form's appearance in HubSpot at Preview, see: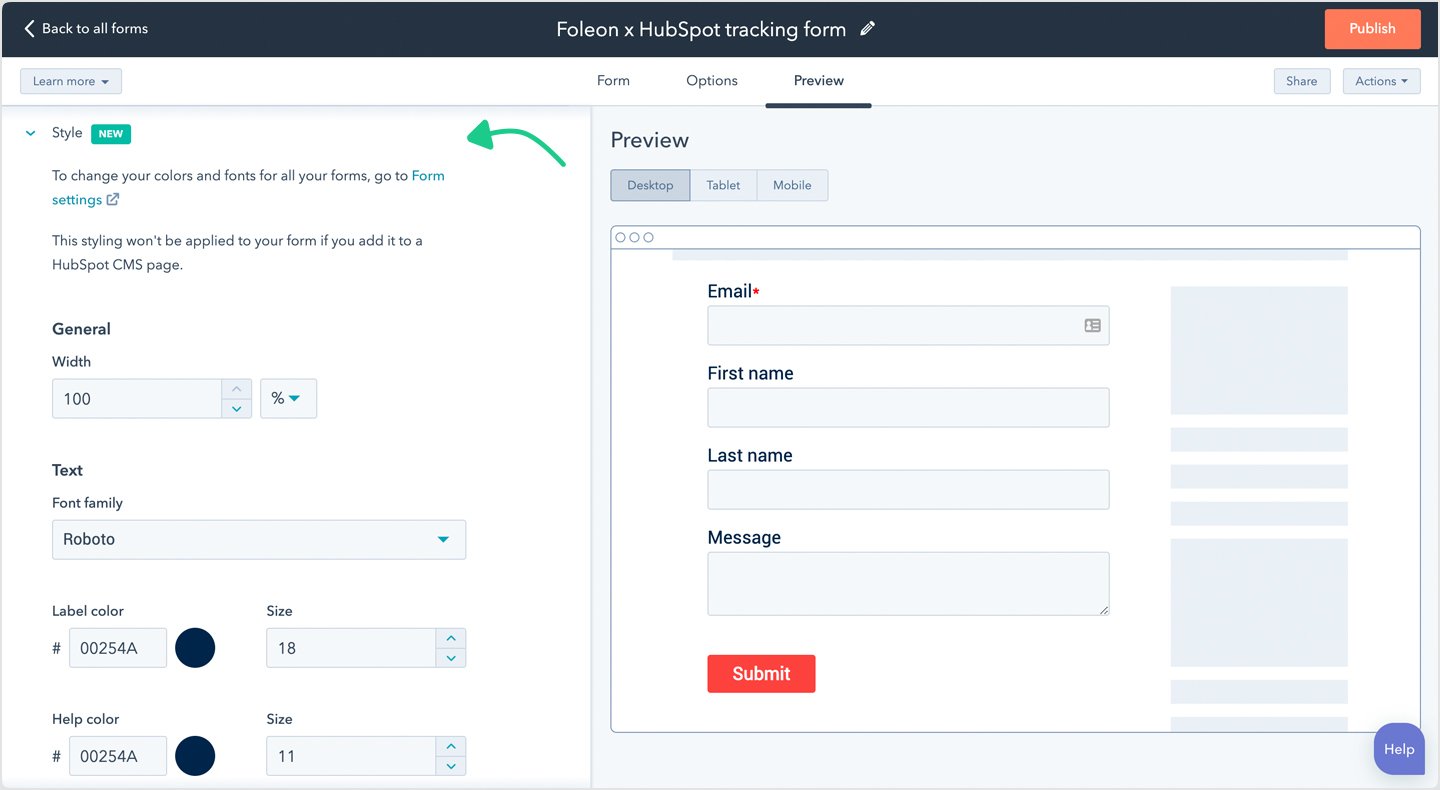 By embedding the HubSpot form directly, you ensure the reader's details are stored in HubSpot automatically whilst retaining attribution details. This gives you more detailed insights into the origin of acquired contacts.
Good to know: you can use our Embed element for any form, so not just HubSpot ones. Just make sure the form is available on its own URL. It's not possible to embed forms using script codes.
2. Using Zapier to connect Foleon forms to HubSpot
Alternatively, if you prefer to use our native forms or are using our lead generation features (you can't use embedded forms in combination with this feature), you can use our Zapier integration to automatically add new contacts to HubSpot.
If you're new to Zapier, watch our short video to get a grasp of what Zapier is and how it works with Foleon:
If you're interested, make sure you read our Help Center article on how to start using our Zapier integration.
Good to know: our Zapier integration allows you to connect Foleon with 1,500+ apps, so not just HubSpot. See the complete list of connected apps here.
3. Exporting form submissions from Foleon and importing them into HubSpot
If embedding forms or using Zapier is not for you, you can also export form submissions from Foleon and import them as contacts in HubSpot.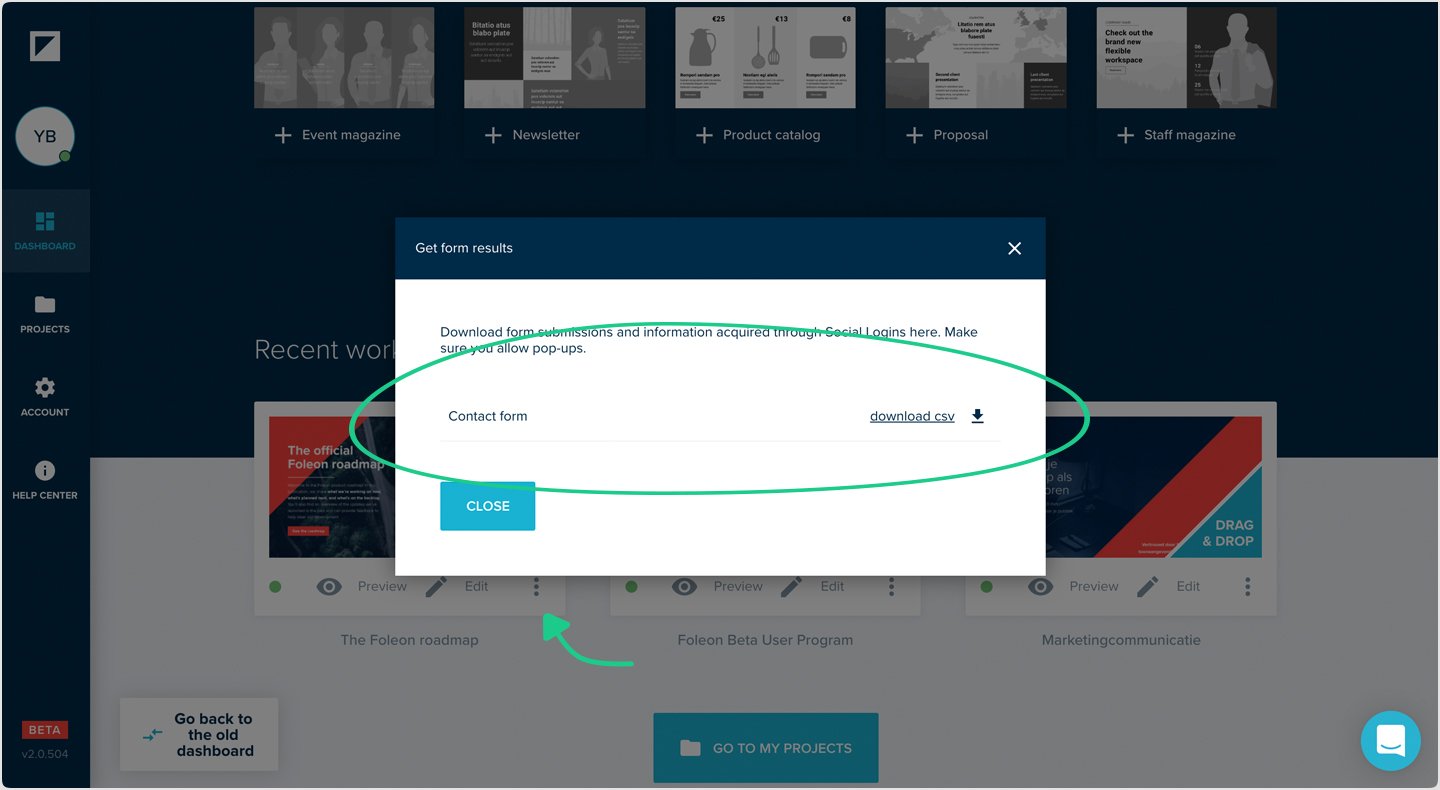 In Foleon, go to your dashboard, find your publication, open its menu, and click on Get form results. In the pop-up that appears, you can download all submissions for each form in that publication. When you've downloaded the CSV file, follow HubSpot's guide on importing contacts to bulk upload them into HubSpot.
Good to know: most tools allow for importing contacts through CSV files. This is not limited to just HubSpot.
4. NEW: Recording visitor behavior in HubSpot
As part of the Marketing add-on, this brand new feature lets you see — right on HubSpot contact timelines — whenever contacts visit your publications and how they behave.
Tracking individual contacts' interaction in HubSpot allows you to personalize follow-ups, trigger workflows, measure engagement, employ lead scoring, and better understand the value of your content.
Here's how it works.
1. Go to HubSpot, click on your account name in the upper right, and copy your Hub ID.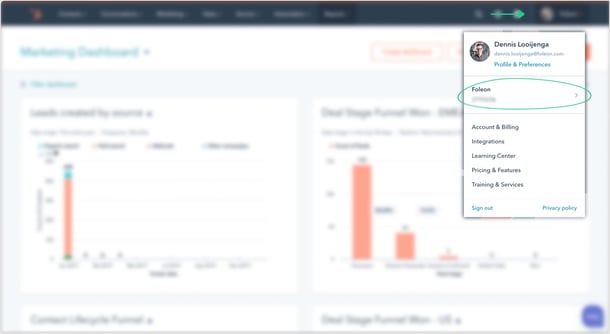 2. Go to Foleon, open your project's settings, scroll down to HubSpot page tracking, and paste in your Hub ID.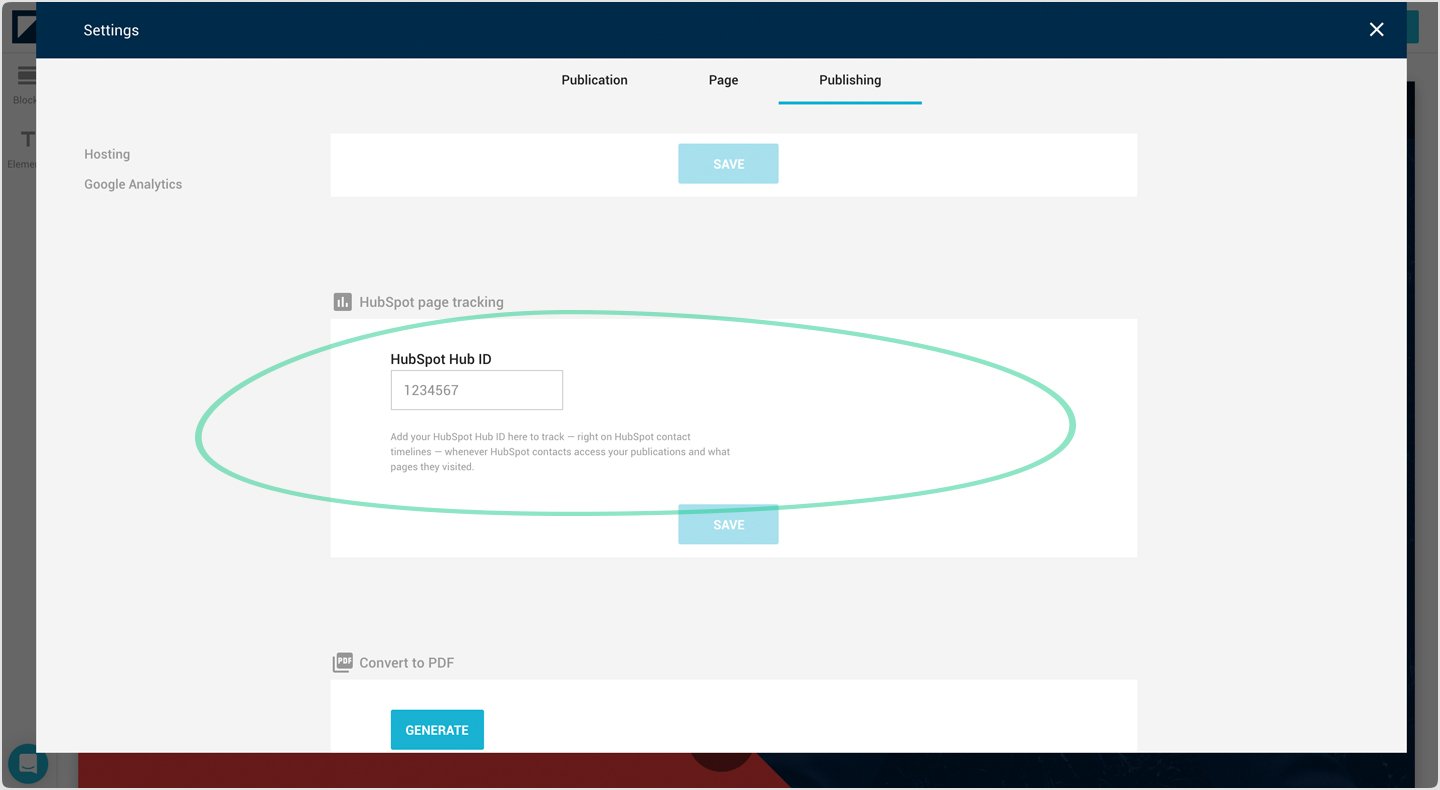 3. (Re)publish your publication(s) and keep an eye on contact timelines (make sure you include Page views in the activity filter).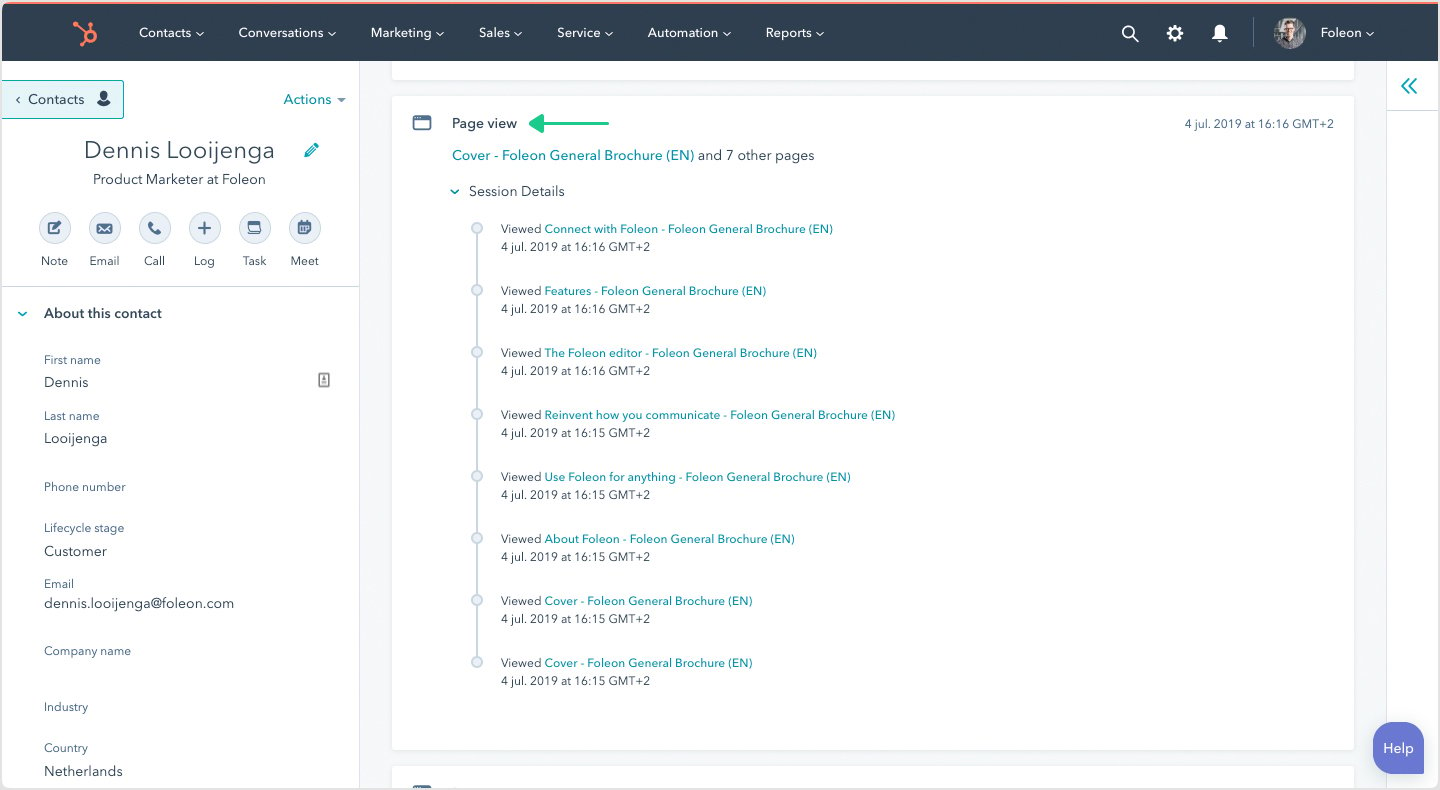 Here you see an example record of a HubSpot contact who viewed multiple pages in a Foleon publication.
For a more detailed guide on how to set this up, please check out our help center article for all the specifics.
Note: keep in mind that your HubSpot Hub ID will be applied on a project level. This means it will automatically be added to all publications within a project. If you've already published publications in a project, you'll have to republish them for this change to take effect.
Of course, next to recording visitor behavior in HubSpot, you can also use our reporting dashboard and Google Analytics integration to measure how your content is performing.
Conclusion and future plans
With these new tools, Foleon and HubSpot work better together. You'll also have more control over how your content performs and can more easily report on its ROI.
This update is just the first in a series of upcoming updates that make it easier to connect Foleon to tools like CRM systems, email marketing platforms, and more. Behind the scenes, we're working hard on developing additional features and dedicated integrations.
If you have feedback or suggestions for other product updates, feel free to let us know by reaching out to our support team at support@foleon.com. We're all ears!