We're delighted to announce our integration and partnership with automation platform Zapier. With this integration, we're empowering you to push reader information acquired through Foleon to 1,000+ other apps effortlessly.
Foleon enables marketing and communications professionals around the world to create interactive digital content that renders perfectly on any device. Aside from being able to create stunning digital content, one of the most important features of our platform is the ability to capture reader information through native forms or by gating your publications using our lead generation feature.
Beyond letting you easily acquire reader information, we now enable you to transfer that information from Foleon to a wide variety of third-party platforms like CRM systems, email marketing platforms, and more.
What's Zapier?
In a nutshell, Zapier lets you push data from one app to another. Our integration allows you to connect Foleon to 1,000+ other apps and automate your day-to-day tasks.
For example, based on information acquired through your Foleon publications (form submissions and new leads), our all-new Zapier integration allows you to automatically:
Create or update contacts in your CRM system
Add or update subscribers in your email marketing platform
Enrich a Google Spreadsheet
And much more…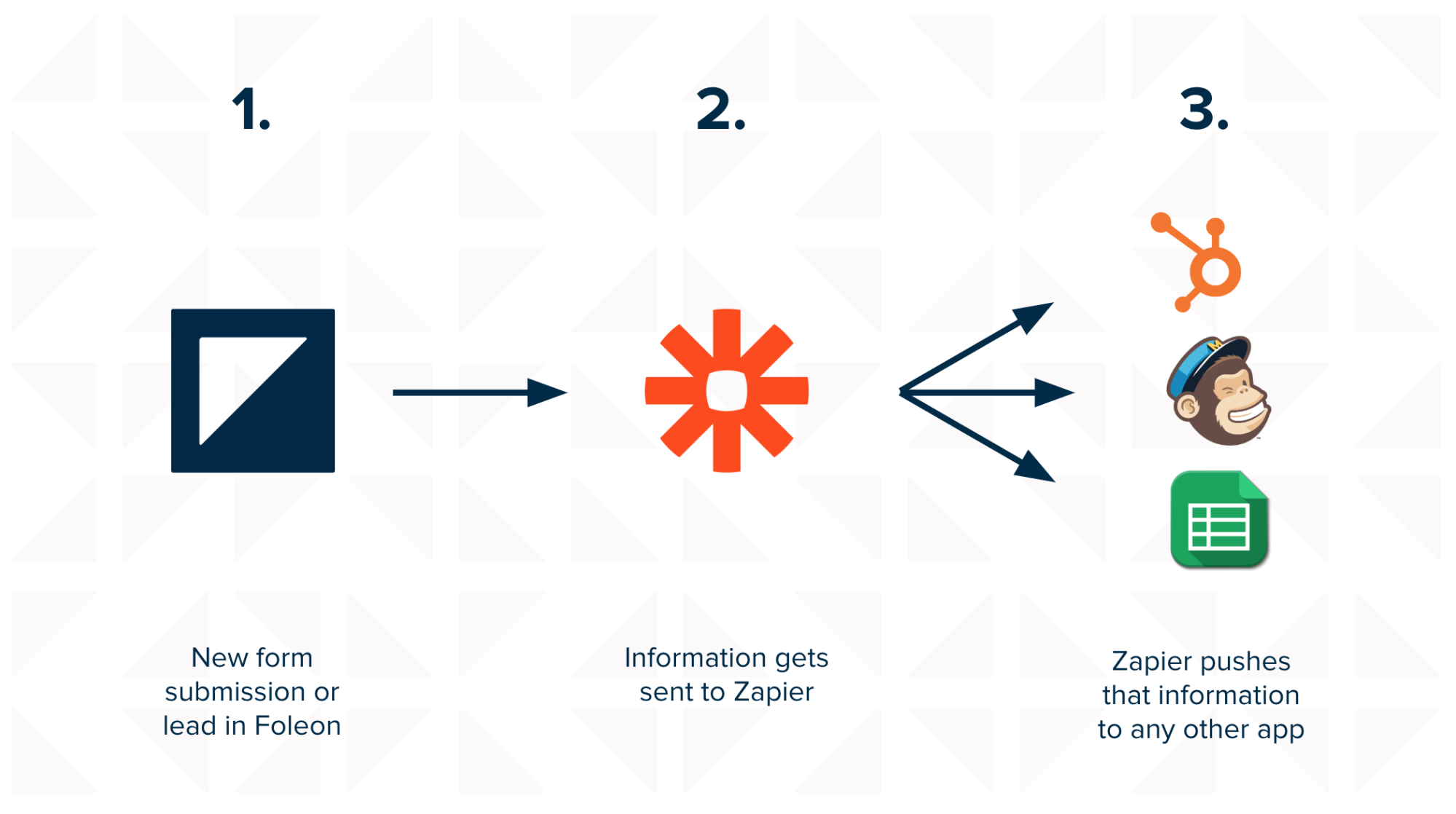 Say goodbye to manually transferring reader information to other apps and let Zapier do the heavy lifting for you.
How to connect Foleon to Zapier
The way Zapier works is pretty straightforward. When you create a "Zap" (or a Zapier automation), you first choose a so-called Trigger App that puts Zapier to work based on rules you set. Then, you select an Action App that Zapier talks to on behalf of the Trigger App.
In our case, Foleon acts solely as a Trigger App (this means we can only send data, not receive it). When you receive a new form submission or generate a new lead with a Foleon publication, Zapier pushes the acquired reader information to the Action App of your choosing (e.g. your CRM system or email marketing platform).
So, how do you connect Foleon to other apps using Zapier? You'll find a detailed walkthrough in our help center article: Connecting Foleon to Zapier. We've provided a shortened version here.
In this example, we're creating a Zap that automatically pushes reader information acquired through a feedback form in one of our news updates to HubSpot.
1. Log in to your Zapier account or create a free account if you don't have one yet. Zapier has a great free plan that allows you to do quite a bit!
2. When logged in, start by creating a new Zap. Click on Make a Zap. This will take you to the Zapier editor where you can start setting up your Zap.
3. First, select Foleon as the Trigger App and set it up for either new form submissions or new leads.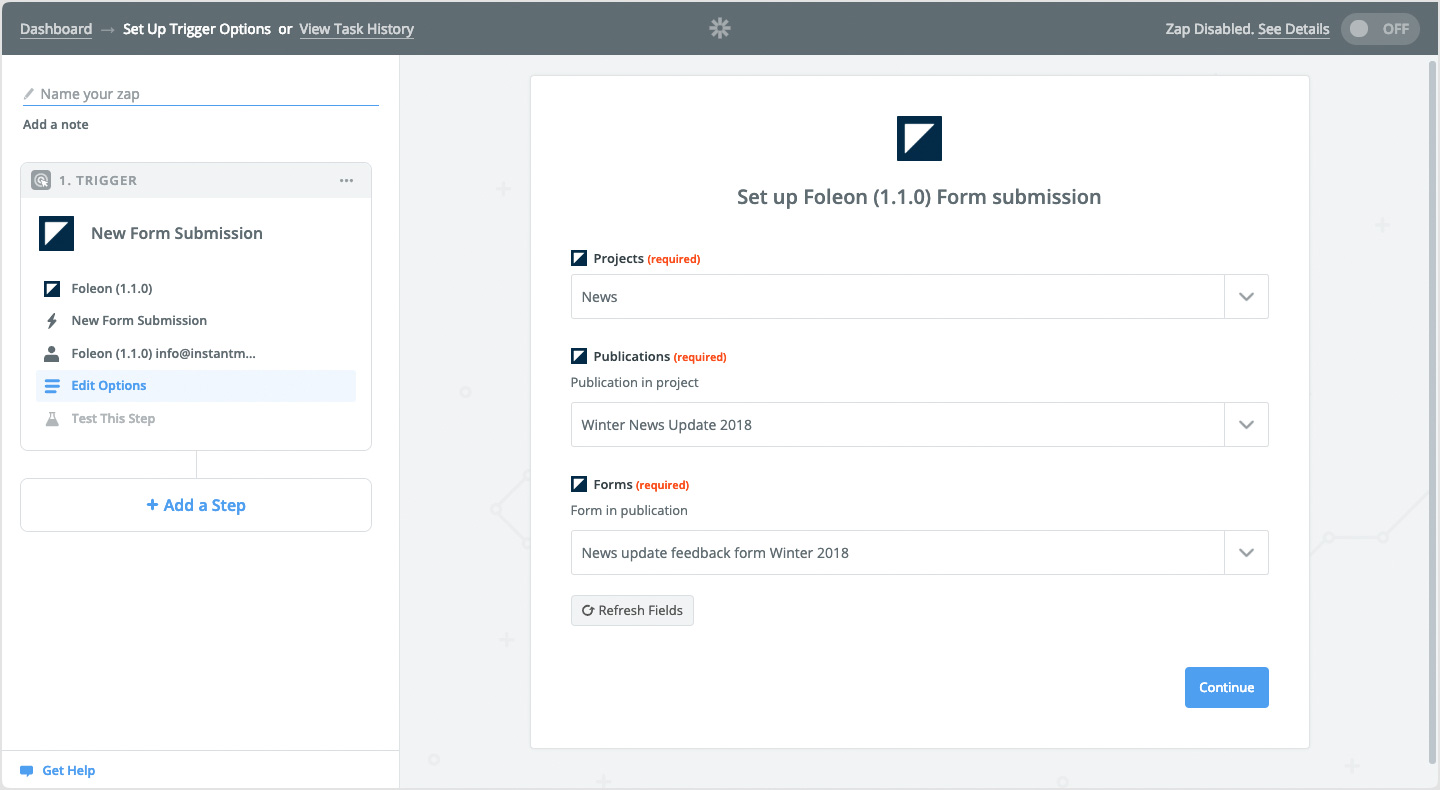 If you're not seeing Foleon as an option, please try going to: https://zapier.com/apps/foleon/integrations.
4. Next, continue by choosing an Action App. Set it up by mapping the information acquired through Foleon to the Action App.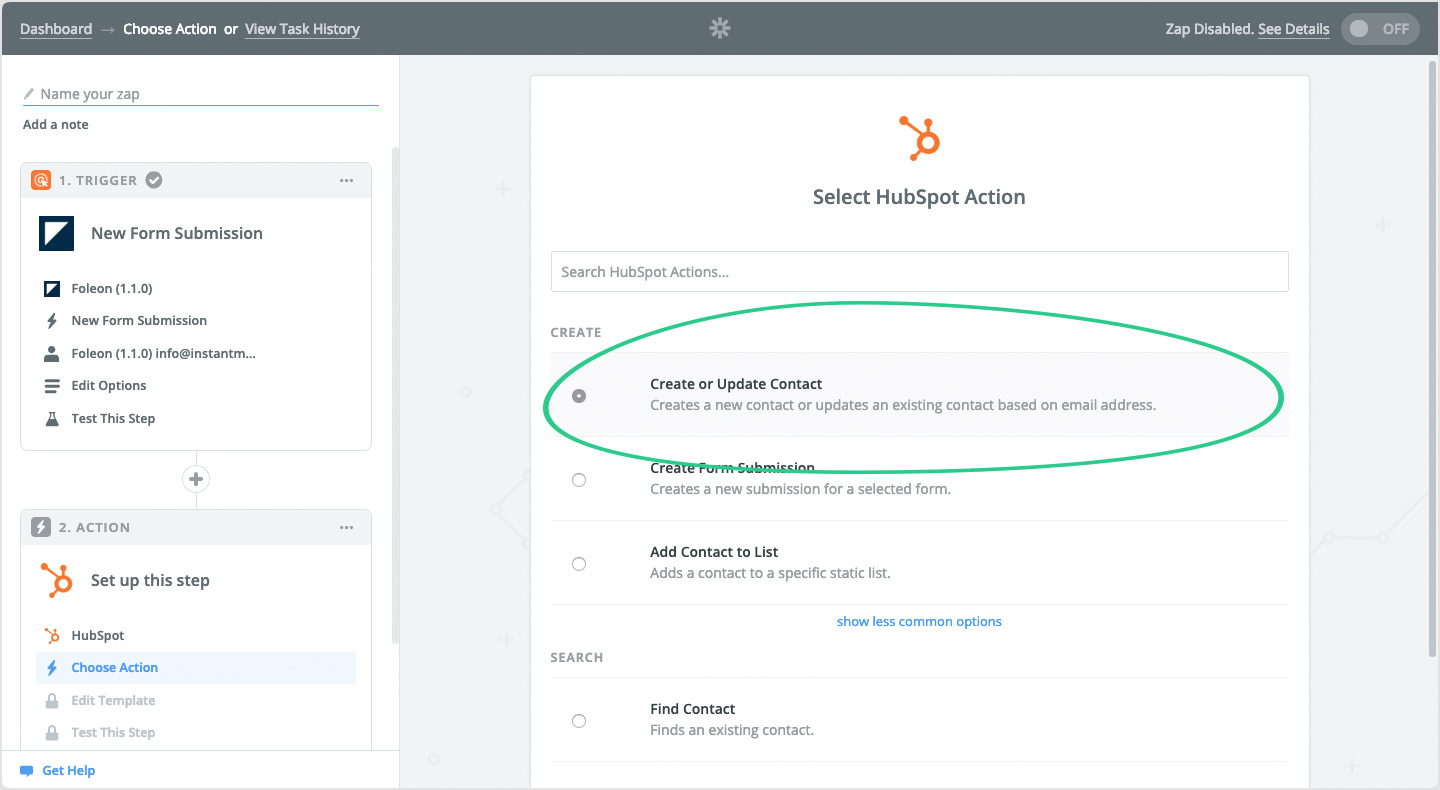 5. Finally, after testing your Zap, continue by turning it on!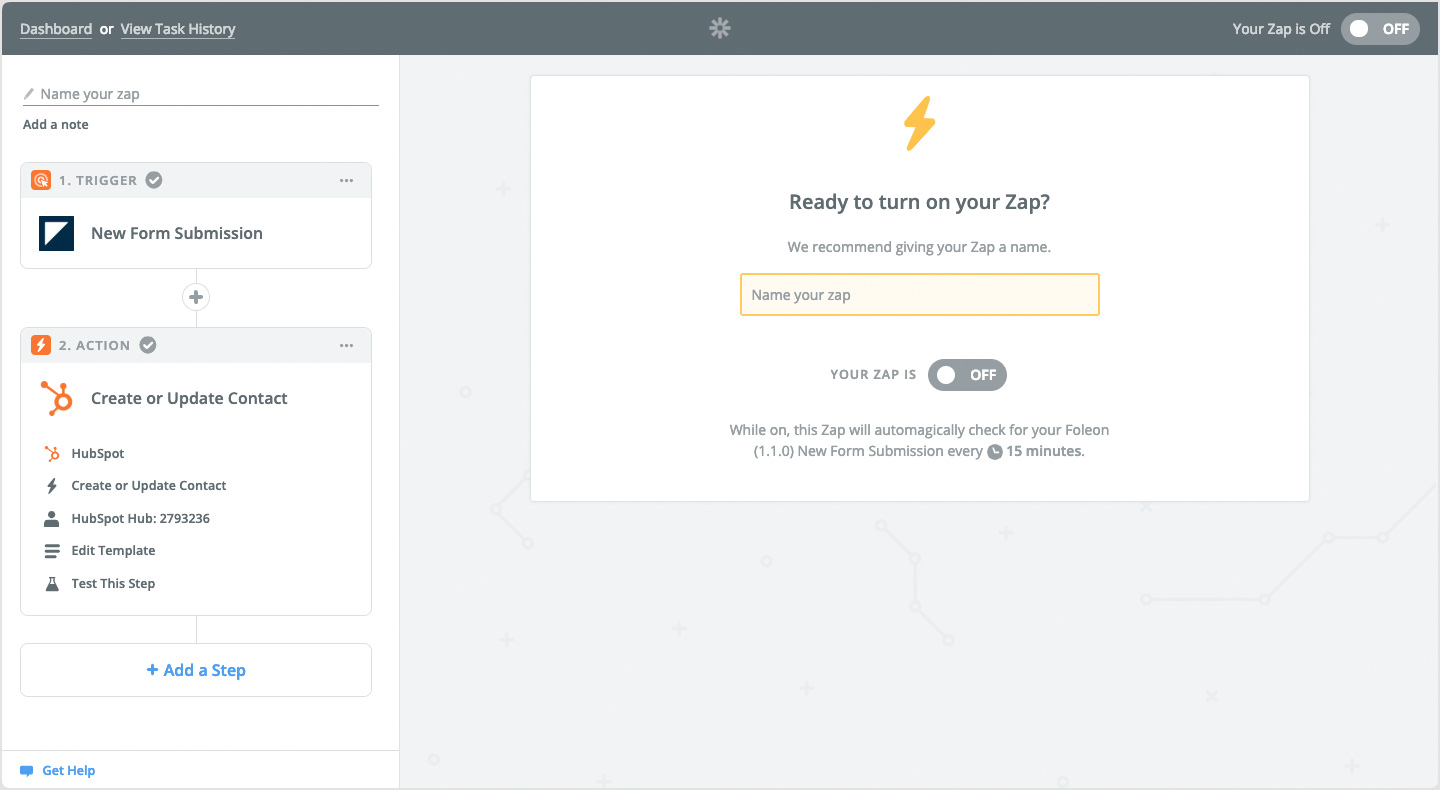 After you've turned your Zap on it will automatically start processing and transferring reader information to the app of your choosing!
Note: Keep in mind that if you have multiple forms, you'll need a separate Zap for each of them.
Read our detailed walkthrough in our help center article: Connecting Foleon to Zapier.
Sign up for our webinar
We're organizing a webinar on May 23, 2019, to dive deeper into using Zapier. In this webinar, we'll demonstrate the steps described above. You'll learn how you can use Zapier to free yourself from tedious tasks so you can spend more time creating stunning content with Foleon.
Sign up here: https://www.foleon.com/webinars.
Conclusion
This new integration will free you from tedious tasks so you can spend more time creating stunning content with Foleon! Make sure you explore all the possibilities Zapier has to offer. You'll find new ways to make your life easier through automation every day.
If you have feedback or suggestions related to integrations, feel free to let us know by reaching out to our support team at support@foleon.com. We're all ears!