As every marketer knows, it takes a lot to get the attention of your target audience these days. Cutting through the noise on various social media channels is a challenge. Finding the right language to encourage people to click on links in your newsletter or website can be tricky.
Once you get your prospective customer's attention, you need to do all you can to win them over — and do it fast.
Catalogs and brochures might seem old-fashioned to forward-thinking brands, but that's not necessarily the case. At Foleon, catalogs are a great format to showcase your products and what makes your brand unique and special; you just need the right design and the right content format.
This guide will talk you through how catalogs can help promote your business. We'll look at the best ways to produce relevant, impactful catalogs using tools that require zero design skills. We'll reveal tried and tested tips for producing online catalogs to help ensure you stand out from competitors. Finally, we'll show you some stunning examples of interactive catalogs that have produced great results for our clients. Get ready to be inspired!
1. What are catalogs?
Catalogs are print or digital publications that are used by B2B and B2C marketing teams to promote their brand, people and products. They act as a handy takeaway for prospective and established customers to consume at their leisure, weigh up their options and decide on the right solution to fit their needs.
Are catalogs still relevant?
In a nutshell, yes. But it depends on the format and design. User expectations and technology are constantly evolving; even content experiences that looked super-modern a few years ago can look jarringly outdated today.
Print catalogs were rightly lauded in their day as the ultimate format to showcase luxury items, high-end services, and any other product or service that benefits from beautifully formatted page design and gorgeous high-res imagery.
Many of us will remember receiving the latest fashion or tech catalog in the mail and putting time aside to slip through it and be tempted by the various offerings. When the design, layout, content, and messaging are well thought through and created with the reader's needs and interests in mind, they can capture the user's imagination in ways that static web pages, newsletters, and product information docs simply can't.
Today's online or digital catalogs still offer that great user experience and encourage the reader to sit back and devote quality time to consuming a piece of content. Interactive and multimedia elements help to immerse the reader in the content experience and boost engagement. It's the same compelling and thought-provoking user experience as printed catalogs but with many additional benefits. This brings us neatly to the next section.
2. What are the benefits of interactive online product catalogs?
As you can see, interactive online catalogs offer various benefits for ambitious content marketers and their customers.
Here are some key benefits of promoting your products or services with interactive online catalogs.
Online catalogs boost audience engagement. Digital brochures and catalogs support a variety of rich media, including many interactive elements (more on this shortly). Providing you use templates that are a professional standard and are elegantly designed, you can present a considerable amount of information to your reader without overloading them.
Online catalogs are easy to navigate. The days when people were happy to scroll, pinch, and fiddle about on their screens to turn a page or locate the content they wanted are long gone. Content consumers expect every aspect of navigation to be smooth, seamless, and intuitive. With Foleon, for example, you can create a completely interactive document that is a dream to navigate and control. The navigation bar makes it easy for users to move around the document; there are page arrows to flip back and forth between pages, and index and footers help readers locate the sections they need instantly - and that's just for starters. You'll be able to see how documents created using Foleon look and perform in practice at the end of this guide.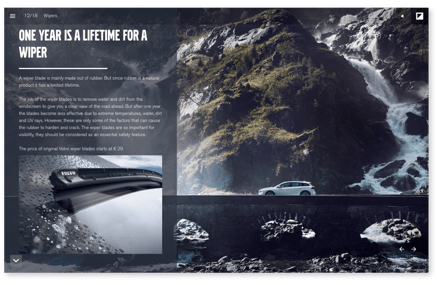 Online catalogs are accessible. According to the World Health Organization, over 1 billion people in the world live with some sort of disability. Marketers today need to create online content that follows the Web Content Accessibility Guidelines (WCAG), which means it can be consumed by people with cognitive, visual, auditory, speech, and other physical disabilities. When you create interactive catalogs using Foleon products, you can rest assured you will be adhering to these guidelines. Find out more about Foleon's commitment to accessibility.
Online catalogs are mobile responsive. It's very rare to open a content marketing asset on your phone or tablet and discover it isn't mobile-responsive. Every document you create and distribute should look great and perform well on all devices — from a 5-inch mobile phone to a 23-inch monitor and everything in between. This is something we pay close attention to at Foleon. For example, we registered over 1,500 screen sizes to test our content creation platform's performance! If ensuring your content is mobile-responsive is a bit daunting to you, don't worry. Check out our dedicated webpage, which will tell you all about responsive design.
Online catalogs support interactive elements. Adding interactive elements to your catalogs is a surefire way to grab your audience's attention, and keep it until the end. Simple interactive media such as quizzes, calculators, graphs and charts, checklists, videos, and animations spark your reader's imagination. They help you put them at the heart of your story and encourage them to continue engaging with the content from start to finish. Interactive elements can also be really useful. Adding a calculator to show potential customers how much they could save or including a checklist for a process-oriented activity is incredibly valuable. Interactive elements bring your content to life, improve the user experience and show your audience that you understand their needs and how best to help them.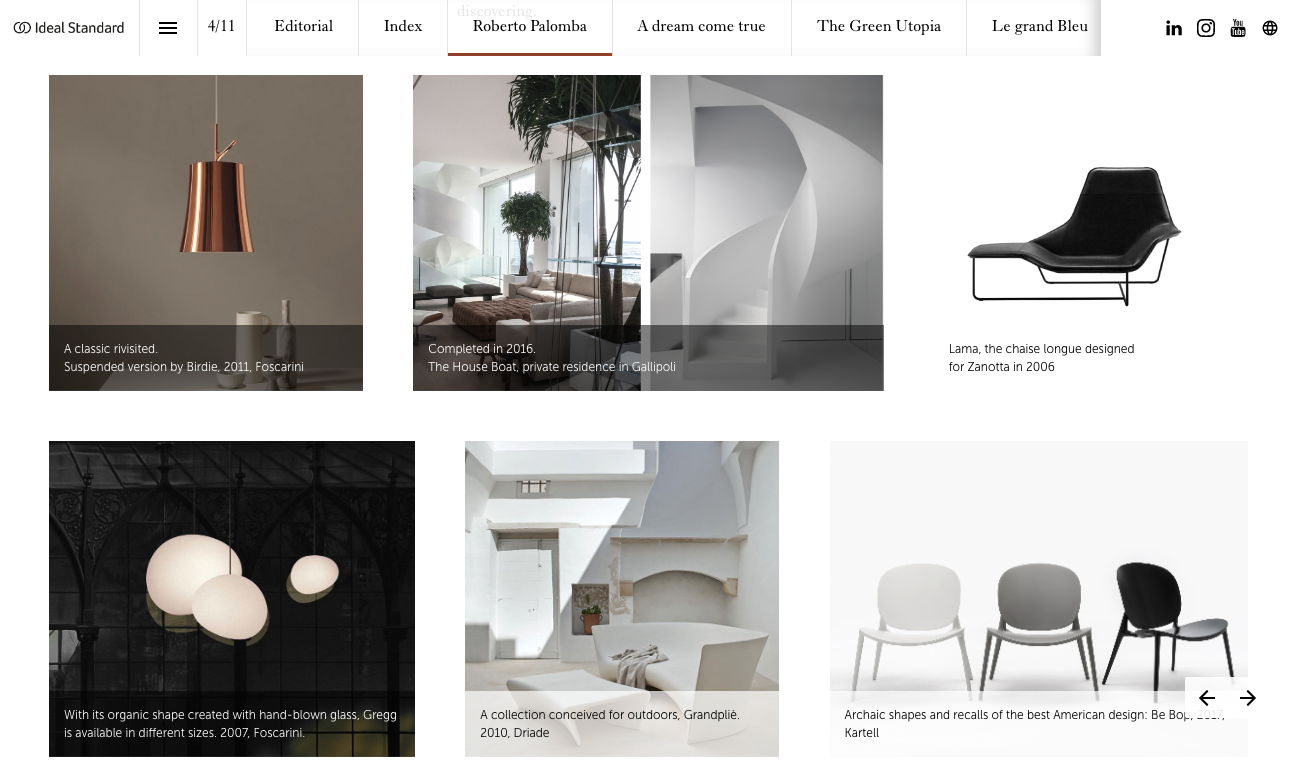 Thinking of using interactive PDFs in your content marketing strategy? Before you make your decision, take a moment to read our B2B content guru Sean Filidis's blog on why interactive PDFs are out and engaging content experiences are in.
Online catalogs provide rich analytics data. There is little point in devoting all this time to creating and distributing amazing content if you don't have a firm understanding of how it is impacting your target audience. When you create interactive online catalogs using Foleon's platform, you benefit from a wide range of accurate, up-to-date audience engagement insights that you can use to improve and enhance your content. By monitoring which pages, messaging, links, elements, and imagery resonate with the reader, you can make adjustments to the page order, copy, length, formatting, or anything else to optimize what is already working and adapt or remove the elements that aren't hitting the right notes with your reader.
Find out more about Foleon's analytics and integrations.
3. Top tips for creating and formatting a catalog
Hopefully, by now we have convinced you of the many benefits that interactive online catalogs offer to B2B and B2C brands. Now let's take a look at how to create and format the content to ensure you get the best user experience and the maximum engagement.
Think about your goals and objectives
Gather your sales and product teams and any other relevant parties, and think about what you want to achieve from the catalog. What do you want the reader to do after, how do you want them to feel? Where does this content sit within your wider sales and marketing strategy, and where will it be most useful in the customer journey?
It's also worthwhile at the planning stage to think about where you will publish the brochure on your website and how it will be linked to and from other pages.
Decide how you will help your reader
Catalogs aren't solely about presenting beautiful, tempting images and appetizing marketing slogans (though they are pretty darned good at that, too!). Whether your brand is B2B or B2C, you need to understand how you will help your reader clearly.
Perhaps this is answering some important questions or guiding them through a difficult process. Maybe it is simply communicating the features and benefits of your offering. Either way, make sure every word and image on every page earns its place and genuinely helps your reader.
Create the right structure
Your catalog is ideal for conveying information about your brand and its products and services. As we mentioned earlier, catalogs can also accommodate a lot of copy with the right design and formatting. However, you still need to be able to grab your reader's attention in the first instance and earn their time and interest right until the last page.
Think carefully about what information and messaging you need to include during every part of the reader journey. Find a great hook and compelling visuals on the cover and opening pages. Don't be shy about mentioning results and benefits early on, and don't forget to include a strong call to action and a simple, easy way for the reader to get in touch and/or find out more.
A comprehensive page plan is your friend at this stage. Map the priority information to each page and ensure you don't duplicate messaging over multiple pages. This is easily done and is why it is so important to test your content on multiple parties before unleashing it on the world.
One of the key benefits of catalogs is navigational capabilities. Include an index page so the reader can jump forward to the bits that interest them most if they have limited time. Rather than overloading the reader with too much copy on the brochure itself, why not link to resources on your website where they can get more information if needed?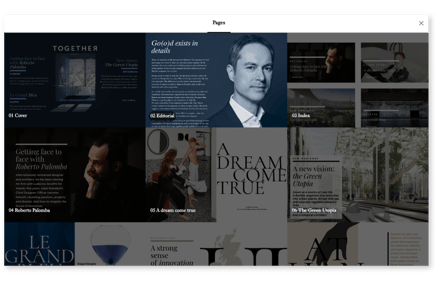 Craft the perfect headlines
Your body text matters enormously but don't forget to devote plenty of time and creativity to craft the perfect headline. Not too long, not too short, with a strong hook and an honest description of what the reader can expect from this particular section.
Keep the main catalog header short, benefit-led, and to the point, and consider a mix of subheadings throughout. Some questions, perhaps, or some playful language to add a bit of fun and intrigue (while not being obscure, of course).
Take a look at our blog and resources section for some ideas on headlines that get clicks and engagement while offering value.
Speak your audience's language
No matter what topic you're covering, you need to use language that is appropriate to your audience and that they can relate to. Keep it concise, conversational, and approachable without unnecessary jargon and tech-speak. Read the copy aloud to yourself or others to check the tone, sentence length, and structure.
A brand tone of voice and style guide can really help here, as our content marketing superstar, Sim Samra explains in her guide to building a kick-ass brand guide that everyone will love.
Create your design
If you're a marketer who doesn't possess strong or even passable design skills, you are not alone. Luckily, it is now possible to customize and edit design templates of a highly professional standard using a simple drag-and-drop editor.
Not sure how this would work for your business? Sim Samra explains how to use design templates and still be creative.
Give them a reason to keep reading
The more time your lead spends reading your catalog, the more time you have to convince them of your value and how you can help them. Your index and navigation will help here, as will little prompts throughout to keep scrolling.
Make a personal connection
Personalized content is marketing gold dust. Today's customers expect the brands they work with to understand their challenges and preferences. It is definitely worth the extra effort if you can personalize your catalog as part of your marketing activities to generate more leads.
Foleon's templates can help with this. Easily editable, you can adapt specific messaging and imagery to suit the lead's profile and then check your analytics to see if it got the engagement you hoped for. Trust us, your sales team will thank you, and then some!
Proof and test, then proof and test some more
Every content marketer has published copy or sent out an email with a typo. It happens. Taking the time to proof your own work and test the flow and layout is hugely valuable. Even better though is asking colleagues, friends, and even customers to look through it for you. They'll be able to point out things you have become immune to from working on it for hours. Repetitive language, images that don't quite fit with the copy, links that don't work, and so forth.
Top tip: Don't forget to check in on how your catalog is performing
Once your catalog has gone out into the world, make sure you check your analytics regularly to see how your ideal customers are engaging with it. If they aren't reading past the second page, perhaps you need to adjust your written or visual content or reprioritize your running order to get your key messaging front and center.
4. How to create professional interactive catalogs with Foleon
If we had more space in the subject line, we would add… without design expertise.
We know from talking to our clients and from our own experiences that creating elegant designs without needing technical design skills is valuable to marketers. Design is a specialist skill, after all, and just because you are a great content creator or a digital marketing whizz doesn't mean that visual communications come easy to you.
With Foleon's templates, you can choose from dozens of beautifully designed templates. You can customize them with your brand colors, logos, images, and fonts, so they look like super talented in-house creatives have created them.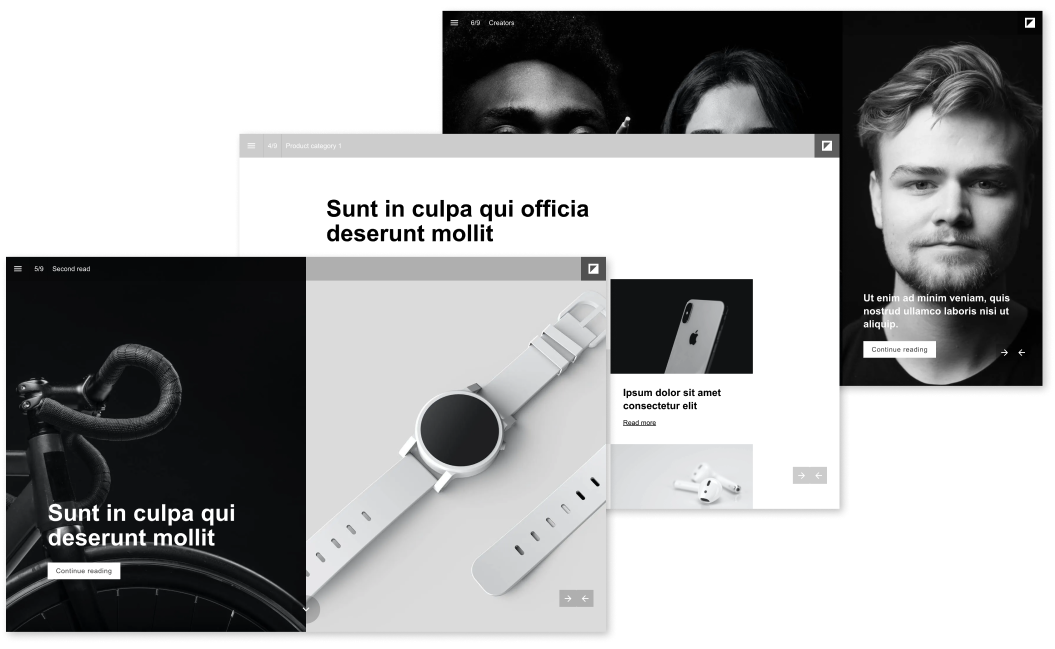 We've made it really easy to share the templates with your team, improving content collaboration and creative workflows. It also means that different departments can adapt and personalize the content to send to specific leads.
So, when your sales team has had an encouraging call with a prospective customer, they can add personalized content to appeal to the lead's requirements and interests. When this targeted content arrives nice and promptly in the lead's inbox, it can significantly help to improve the buyer journey, generate more leads and make sure they feel valued and listened to.
If handing over access to your branded documents makes you nervous, you needn't worry. You can lock specific elements and overlays so you retain control of brand identity, and your colleagues don't need to worry about making any embarrassing errors!
Want to know more? Foleon's Head of Customer Marketing, Dennis Looijenga, offers tips on how to scale content creation with our template manager.
As well as improving collaboration with colleagues, we have made sure that using Foleon's content creation platform is easy for team members regardless of their skill level. There's no need for coding and, as we mentioned earlier, no need for design skills. You simply drag and drop the elements and content in place using the highly intuitive editor and press save.
Foleon's platform makes adding interactive elements and media-rich content easy to break up long-form documents and bring your brand to life. Checklists, quizzes, videos, charts, and other interactive tools boost the user experience, increase engagement and encourage the reader to spend more time digesting the content.
By putting them in the driver's seat and creating a genuinely immersive and entertaining user experience, you stand a far better chance of convincing them that your business is the right choice for them.
From eNewsletters to downloadable product catalogs and company reports to interactive eBooks and guides, Foleon's platform makes it easier to create content that will ensure you are one step ahead of your competitors.
5. Examples of brilliantly crafted catalogs
Sometimes the best way to show how valuable a tool is and what it is capable of is to show some examples of results. Plus, it's great for getting you and your team inspired! Let's take a look at some examples of catalogs created using Foleon.
VisitBrabant
As the official marketing brand for the tourist destination of Brabant, VisitBrabant needed an elegant, inspirational catalog to increase customer interest and move leads through the customer journey toward conversion.
With gorgeous embedded video and a seamless, responsive design, the company achieved an impressive 200% increase in subscribers within a year of using Foleon.
Find out more and view the VisitBrabant interactive catalog.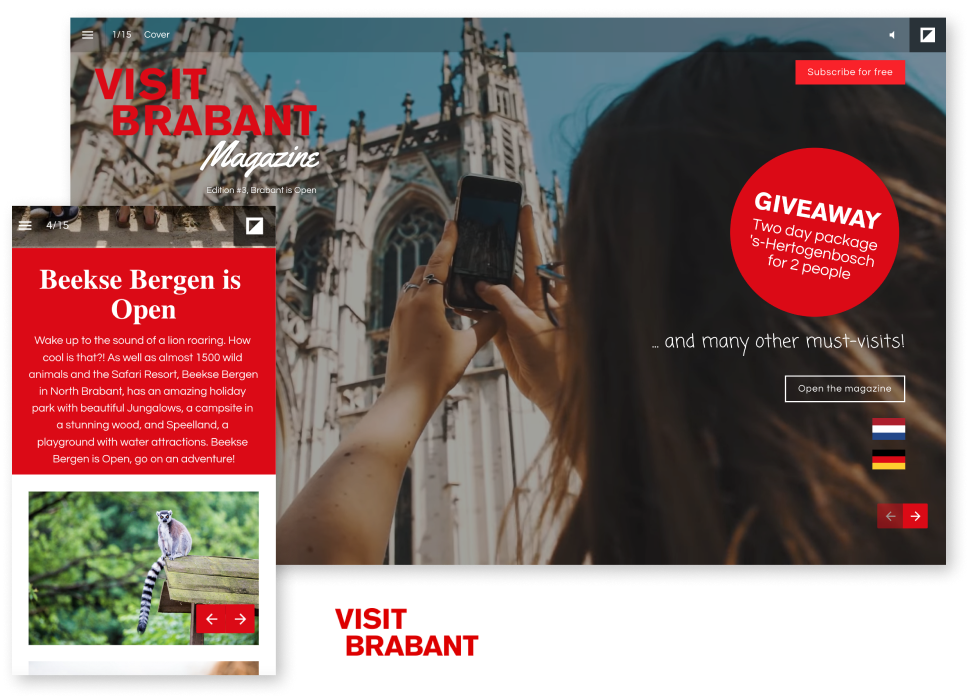 Forbo Flooring Systems
As a leading flooring design brand, Forbo needed to provide customers and leads with a professional, sleek catalog to showcase their products. Static PDF formats couldn't provide the immersive, interactive user experience that Forbo knew would set them apart from the competition. The company has produced nearly 100 digital catalogs in eight languages using Foleon, which have generated significant interest from their audience. They have also saved 50% on their production costs by scaling content creation.
Find out more and view the Forbo interactive catalog.
Need more inspiration? Take a look at some more great-looking interactive catalogs from Knight Frank, Volvo, Nestle, and Ideal Standard.
6. Making interactive catalogs that work for your business
As we near the end of this guide on how to create and format a catalog, we hope we gave you some ideas on how these interactive content assets can help your business reach (and delight) a larger audience while retaining loyal customers.
Catalogs can be powerful tools to promote your business and communicate your offering, but they must be showcased in the right format. Catalogs are still one hundred percent relevant, but to showcase your products and services in the best possible way, they need to be designed and delivered with today's customers in mind.
Users rightly expect a seamless, enjoyable, and personalized content experience. They want it to be easy to navigate and a pleasure to read on every device. They want the content to tell a compelling story, and they want it to offer value. Interactive catalogs designed with Foleon's content creation platform offer all this and much more. Make today the day you give your customers and your brand the content platform they deserve. Request a free demo today and see Foleon in action.