People often ask how Foleon is different from PDFs. The answer is: we're more than a PDF. With Foleon, you create digital content that adapts to different screen sizes. This is an entirely different approach to putting your content into a digital format.
PDFs are useful for some things, but it's important to understand their limitations. They're suitable for certain uses, like saving a digital receipt when you buy a ticket. But for communications assets that you plan to show other people, you should leverage technologies that create more powerful, web-friendly documents.
This post will provide a clear and compelling argument for why you should ditch PDFs and create attractive, engaging, and web-friendly digital publications instead.
The big problem with using PDFs for business communication
Adobe introduced the PDF in 1993. That's more than a quarter of a century ago! The fact that companies still distribute marketing material using technology so old should already prompt you to be on the lookout for better solutions.
PDF is an abbreviation for portable document format, and there's a reason why they're named as such. Their strength lies in the fact that they work with any operating system. For the first time ever, Windows and Mac users were able to exchange documents without worrying about compatibility.
In addition, PDFs are fixed-layout documents. Regardless of what device, operating system, or screen size a reader uses, a PDF always renders exactly the same.
Herein, however, also lies its biggest drawback.
Fixed-layout means that documents designed for desktop, will be extremely difficult to use on a mobile device, usually requiring zooming in and panning around. In the mobile-first age, most people don't want the hassle of looking at something that doesn't fit their screens.
Reading a PDF on a mobile device
Furthermore, PDFs require you to download them before viewing. This is already a barrier for desktop users, but for mobile users, downloading files remains an almost alien task. This can lead users to abandon the content journey before even beginning.
If your goal is to get users to read your content, you certainly don't want them to experience unnecessary friction. And if you want to hold their attention, you must keep them engaged throughout the entire journey.
This means it's time for you to try something new!
But what about browsable PDFs?
Browsable (or flippable) PDFs are essentially digital flipbooks. Think of them as print magazines that have been put onto a computer. Tools like Issuu, Flipsnack, aXmag, and ePageCreator allow you to recreate the physical act of flipping through pages on a screen. They can be helpful for those transitioning from print to digital for the first time, but they still lack the interactive capabilities, and most importantly, responsiveness that modern-day readers want in their content.
Viewing a "browsable" PDF on mobile
6 reasons you should stop using PDF
If you're unsure why your PDF materials are no longer getting noticed, we'll put some of that into context for you.
1. They are not suitable across different devices
The biggest problem with PDFs is that they're not equally legible across different devices. Because of their fixed-layout, viewing them on smaller screens will inevitably require users to zoom in and out.
The same issue persists with browsable PDFs. Print magazines usually use a portrait orientation, whereas computers screens use landscape. Like regular PDF files, browsable PDFs are seldom legible on mobile without zooming in. This disrupts your audience's reading experience.
If you want to provide your target group with a good experience on any screen, then create something that is responsive.
2. They're not universally accessible
Have you opened a PDF file on your browser only to see the message below?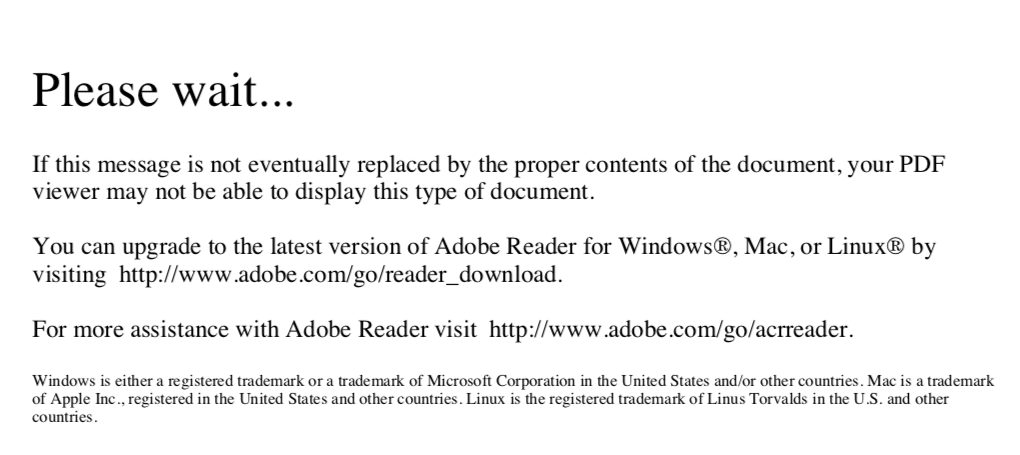 If the answer is yes, you likely encountered a Dynamic XFA PDF. This format is not compatible with Chrome, Safari, or Firefox and requires readers to download Adobe Acrobat — an extra step for your readers to hurdle through. Although PDFs were designed for use across operating systems, they exist in various formats that most people aren't aware of and thus, don't work universally as intended.
With browsable PDFs, the output generated 90% of the time is Flash. Unfortunately, Flash isn't supported on most devices and will be completely phased out by 2020. Frequent browser updates will render your PDF inaccessible by that time, especially to those who don't have access to newer software or tools to view your content.
3. They don't meet accessibility standards
Not all of your readers can access your content at the same capacity. Most people only need a browser to open your document, but disabled individuals must rely on tools that help them read the content. Visually impaired audiences won't be able to read your content because the screen readers they rely on can't audibly extract text inside a PDF. Additionally, PDFs don't let you include alt text or <meta> tags that help describe visual elements and the document itself, which only hurts your document's SEO. If visually impaired individuals can't use screen readers to scan through your content, your use of PDF files is excluding a portion of your audience.
Tagging your PDF files can make them slightly more accessible to disabled audiences but only to a certain degree. Some word processing and desktop publishing tools don't have PDF exporting capabilities that support tagging. Any tools that support tagging can only do so at a very basic level, so organizations that want to optimize their PDFs must rely heavily on human intelligence. There are third-party professionals who specialize in validating PDFs according to PDF/UA (ISO 14289-1) standards, but hiring them would cost you additional time and money. Switching to a more accessible format such as web-based documents can help you avoid that hassle from the beginning.
4. They're difficult to share
As mentioned earlier, removing barriers that keep readers from your content is crucial. PDF files can also be quite bulky if your document is long and has lots of embedded media. You may have to resort to third-party file-sharing services like WeTransfer if your file is too big to attach to your emails. Requiring your audience to use an additional tool is a big ask and not a very user-friendly solution.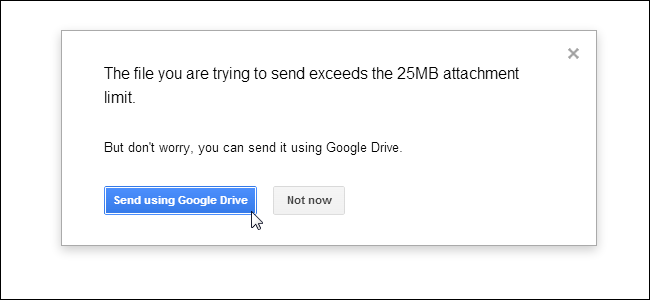 Sending PDF download links to your users requires extra effort on their part. You shouldn't assume all your users are willing to go through these steps to get to your document.
From a content discovery perspective, content in a PDF often isn't searchable. Your PDF file itself might show up on search engine result pages (SERPs), but the content within the PDF won't.
Finally, while people are used to posting web-content like blog posts and articles on social media, nobody shares PDFs in such a way. Keeping your content in a PDF will prevent it from being discoverable on social media.
5. You can't track user engagement
PDFs completely lack the ability to collect data about your users. Some browsable PDF tools might come with simple analytics features, but you won't be able to measure specific actions like click rates or read time.
Keep in mind that readers tend to scan for sections relevant to them rather than read entire pages. The human brain is prone to information overload, so it's natural for people to skim your content. To accommodate this behavior, you must know how your users interact with your content. Without analytics, you won't be able to tailor your content to them.
6. They don't let you embed external content
You can boost the SEO on your document by embedding videos, social media posts, or any content from an external source, to bring in more traffic. PDFs might let you add hyperlinks, but that is pretty much the extent of linking to external content in your documents. Hyperlinks don't engage your audience the same way videos and infographics can. Modern-day audiences prefer to interact with content that isn't static.
In a survey by HubSpot, up to 54% of customers preferred seeing videos to reading text when viewing content. Got a cool YouTube video you want to link? PDFs don't let you incorporate moving images or external media. How about a social media post you want to embed? Forget using PDFs. Since they don't support external integrations, you won't be able to add any of these new media formats into PDF files or flipbooks.
But I already have a printed magazine! Wouldn't a browsable PDF be much more practical?
It makes sense that you're going digital. Whether it's the ability to share your publication or link to content outside of your publication, you certainly can't do that with a print magazine. However, there are many features powered by web technology that PDFs don't support.
From your perspective, using PDFs might be more practical. You might find it easier to translate your print publication into a browsable flipbook directly. But being able to move your publications online efficiently doesn't mean you're making your content more easily accessible to your readers. If your content isn't designed for different screens, it won't function the way you intended. Giving your reader less than an ideal reading experience won't hold their attention for long.
With browsable PDFs, your text is barely legible. Having to zoom in and out to read your content is disruptive to your audience's reading experience. The inability to play videos, share pages on social media, and view your content on a smartphone are barriers that you should work to reduce.
When creating digital content, you should always put your audience first. Taking an audience-centric approach will help you retain their interest in everything you create. Your content will still have room for growth, and you can enable that through a more data-driven distribution process. If you don't have the metrics to drive your future content, you'll lack the ability to target the right people and get your content as widely noticed as you anticipated.
Why you should use responsive web-based documents instead
We understand that browsable PDFs are time and cost efficient, which can make them appealing to you. But there are more benefits to using web technology to create easy-to-read digital publications. PDFs simply don't let you take advantage of interactive web features like pop-up forms and animations. They also lack the capabilities that content creation tools can provide you with to help you make better decisions about your distribution process. Here are some of the reasons why you should take the leap from using PDFs to creating web-based documents:
Create accessible and responsive documents
Say bye to squinting and pinching in and out on a screen. Using a platform that supports responsive design will let you create content that is appropriately legible whether your audience is viewing your content on mobile, desktop, or tablet devices. Tools like Foleon come with a responsive design mode that can automatically optimize your templates for smaller screens and also let you manually design your content differently for each device. By making your content viewable on different devices, you're helping to improve your audience's reading experience and preventing them from bouncing.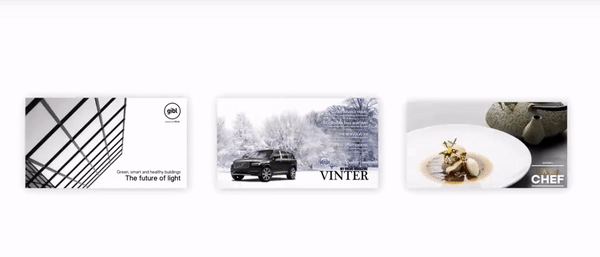 Another advantage of using a responsive tool is that you can control the way your company's branding assets look across different screens. Because PDFs retain the same layout across different devices, your logos or banners may be less visible on smaller screen sizes. Tools that support responsive design let you place your assets differently across the page to ensure they get maximum exposure. This will allow you to maintain your brand's visual identity no matter how your readers are viewing your content.
Ability to create media-rich documents
Unlike flipbook magazines, digital publications allow you more freedom in what you offer your reader — not just text and images. You can enhance your publication with video and sound, integrate social media posts, or create direct links to order forms. Adding elements like buttons and background videos also lets your audiences do more than read through your publication. With the ability to customize your informational hierarchy, you ensure that your publication has a clear, layered structure. Short pieces of text with read more buttons work well. The possibilities you have in an online environment are limitless.
Collect user data to target the right audience
Most content creation platforms are equipped with advanced analytics that provide you with data on your audience's behavior. PDFs, on the other hand, are virtually incapable of measuring any user behavior.
Tools that let you create interactive content are often equipped with a dashboard that houses metrics like the number of clicks on a button, the number of views on a video, or unique page sessions. Foleon's analytics dashboard takes care of all the critical metrics you need to determine the way to optimize your future content. Gaining insights into your audience's behavior will help you better tailor your content to specific readers down the line. A combination of the right messaging and targeting will ensure you retain your audience and move them further along the buyer's journey.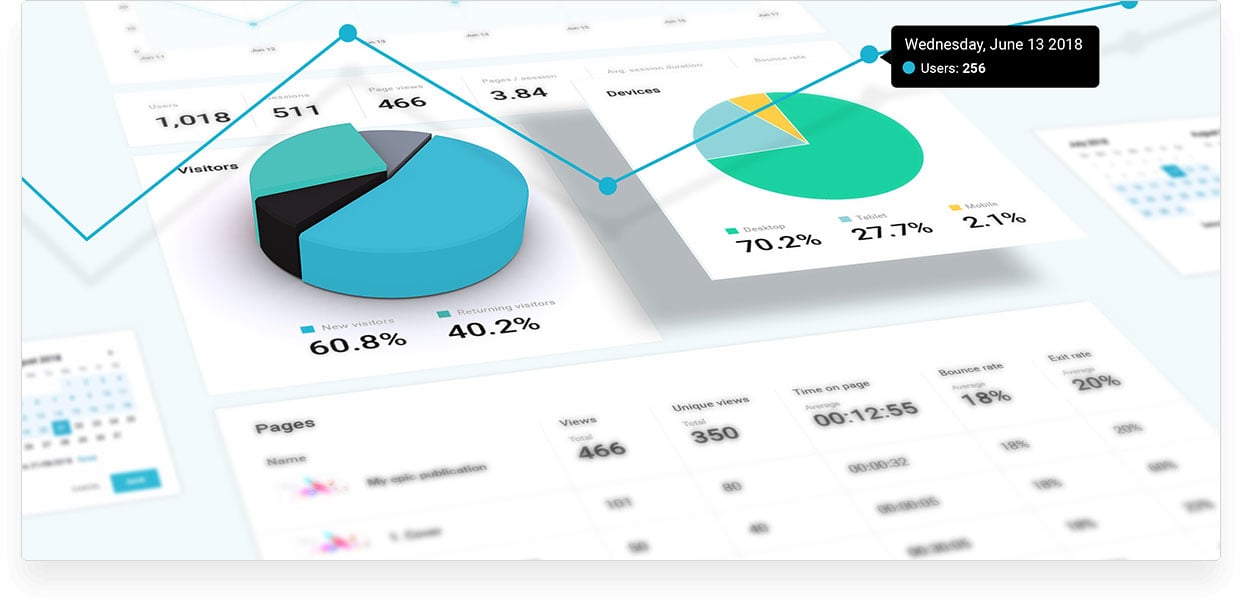 Revise your content even after you publish it
Let's say you've sent out a terms and conditions PDF document to your users. A few weeks later, you update the document. You'll have to resend it again and make sure you don't miss anyone.
Wouldn't it be better if you could update your documents after they're published? That's precisely what tools like Foleon let you do. The ability to revise documents without having to redistribute them can save you a lot of time. Your audience will always be able to access the latest information via the original link you sent. They'll appreciate your transparency and professionalism when they see that all communications they receive from you are current.
Secure your documents
PDFs are not secure. Sure, you might be able to hide your document behind a password, but those are easy to bypass. Content creation platforms come with advanced security features that let you customize different levels of access for your audience. If you want your publication to be visible only to registered users, you can force them to create usernames and passwords to sign in and view your document.
Gating your documents behind passwords is useful in certain use cases when you don't want confidential information leaked, such as with proposals and contracts. Asking users to sign in also ensures only real people are viewing your documents. If you want your users to come back and read your publication at any time quickly, you can grant them single sign-on access. IP whitelisting and disabling search engines from indexing your content are also some features that browsable PDF tools don't offer.
Conclusion
Aside from securing your publications, tools like Foleon make it possible for you to quickly produce immersive content that's measurable and looks great on any device. The interactive features we offer on our platform can help your publication stand out and show off your brand in ways you never thought possible.
As audience behavior evolves, finding ways to keep up with changing readership habits is crucial. We've come a long way since PDFs first came around. Instead of reading text documents on a computer, the modern audience is watching videos on their smartphones. With that in mind, catering your content to a mobile-first audience will help it stand out from everything else that's out there. Knowing the right metrics to leverage can give your content the unfair advantage it deserves.
Exploring a content creation platform like Foleon will open you up to more possibilities with your content. This will ensure you're creating something that's genuinely engaging and worth sharing.

Ready to digitize your publications with us? Start a free trial today.