Create perfect pages in half the time with our vast array of new Block Templates. With over eighty new layouts to choose from, you'll spend less time designing and more time making an impact.
Over the last few months, our Foleon designers have been busy creating dozens of new templates. They had one goal in mind: to make your life easier.
Producing interactive content with the Foleon Drag & Drop editor is already a breeze. Now, with the inclusion of this huge variety of block templates, you can reclaim up to 60% of your design time while retaining the customizability you're used to.
Watch Vincent, one of our chief designers, show you how to create a full page in under 3 minutes using the new block templates.
Find what you're looking for faster
The sudden addition of more than 80 new block templates could have made the content panel really messy, really fast. Thankfully we thought of a solution.
When you click on the +Content button in the Editor, you'll now see all the content block templates nicely arranged by category. Easily browse and select a template suitable for your needs.
The block templates panel now contain 7 categories:
Covers
Page Headers
Basic Blocks
Text & Visuals
Videos
Cards
Graphs
With this new structure, you'll always have quick access to templates appropriate for whatever kind of content you're creating.
Your content will look better than ever
Let's face it. Even with the simplicity of our Drag & Drop editor, some publications end up looking better than others. Some people have a natural flair for design, while others seem to think only in plaid and lime green.
With our new array of block templates, you'll not only save time but you'll have to worry less about layout and design choices. All our templates are made by highly experienced design professionals with a great sense of what works best on the web.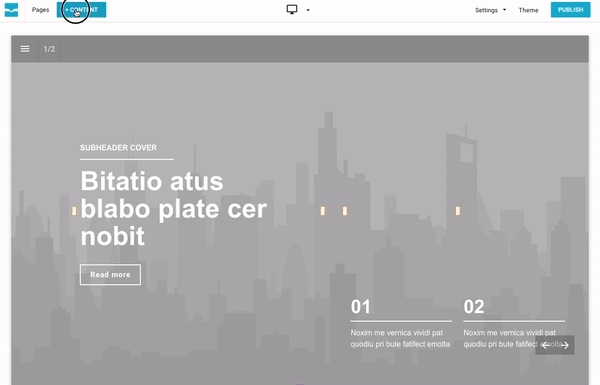 Just drag a few block templates onto your page, select your own imagery and text, and make it uniquely your own. Everyone will think you've been taking design classes! (Don't worry, we won't tell).
We're thrilled to see what you, our customers, come up with using these new block templates. We're certain they'll save you time and help you produce content that's even more attractive.
If you have questions, feedback, or suggestions regarding our new block templates, feel free to get in touch with your customer success manager or our design team.
New: We will also be adding tons of new Page Templates, Overlay Templates, and entire Publication Templates for you to use in the Drag & Drop editor, so keep an eye out.