Since 2012, when it was first released, Google Tag Manager (GTM) has made marketers' lives easier by helping them track page views, events, and conversions. It makes my job a lot easier (and more fun) as I can implement tools and tracking myself.
GTM is extremely useful for marketers and webmasters because it allows them to implement all kinds of 3rd party measurement tools, remarketing pixels, and more without needing to know how to code or even make edits to their template files.
Now, GTM was initially built for websites. But as more and more companies ditch legacy formats like print and PDF in favor of web-based communication assets, GTM suddenly makes it possible to analyze, optimize, and gather insights from all kinds of business content — ranging from corporate brochures to annual reports.
At Foleon, we use GTM on a daily basis for all of our communications assets that live on the web. In this post, I'll zoom in on how you can leverage GTM for your business collateral too with the goal of improving your content ROI.
Here's what we'll discuss:
What is Google Tag Manager?
Google Tag Manager is an interface between your website and third-parties (like Google Analytics) that helps you manage the information you send and receive from those parties.
As the name denotes, GTM manages your tags.
But wait, what is a tag?
A tag is a script added in your website's code.
An example of a script is this Facebook pixel (a pixel is also a script):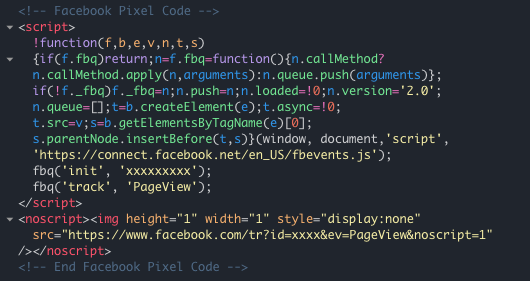 Since a tag is a script, Google Tag Manager is a script manager.
One script to rule them all
GTM helps you manage the scripts you add to your content. The added value here is that instead of placing these scripts directly and individually into your website's code, you only have to add the GTM script, also known as the GTM container. Then when your page loads, the GTM container inserts all those scripts on your behalf.
To connect your GTM to a Foleon web publication, you only have to add the GTM container in the GTM code field in the publication settings. Make sure to save your settings and republish the publication.

Once you've added the container, you can add Facebook pixels and other scripts to the GTM platform and set trigger rules. An example of a trigger rule is to fire a remarketing pixel when a reader visits your contact page.
Besides replacing all your scripts with just one, GTM also gives you more control over:
When to trigger your tags and when not to
Where to trigger your tag and where not to
Bear in mind that even though it's relatively easy to use and setup, GTM still requires some technical knowledge, and there's definitely a learning curve for beginners.
If you are new to GTM and want to gain a better understanding of the platform, the following videos will help you get started:
How to boost your content ROI with GTM
GTM was created to empower marketers in managing analytics and marketing tags on their websites efficiently and independently. The best part is that the possibilities extend far beyond installing and tracking Google Analytics.
In fact, they are endless.
GTM is fully customizable and an ideal solution to streamline your reporting, modify your reader's content experience, control their micro-level behavior when interacting with your publication, improve engagement, and the list goes on...
Below, we share some tips on how to benefit from GTM when measuring and optimizing the ROI of your content marketing efforts.
1. Analyze & measure with a tracking tool
Tracking your reader's behavior within your online content helps you gather data about whether people are reading your content, where they exit, and what content seems to trigger more interactions.
Most marketers use GTM to install Google Analytics and send events to the Analytics platform.
If you are a Foleon user, you don't have to use GTM to install Google Analytics. We suggest using our built-in Google Analytics field instead of Google Tag Manager.
Because Foleon Docs work slightly different than standard websites, we suggest using our built-in Google Analytics field instead of Google Tag Manager. You only need to paste your UA-code in our settings panel and (re)publish your publication.
We also automatically send events to your Google Analytics, like, for example, when someone submits a form or clicks on an external link. You can find more information about our automated events in our learning centre.
Even if Google Analytics isn't your preferred choice for measuring visitor data, you can still leverage GTM to install any other analytics tool.
Examples of other popular tracking tools:
2. Optimize for social media retargeting
The goal of a solid content marketing strategy is to successfully guide your prospects through the different buyer journey stages. This means you probably need multiple touch points to get them from one stage to the next. One of those touch points can be realized through remarketing.
You can easily connect the advertising accounts of various social platforms to your Foleon Docs by adding a 'pixel,' or script, to your content. Foleon already allows you to add your remarketing pixels in the Foleon editor, however, you could use GTM for more complex scenarios and use conversion pixels for actions like form submissions, clicking a Call To Action, or for retargeting readers who, for example, read your content but didn't fill in the form or didn't click any external links.
You could benefit from remarketing to move people further down the next stage of the buyer's journey. For example, when they're in the awareness stage, you can guide them into the discovery phase by sending informative white papers. Or, if they're in the discovery phase, you can retarget them with a brochure that demonstrates the benefits of your product or service.
3. Track your leads' behavior with your CRM
Tracking your leads' behavior allows for a better understanding of their activity, what content they've already read, and thus what content you should follow up with. If you use HubSpot, Salesforce, Marketo or any other CRM platform to store and manage your contacts, then you could benefit from the power of GTM and track your leads as they navigate through your content.
Native Foleon and HubSpot tracking integration
Foleon has a native integration with the HubSpot tracking feature. This means that by entering your HubSpot ID in the project settings, every publication will send page view data to HubSpot once a known user is reading your content.
Read more about how to enable this feature in our learning center.

In short, with GTM you can follow your prospect' journey after they interact with your content, even outside your main website.
For example, a prospect could discover your blog through a social campaign, download a white paper and read it till the last page, and then come back to your website and fill in a contact form. And you can follow the prospect's journey step-by-step in your CRM.
Here's an example of how Foleon publication page views would look like in a HubSpot contact timeline:
4. Automate & optimize your demand generation follow-up
Tracking your leads' activity across your site and your publications can already provide useful insights. However, you could probably do even more than that by focusing on the execution of your demand generation and by working smarter instead of harder.
For example, if your CRM allows it, you could send events to your CRM.
When someone reads one of your web publications and clicks a button, plays a video, or submits a form, you can set up event triggers that will be recorded on your lead's timeline.
Once you streamline similar events for your contacts, you can automate and optimize the follow-up process, for example, by:
Scoring leads based on their behavior on your website and in your publications.
Triggering use case-specific follow up emails based on their level of engagement.
Automating your demand generation flow enables you to spend your time on actions like following up, improving your campaign ads, and decreasing your customer acquisition costs.
5. Increase lead interaction with chatbots
We live in the age of chatbots (or chat widgets). In fact, the global chatbot market was estimated to be USD 430.9 million in 2020.
Chatbots often enable you to create scripts based on previous interactions with leads or based on the content (URL) the reader is currently viewing. They can be extremely effective and time-saving when it comes to interaction with customers.
Other than that, they can help you get in contact with your target audience.
However, if you have a chatbot active on your website, why not add it to all your other business collateral as well? With GTM, this is possible.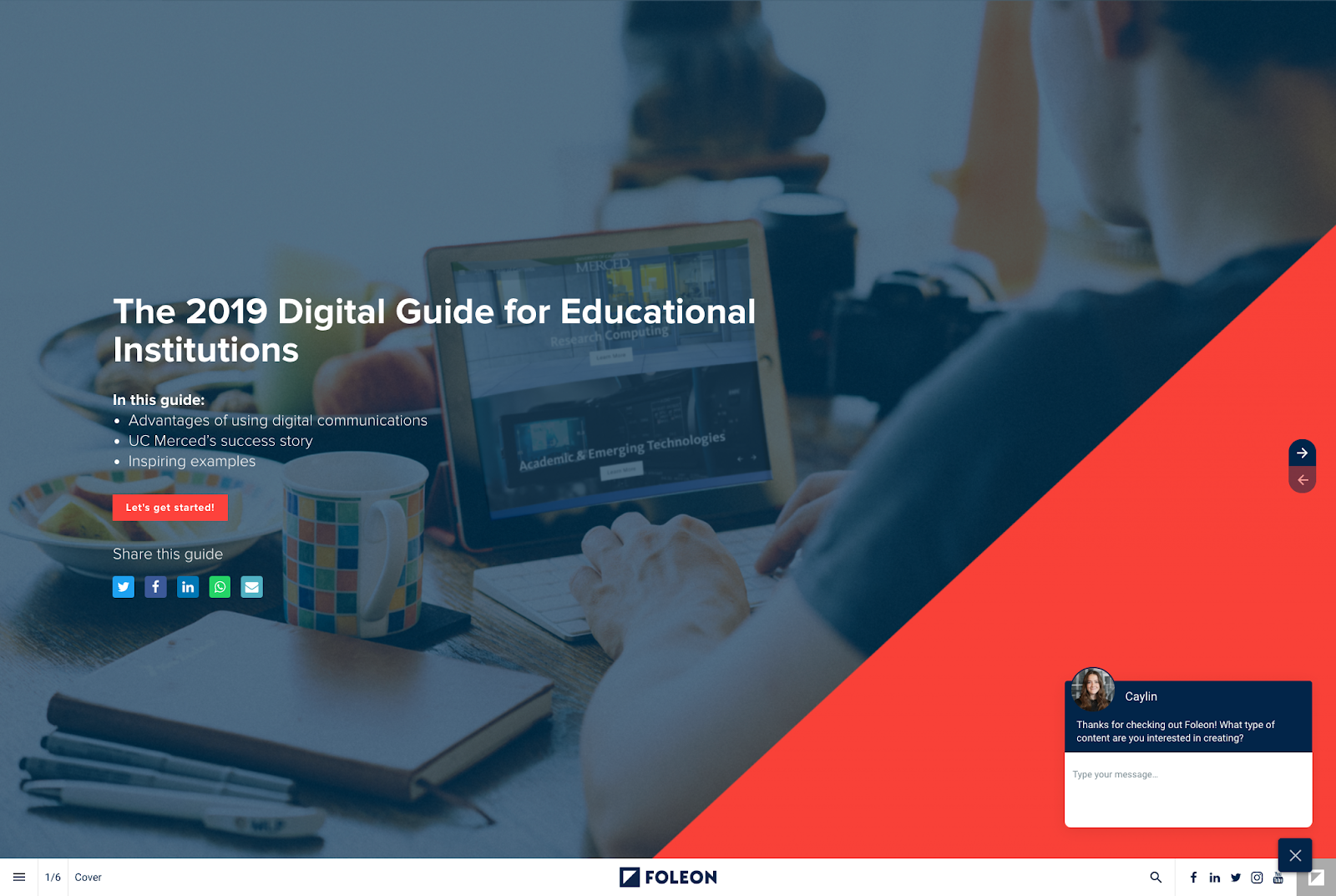 A chatbot opening on the cover of an online interactive eBook
6. Gather insights with heatmaps and recordings
If you really want to understand how people interact with your content, what they see and what they're skipping, you may want to dive into the world of heatmaps and recordings with tools such as Hotjar (we are big fans!) or CrazyEgg.
A heatmap is a visual representation of where readers have clicked, moved, or scrolled more on your page. The brighter the color, the more interactions have taken place in this part of the page.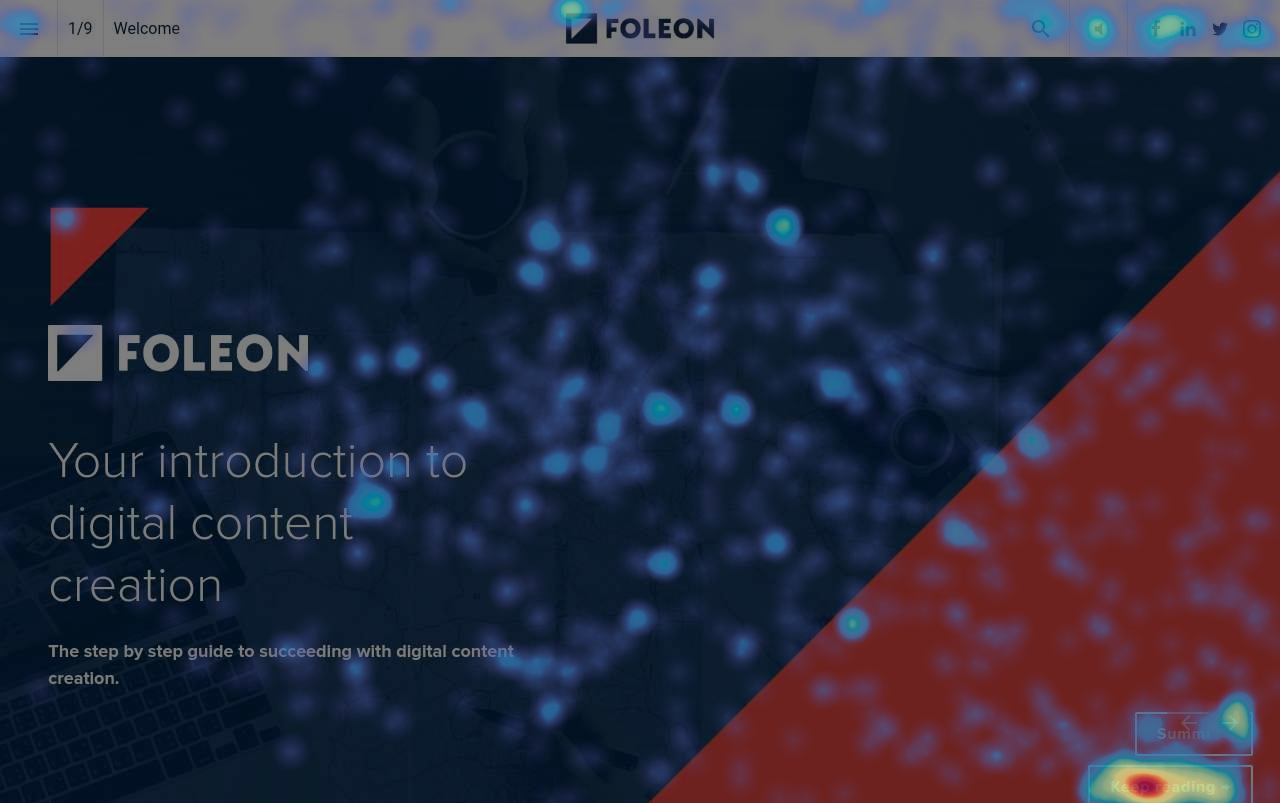 An example of a click heatmap on our own eBook about digital content creation
In addition to heamaps, screen recordings show you what people actually did in your content. Analyzing them might take some time as you have to check them one by one, but it does give you an excellent overview of how people interact with your web content.
7. Capture more leads with pop-ups or banners
Pop-ups are often used to gather info from leads by offering website visitors some kind of promotion or free download. An exit-intent pop-up, for example, is triggered when someone is about to leave a page.
Even though they're sometimes perceived as aggressive or frustrating, pop-ups can help you gain leads or conduct research.
With GTM, you can easily add pop-ups to all your web-based business collateral, not just your website. Put one at the end of your white paper, for example, to collect feedback regarding how readers liked your content.
Read about how typeform used this method to find out if their content resonated with their readers.
8. Bonus - Add Konami-code Easter eggs!
Konami code has been used in video games for decades. And if you're a cheater like me, you're probably familiar with it. One of the most famous codes must be the one from SIMS.
If you type in 'motherlode,' you will 'miraculously' get 50,000 Simoleons in your bank account! Too bad this doesn't work in real life. However, through the years the concept moved from video games to the internet and became an immediate success in some clever marketing campaigns.
Adding a Konami code could surprise your reader in a positive way. Once they find and enter the right code, he or she will be rewarded with an unexpected gift and hopefully, you'll put a smile on their faces.
The original Konami code is:

I know what you're thinking, and yes, you should try it.
Conclusion
Using GTM to align your content marketing goals with your data analysis will help you not only improve your insights but also take more control of your readers' overall reading experience and interaction with your content.
At Foleon, we use GTM daily for our website, platform, and web publications, and we're always discovering new ways to benefit from its endless possibilities.
Do you know other great ways to leverage GTM to get more ROI from your content? I'm keen to hear your ideas and experiences.
Want to learn more about measuring success with digital publications? Sign up for our Google Analytics webinar!