A Content Manager, a Designer, and a group of stakeholders walk into a restaurant.
One's vegan, one has a severe case of IBS. One wants to try everything on the menu, one showed up just for drinks. One's in a rush. Sigh.
We've all been there, but instead of dad jokes and hopeless efforts to split the bill fairly, in this article, I focus on a different kind of team building. Namely: who you can (and should) include in content creation, how to structure your content machine, and the main challenges and opportunities of investing time in defining roles in your content creation process.
We here at Foleon have found a way to make this work for us so well that we even decided to incorporate it into our Content Creation Platform to help all our customers become more successful in role management.
"What's the secret?" you ask. Let's get into it.
Listen, learn, and leverage
Suppose you're lucky enough to start designing your content creation process from scratch or get to do an extreme makeover. In that case, you have the opportunity to build something that's specifically fitted for your company's architecture and therefore serves its purpose in the best possible way.
When you start creating any process, it's good to remember that this process is (unless fully automatized) meant to be used by people. That's why it's critical to regularly collect input and feedback from key stakeholders from different stages of the process as you go along.
You don't need to invite every cook to the kitchen, but sending out surveys and interviewing the key players will give you great insight into how the process needs to be structured and help you avoid overcomplicating things.
If a content creation process is already in place and the role structure needs optimization, why not strip it down and start rethinking on an empty canvas?
Your company is a living, breathing ecosystem where everyone has a role. Take advantage of this when building smaller structures within — and across — teams. Including stakeholders in the ideation process gives you valuable insight, makes them feel heard, and promotes the process even before its existence.
Command content creation with clear roles
Content creation is often like being in that restaurant that I mentioned at the beginning of this article: a bunch of people with different dietary restrictions and preferences with a mutual goal to create a satisfying and affordable dining experience for everyone involved.
As we've gone through our own journey to scale content creation and empower more non-core content creators to get their hands dirty, we here at Foleon have established five key roles that partake in content production in different ways: admin, designer, publisher, editor, and author.
Sound familiar? These are the user roles we offer in our platform, too. Let me tell you why.
For the content creation to keep running, you need an admin to oversee the process. Admin can be a Content Manager, someone from Content Ops, or anyone in your company responsible for content production at a higher level.
The designer is often the Creative Director who owns your visual branding. This person makes sure your templates and media — and eventually, everything you publish — are on-brand.
Publisher, editor, and author roles can be allocated to various job titles, depending on your company's architecture. We use the publisher role for our content marketer, who then uses templates to create and publish content. The editor role is excellent for a stakeholder outside the content team who can then tweak the content at a later stage. And an author who only edits rich text can do proofreading or translating.
Working with these clearly defined roles cuts out unnecessary bottlenecks, reduces back-and-forth between different stakeholders and teams, and brings structure and clarity to ownership and responsibilities.
In the Foleon editor, these user roles have fixed access and permissions, which helps keep all the content on-brand and adequately governed.
But is this role structure something to consider in content creation outside the Foleon Content Creation Platform?
Buckle up.
1. Establish ownership
Whether you're using the user roles in the Foleon editor or not, these same key roles can be at the core of any of your content creation processes because the principles above can be applied to most content workflows. These roles are all about speeding up and elevating content creation through collaboration.
See, when you want to scale content production, one of the best ways to do so is to empower individuals outside of your core content team to start creating. In this case, it's essential to establish ownership among those people.
Who's that one person or entity responsible for ensuring the content needed is created using the process correctly? At Foleon, our Content Operations Specialist (that's me) oversees all content processes and ensures that teams, creators, and stakeholders are always equipped with the tools and resources necessary to create stellar content. Yes, here's your admin user.
The owner of the process allocates responsibility to individual teams. At Foleon, we have a content owner on every team. These individuals were scouted when we started designing the process and trained once it was up and running. Content owners gather and filter requests from their units and ensure that the content needed is created using the workflow set for this purpose. Additionally, content owners work closely with the process owner to optimize the creation process constantly.
No matter the architecture of your content process, make sure to have a clear person responsible for each item or step. Especially when producing content in high volume and velocity, it's not unusual that content pieces and tasks are forgotten or lost. Defining who in your company owns which part of the process prevents this from happening.
2. Scout brand talent
Sometimes, the core content team — Content Marketers, Copywriters, and Designers — can create all the content needed. However, this is not the most sustainable way of working when you want to scale your content production. Training other employees to jump in and start creating is a great alternative.
You likely have talented writers across the company who are experts in their field. Say you want a piece of content about a new product feature. Why not see if someone in the Product team could create it? Or, who's better to write about customer pains than a Customer Success Manager with first-hand insights?
Scouting these content creators can be tricky. It's challenging to convince them — and their managers — that this is worth their time and effort, especially when everyone has their hands full. But it's worth trying.
When making a case for recruiting content creators outside of your core content team, it's essential to focus on highlighting the value of scaling content creation. By doing this, you cut content bottlenecks and save tons of time. Writing and decoding content requests and briefs take time, not to mention multiple feedback and iteration rounds.
Letting someone write about their specialty for the need they have discovered and just have the brand team check it for brand messaging and consistency sounds much better, doesn't it?
Requirements for a brand content creator
So, what do you look for when searching for content creators? Focus on the following:
Good command of the language that the content needs to be written in.
Familiarity with your brand guidelines, both messaging and visual. Keep in mind that this can be taught in the training phase, and you should aim to make every content creator (or better yet, everyone in your company) a brand ambassador.

Pro-tip:

make sure to have your brand guide easily accessible.
Experience with writing
Strong specialty in your product or service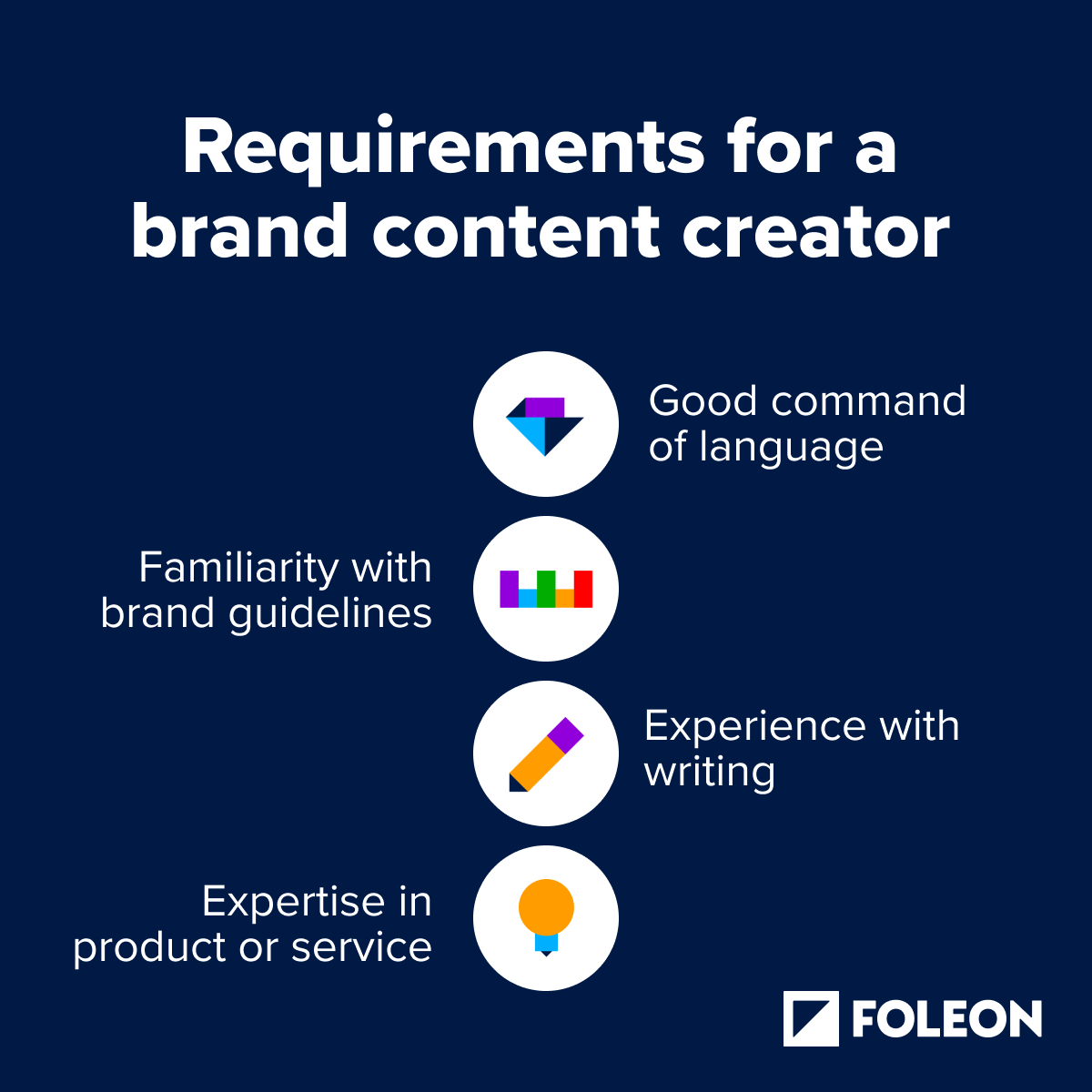 At Foleon, we have many content creators outside the Marketing team who are excited to create Foleon Docs for their departments' needs. Our marvelous Customer Success Managers, Designers, and Sales representatives bring in ideas fresh off the customer calls, and the Product team constructs content directly from the workshop.
Trust me, we've never had critical assets like training materials and product updates available faster.
3. Enable and empower
Once you have your roles defined and your key players scouted, it's time to empower them to start creating kick-ass branded content.
As a process owner, you must take ownership of ensuring content owners and creators are provided with all the resources they need to carry out the process successfully.
Training
Provide sufficient training where you explain why the stakeholders are chosen, what their role entails, and give tutorials on how to carry on the tasks.

You can send them all the materials and instructions beforehand and throw an interactive Q&A training session or a workshop. Participation leads to engagement.


Grant access
Ensure all stakeholders have the right access to the platforms and tools needed for their tasks. If possible, choosing a tool that has more than one user role helps you with allocating access. It's a good idea to provide the content creators with a proofreading tool.


Instructions and documentation
All the documentation and instructions should be available and easily accessible to the stakeholders at all times. The more logical and digestible they are, the easier they are to use. Read more about how to create effective documentation.


Help and support
Be available and support stakeholders throughout the onboarding and beyond. They must know whom to contact when they need help, and you want them to feel supported along the way. This fosters a positive attitude toward the process and increases engagement from stakeholders.
We still don't quite know what happens when a Content Manager, Designer, and Content Marketer walk into a restaurant, but I hope you now have an idea of how to define their roles in the content process to create an appealing content experience.