Following our latest classroom series, let's dive into the world of sales proposals and discover how you can leverage Foleon to create interactive proposals that will wow prospects every time. On top of that, you'll get some helpful best practices and guide to implementation.
Whether or not you're already using Foleon in your sales process, you'll have plenty of insights on getting started or leveling up your proposal game.
What is a sales proposal?
Sales proposals combine a company's offerings with a summary of customer or prospect challenges. They typically include elements such as the value proposition, pricing details, and of course, a call to action. For success, it's critical to effectively tailor proposals to address particular needs and pain points.
Why use Foleon to create outstanding sales proposals?
In this hyper-competitive market, getting deals closed is becoming increasingly difficult. Sales teams nowadays need to leverage every tool or solution they can to stay ahead of the game. And a sales proposal that stands out can be the difference in securing a successful deal.
Creating bespoke sales proposals with a 'wow' factor is a great way to impact potential clients, making them more likely to engage with you and invest in your product. With Foleon, you can create various types of sales collateral, including sales documents, pre-RFP content, and customer relationship content.
Foleon provides valuable insights into reader behavior, answering questions like "How does the prospect engage with my proposal?", "Who did they share it with?" and "Which page did they interact with the most?"
These insights into decision-makers and stakeholders involved in the process can help to improve your understanding of your prospect and how engaged they are.
Another critical aspect when creating proposals that wow prospects is to tell a story. Your prospects are people, and people love a good story.
Foleon allows you to do a better job at storytelling and effectively framing services and products. This is fantastic, particularly for services with long lead times and multiple deliverables.
Before Foleon, standard formats used for sales proposals were PDF and PowerPoint, which had limitations regarding analytics and brand consistency.
Foleon helps to address these challenges by providing faster creation times, improved brand consistency, and cost reductions.
Benefits of leveraging Foleon for sales proposals
Shortened creation time: Thanks to our templates and easy customization options, you can significantly reduce the time required to create proposals, eliminating reliance on designers or developers with modern design tools.
Stay on-brand, always: Leverage Brand Kits to ensure that proposals stay on-brand, preventing the need for extensive rebranding efforts after the initial creation.
Cost reduction: Thanks to features like Review Mode and custom templates, the time spent on designing, reviewing, and creating sales documents is shortened, saving time and money. Our new plans also offer unlimited publishing, reducing costs per proposal as more content is created.
Creating sales proposals that wow prospects with Foleon
To ensure speed, ease, brand consistency, and customer satisfaction when creating sales proposals with Foleon, we recommend following these best practices:
Leverage templates
With Foleon, creating bespoke sales proposals is easy, thanks to our diverse pre-made templates. On top of that, you can create custom templates that you can quickly and easily adjust to suit your prospects' needs.
Depending on your organizational structure and product/service offerings, consider having skeleton templates or pre-made blocks that you and other sales professionals can easily customize.
To ensure consistency and accurate information, templates should be centrally created, managed, and regularly updated to reflect changes in pricing, functionality, and other aspects of your business that may be included.
Remember, you can never have too many templates. They provide a lot of flexibility and options for different types of proposals while having guardrails in place to maintain brand identity.
Top tip: Assign a specific person or team, such as a designer, as the owner(s) of the sales templates. They can set up the template to be on-brand while ensuring that information is consistently updated and you have the most current versions.
Create bespoke proposals
Teams that leverage the Content Builder can personalize proposals while keeping boilerplate pages intact.
With roughly the same capabilities as the Content Studio, you don't need to worry about complex design decisions. All that is taken care of, but you can customize specific sections to tailor the proposal to your prospect or customer's needs.
Stay on-brand, always
Foleon's Brand Kit functionality allows you to centrally manage and control your brand, which is crucial for maintaining consistency across all your sales proposals. By applying brand defaults to all Docs, you save time in asset creation and minimize the need for manual editing.
Set up the Brand Kit as an essential first step to ensure that your proposals align with your brand guidelines and reflect a professional and cohesive image.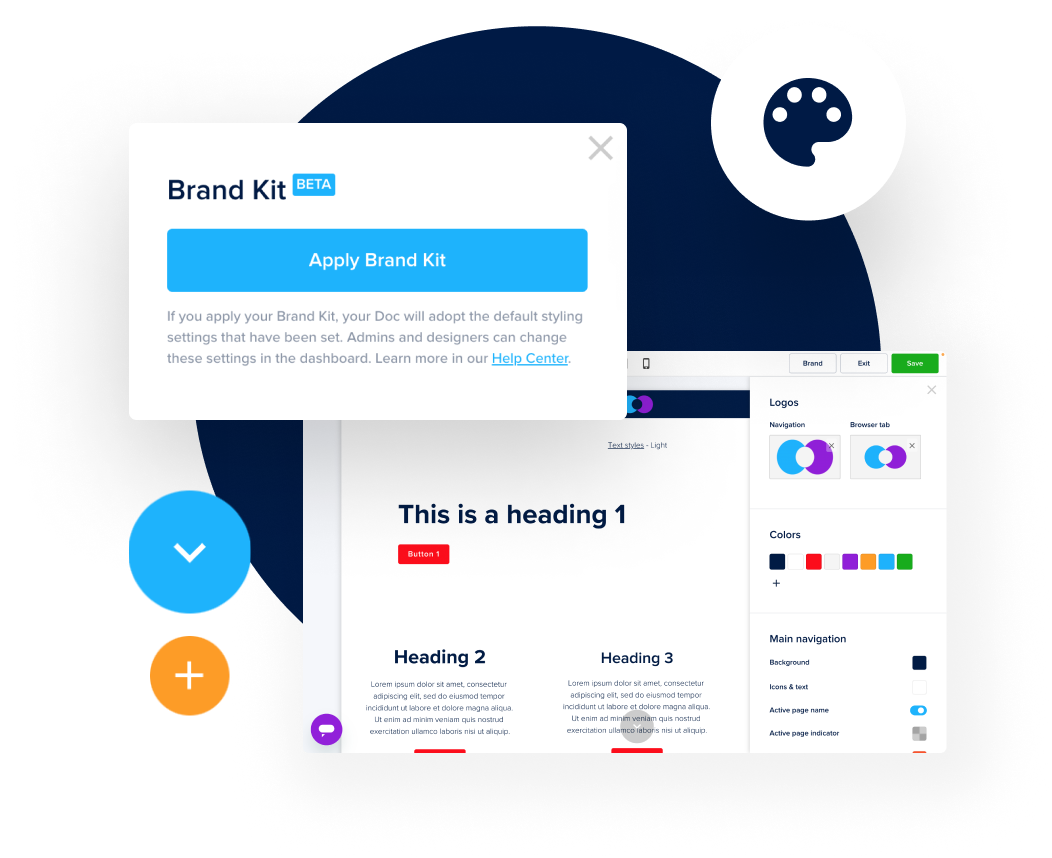 Work together with confidence
Foleon offers two types of users: standard users and premium users. Typically, premium users have more control over the Doc's design and layout, while standard users have a simplified editing experience in the Content Builder. From a security standpoint, Foleon ensures that search engines do not index the content created on the platform by default.
While PDFs offer limited security options, such as password protection, Foleon provides additional security measures to protect commercially sensitive information. One option is OTP (One-Time Password), where readers are granted access for a specific duration, typically 90 minutes.
After the allocated time, the access link expires, and readers need to request a new link through their access email. This adds an extra layer of security, ensuring that confidential information remains protected.
TL;DR
Incorporating Foleon into your sales proposal strategy can lead to impressive results. By understanding the purpose and components of sales proposals and leveraging Foleon's features and tools, you can create proposals that captivate and wow prospects.
By creating your sales proposals using Foleon, you save costs, create faster, customize easier, and maintain brand consistency across the board. It ensures a seamless transition from marketing to sales content, providing prospects with a consistent and impressive experience.
With Foleon's benefits of improved insights, enhanced storytelling, and streamlined processes, you can create visually stunning and engaging sales proposals that leave a lasting impression.
Upgrade your sales proposal game with Foleon and unlock new possibilities for business success today!