Maintaining a consistent brand image can be incredibly challenging, especially when multiple teams and stakeholders are involved in the content creation and publishing processes. For this reason, we launched a bundle of new features to foster collaboration and ensure teams can efficiently work together to create engaging on-brand content ready to publish.
These updates include:
Review Mode
Doc Templates
Workspaces
Standard Users
In this interview, Product Manager & Product Owner Stijn Dijkers reveals how these features empower users to stay on-brand and collaborate effectively, enabling teams to unleash creativity and publish unique content. Let's dive in.
Hey Stijn, what can you tell us about our new feature, Review Mode? Where did the idea come from?
Stijn: Foleon is all about collaborative content creation, so we're constantly developing features that help us advance in this perspective.
Historically, our customers reviewed their content outside of Foleon, sending emails back and forth with arrows and screenshots or even marking them up in Microsoft Word. This process was a hassle for both the reviewer and the content creator. We created Review Mode to allow people to quickly review Foleon Docs and leave comments as part of the content creation lifecycle.
As well as that, our customers wanted to involve other colleagues who were engaged in the content creation, but to a lesser extent. For example, a stakeholder who'd carry out a quality check at the end of the process. Review Mode also lets those people contribute, albeit not as creators but as reviewers.
Want to see Review Mode in action? Request a trial now!
Can you tell us more about custom Doc templates and why we introduced this functionality?
Stijn: Doc templates are about trust between the creator and the designer and centralizing brand management. Up until the introduction of this feature, our customers were forced to have decentralized brand management. When a creator needed to create a new Doc, the only way was to duplicate a previous one. This, in turn, meant the person in charge of brand management lacked a single point of brand control.
Among customers, creators often felt slightly insecure about creating or publishing a Doc. They'd hesitate to hit the publish button, knowing their designer will likely have something to say about it. On the other side, designers feared their colleagues would mess up the brand, so they felt they couldn't trust them as creators in Foleon.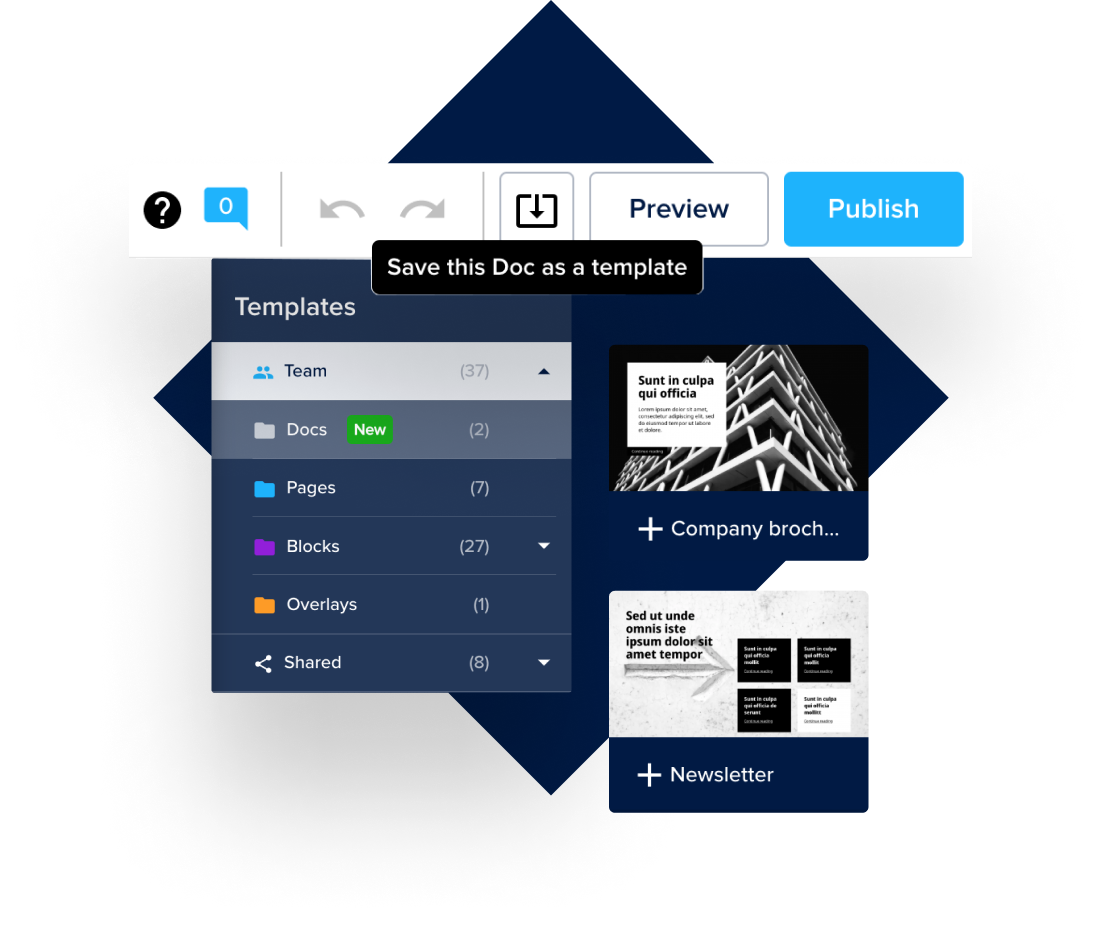 With Doc templates, we've taken the first step towards improving brand management and trust.
Users can start from a designer-approved Doc template within the Content Builder to easily create content. These templates are an extension of the toolkit to maintain brand governance.
Also, the designer feels more confident in inviting creators into their workspace, enabling creators to create faster, which is the end goal.
How exactly do Doc templates work alongside the Brand Kit?
Stijn: They both contribute towards better brand management. Doc templates ensure that any new Doc created is based on a blueprint from the designer. The Brand Kit covers everything else regarding the brand.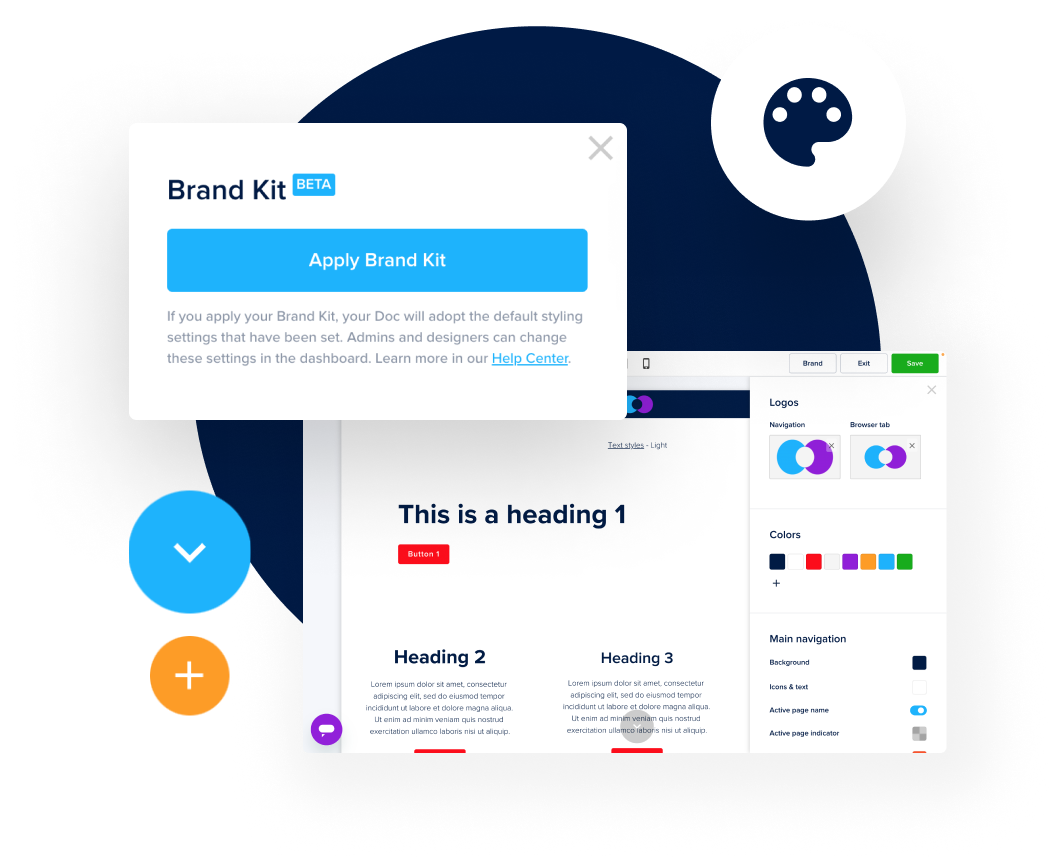 Even if a creator starts a Doc from scratch, the same level of brand governance can be embedded. So they're two separate tools for different use cases, but both work towards the same end goal.
Can you tell us more about the newly introduced user type, Standard Users, and how this helps people grow their teams or creators?
Stijn: Until now, we had one tier of user accounts, now called premium users.
We heard our customers saying, 'Well, we would like to involve another three creators, but they don't need access to all the functionalities you offer in Foleon.'
We also saw that a large part of the market didn't need the more sophisticated aspects of Foleon because they're at the beginning of their journey regarding content creation.
We now have Standard users for both parties; a cheaper, lower tier of user seats makes it easier for new customers to begin experimenting with Foleon. For existing customers, it's easier to involve more people in their creation process.
How can we ensure that users only see what's relevant to them?
Stijn: We have embraced the challenge of governing access over the past few years and will continue to do so. With functionality like Workspaces, companies can mirror their real-life collaboration between teams. Workspaces divide your account into separate environments based on region, business unit, or brand, so creators only see what's relevant to them.
We know that not everyone working with Foleon is an experienced content creator, and nobody expects them to be. We want these people involved in the content creation process because they have a lot of value to add as subject matter experts.
For these users, we have the Content Builder experience where they can contribute to Foleon Docs with an easy-to-use interface. And designers can rest easy knowing that the more complex settings have been excluded.
Read all about the Content Builder: Empowering Teams to Create: An Inside Look at Foleon's Latest Updates.
Can you share anything about the future plans? What's on the roadmap?
Stijn: We have many plans and ideas to ensure people get a more relevant experience in Foleon. Much of it involves improving brand governance by extending Brand Kit and the scope of the brand's elements.
Then we have content governance. As content creation teams continue to diversify, there is a greater need for giving access to certain content, particular features, and particular settings to one person but not to the other.
We also intend to allow customers to share Brand Kits and Doc templates across workspaces. On top of that, we plan to improve Doc templates even more.
We are continuously working on making our Foleon Doc format more engaging. We have lots of ideas for exciting new Foleon Doc elements. We have some fantastic ideas for improving it further and, of course, many more. Be sure to check out the Foleon roadmap to see what's cooking!

Want to learn more about these new features? Check out our recorded webinar here or get an inside look at our updates to empower teams to create.