How many times this week have you pressed 'Skip ad' while watching yet another video tutorial on YouTube about food or yoga?
How often do you change the channel once the commercial breaks kick in during one of your favorite Friends episodes (well, perhaps this only applies to you if you still watch it on cable TV as I do!).
The point is that consumers have become desensitized to the noise that traditional outbound marketing creates. It's easier to shut it out—or shut down around it—than to pay attention to it. This makes loud, colorful, in-your-face advertising less than effective for any company trying to grow its customer base.
So, is a traditional inbound marketing program the way to go? And should you throw all your efforts behind it?
In this blog, we explore the purpose of inbound marketing, the importance of having a good strategy, whether Marketers are still using it, and how to get buy-in from department heads.
Let's start at the beginning
When making a case for inbound marketing, we have to start with a short history lesson first. In the late 2000s and early 2010s, many marketers got excited about this cool new thing called inbound marketing. It focused on content that would encourage prospects to come to the company rather than having to desperately vie for their attention.
The emphasis was really on creating top-notch content, rather than being spammed with some high-level rubbish that would appear everywhere they were online. As *Chandler Bing would say: 'could that be more annoying?'
[*Disclaimer alert — more Friends references ahead].
Marketers who decided to jump on the inbound bandwagon soon understood buyer journeys better, created buyer personas, created SEO gap content, gated high intent content, created email drip campaigns, etc.
This approach worked brilliantly for many years until it started showing signs of exhaustion, a bit like Ross and Rachel's relationship when they decided to go on a break.
Inbound isn't a silver bullet
It's important to note that traditional inbound marketing isn't a one-size-fits-all solution.
But you might be guilty of treating it as one. (Awkwardly putting my hand up) 🙋
If fact, many marketers do this, taking the same approach with their inbound efforts for companies with different needs.
Let's look at two company examples to understand this better.
Company A is a project management tool that anyone in the company can use but is especially beneficial for Marketing teams working in growing SaaS companies.
Company B sells Enterprise Resource Planning (ERP) software for multi-national enterprises in engineering. Their target audience is CFOs and COOs in the company.
The same Marketing playbook for inbound won't work the same for these two companies.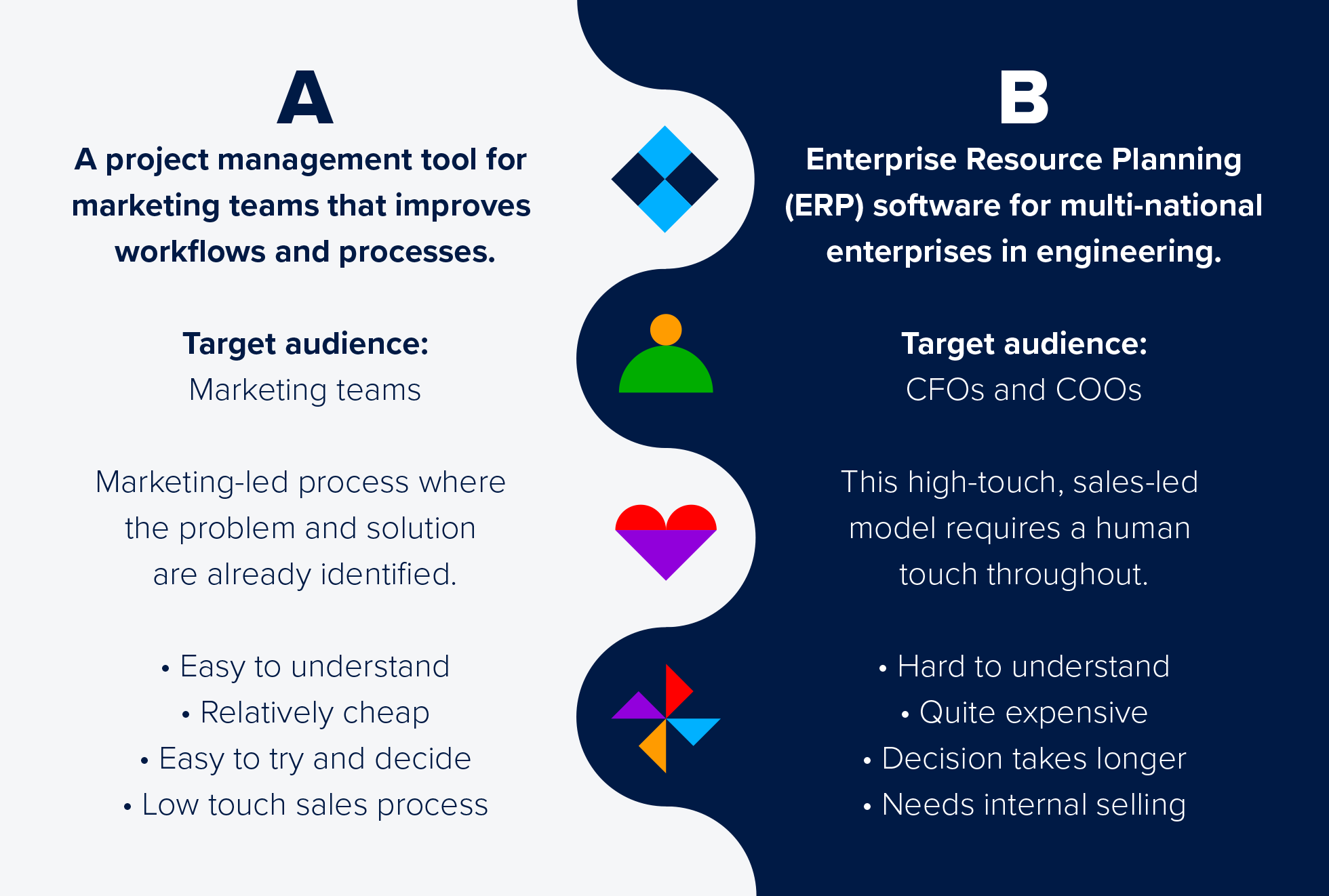 Let's examine Company A in more detail. If there's a tool that everyone can use easily and is affordable, decision-makers are more likely to purchase it. After all, Marketing teams are always looking for better alternatives to improve workflows, processes, and anything that generally makes their lives easier.
Purchasing a project management tool (or getting freemium) is also a quick and easy process. For instance, the go-to-market strategy is product-led, and the sales process is low-touch, which means that the product and accompanying website can often be enough to persuade buyers.
Think about it, the idea of a project management tool is already something that customers are familiar with. The problem and solution are already identified, but the solution is still difficult enough for prospective buyers to research on the web. This is where a tactical inbound strategy comes into play.
Now let's take a look at Company B. In an enterprise, the buying process is a lot more drawn out, involving more stages and more people, which means making a decision takes much longer. Unlike Company A, this sales model requires a human touch throughout.
The go-to-market strategy is typically sales-led, and the sales process is likely to be high-touch. Of course, quality content assets can help educate and persuade prospective buyers, but one eBook won't be enough to bring in sales.
ERP software is well known in the industry — while it's complicated software to get to grips with, you still won't find many CFOs or COOs doing a web search on it. They know all about it but would rather hear from their trusted advisors to fill them in on the best tools rather than read vague content marketing articles or listicles about the 7 best ERM software tools in the market right now.
Let's compare Company B to Company A. You could see that an inbound marketing strategy could work in the long-term to build brand awareness, but not so much for tactical lead generation.
Inbound, how you doin'?
Now that you know the importance of having the right strategy behind inbound marketing, it's time to ask: How cost-effective is it?
According to Search Engine Journal, inbound leads cost 61% less than outbound leads. Oh. My. Gawwwd, right?
Outbound campaigns tend to be more costly and timely, which could become a burden, especially for small businesses, startups, and nonprofits.
According to research by Doyen Digital, when it comes to SEO-generated inbound leads, there's a 14.6% close rate, compared with a 1.7% close rate for outbound leads. Why is that? Inbound leads come from people who initiate a call or navigate the website. These leads are actively shopping and intend to become buyers. Outbound leads, on the other hand, target everyone who may or may not be interested in or need your product.
Are other Marketers doing inbound?
You bet they are. According to HubSpot, up to 60% of Marketers have reportedly adopted an inbound marketing strategy. And half of the CEOs surveyed reported that their companies have completely integrated inbound strategy with their marketing strategies. Whoooopah!
How to convince stakeholders to let you have your inbound program
With bosses overseeing other areas in your company, it can be hard to get them on board with new Marketing tactics. They might already have too much on their plate to notice what you have to say.
Here's how you can get them to sit up and pay attention.
Speak your boss' language
Most good Marketing leaders pay attention to Marketing metrics to ensure there aren't too many dips.
You can present inbound as a solution by presenting your ideas in terms of how a program can move numbers in the direction they want and how targets, successes, and workload will be positively affected.
Speak their language and be prepared to have the answers to all the questions they would have.
Research, research, research
With research, you can show stakeholders where your Marketing strategy and metrics currently sit and where research shows you could be in the future with the help of inbound marketing. If your company's success is slowing using traditional marketing methods, such as print and broadcast advertising, fliers, brochures, and cold calling, then a tried-and-tested alternative that offers proven success will be very hard to say no to.
When researching, focus on end results. Your boss will enjoy hearing some stats about how inbound could help improve numbers.
Here are some facts they might be interested in from The Weidert Group:
3x more leads come from content marketing than paid search advertising.
47% of buyers view at least 3 to 5 pieces of content before deciding to speak with a sales rep.
The most successful B2B marketers spend 40% of their total marketing budget on content marketing.
Offer a solution
Once your bosses' are aware of the problem, they'll want to hear how you'll proceed with a plan of action. Make sure you already have that scoped out. Explain how you'll introduce changes to your strategy and manage the team, budget, and resources to facilitate it.
With your inbound strategy, you could tackle one thing at a time. For instance, you might first focus on putting more content out on the channels you already use, like your social platforms and blog, and see how your metrics change over time.
Have a long-term vision
Long-term goals will be something that will concern your bosses. They'll want to know inbound marketing works in the long run. They might also wonder about the cost factors, such as budget, whether new staff or software will be required, training, etc.
Come prepared with some of these answers so that you come across as the marketing hero they need during a period of transition.
To make a successful case for your inbound marketing program, make clear that you have the capacity to deal with a change. Scope the training costs. If you're going to start using a new platform, you'll need an idea of costs.
Pivot towards inbound success with this checklist
Now that we've made a case for inbound marketing, here's how you and your department heads can pivot towards it.
Our handy checklist will put you on the right track.
The very first thing to focus on is business goals and growth strategy.
If you can't evaluate your success, you can't know what success looks like. That's why you need to set up some goals. Ask yourself, what am I trying to accomplish? Greater brand awareness? More leads or revenue?
Pro tip: Work with your department lead to decide the most important goals for your inbound marketing strategy to be considered a success. Decide where you'd like to be in 12 months, then make a plan to get there.
Do you know how potential customers find you? If not, it's time you learn about your audience.
You can do this by running a keyword search and seeing what your audience is looking for. By doing this, you can also see where your competitors rank for the same keywords and where you can improve your efforts.
Pro tip: We use Semrush, Google Search Console, and Ahrefs to do keyword research. But don't forget that your Sales team is also a fantastic resource. They know what questions buyers are asking, their concerns, and what makes them go from a prospect to a customer. It's a good idea to have sit-downs with the Sales team and plan what type of content needs to be created.
Now that your goals and research have been laid out, it's time to get your hands dirty and devise a content strategy.
Creating content is more than just about writing. It's also about brainstorming ideas, keyword research, updating older pieces of content, etc. For your inbound marketing to succeed, you need to plan how it all gets done by building processes and creating a clear meeting structure.
Pro tip: It's important to develop a clear process that can track each piece of content from beginning to end (and beyond). Build up your content calendar. Consider using a project management tool to allocate content projects to stakeholders, and specify who is responsible for each step.
Once you've started adding your work to the contentverse, don't forget to evaluate, measure, and adjust your content accordingly.
It's important to learn your way around tracking tools like HubSpot and Google Analytics. You'll want access to custom reporting options that provide deeper insights into blog performance — so you can measure everything from traffic analysis to revenue attribution.
Keep in mind: When you're tracking and measuring your content, don't get too hung up on small fluctuations because you will have great and not-so-great weeks. Consistency is key.
Don't forget to provide value
Overall, inbound marketing requires some time and attention to get it done right. Exciting things can happen once you have a solid game plan in place. As mentioned at the blog's beginning, you don't have to jump the furthest or scream the loudest to capture anyone's attention.
Take Central Perk as an example. The coffee spot wasn't big or flashy with its marketing efforts, yet it could attract customers by simply providing value to them. So much so, it had six friends coming back over 10 years.