Using a new content marketing platform or tool for the first time can be daunting. You have to figure out the proper setup, establish team permissions, and contact the Customer Support team because you need help finding your way through all the settings.
This entire learning process can be very time-consuming and sometimes frustrating. We get it!
That's why we want to ensure that any customer starting to use Foleon for their content needs gets a head start by joining the Foleon Academy.
The Foleon Academy is our new online learning hub, designed to equip customers with all the knowledge and practical skills they need to create engaging content confidently.
With a friendly and supportive learning environment, the Foleon Academy offers tailored courses and learning paths where customers can dive deep into the platform's features, be inspired by Doc examples, and receive expert guidance from Foleon professionals. By the end of the courses, customers will be much more confident and capable of creating top-notch content that captivates audiences.
We caught up with Gabriel Box, VP of Customer Success and Foleon Academy Ambassador, to learn more.
Hi, Gabriel. The Foleon Academy is now live. Exciting times! Can you tell us more about it?
I am very enthusiastic about launching this online learning hub. The idea for the Foleon Academy came up because we wanted to create an environment where customers can learn best practices and start solving their content problems within the Foleon platform as soon as possible.
Before the Foleon Academy, the only way for our customers to learn how to use the platform was by reading Help Center articles or reaching out to our Support or Customer Success managers. It felt like a long, laborious process, and we want to offer our customers a different, more engaging experience.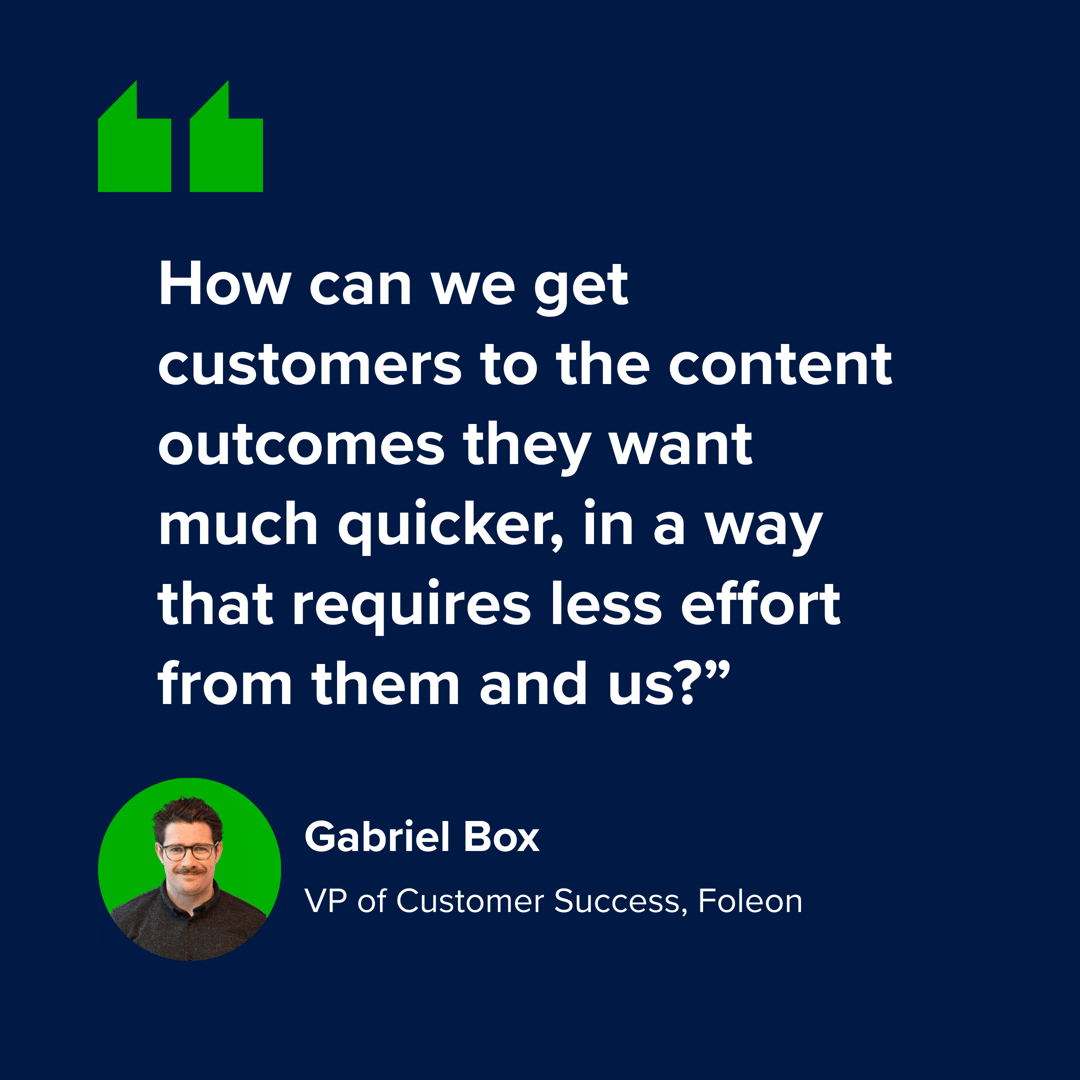 What's the learning framework of the Foleon Academy?
We designed the Foleon Academy to be a learning ecosystem where customers can become more confident using the platform and start creating content faster without the need to speak to someone from Support.
The tailored learning paths enable customers to solve problems depending on their content maturity level, and specialized courses are available for those who want to dive deeper into particular product topics.
Customers can discover better ways to use Foleon to achieve their goals quicker and discover new functions or features that could help them improve their content processes.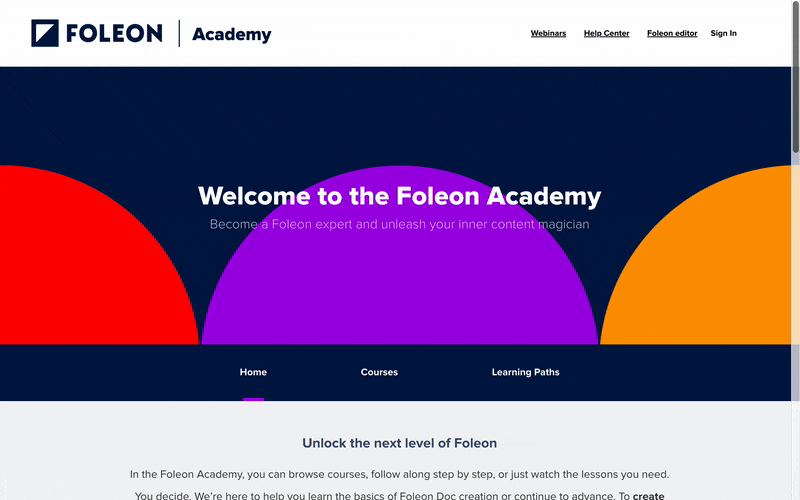 What, in your opinion, are the three main benefits of learning with the Foleon Academy?
At the core, the Foleon Academy aims to empower users to become confident in creating content with Foleon, regardless of their design skills and content creator experience.
So, whether you're a senior content creator or a sales executive creating your first Doc proposal, the Foleon Academy courses will help you reach your content goals easier.
If I had to highlight only three benefits, I'd say:
You save time otherwise spent on longer onboarding processes. Getting started with the Foleon Academy is quicker and easier.
You'll know your way around the platform, meaning you can publish high-quality content faster.
You discover new opportunities to drive more productivity for your content workflows and processes. For example, you can make the Foleon Academy a team training, so you get all content creators together to learn the platform and collaborate on content.


Is the Foleon Academy designed for self-learning?
Yes! In our opinion, learning by doing is the best way to get results faster when using a new content platform like Foleon.
Naturally, we'll have our Customer Success team guiding and helping users. But through self-learning, we want to give people confidence in their content creator abilities using Foleon.
They must have the space to learn at their own pace without always relying on speaking to a Support agent. That means we can elevate the conversation when they contact our CSMs, talk more about the content process as a whole, and become more of an advisor to the customer.
As a Foleon Academy Ambassador, would you encourage other organizations to set up such a learning hub?
Building an education program in the Customer Success department enables us to scale more effectively. Otherwise, I rely heavily on hiring more Customer Success Managers to educate customers and create all those Help Center articles, which can take time and effort.
Suppose you are considering the level of effort it takes for a customer to understand your product. If that's relatively high, then you need an Academy program to educate users on progressing and becoming more skilled using your product or platform.
That's something our readers can consider! Do you have any 'famous last words' before we let you go?
I'll keep it short and sweet! If you're a Foleon customer, embark on this learning adventure and level up your potential as a content creator by joining the Foleon Academy.