As a growing company, staying organized is critical. When it comes to the use of images and other digital assets, keeping your files well organized will save you lots of time and potential headaches. But how do you create a sensible file structure, develop a strong naming convention, and ensure everyone in your organization always uses the most up-to-date version?
Our new integration with Bynder, the # 1 platform for Digital Asset Management (DAM), provides the solution.
If you're a Foleon user, the new integration makes it easy to manage digital assets using your Bynder account and to access them directly within the Foleon media library. In this blog post, we'll explain the advantages of using a DAM and how this integration will help you create remarkable content even faster.
The importance of Digital Asset Management
A colleague reaches out via Slack to ask for that sales presentation from last year — remember which one I mean?
Or, someone emails you asking for a copy of that mock-up the design team made to persuade a prospect. Or was it was for an existing client?
Sound familiar?
Companies tend to produce mountains of content. Consequently, files get lost all the time. Finding that sales presentation, if you don't have a strong naming convention and file structure, can feel like searching for a needle in a haystack.
A DAM solution helps you find that needle. It prevents such problems by centrally storing, arranging, and partially automating all available visual material for the entire organization, so everyone always has access to the most up-to-date version of every file.
In short, the use of a DAM solution ensures streamlined collaboration within and amongst marketing teams, design teams, and other departments that make extensive use of visual material. Some important advantages:
Spend less time searching for images, thanks to tags and categorization
Access up-to-date files anytime and anywhere
Save time and costs with more content recycling
Full control over access and change rights
But isn't a DAM solution just a more expensive version of Dropbox?
No. Dropbox is for online file storage and sharing. Bynder is for organizing and managing files across an entire organization. Unlike a DAM solution, Dropbox doesn't offer intelligent categorization, filtering, tagging, searching, or user management features. Also, DAM systems provide you with a clear overview of how particular assets are used.
Bynder & Foleon
The collaboration between Bynder and Foleon makes it easier for users of both platforms to manage and present digital content, which is particularly useful for maintaining brand identity. The integration makes it possible for Foleon users to access their Bynder assets directly, without uploading them to Foleon.
We've previously posted about how consistency in your content fosters recognition, familiarity and ultimately, loyalty. Regardless of the type of material you're working on, brand messaging, style, and the unique tone of your company should always be top of mind.
Using Bynder, you can quickly find documents like photos, videos, company logos, and templates, and then directly add them to your publication. This means you'll never have to worry about users deviating from your brand guidelines.
Foleon users benefit from improved asset management, streamlined team collaboration, versioning and the super fast delivery of assets through the Bynder CDN (Content Delivery Network).
The integration is also ideal for companies collaborating with a creative agency. Forbo, a global market leader in flooring, and Plan B agency already collaborate using the Bynder integration. It saves both parties lots of time as the process of downloading and uploading visual content is no longer necessary.
Getting started with the Bynder integration
Do you have a Foleon Expert license (or higher) and a Bynder account? Follow these six steps to get started right away!
Step 1
Open the Foleon Drag & Drop-editor.
Add an image to your publication, or replace an existing image. In this example we'll replace the background image of a Block, using Bynder.
Step 2
Click Bynder in the left panel of the Media Library.
Enter your Bynder URL. (where do you get this??).
You will now be directed to your Bynder account.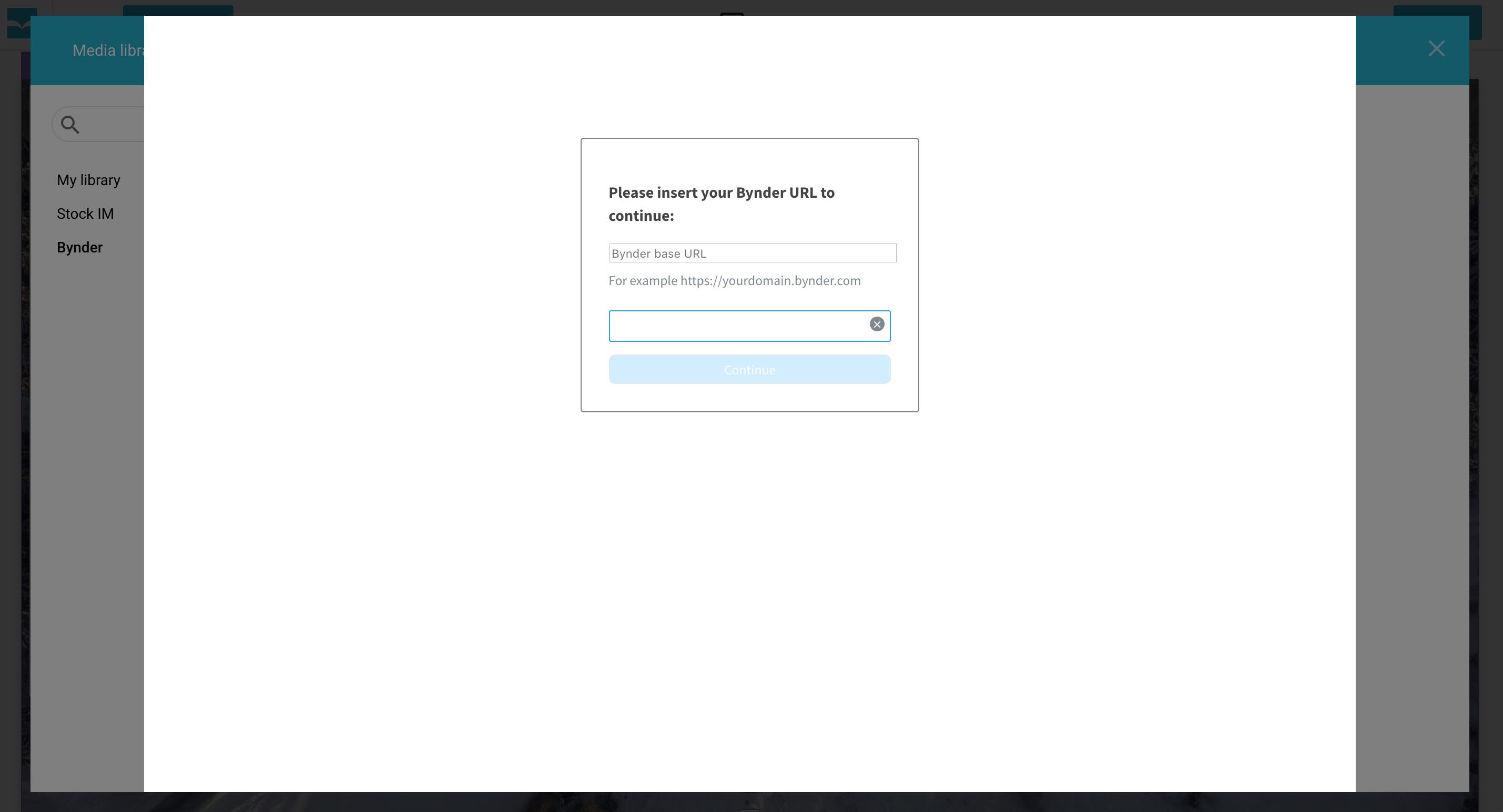 Step 3
Enter your Bynder details.
Now you'll get access to your Bynder account.

Step 4
You now have full access to all your Bynder assets from within our Media Library.

Step 5
Choose an image file.
Select '+ Add Media' to add the image to your publication.

Step 6
Voila. The selected image has been added to the publication.

Conclusion
The integration with Bynder is a big step in our efforts to make our platform increasingly attractive for companies that want their content to stand out. The integration speeds up the process of enriching your publications using centrally stored images. By combining the power of both platforms, managing and presenting content is easier than ever before.
More information?
If you want to get started but are having trouble, or don't have the right license, please contact us. We're happy to help you.
Would you like to know more about Bynder's DAM solution? Then get in touch with Bynder.