We recently caught up with Content Marketing Institute's General Manager, Stephanie Stahl, who shared the lessons she's learned in creating a brand mission and voice over her 20+ year career in content and event marketing.
Ask a graphic designer about the importance of visual consistency across a company's public-facing assets. They'll likely point you toward guidelines governing hex codes, typefaces, logos, and more. Then they'll tell you not to deviate from those.
Their reasoning is sound. Look at an ad from a company with strong, consistent branding, and you'll probably recognize who it is without ever having to see their name. That kind of familiarity is desirable.
So why don't companies pay as much attention to their written assets as their visual ones?
Developing and maintaining a unique voice is essential for any brand. It helps them to stand out and create rapport with their audience. Content Marketing Institute has been a leader in content marketing strategy, including helping companies establish their brand voice, since 2007.
We recently caught up with Content Marketing Institute's General Manager, Stephanie Stahl, who shared the lessons she's learned in creating a brand mission and voice over her 20+ year career in content and event marketing.
Here's a transcript of our interview:
What methods do you use for establishing a brand's tone of voice and core messaging?
Stephanie: Establishing a voice and a mission statement is important for any brand. I think you should start with your editorial mission statement and then determine the voice you want to portray. A mission statement should be clear and concise and tell your readers who you are, what audience you care about, and how you are going to help them.
For example,"Content Marketing Institute is the leading global content marketing education and training organization (that's who we are), teaching enterprise brands (that's the audience we are creating content for) how to attract and retain customers through compelling, multi-channel storytelling (that's how we are going to help them)."
Once you've determined your mission, you can decide what tone of voice you want to use in your content. It's important to have consistency across the brand — to ensure that all of your content creators, whether internal or freelance, are using the same voice. Figuring out what your brand voice should be will likely benefit from discussions among key stakeholders in your company — content, marketing, PR, sales, and others. Together, decide what your brand's personality is (or what you want it to be). Do you want to be seen by your audience as fun? Passionate? Serious? Irreverent? Inspirational? Adventurous? Sophisticated?
At Content Marketing World last year, Linda Boff, CMO of GE, said it's important for GE to be "magical, whimsical, humorous and, above all, to be human." This helps guide the company in their content pursuits, and all brands — large or small — should know and agree on such attributes.
Once a brand has decided what its editorial mission and voice are, it's important to audit existing content to see if there are already some ideal examples. The brand can use those assets as examples for building new valuable and unique content marketing assets for the audience.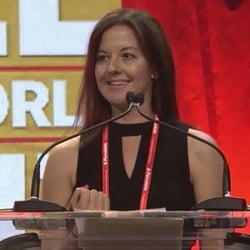 Stephanie Stahl, general manager of Content Marketing Institute
What role do your ideal customer profiles play in establishing tone of voice and core messaging, as well as your content strategy?
Stephanie: Determining what audience you want to attract is at the core of any effective content marketing strategy. It means figuring out how your content can help readers solve a business problem or fulfill some sort of need — and how it is different from what your competitors are already offering. Having a clear idea of who you want to be part of your audience will ultimately help you determine what type of voice you should have. If your brand attributes connect with your audience, you'll be able to build trusted and lasting relationships.
How do those brand guidelines influence the specific content types and pieces you create?
Stephanie: At CMI, we like to suggest that brands start with one — maybe two — types of content to help first build an audience and then move on to others. It's important to study what resonates with an audience. I once helped a software engineering company create content for a growing audience of electrical engineers. When we discussed audience needs, they were adamant that their readers didn't want flashy infographics or creatively designed assets. They wanted straight-forward, educational, written content. They were right. When we looked at what type of content was resonating, that was it. Other brands may find that video is the best way to appeal to an audience…or podcasting. If you know what your audience needs, likes, and shares, your content guidelines should follow suit.
Do your brand guidelines affect the frequency with which you publish new content?
Stephanie: It's a good practice to be consistent in publishing, whether it's daily, weekly, or monthly. This helps readers get used to your pattern. Hopefully, they will anticipate it. Here at CMI, we publish a daily blog at the same time every day. We have a Twitter chat every Tuesday at the same time. We host a webinar at the same time every Wednesday. This kind of consistency is not only important to our readers, but also for our internal processes.
Do you think of brand messaging, tone of voice, and content strategy as living documents to be consistently updated over time? If so, how do you monitor them and determine if an update is needed?
Stephanie: Absolutely! They should be revisited at least once a year. Evaluate, measure, revise as needed! We recently went through an evaluation, for example, and decided to stop publishing on weekends. Traffic wasn't as strong as week days and we found that readers often opened our weekend newsletters on Mondays. So, we decided to stop filling up their inboxes and publish only on weekdays.
How do you spread these guidelines throughout an organization and ensure that all employees absorb the values you're communicating?
Stephanie: It's critical to ensure that all content producers, editors, copy editors, designers, reviewers, etc. are familiar with your content guidelines and are actively using them. Whether they are disseminated on a company portal, via email, via video, whatever — you need to make sure everyone is on board. That's why it's important to have all stakeholders in on the initial guideline decision making. Then there are no surprises.