The Template Manager allows you to save and reuse content across your account. This makes it easier to scale content creation while staying on-brand.
This blog post was initially published in August 2019, when the Template Manager was officially launched. As we've enhanced it since then, we have updated this post to make sure it covers all functionality.
Foleon empowers business teams to create engaging and intelligent content experiences at scale. The template manager is the next step in this quest as we strive to simplify the creation of engaging content.
On top of scaling content creation, it gives you more tools for maintaining brand consistency. For example, designers can create branded templates, empowering other users to easily create stunning content that's always on-brand.
Seeing as Foleon customers have already saved tens of thousands of templates, it's safe to say that this is one of our most valuable features.
Peter Wenneker, Marketing & Communication Officer at ACTIAM, about the template manager:
"The most valuable benefit is that we save time when creating our publications since we can re-use and edit existing templates. Moreover, it helps us stay on brand and be consistent with what we publish."
What's the template manager all about?
It empowers you to:
Scale content creation by saving content as templates
Design your content, save complete pages, overlays, or individual blocks as templates, and easily reuse them across your account.
Keep your content on-brand
Design branded templates to empower other users to create stunning content that's perfectly on-brand.
Stay organized and in full control over user access
Create a clear overview by organizing your templates in categories and determining availability with statuses.
Good to know: When you've saved a template, you can update it at any time or delete it to free up space for a new template. Updating or deleting a template will not affect content assets where this template was used.
How does it work?
Let Vincent, our Creative Services Director, show you how to work with the new template manager:
Additionally, we'll highlight the most important functionality below.
1. When working on a page, overlay, or block, you'll find a "Save as template" button.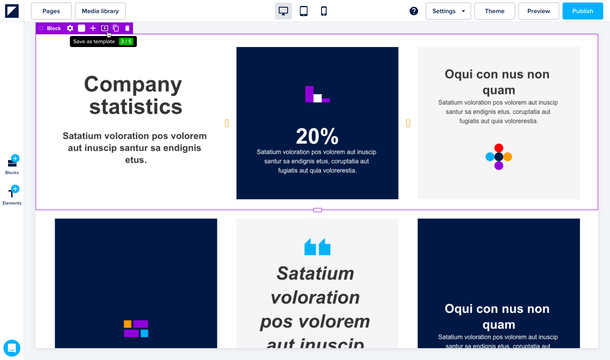 2. When saving, you can give the template a name, add it to a category, and determine its availability by setting a status.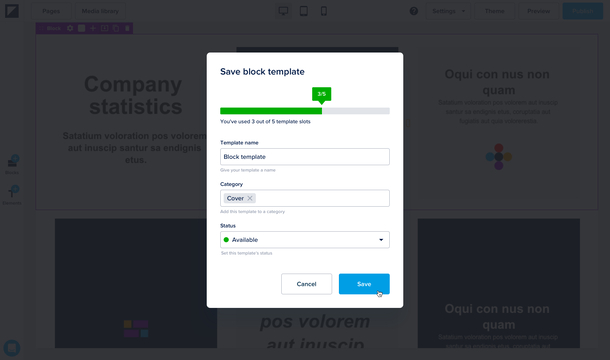 3. When adding pages, overlays, or blocks, you'll be able to choose your own templates to start with.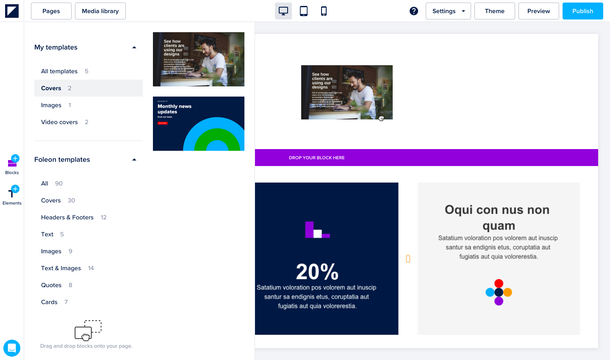 4. Finally, you can modify your templates in the Templates area of the dashboard.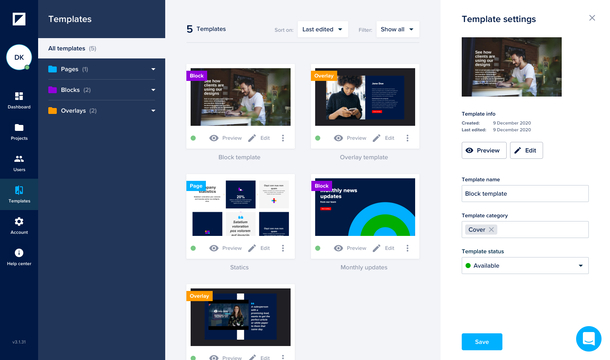 For a more detailed overview, please visit our Help Center.
Conclusion and future plans
The template manager is one of the first big updates focused on helping you work more efficiently. In the future, we'll launch improvements for working with themes to stay on-brand, and much more.
We're confident our updates will help you scale content creation while simultaneously strengthening your grip on your brand identity.
If you have feedback or suggestions for other product updates, feel free to let us know by reaching out to our support team at support@foleon.com. We're all ears!