Introduction
Bejo is a leading company in breeding, production, and sales of vegetable seeds. With operations in more than thirty countries and over 1,700 dedicated employees, Bejo is developing the best vegetable varieties for the present and the future.
Bejo was an early adopter of Foleon and has been using the platform for event-related and promotional communication for years. In this interview, Jurgen van Baar and Danielle Bruin explain how Foleon became an important part of the digital marketing strategy at Bejo.
"With Foleon, we're pushing our event communications to a higher level. We can include interactive images and videos, we have full control over our content and everything is measurable!"
Tell us about yourself
Danielle: "I'm a Marketing and Communications Advisor at Bejo. I've been working here for 15 years now. Part of my job is organizing our events, trade fair participation, and digital marketing. That includes our website, social media, and of course Foleon. The teamwork with Jurgen is very important."
Jurgen: "I've been working at Bejo as a Visual Communication Designer for nine years. I started in printing but quickly moved to work on our website and eventually to digital marketing. I mostly work in design and maintaining our corporate identity."
The challenge
What unique challenges do you face?
We organize and attend a lot of events every year. We organize the Bejo Open Days, with 4,000 visitors from around the world and we have stands at Fruit Logistica and Biofach. These events are very important for us, inclusive of good communication. We want to attract a lot of visitors and keep them informed.
Our challenge was to find a way to present our event communications in a visually appealing while covering all the necessary information.
What impact did this challenge have on your company?
We are an innovative company, this should be reflected in our communication. Without an exceptional way of presenting our content, many of our ideas didn't reflect that. We started looking for a platform to fully digitize our event communication with the aim of improving the customer experience.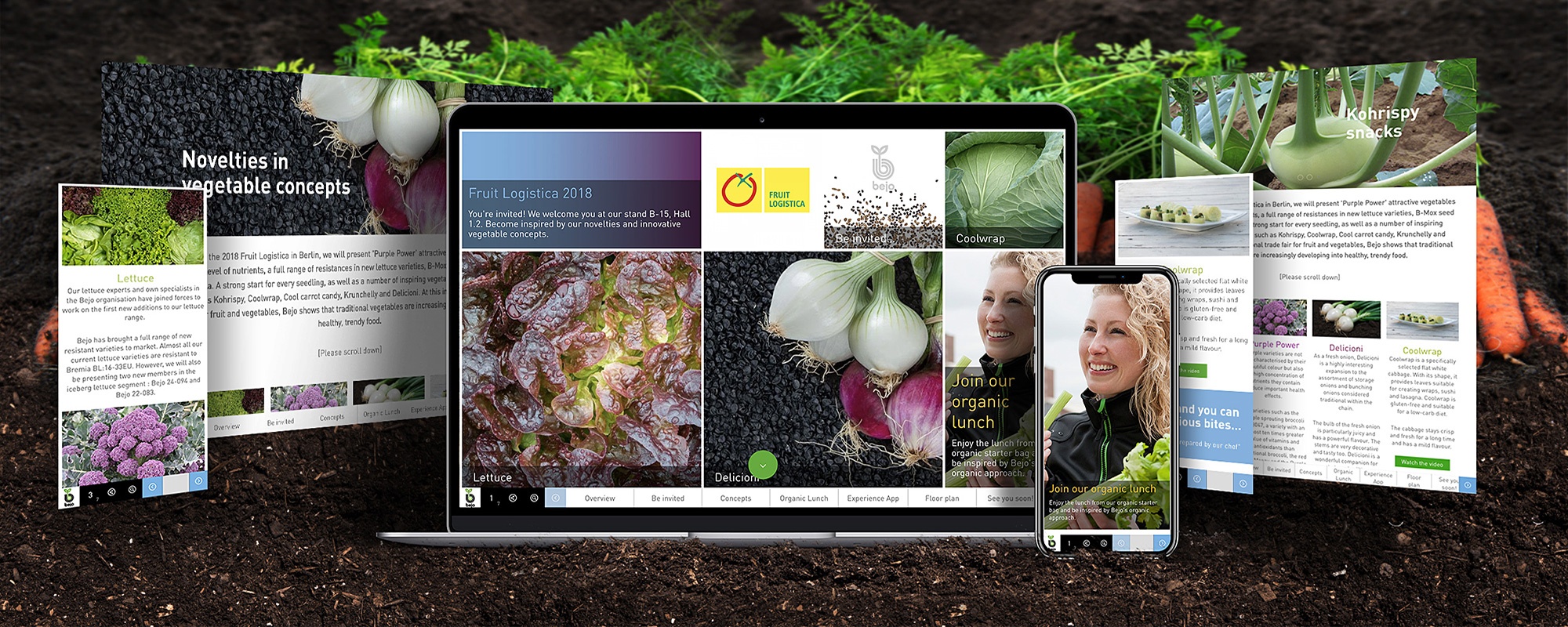 The solution
Why did you choose Foleon?
The agricultural industry is rather static, so we would like to be innovative in our communication. Via the agency called RAADHUIS, we found Foleon and saw that their platform for digital publications provided us with all the options we needed.
We can share more information and present it in a fresh, modern way with Foleon. The publications are accessible any time, on all devices and we can easily edit them after they've been published.
Why a digital event magazine?
We had a number of specific requirements for our event communication: They had to be innovative, easy to distribute, and able to present information in an interactive way. Of course, responsiveness is important as well.
The digital publications we create with Foleon handle all these requirements. We not only distribute them ahead of events, but we use them to share information about the program and speakers during the event as well.
Another big advantage of using digital publications, as mentioned before, is that we can adjust, update, and enrich content even after it's been sent to visitors.
Have you thought about measurable goals to measure your success?
We look at how the content performs. Foleon's Google Analytics integration is very valuable to us, and Foleon also offers its own reporting dashboard.
The data we collect shows us which pages are viewed a lot and which ones aren't performing well. One example of a valuable insight that Foleon gave us, is the devices used to read our publications. About 50% of visitors are on desktop, 40% on mobile, and 10% on tablets. This shows just how important responsiveness is.
We can also see the referrals through which our visitors find our publications. It includes email, our website, social media, and more.

The results
How does Foleon contribute to Bejo?
Foleon has become an important part of our digital marketing strategy. It enables us to create specific content that is easy to distribute and update. Our event communication is now centralized in one place, which makes them more accessible to readers.
How have readers responded to your publications?
Everyone at Bejo thought it was fresh and exciting. There's so much you can do with Foleon — visual effects, animations, and lots of visuals. Some people had to get used to it, but nevertheless, they were enthusiastic.
The magazines are also popular among our event visitors. They have access to everything on their smartphones. They always have up-to-date information about the speakers and the program.
How do you distribute the publications?
We mainly send them via email. In addition, we make extensive use of social media. Foleons have a prominent place on our website.
What are your plans for the future?
We use Foleon to present content that doesn't fit on our website. The publications are dynamic and look great. We plan to continue this strategy and also develop further uses for the platform.
Other Bejo operations are interested in updating their communication as well. In that respect, Foleon has become a widespread platform within Bejo.
Do you have tips for other Foleon users?
Think carefully about the relationship between text and images. Images need to lead the way. Make sure your text supports your images, not the other way around. Also, don't be afraid to use animations. They make your content more appealing!
Organization: Bejo
Featured content: Event brochure for 'Fruit Logistica' (can't be shared)