Introduction
Our Foleon certified partner, WijZE, is a creative agency set on securing emotional connections between brands and their end customers. Their client, Royal FloraHolland, is the world's largest flower auction house — a conglomerate of over 6,000 seed growers.
Together, WijZE and Royal FloraHolland produced an interactive sales brochure that provides a comprehensive overview of the conglomerate's extensive global business. With maps, charts, videos, and statistics, the brochure presents its complex operations in an easy-to-follow and interactive way. It has proved to be vital visual support for Royal FloraHolland's account managers who use the publication during sales presentations.
"Small details, like editing text or replacing a picture, costs most of our time. Foleon makes it easy for the client to get involved and make changes themselves."
In this success story, Paul van de Sande, founder of creative agency WijZE, and Daniëlle van der Peet, Royal FloraHolland's senior marketing communication advisor, discuss the importance of collaboration, co-creation, and reveal how they use Foleon's dynamic and user-friendly platform to work together and create remarkable content.
Tell us about your companies
Paul: We believe that to be a great brand, you need to have an emotional connection with your end customers. Our name is WijZE (which translates from Dutch to "Us-Them") because creating a relationship with the end customer is the philosophy behind our agency.
Everything we do for brands has their end customer in mind, we always think about how we can get a strong message across with feeling.
Daniëlle: Royal FloraHolland is a conglomerate, so the six thousand plant and flower growers are really the owners of our company. Because we're such a large organization, working together is a key value of ours.
We're a physical marketplace that's existed for about 100 years. All produce is sold by auction.
Describe the relationship between WijZE and Royal FloraHolland
Paul: It just fits. We're both hands-on. Every assignment is in a pressure cooker, and we like it that way. We work quickly but effectively, and we love that Royal FloraHolland commits themselves. They want to be involved and do a good job. It's not "you do this," but "let's do this together." We make each other sharper — in a good way.
Daniëlle: Yes, we really do fit with WijZE — they understand our business, which is not easy as we have quite a complex model. They have their own opinions and are not afraid to challenge us, which we like. At the same time, they're also really open to all sorts of feedback from our end. We work together on the same level. There's always a good, professional vibe and we can speak openly with each other.
The
challenge
What challenges were you facing that led you to Foleon?
Paul: Our agency used to make custom web publications from scratch. However, this was hard to maintain because things like browser engines and APIs change regularly. It took lots of maintenance to keep publications bug-free for only a handful of customers. We were looking for a solution where we wouldn't have to worry about the technical intricacies ourselves.
Daniëlle: We were working a lot with leaflets, brochures, and other printed material, and we felt the need to make Royal FloraHolland more digitally mature. People tend us to view us as an old-fashioned company because we've been around for so long — but we aren't. So, we were looking for a new, innovative way to communicate.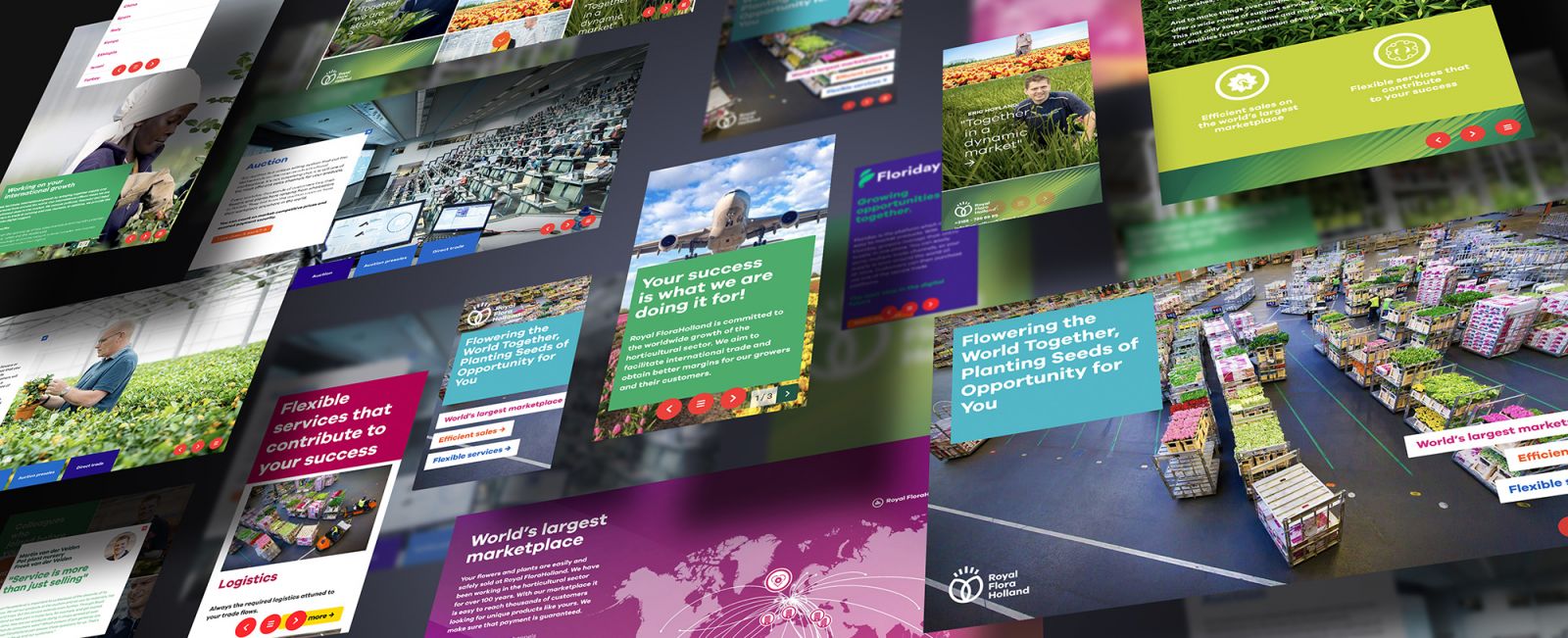 The
solution
Why did you decide that a digital sales brochure was the solution?
Daniëlle: We never used online content for something like a sales brochure before. We only had a PowerPoint, which was used as a sales tool by our account managers who are on the road giving presentations to new growers.
However, the problem was that the PowerPoint felt really corporate. So, I thought an interactive web publication would be an effective way for our account managers to present our brand in a fresh visual and interactive way.
Why did you choose Foleon as opposed to other tools?
Paul: We showed Royal FloraHolland a few examples of our work during our pitch, including online magazines we'd made with Foleon. It was a big coincidence because they had also talked to Foleon and were interested in the platform. As a Foleon partner, we were able to provide what they wanted.
Daniëlle: Foleon provides a user-friendly way to publish content. I knew about them from a previous job that also used Foleon. I thought it would be a good option for Royal FloraHolland to try out, and so it was a bonus that WijZE already had experience with the platform.
Because we have an international team across multiple offices, it's essential that everyone works with the most up-to-date version of our sales brochure. This is hard to do when you have numerous PowerPoint files circulating on various people's devices. Foleon allows you to make updates from one place, so everyone always uses the most up-to-date copy. This was an efficient solution for us.
How did Foleon help you produce the publication?
Paul: Foleon takes care of all the technical things. If anything changes, they update their software, and we can go on working without having to worry about compatibility issues. Instead, we can spend time on creating great designs, analyzing the metrics, writing copy, creating videos, and adding animations. It works well.
Collaboration
Why is collaboration so important?
Paul: Every brand is unique, so you need to understand your client well. You need to know the purpose of the brand and what their values are. That's our starting point in every campaign, and collaboration helps us achieve this.
We work to know their competitors and their customers. It is too risky not to take our clients' input on board. If the target group feels disconnected, it will have an adverse effect on the campaign. After all, the brand knows its customers best!
Did you work together on making the brochure?
Paul: Yes. We worked together to gain knowledge about their brand and create an outline of the brochure. I would say it's impossible to do an excellent job without close collaboration. We operate next to our clients, not above them. We love to co-create.
Daniëlle: We talked about the idea together and discussed the structure and concept. WijZE was flexible while we kept getting back to them with new or different ideas. They were patient; they knew it was new for us, and that it would eventually help us both for future campaigns together.
How does Foleon enable collaboration?
Paul: Royal FloraHolland wanted access to the platform, which wasn't a problem thanks to Foleon's user options. For us, small details like changing text or replacing a picture cost lots of time. Foleon makes it easy for the client to go in and do it themselves, allowing us to focus on bigger things.
With the client involved like this, it's an excellent opportunity for them to contribute and speed up the whole process. The client can make changes, but we can look it over. The end responsibility remains with us.
Daniëlle: You have lots of flexibility to shuffle things around, so the fact that Foleon is so intuitive is helpful. We want to release a new version of the brochure soon, and we plan to work on small updates ourselves.
Sometimes there will be visual and design elements that we need WijZE to help us with or take over completely. However, if there is a sentence or something minor that needs to be updated, we can change it ourselves. WijZE is there to guide us through the program and teach us how to do it if we run into issues.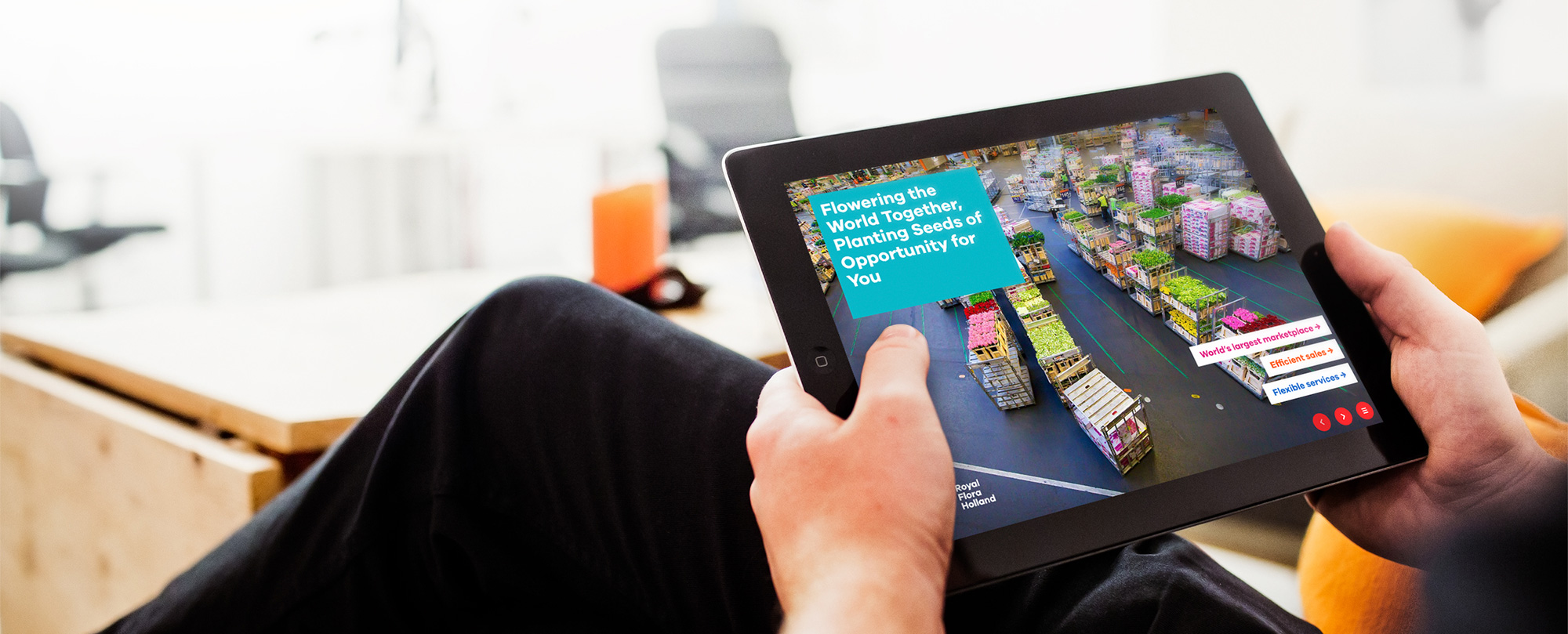 The
results
How have your customers/stakeholders reacted?
Daniëlle: It's hard to say if our brochure is directly responsible for converting new clients, but our account managers are thrilled with it. They feel like they're going to a sales conversation with something professional. Internally, it's been received exceptionally well.
What are your plans for the future?
Daniëlle: We have an annual report, and it would be beneficial if it were a Foleon as well. We also have a printed monthly magazine that's sent to our growers, and it would be great to turn it into an online interactive magazine. It would help us cut costs, but more importantly, it would help bring the entire industry more into the digital age.
Do you have tips for other Foleon users?
Daniëlle: It's always a bit daunting to bring in any new software. So I told my team, "let's just try to make one." The co-creation with wijZE was helpful because we didn't have to spend too much time learning how to use the platform. WijZE had the experience and could produce it relatively quickly. If we later feel the need to train someone internally, WijZE has that expertise to guide us.
I would suggest that organizations work with a partner or agency who has experience in using Foleon. From there, you can always decide to use that knowledge and make something independently. It's is an excellent way to experiment, and working together with someone provides valuable insight and a fresh perspective.
Organization: Royal FloraHolland
Creative agency: WijZE
Featured content: Company brochure (can't be shared)