In the Netherlands, there are two million people who suffer stomach or bowel problems. The Maag Lever Darm Stichting is a charity that is there to support them by facilitating research and providing information and education.
The
challenge
Why an online publication?
We were looking for a way of publishing an article with a journalistic appeal that was separate from the MLDS branding. Its subject: the major lack of public toilets in the Netherlands, under the motto "I can go to the loo here". An online publication offers huge opportunities visually and is more effective editorially than the average website. We aimed to achieve the look and feel of an online magazine, with strong headings, great stories and attractive visual elements.
What is the purpose of the publication?
Our purpose was clear from the outset: to highlight the shortage of public toilets. To achieve the statistics to back this up, we aimed to find some 10,000 endorsements, by sharing patient experiences and having other patients also share theirs. We also wanted to ensure that more organizations contact us to work with us in finding a solution to this serious problem. The more people who know about the problem, the greater the potential support will be.
"We agreed on a strict KPI of achieving 10,000 endorsements."

The
solution
You opted to work with an agency on this publication – why was that?
We were already working with Beeldblinkers for the MLDS and put our idea to them. They were familiar with Foleon and advised us to opt for your platform. Beeldblinkers were already well acquainted with our corporate identity. This turned out to be ideal because they were able to develop an independent brand. We didn't want this publication to reflect the identity of MLDS. Beeldblinkers proved an enormous help in introducing "I can go to the loo here" as an independent brand.
How did people respond to the magazine?
The response was surprisingly positive! The stories of patients' experiences proved particularly popular with readers. It also encouraged many other patients to submit their own stories. Not only was there a high level of involvement from the target group, even the national media picked up on our publication.
How did you organize distribution?
Our aim was to achieve this mainly through PR and our own channels. All of the many associations and organizations involved in this issue also shared the publication with their own patients. Patients who read about us on social media passed on the information to people they knew, spreading the publication around even further. This had an almost viral effect, ensuring that our publication achieved a lot of attention without any effort from us.
However, visitor numbers ultimately peaked when the AD newspaper picked up on our publication. As soon as the article was posted, the visitor numbers increased, and ultimately around 4,000 visitors came via the AD.
The
results
The result was good. Immediately after publication, we started to receive visitors and endorsements. The people who support these patients are particularly involved with this issue. Within a weekend, we were already able to measure the initial results and present them internally. It was such a great feeling, especially because we were presenting good news.
In total, the magazine achieved as many as 43,299 unique visitors in a total of 50,704 sessions. Of all these visitors, as many as 19,000 (a conversion rate of more than 43%) collected digital signatures, some from our supporters and large numbers as a result of the article in the AD. We were also able to add all of the people eager to be updated on the latest developments to our email database. We intend to send our publications to this group.
Of course, this does not mean that the problem has been solved – there is still a shortage of publicly-accessible toilets. But, who knows, perhaps we can achieve more support for this issue through other online publications? Our ultimate aim will be to achieve legal standards and requirements for public toilet access that are similar to those in other countries.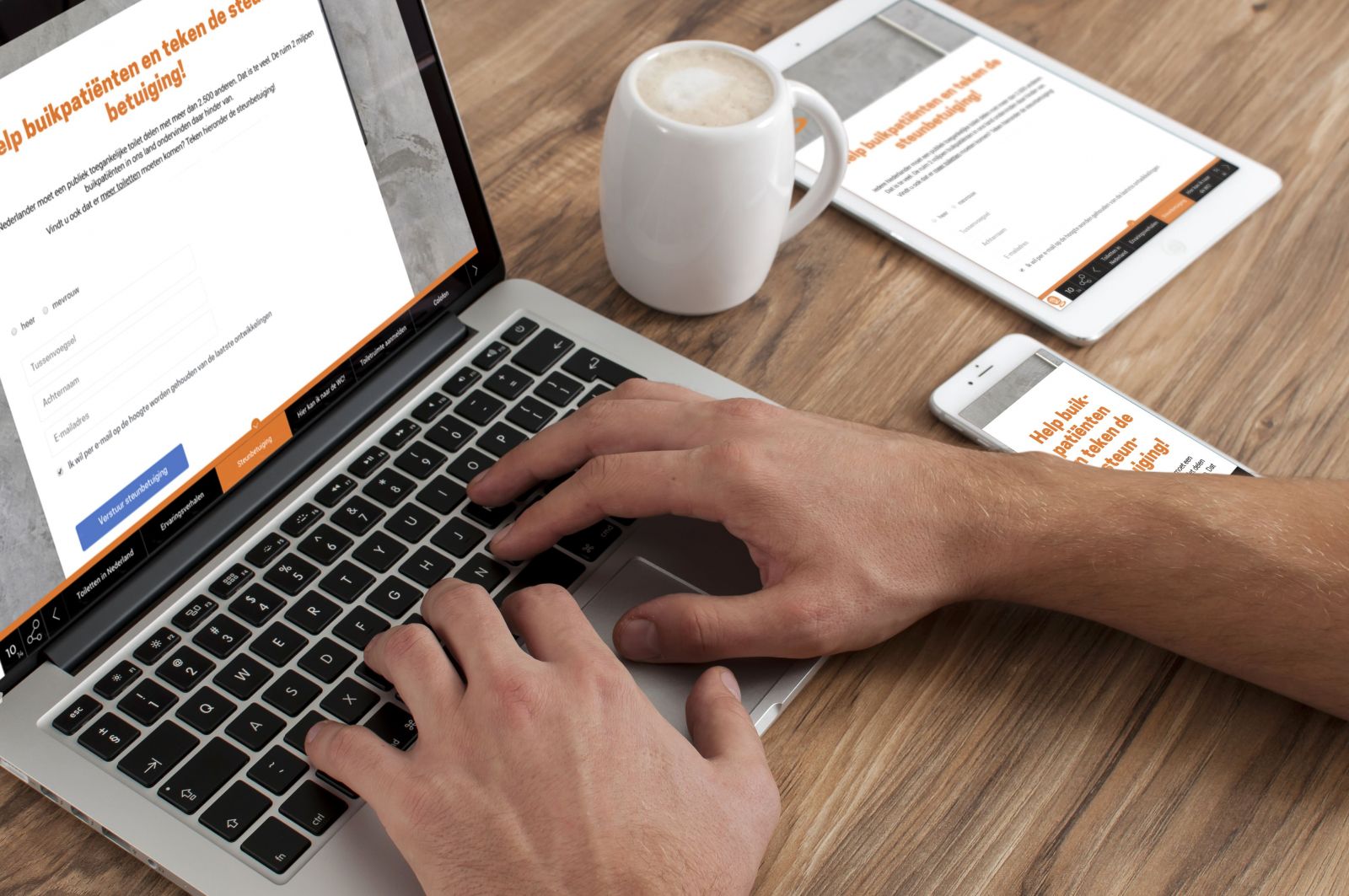 It's great to hear that the result has been achieved – what opportunities do you see for the future?
After our first publication, we realized what makes an online publication interesting: the visual opportunities, the possibility to analyze and the ease of distribution. In the future, we envisage plenty of opportunities for making use of Foleon for publications. For example, we intend to use this method to share our research results with internal and external stakeholders in a newsletter or quarterly report. Although I am not yet able to say very much, there are also plans to do something with an online publication during the "toilet tour" in December 2017.
All in all, there are plenty of other opportunities to reach out to our target group and provide interesting and relevant content using online publications.
Company: MLDS
Agency: BeeldBlinkers
Publication: The toilets are over here