Carolien Tesselhof, Director at Tesselhof Media (TM), and Liselotte Bosch, Content Manager at Pavo (P), discuss in detail how they were able to generate more than 2,150 leads with their digital white paper within a few months.
"In 2.5 months, Pavo generated more than 2,150 new leads from the Netherlands, Belgium, and Germany! Readers rated the publication with an average of 8.3 out of 10 and 89% would like to read a similar publication about horse feed more often."-Liselotte Bosch, Pavo
Tell us about Tesselhof Media and Pavo
Carolien (TM): Tesselhof Media specializes in the field of digital publications. I have a background in the publishing industry as editor-in-chief at various magazines and websites. I'm also a photographer so I'm very comfortable working with text and images.
Liselotte (P): Pavo is a subsidiary of the large animal feed group ForFarmers that produces and sells horse feed in more than 25 countries. Pavo specializes in creating innovative and healthy horse feed, and we believe in cultivating healthy and happy horses.
The challenge
What challenges were you facing prior to using Foleon?
Liselotte (P): We were looking for a dynamic, device-friendly, and measurable version of a white paper. None of this was possible before when we used PDFs for our white papers. It was vital for us to present our product more engagingly and combine text, image, and video. We focus mainly on Dutch, Belgian, and German horse owners, and this white paper is about roughage, the most essential part of a horse's diet. Another goal was the ability to easily update or edit the content at any time.
Carolien (TM): I saw that Pavo offered downloadable PDF versions of their white papers and shared them via social media. I knew that it could perform better in a more interactive and mobile-friendly way, and I reached out to them. Pavo has so much valuable video content, and it's a shame not to make full use of it. And that was not possible with PDFs.
What other solutions have you explored?
Liselotte (P): We immediately contacted Carolien, and she quickly connected us with Foleon.
Carolien (TM): I was already in touch with Foleon when I was working as an editor-in-chief. I quit my job in 2017 because I was eager to get started with digital publications after hearing about Foleon's concept. With my former employer, we were always trying to think from the reader's perspective, but we couldn't determine how much of our clients' vision we were creating. With Foleon, you can see whether your work is aligned with the needs of your target group. You can work with the platform in-depth and much more interactively. The higher purpose of my company is to create digital publications that connect brands to their target audiences, and Foleon allows me to do just that.
I also chose to build my whole website with Foleon. I know from experience that people often view websites only briefly. By creating the site with Foleon I notice that visit duration is longer because they navigate through pages quicker.
The solution
Why did you decide that Foleon was the solution for your customer?
Carolien (TM): Pavo partnered with Tesselhof media, and Tesselhof Media believes in the power of responsive digital publications. When it comes to innovation, Foleon is the best for building digital publications. The platform helps you get started quickly, even without any experience in programming.

Which features do you like the most?
Carolien (TM): The platform is user-friendly and offers many options. In my opinion, responsiveness and videos are the most valuable aspects of the platform. You can easily create content that's visible on desktop and invisible to other devices, which is ideal. The Zapier integration is also lovely as it allows us to send data from Foleon to other systems like MailChimp effortlessly.
How has Foleon helped you during the transition from PDFs to digital publications?
Carolien (TM): The Foleon customer success and support team are always happy to answer my questions and help me out. For example, I followed their advice and used the Infogram tool to quickly add graphs to publications. I also found the sample page very valuable and inspiring.
The results
What was the purpose of the Pavo white paper?
Liselotte (P): To generate leads from horse owners and to share valuable information that showcases Pavo's expertise in the industry of equine nutrition, health, and welfare.
How did you handle the distribution of the white paper?
Liselotte (P): The white paper redirects to a downloadable form linked to our email platform where we can set up campaigns. We also use Google ads, social media (Facebook and Instagram), newsletters, and essential partners in the horse world like the KNHS (equestrian sport association) to boost our distribution. The fantastic part is that plenty of horse lovers have already read our white paper!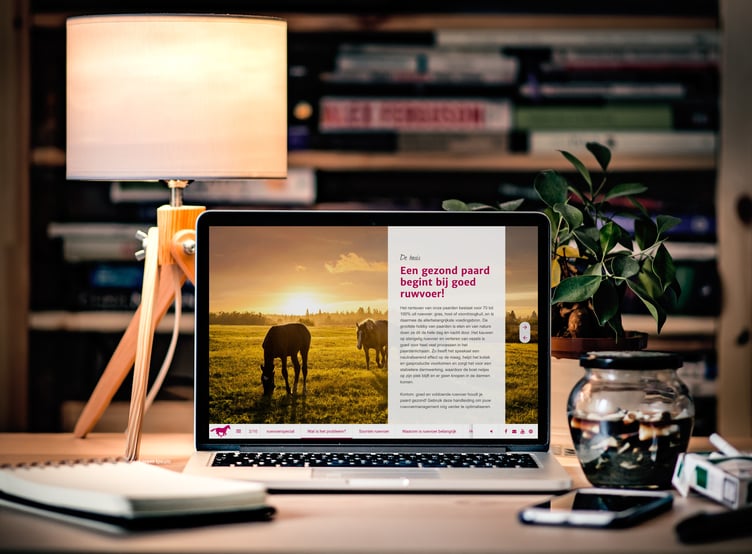 What measurable results have you seen so far?
Liselotte (P): In 2.5 months, Pavo generated more than 2,150 new leads from the Netherlands, Belgium, and Germany! The email campaign for the white paper download included questions for customer feedback. Readers rated the publication with an average of 8.3 out of 10 and 89% would like to read a similar publication about horse feed more often. Readers found the publication appealing, well designed, diverse, and interactive. Interestingly enough, 70% of the readers viewed the white paper on a mobile phone. The high percentage of mobile users shows that switching to a responsive platform was a great decision.
Carolien (TM): We haven't set a target for leads but it goes without saying that the campaign outperformed our expectations: we gained more than 2,000 leads within two months and the number keeps growing!
What are your future plans for the collaboration between Tesselhof Media and Pavo?
Liselotte (P): Our collaboration worked very well for both parties. The first step for the future is to enrich the white paper with an additional chapter and then promote the updated version to everyone who has read the white paper.
Carolien (TM): A significant advantage of Foleon over PDFs is the adaptability of content after publishing.
Do you have tips for Foleon users?
Carolien (TM): Make sure your magazine formula is correct. You must know your target group very well and what type of information they're looking for. Also, it helps if there's a slight variation in text and image. The power of our white paper lies heavily in collaboration. I have a lot of experience in creating magazines and Pavo has a lot of industry-specific knowledge and lots of valuable content. We combined our expertise to create this white paper.
Create your own white papers and eBooks gated with social login.

Get started