To get families, individual travelers, and small groups of friends all the beautiful locations of Stayokay's hostels, Stayokay and iMediate decided to publish an interactive inspirational magazine. They named it GoLocal . In this interview, we speak with Tim van den Berg from iMediate (iM) and Frank Bouwman from Stayokay (SO) about the success of GoLocal.
Frank (So): "Internally, everyone is talking about how cool, inspiring, and beautiful the publication has become. All aspects of Stayokay are highlighted in a creative and interactive way."
Tell us something about yourself
Tim (iM): I am a designer at iMediate. Besides working on our various print productions, I focus more and more nowadays on designing and creating online magazines. Where we once used print, a lot of things are now digital.
Frank (So): I am a marketing consultant at Stayokay. In this position, I am involved in, among other things, setting up the marketing strategy of Stayokay. For example, I advise our 22 hostels on their local marketing activities. I am also responsible for corporate identity management, and I maintain contact with partners and agencies.
The challenge
What challenges did you face before you started using Foleon?
Frank (So): The main challenge is that many Dutch people still aren't aware of Stayokay, or they have the wrong image of us. We used to be the NJHC, a youth hostel centre, so people who know something about us often associate us with hostels as they used to be, with large dorms for example.
Nowadays, we are interesting for all kinds of target groups, from families to businesses. In addition to the traditional hostel environment, we offer private rooms and larger family rooms. In short, we are a lot more versatile than before and we want to make people aware of this.
What solutions did you investigate before choosing Foleon?
Frank (So): In the past, our marketing and sales manager worked with iMediate. She had a great experience with them. That is why she once again approached iMediate for a door-to-door brochure, a digital magazine, and an annual report.
Tim (iM): After Stayokay came to us with this challenge, we looked at various online tools for building digital magazines. We even thought of using a browsable PDF as, with different versions for the three target groups. We quickly sunsetted this idea since we wanted a dynamic and interactive publication. Browseable PDFs are simply too limited and old-fashioned, so it soon became clear that a digital magazine would be the right solution.
The solution
Why did you decide that Foleon was the right tool for your needs?
Tim (iM): In the end, we chose for Foleon because we had a great experience working with Foleon before, when we made some publications for MediaMarkt (major dutch electronics store). Also, the examples that we saw on the website really appealed to us.
Stayokay had also shown us some examples of what they were envisioning for their digital magazines, and these turned out to be Foleon publications! Our experience was that Foleon is a user-friendly tool, with lots of creative possibilities. I also wanted to try out the new Drag & Drop editor. This editor gives you even greater design freedom, which really appeals to me.
What did you want to achieve with your digital magazine?
Frank (So): The main goal was to inspire our (potential) guests at the beginning of their search for accomodations. Of course we would ultimately like to persuade them to stay at Stayokay or to drop by for a meal or drinks. By making use of high end photography, videos, guest interviews, and some copy magic, we want to make Stayokay attractive to every target group. In addition, we believe sustainability is very important, so we also give space to sustainable partners to convey this message.
Tim (iM): In this magazine, we showcase the grandeur of Stayokay and the areas surrounding our locations. We want the reader to get excited about exploring their own country, preferably including a stay at a Stayokay location.
What makes digital communication so important for Stayokay?
Frank (So): Our sustainability policy is very important to us, and we prefer to opt for digital over for print. If we do use print, we try to only usecertified FSC or recycled paper. The costs of digital magazines are also much lower than print, and with this solution we can reach our target group much more effectively.
How did Foleon help you during the onboarding process?
Tim (iM): After we registered, the Customer Success Managers and support staff were amazingly helpful and gave us lots of good information. I also visited their Amsterdam office in person for a training immediately when we started of a trial, a lot of time was taken to guide us properly and personally.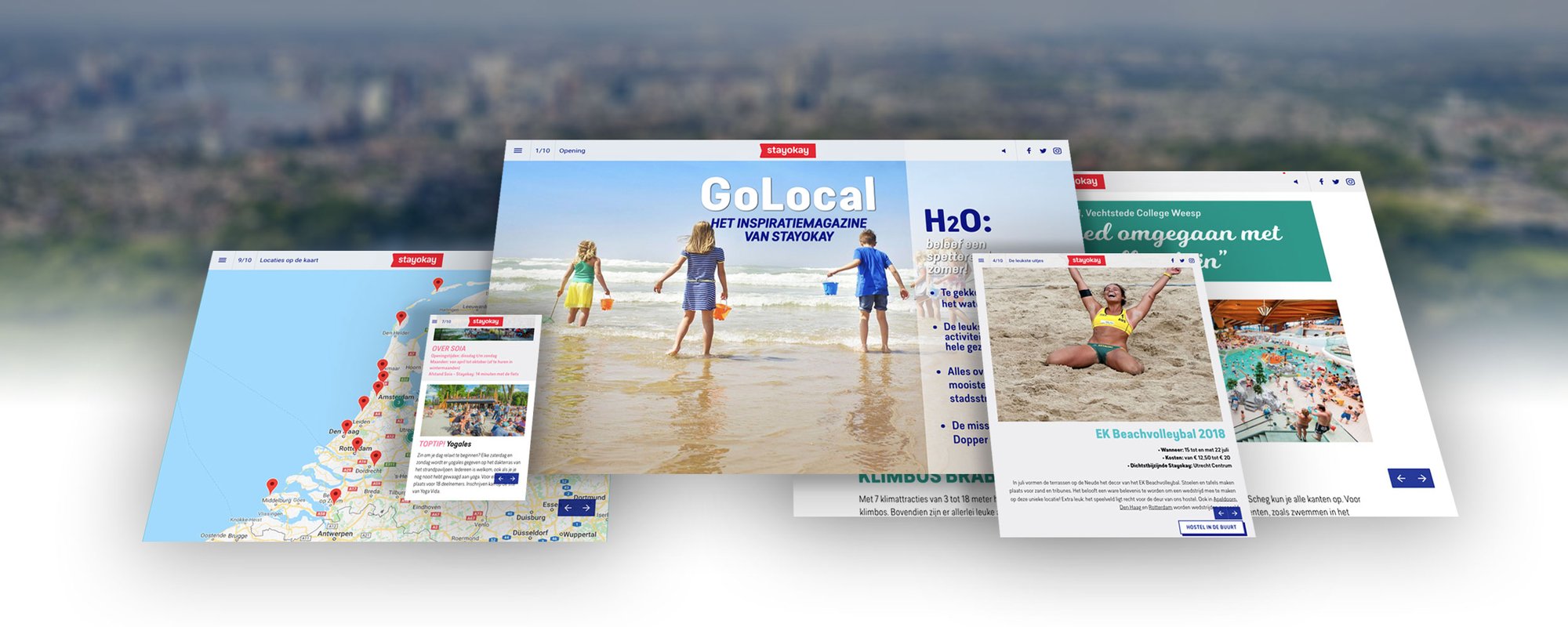 The results
What value did you get from using Foleon?
Tim (iM): I particularly like that you can use a multimedia approach. You can embed videos or slideshows and place additional info in a pop-up/overlay. You can not implement these kinds of things in a regular magazine.
Frank (So): It is a beautiful and versatile platform. The combination of elements like video and personalization, as well as the different scroll options (down, link and right) makes it look interesting, creative, and dynamic. Most importantly, we are very pleased with creativity that Foleon gives us to tell our brand story.
What measurable results have you seen so far?
Frank (So): It's too early to answer that properly. The magazine has been live for four weeks now, so we are going to use this edition as a benchmark for subsequent editions. For us, however, conveying our brand story is most important and that is not directly expressed in figures.
What are your favorite features?
Tim (iM): As a designer, I prefer to use as much imagery as possible, so I am a big fan of the features like the background videos, parallax scrolling, and the embedding of 360 degree views and Instagram pages. I also find the direct links to the booking pages of the hostels, the social sharing buttons and the integration of Google Maps very useful.
Frank (So): I like the dynamic and interactive elements. So the flexibility of scrolling (left-right and top-down) and video are my personal favorites.
How have the readers responded to the publication?
Frank (So): We only get positive reactions. Our readers like the content and think the magazine itself looks very cool. People get excited about it, exactly what we want to achieve. Internally, everyone is talking about how cool, inspiring, and beautiful the publication has become. All aspects of Stayokay are highlighted in a creative and interactive way.
Are you planning to create digital publications more often? If so, for what?
Tim (iM): We are going to make one more magazine this year, and we almost have an annual report finished. Next year, there will be four publications and another annual report.
Frank (So): We want to make a GoLocal magazine every season. The publications are released every season but are not necessarily seasonal. For example, winter is when a lot of people begin thinking about their summer plans, so that's a good time to send out a summer-themed magazine.
Do you have tips for other Foleon users?
Frank (So): It works great, looks refreshing, and there is plenty of room for videos and other creative elements. It is a very versatile platform, so I advise everyone to take advantage of all the possibilities that the platform offers.
Organisation: Stayokay
Partner: iMediate
Publication: GoLocal Magazine