Engagement is the buzzword on everyone's lips.
Unfortunately, not everyone understands what engagement means and just how to get it.
Much of inbound marketing relies on quantitative strategies and analyzing data; however, engagement is a difficult fish to fry because while there are many techniques, there's no one standard recipe for success.
In this blog, we'll examine proven engagement hacks you can employ to elevate your engagement so that you can cut through the noise, create the correct type of Marketing collateral, and stand out from your competitors.


What do we mean by engagement?
"Engagement" is quite a vague term because there isn't an exact definition. Throw it out there in meetings, and heads will be nodding, "Yes. We must increase our Marketing engagement."
The best definition probably comes from The Economist; "An engaged customer sticks around" and buys what you sell.
In that vein, does a Facebook or LinkedIn "like" really mean anything? Granted, it's a nice vanity stat because who doesn't like to be "liked." However, the effort required to hover and click "like" is nearly effortless.


Engagement metrics worth your time
A few valuable metrics that indicate engagement with your content are time on site, time-on-page, the number of pages visited, return visits, etc. These are more reliable indicators of an engaged audience than getting likes on your posts — or thousands of visitors who never return.
The audience who joined our webinar on Content Engagement with Foleon agreed. In an interactive poll, over a quarter said that average session duration was the most important engagement metric for them, followed by the number of pages visited (24%) and time on page (23%).
The number of comments is another good metric, as is the number of social shares. However, many people also read articles without sharing them, so social shares can give you an incomplete picture.
If you're looking for benchmarks to compare your metrics against, check out our State of Digital Publishing report here.
Share your content in the right places
Engagement relies on people seeing your content. Simple as that.
To get consistent sales leads from your blogs, ebooks, email newsletter, podcasts, webinars, and any other content assets, you not only need exceptional content but also a solid content distribution strategy.
Too often, companies invest a lot of time and energy distributing content on channels that simply are irrelevant to their audience or are incredibly difficult to grow, as explained by Foleon's Customer Content Strategist, Adrie Smith.


Click here to view the full webinar.


Have a good story to tell
Another element to strategically bake into your content creation process is making sure you have a good story to tell, as this can lead your audience along the way towards understanding your core point.
There are many ways of doing this, the most popular in B2B being the mountain or the "hero's tale." For example, let's take a look at the mountain structure as a way of mapping tension and drama in a story.
The mountain structure shows obstacles, builds tension gradually, and then delivers a conclusion.
We also have the monomyth structure, which takes the audience on a journey, shows the benefits of taking risks, and demonstrates how you learned some newfound wisdom, much like in folk tales or myths.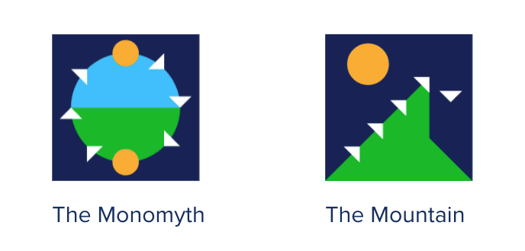 Of course, there are many other storytelling techniques out there that you can use. Just remember that stories are powerful. They are the language of your audience.


Discover: Why Data-Driven Storytelling is the Best B2B Marketing Content
Style your content correctly
With Foleon, you can create styling rules that cover brand logos, typography, color, and interaction to maintain brand consistency. When styling is managed centrally, you can save a ton of time.
Think about applying style techniques to your content strategically. In print documents, readers exactly know where they are. There are a few tricks to do the same in your online documents. An extra color structure for chapters can provide guidance. Take a look at this example.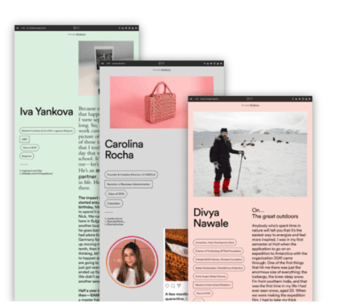 A simpler way can be to give overlays a contrasting background color. Or you can divide long pages by using contrasting block backgrounds. Light text on a dark background is allowed even within the most strict identities.



Make good use of typographic hierarchy
Your content probably has a certain reading order. It helps to highlight or enlarge specific parts, so they pop out, either with an interesting quote, percentage, or heading to start off.
Vincent van der Laan, Creative director at Foleon, explains more in our webinar.
Click here to view the full webinar.


Use video even if you don't have any
One of the most engaging elements you can use is video, whether it contains actual content or is used as a decorative background.
According to Dr. James McQuivey of Forrester Research, a one-minute video is worth up to 1.8 million words.
McQuivey's equation goes something like this:
1 picture equates to 1,000 words.
Video shoots at 30 frames per second.
Therefore, 1 second of video equates to 30,000 words.
30,000 words x 60 seconds (a common explainer video length) = 1.8 million.
Hey presto!
Video might be expensive or not relevant for you. But today, everyone can play around using concept videos as a background. They don't use sound and are perfect for covers or header blocks.
There are quite a few sites where you can download free videos. Pexels Video is one of the best and most used. But if you really want to stand out, you might want to spend a few bucks on commercial stock videos like on Shutterstock.


Don't skip the conclusion
This one may seem obvious but you'll be surprised by how much content just drops off without a proper ending.
Your conclusion should summarise your content in a concise and clear manner. It's a great way to solidify the ideas you've been pitching to the reader all along. You'll want to leave a lasting impression.
It should also encourage readers to take some action, so consider placing a CTA link within the text, or posing a question to the reader.


It goes a little something like this
Engagement is a big piece of the marketing puzzle, and while it may take some trial and error to get right, the energy you invest in these hacks can help you grab the audience's attention, create the right collateral and develop tactics that will set you apart from your competitors.
Give it a go!